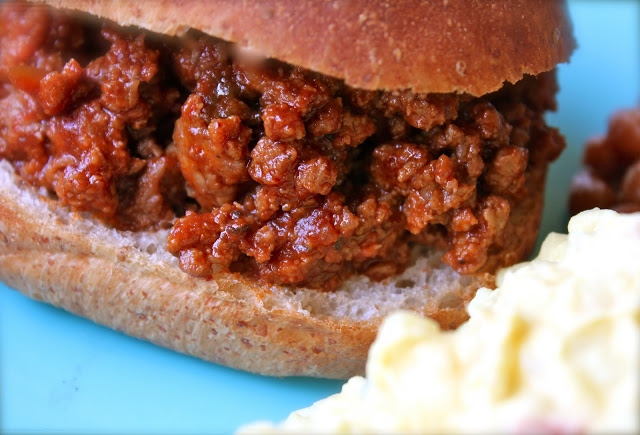 Don't worry, be happy! This simple, positive outlook phrase guided me during my recipe search for this week's theme of "Happy Food" for the I Heart Cooking Clubs group, in which we've been cooking with Jamie Oliver. I already had some corn-fed, Iowa beef thawed out from the freezer that we were going to just grill burgers with. Instead I began wondering if there might be a recipe on Jamie's web-site for ground beef . . . there was ONE, lone recipe: Sloppy Joe's! What fun! And so easy for a Sunday afternoon.
My husband even set the table on the back deck since the weather is so nice today. I cannot remember the last time we had Sloppy Joe's; it's been that long. Although they are not the healthiest sandwiches on the planet, they certainly are fun! Even my husband said while biting into one, "I always thought Sloppy Joe's were so much fun! In fact, I think I'm going to have another one." Along with the traditional side dishes of baked beans and potato salad, we really had a fun and enjoyable 'alfesco' lunch.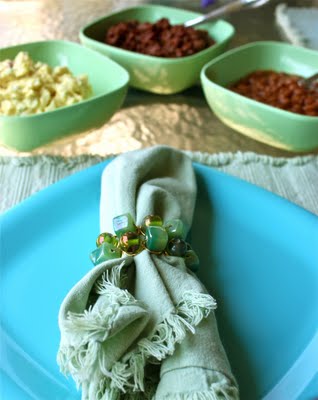 .
Our acreage is in the middle of 24 acres of woods and pastures.
Only in the winter when the trees are bare, can you see the corner of a house about 4 acres away.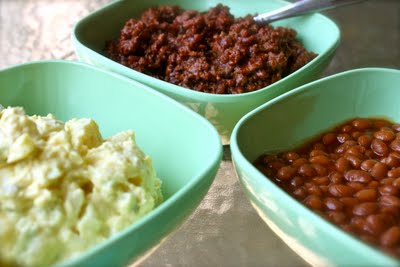 I just read a piece of foodie trivia in Saveur's Sandwich Issue: Sloppy Joe's were named after a 'sloppy' chef in a Sioux City, Iowa restaurant. How appropriate that this recipe popped up on Jamie's site just in time to use up some of our Iowa beef! Talk about serendipity! Whenever my husband and I return to Iowa for a visit or whenever my parents come to visit us, a variety of Iowa-raised, corn-fed meats are frozen and packed on ice in a cooler to partially fill up our South Carolina freezer. This state (SC) may have some super, awesome, juicy peaches, but it sure doesn't produce the flavorful beef that my husband and I were raised on in the Midwest.
And now here is Jamie's recipe for this happy and fun sandwich: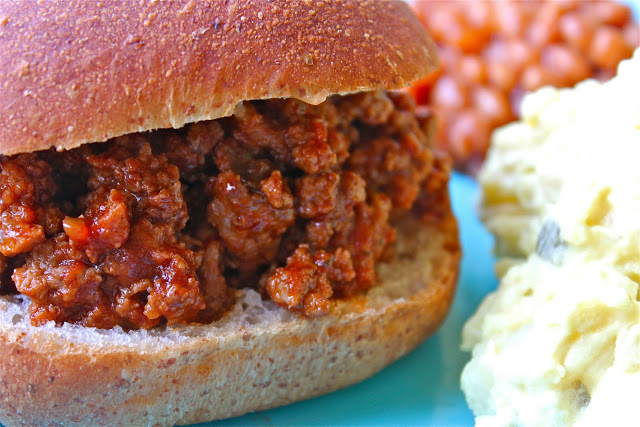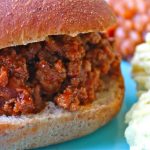 Jamie Oliver's Sloppy Joe's
---
Scale
Ingredients
¾

pound lean ground beef or turkey (

10

% fat), or use ground turkey

1

yellow onion, peeled and diced

1

green bell pepper, cored, seeded and diced

¾ cup

tomato purée

2

Tbsp. cider vinegar

1½ Tbsp

. light brown sugar

1

Tbsp. honey

2

tsp. Dijon mustard

½ tsp

. chili powder

½

15-ounce can kidney beans, drained and rinsed (I eliminated these, simply due to personal preference)
freshly ground pepper, to taste
Mrs. Dash salt-free seasoning (my addition in order to avoid using salt)

4

whole wheat hamburger buns
---
Instructions
Put a large sauté pan over a medium heat and crumble in the beef or turkey.
Fry until the meat starts to brown then add the bell pepper and onion.
Continue cooking, stirring occasionally, until the veggies start to soften – this should take around 5 to 10 minutes.
When the veggies are tender, add the tomato purée and stir into the meat.
Add the vinegar, brown sugar, honey, mustard and chile powder to the pan and give everything a really good stir.
Add the beans, and season with salt and pepper.
Bring to a boil and cook until the sauce is nice and thick.
Pile the Sloppy Joe mixture onto the bottom of a bun; top with the other half of the bun; close up the sandwich and dig in!
---