Kale, Quinoa, and Strawberry Salad
There are few food bloggers who can create, prepare, and photograph at the extraordinarily high level of quality, originality, and deliciousness in meatless recipes that Joanne does on her blog "Eats Well With Others"! Once you read her posts infused with her incredible wit about the situations in which she finds herself in, on top of her mouthwatering recipes, you'll know immediately why Joanne has such a huge following.
As an academically-trained author that quickly tires of dry, factual writing styles in professional papers, I find such inspiration in her unique way with words! Not to forget to mention additional enjoyment of Joanne's perfect photography of her vegetarian creations.
On top of all of this, she is a medical and doctoral student. Somewhere in there she manages to squeeze in marathon running. Makes this middle-aged baby boomer tired just to think about it all.
Reading Joanne's blog is a visual and written word escape for me. I chuckle throughout each and every post that she writes and often end up sharing her words with my husband who always asks me 'what's so funny?'
For my next guest post while I am away in Maui (only a few days remaining before our 19 hour trip back to South Carolina), I am so thrilled to welcome my food blogging friend, Joanne from "Eats Well With Others"!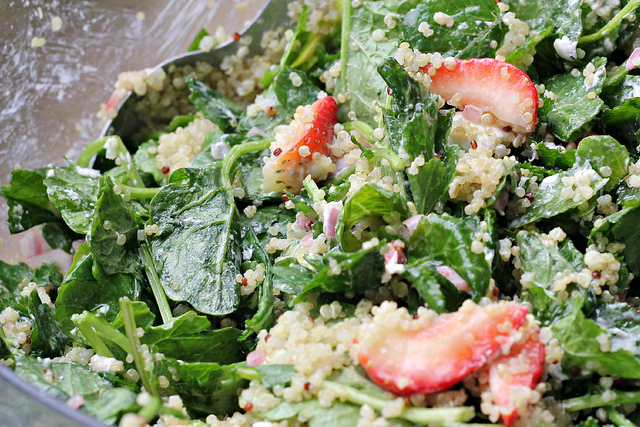 "Before you see the words "kale" and "quinoa" in the title of this recipe and write it off immediately as hipster food, the kind of thing that only too-skinny boys in too-skinny jeans or girls wearing plaid with polka dots and stripes and paper clips as earrings would eat. Let me issue the disclaimer that I don't even like salad and I wanted to dive into this bowl of it and eat my way out.
And if that's not a selling point, I don't know what is.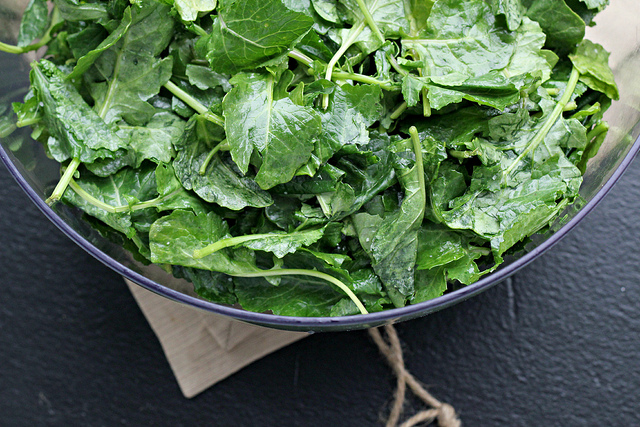 I should probably disclaim my disclaimer, though. It's not that I really don't like salad, it's that I don't like boring salads. Iceberg and/or romaine and/or some kind of spring mix (that is apparently available year-round??) topped with out-of-season tomatoes and some kind of high fructose corn syrup infused creamy dressing just doesn't do it for me.
I want vibrancy and freshness and a little of variety in every bite. And this salad delivers just that.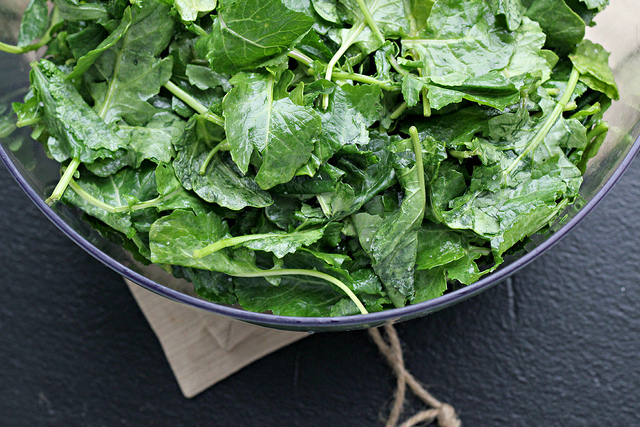 The kale is massaged with a bit of olive oil to soften it, and then tossed with sliced strawberries, crumbled goat cheese, and quinoa for some protein and a bit of heft. It is then dressed with a lemon mustard vinaigrette that somehow adds a note of brightness to everything it touches.
The best part of this salad, though, is it's versatility. Feel free to mix in whatever berry you have on hand, or add in nuts or beans for a little extra staying power.
Trendy as it's ingredients may be, this salad will not be going out of style any time soon. At least, not in my kitchen."
~ Joanne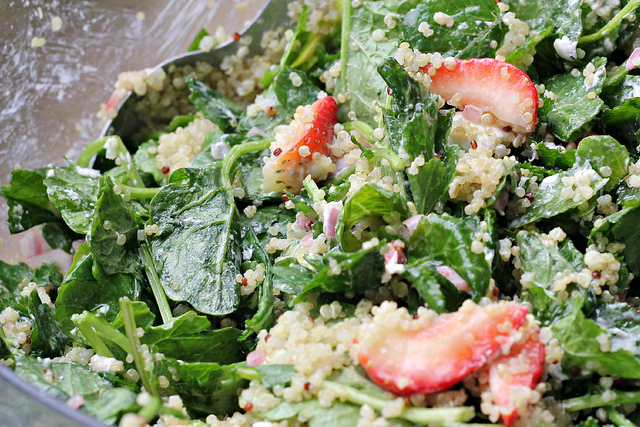 Print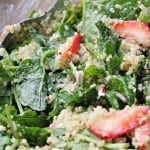 Kale, Quinoa and Strawberry Salad
Author:
Prep Time: 0 hours
Additional Time: 0 hours
Cook Time: 0 hours
Total Time: 0 hours
---
1 cup quinoa
2 Tbsp. plus 1/3 cup olive oil, divided
11 oz. baby kale
4 oz. goat cheese, crumbled
1 lb. strawberries, hulled and sliced
juice of 1 lemon
1 shallot, finely chopped
1 Tbsp. honey mustard
salt and black pepper, to taste
---
Instructions
Rinse the quinoa thoroughly.
Bring the quinoa and 2 cups salted water to a boil over high heat.
Lower to a simmer, cover and cook for 15-20 minutes or until water is dissolved and then turn off heat and let sit for 5 minutes.
Put in the fridge while the rest of the salad is prepared.
Put the kale in a large bowl.
Mix with 2 tbsp olive oil and a pinch of salt; massage leaves until they reduce to about half their volume.
Toss the kale with the goat cheese and strawberries.
In a small bowl, whisk together the lemon juice, shallot, honey mustard, 1/3 cup olive oil and salt and pepper, to taste.
Toss with the salad.
Remove quinoa from the fridge and mix in.
Serve at room temperature.
---
.
.