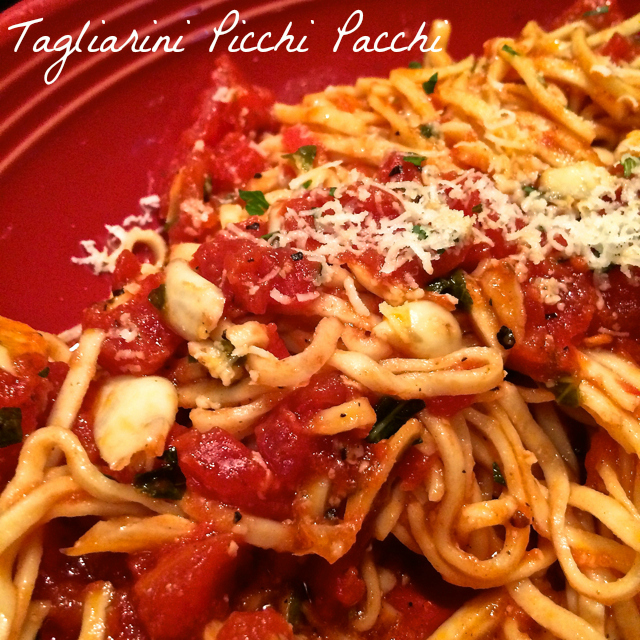 Love garlic?
Then you'll love this recipe, Tagliarini Picchi Pacchi!  It's LOADED with garlic!  I'm not talking about just tiny hints of garlic, but hefty chunks and slices of garlic!
But not so much that it is overpowering.  This pasta recipe is garlic-perfection in a sauce of summer's freshly-ripened tomatoes, basil, and olive oil.
In this little neck of the woods in South Carolina, there are no Italian eateries . . . seriously!  And those that try to prepare Italian food fall way off the radar into the 'horrible and inedible' abyss.  (Well, there is one place in town that makes an outstanding 'Osso Bucco', but that's where the menu ends for Italian anything.  But I'll save that review and recipe for another post!)  The closest thing to decent Italian food is in the larger city of Greenville near us, which has a blossoming, vibrant culinary scene brewing.  Nevertheless, all of the eateries naturally focus on the "New South" explosion of inventive menus . . . reasonably the right thing to do, but still nothing Italian.
Oh well!  BUT!  For a decent lunch, I can head on over to pick up a super pasta dish at Carraba's.  I know what you're saying, "But it's a chain!"  And you're right.  But this is one delicious, fresh, garlic-y pasta recipe that BOTH my husband and I simply love.  The restaurant has even been so kind enough to share the recipe on the web (which I have given them correct citation of the source).
Now that everyone's gardens are starting to produce beautiful plump, red tomatoes along with fresh basil, this is the recipe that you'll want to try with all of that fresh garden flavor.
Enjoy!
Print Taglierini Picchi Pacchi
---
Description
Recipe: Courtesy of Carraba's Italian Grill
---
Scale
Ingredients
1/2 cup

extra-virgin olive oil

4

garlic cloves, thinly sliced

24 oz

. of fresh tomatoes with juices or 1 can (

28 ounce

s) whole tomatoes in juice (preferably San Marzano)

½ cup

chopped fresh basil
Sea salt and freshly ground black pepper

1

pound fresh tagliarini or fettuccine
---
Instructions
Heat the oil and garlic together in a small skillet over medium-low heat just until the oil is warm and the garlic is soft, about 5 minutes.
Remove skillet from the heat and let set to infuse the oil, about 30 minutes.
Pour fresh tomatoes and their juices into a bowl.
Squeeze the tomatoes through your fingers until the are coarsely crushed.
Stir in the garlic in its oil and the basil.
Season with salt and pepper.
Let stand for 1 to 2 hours for the flavors to marry.
Bring a large pot of water to a boil over high heat.
Add salt to taste.
Add the pasta and stir well, separating the strands.
Cook according to the manufacturer's directions until al dente.
Drain well.
Return the tagliarini to its cooking pot.
Add the sauce and mix well.
Cover and let rest for a minute.
Serve hot.
---