Do you love panini? Fresh sandwiches? Healthy sandwiches? Fast and easy sandwiches? Hot sandwiches? Flavorful, new, sandwiches that aren't the same-old, same-old go-to sandwiches? Anything delicious between two slices of crispy on the outside and soft on the inside artisan bread calls my name!
Americans have fallen in love with Italian panini, basically amped up sandwiches beyond our delicious grilled cheese sammies, but then heated up on a panini press or grilled pan. However, most Americans don't realize that ONE of these is correctly termed a "panino", (panini is plural for more than one). But why sweat the small stuff? Panini literally means 'small breads' in Italian which began their popularity trend here in the States in the 70's and 80's, originating from 'paninoteche' Milanese bars. How about that for a trivia question?
Now if you don't have a panini press, you can use a grilled skillet and place another heavy pan on top to 'press' the bread into the grills of the skillet. Half-way through cooking (when you see a golden color and dark grill marks on the bread) you need to turn the panino over and grill the other side, once again with something heavy to press the panino down into the grills.
What you put inside of your bread is totally up to your imagination, but here's a great end of summer recipe for you that I find absolutely marvelous, especially with the dipping herbs in olive oil and balsamic vinegar. For this panino, I used roasted red peppers, so here is a tutorial with photos of how to roast red peppers on my blog: roasting red peppers!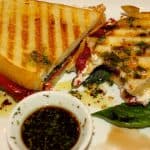 Roasted Red Pepper and Goat Cheese Panini
---
Scale
Ingredients
1

loaf of ciabatta bread, sliced into thick 1″ slices
roasted red peppers, frozen or jarred (I use those that I roast and freeze myself)
goat cheese
basil leaves, garden-fresh
balsamico vinegar
extra virgin olive oil
Italian dipping herbs
---
Instructions
Heat up a panini press or a grilled frying pan on a very hot setting.
Generously spread soft goat cheese on one slice of ciabatta bread.
Layer roasted red peppers on top of goat cheese.
Place whole basil leaves on top of red peppers.
Drizzle balsamic vinegar over everything.
Place a second slice of bread on top.
Brush olive oil on outer sides of the panini to help turn the bread golden on the grill.
Place on panini grill.
Carefully lay the lid down.
Do not press, the soft goat cheese will ooze out.
Grill for a minimum of 5 minutes.
Serve with a small side bowl of olive oil, balsamic vinegar, and Italian dipping herbs.
---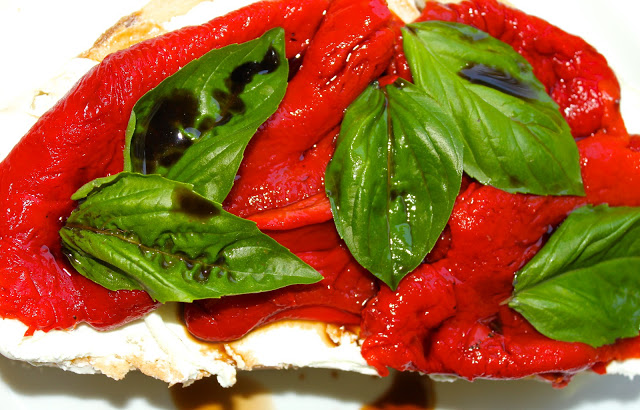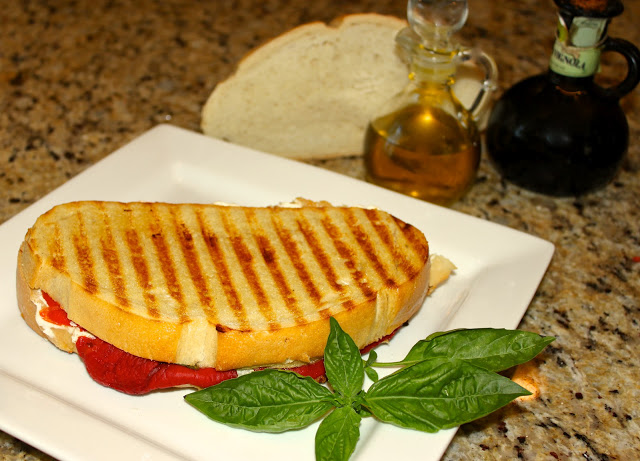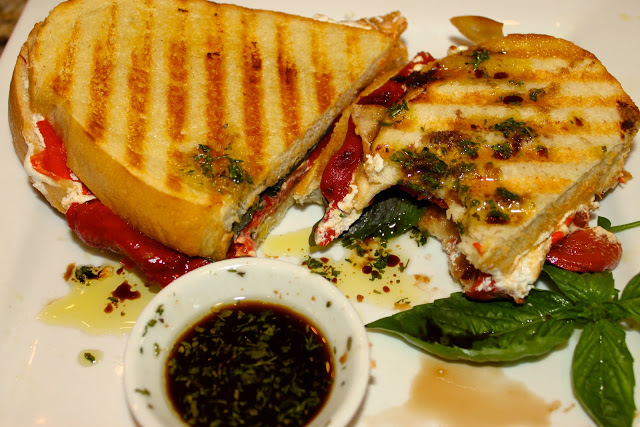 Enjoy these Roasted Red Pepper and Goat Cheese Panini !