Have you ever begged someone to share a recipe? I have ( a lot) and this recipe is one of those!
At a Christmas party that I was a guest at year's ago . . . way back when I could eat anything and still stay skinny, this delicious Creamy Veggie and Chip Dip was served.
It was simply yummy upon first bite!
I could have devoured the entire bowl and knew that I just had to get my hands on the recipe!
And I did!
Today whenever I serve it (usually for our last fattening-hurrah-indulgence party on New Year's Eve), I get the same reaction from my guests : "Wow, this is really good! How do you make this? Can I please have the recipe?"
This veggie and chip dip is so easy, it's nearly stupid to make . . . and isn't that just dandy at this busy time of year? Save the stress of making Beef Wellington for Valentine's Day or some other special occasion. Prepare this dip in a snap and enjoy the extra freed up time with your family and friends.
Now I have to warn you . . . this isn't a skinny recipe! I suppose you can substitute lower calorie or reduced fat versions of the dairy ingredients, but I know the taste just won't be the same.
And after all the veggies make us feel better, don't they . . . at least a little bit!
Print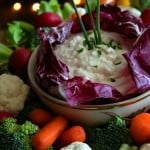 Creamy and Yummy Veggie Dip
---
Description
I was given this recipe in 1979 by a friend in St. Louis at a holiday party.  I've been serving it at almost every party I've given ever since.  It never fails to receive rave reviews and requests for this super easy recipe!
---
Scale
Ingredients
16

 

ounces 

Hellman's Mayonnaise

1

 

container 

sour cream 

(not low-fat or reduced fat — use the real deal!)

24

 

ounces small 

curd cottage cheese (regular, not low-fat, etc.)

1

 

package 

Hidden Valley Ranch Dressing

all of your favorite raw vegetables, cut up to serve with the dip
---
Instructions
Blend all ingredients together and chill for several hours or overnight.
Serve with fresh vegetables.
---
Notes
This makes A LOT of dip and will be enough for a large group.