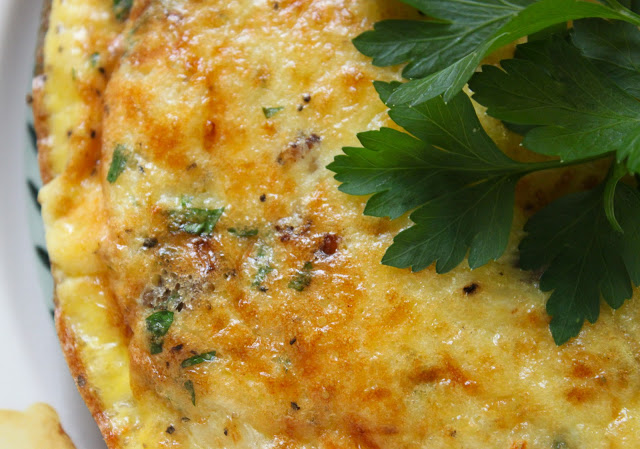 I really enjoy eggs for all the taste and source of protein they provide. Eggs are such a perfect food that can be prepared in so many ways! From simple scrambled eggs to rich custards or French omelettes and quiche, eggs are just so versatile. And since today is the first day of Fall Break at my university, I thought that I would lazily prepare an Italian frittata with some delicious Italian sausage that my parents brought us.
My garden is still producing herbs and so I was happy to be able to gather some fresh Italian parsley to use in the recipe. The green really adds a lot of pretty color to the golden color of the eggs. Other ingredients that can be added to the frittata party include chopped potatoes, pancetta or prosciutto, and basil. Really whatever is in the garden or at the fresh market can be used since a frittata is a good vehicle for numerous ingredients. Since I have all of these additional ingredients on hand, I'm going to try those for another frittata when my daughter visits this weekend. It's so nice to have this time to try new recipes. Another nice thing about frittatas is that they can be enjoyed not only as a wholesome breakfast, but also for lunch, and they are perfect for brunch. And in Italy, it is common to take a slice to work for lunch.
.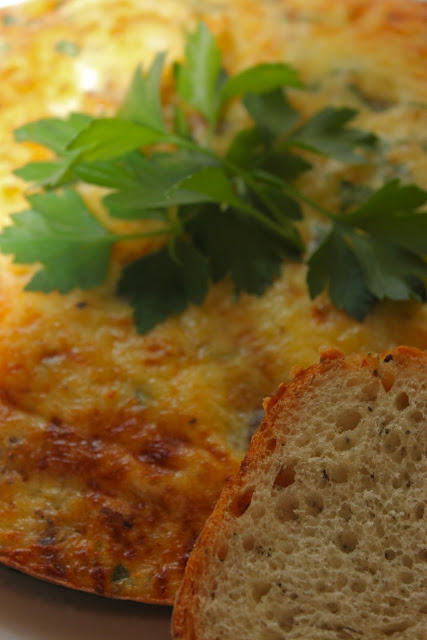 The Italian word frittata derives from 'friggere' which means 'fried', a term used for cooking eggs in a skillet.
"Frittata" is a Italy's distinct version of an omelette", and differs in five ways:
A frittata always has at least one optional ingredient included, whereas an omelette can be made with eggs only.
Frittata and such ingredients are combined with the beaten egg mixture while the eggs are still raw rather than being laid over the mostly-cooked egg mixture before it is folded, as in a conventional omelette.
Eggs for frittata may be beaten vigorously to incorporate more air than traditional savory omelettes, to allow a deeper filling and a fluffier result.
The mixture is cooked over a very low heat, more slowly than an omelette, for at least 5 – 10 minutes, until the underside is set but the top is still runny.
The partly cooked frittata is not folded to enclose its contents, like an omelette, but it is instead either turned over in full, and cooked grilled briefly or baked in a very hot oven and finished under a the oven broiler to cook the top layer for around five minutes.
Print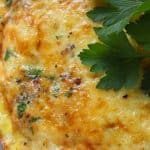 Frittata with Italian Sausage and Cheese
---
Scale
Ingredients
1

pound mild (sweet) ground Italian sausage

3

–

4

green onions, chopped

6

jumbo eggs

1/4 cup

milk

1/4 tsp

salt

4 Tbsp

. fresh Italian parsley, chopped

1/2 cup

6-cheese Italian blend of finely grated cheese
---
Instructions
Cook the sausage in small, non-stick frying pan over medium-high heat until browned, constantly breaking up the sausage into small pieces, such as in a 'sloppy joe' sandwich.
Add the chopped onions to the sausage and cook a little longer.
Drain off any hot fatty grease.
In a medium bowl, beat the eggs with the milk, chopped Italian parsley, and salt.
Pour the egg mixture over cooked sausage and onions.
Sprinkle the grated cheese on top, gently blending into the egg/sausage mixture.
COVER and cook over low heat for 10 minutes, keeping an eye on the bottom (lift up with a spatula) to make sure that it is not burning.
Broil the frittata on the lower shelf of your oven until gold brown – – keeping an eye on it to prevent burning.
Let the frittata sit for 5 minutes before serving.
Garnish with freshly picked Italian parsley while it is setting.
Cut into wedges and serve with Italian artisan bread.
Salt and pepper to taste upon serving.
---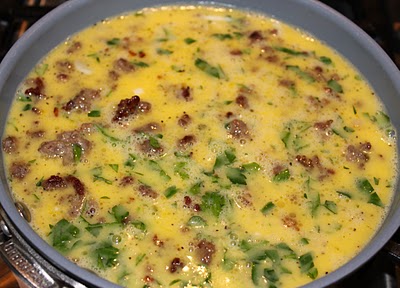 All ingredients except the cheese beginning to cook on the stove in a small non-stick fry pan.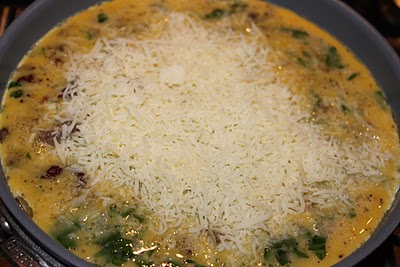 Add the cheese and gently blend in.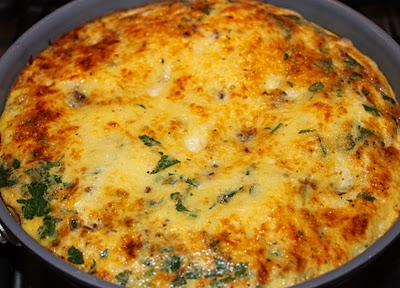 Straight out of the oven, a golden-brown top on the frittata.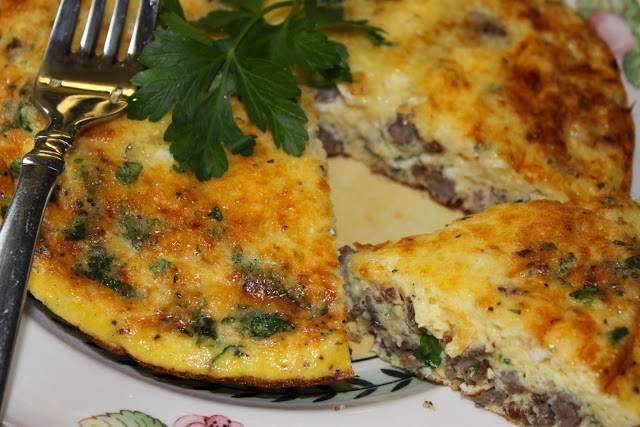 One wedge is cut out and ready to bite into and pop in my mouth for breakfast today!