Many things come to mind when we think of Venice, Italy: a city of canals and water, gondola rides, delicious food traditions (risotto, polenta, cicchetti, bacala, gnocchi, tiramisu, Bellini, carpaccio, fritelle, seafood and more), St. Mark's Square, the domes of cathedrals, Murano glass, amazing architecture, and of course the masks and costumes worn during Carnevale every winter before the season of Lent.
For centuries, it has been traditional and expected to wear elaborate masks during the Carnival of Venice. Wearing masks hides your identity as well as your social status. With this anonymity, a person can mingle with people that they normally would not, as well as act in unconventional ways demanded of their social rank. A person who might have an eye for someone special can engage in playful, romantic situations without their identity being known.
These photos show the incredibly ornate detailed designs. I can't even imagine the amount of time that the artisans need to complete just one mask or costume. The masks often very brightly colored, but there are also masks and costumes of solid white or black and white. Embellishments of gold or silver, along beads, feathers, flowers, crystals, lace . . . just about anything your imagination can think of decorate the masks. Basing the designs on the baroque style, Venetian masks came from "Commedia dell'arte" and are either cover the entire face (the bauta) or can simply cover one's eyes alone (the Columbina).
Dressing in these exquisite costumes and masks contributes to the excitement and the fun of Venice's famous carnival. Many people prepare year round for contests, for photographer. People challenge each other to come up with the most creative, outrageous, detailed and beautiful costumes and masks. In St. Mark's Square people vote for the best costumes and masks of the year. Flags of green are waved in the air for a 'yes' vote and flags of red indicate a 'no' vote. A panel of designers examine every detail of the competitors and after the final vote, a judge makes the decision for who gets the prized award.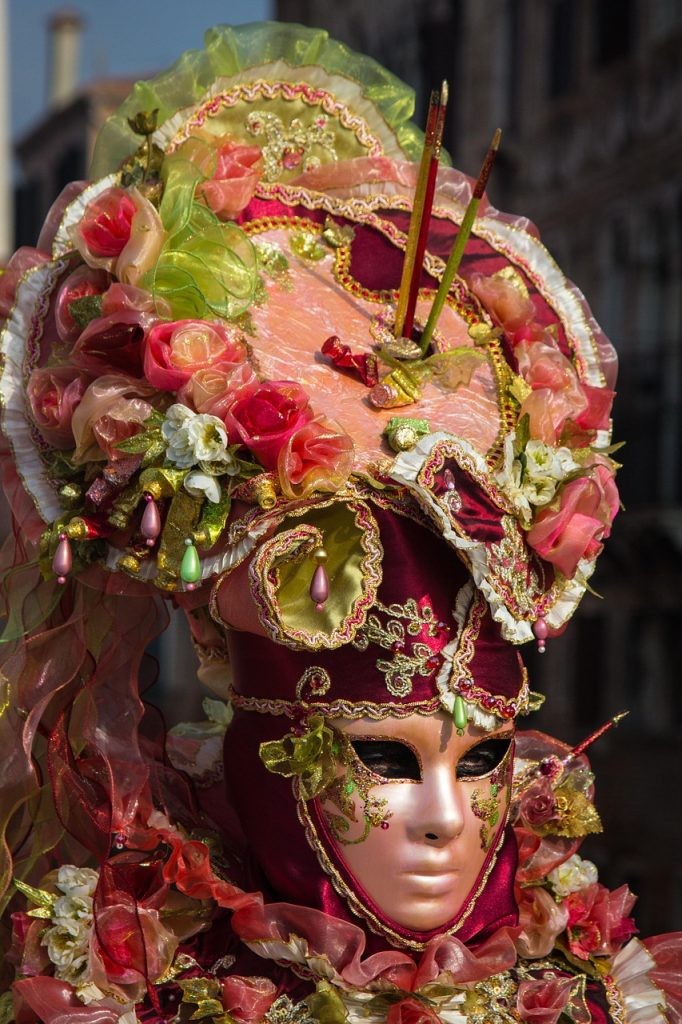 The roses made of fabric on this mask and costume must take hours and hours to create!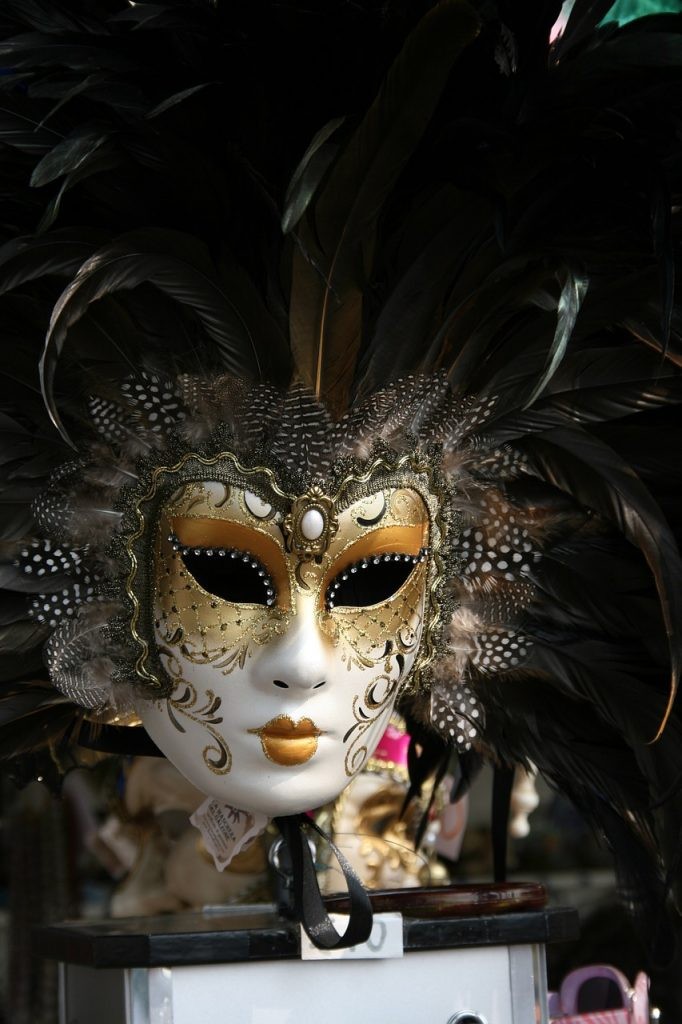 The black and white with gold or silver masks are so stunning!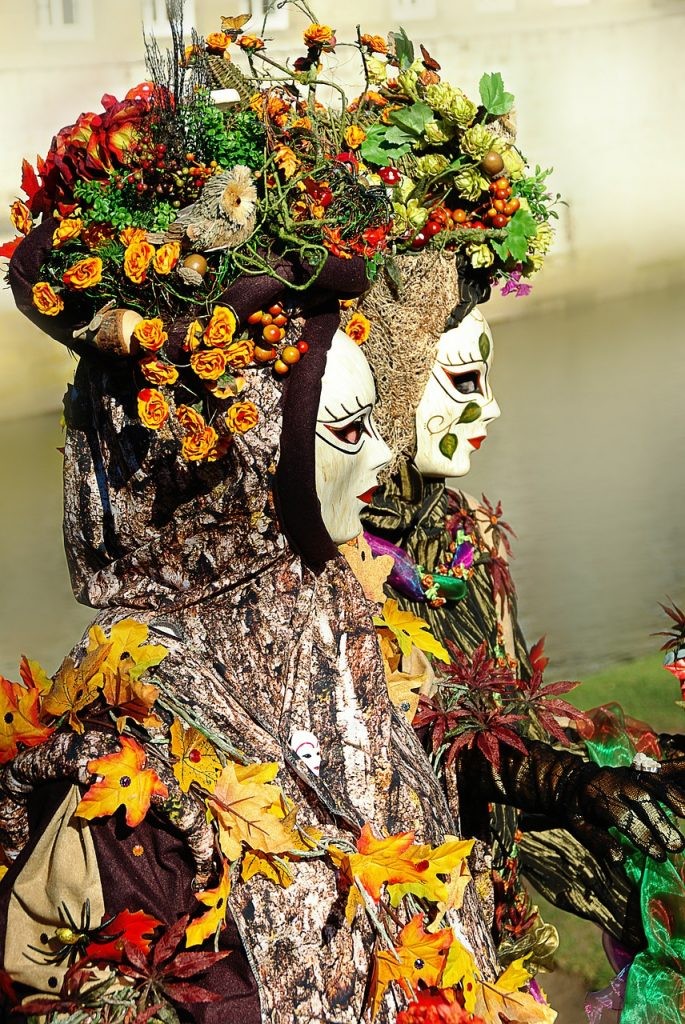 Themes of nature or even food are also used in the costumes and masks.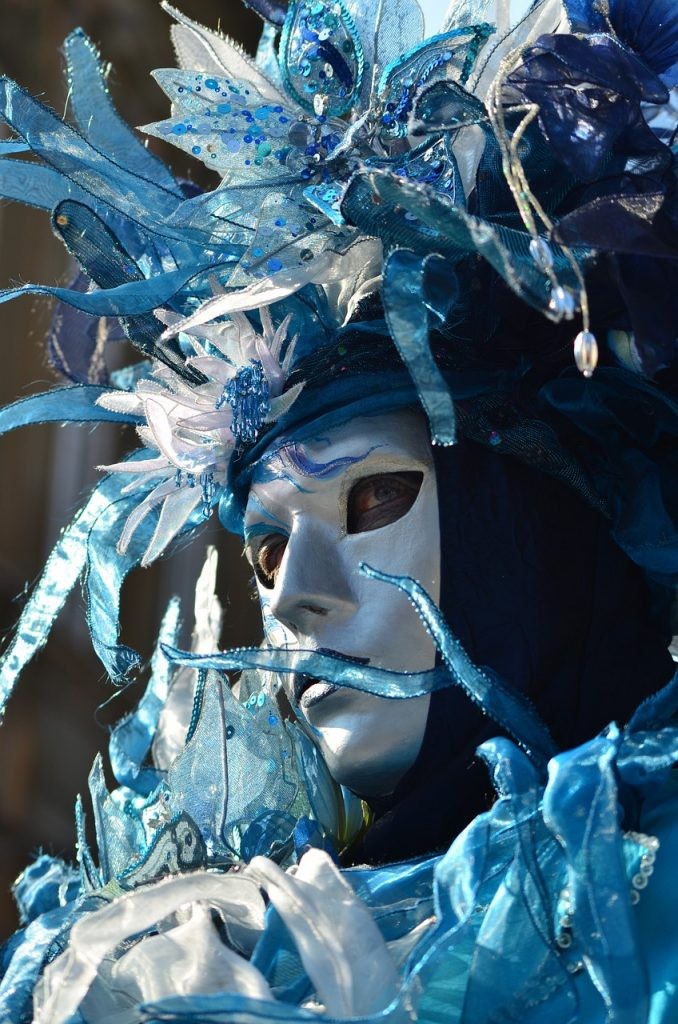 I can't decide which color schemes I like the best, but I'm drawn to the blues and purples. What do you think?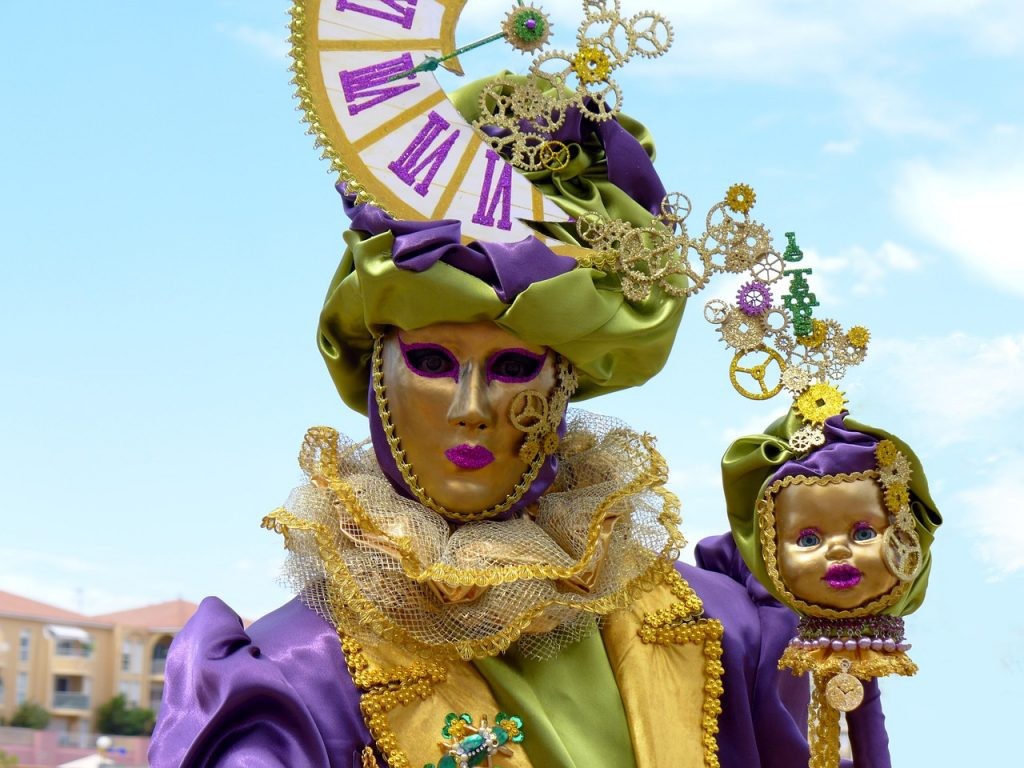 This costume ensemble has the colors of Mardi Gras: purple, green, and yellow. Love the baby doll!
FOR MORE INFORMATION:
The official website of the Carnival of Venice can be located by clicking on the following link:
http://www.carnevale.venezia.it/en/
February 11, 2017 – February 28, 2017