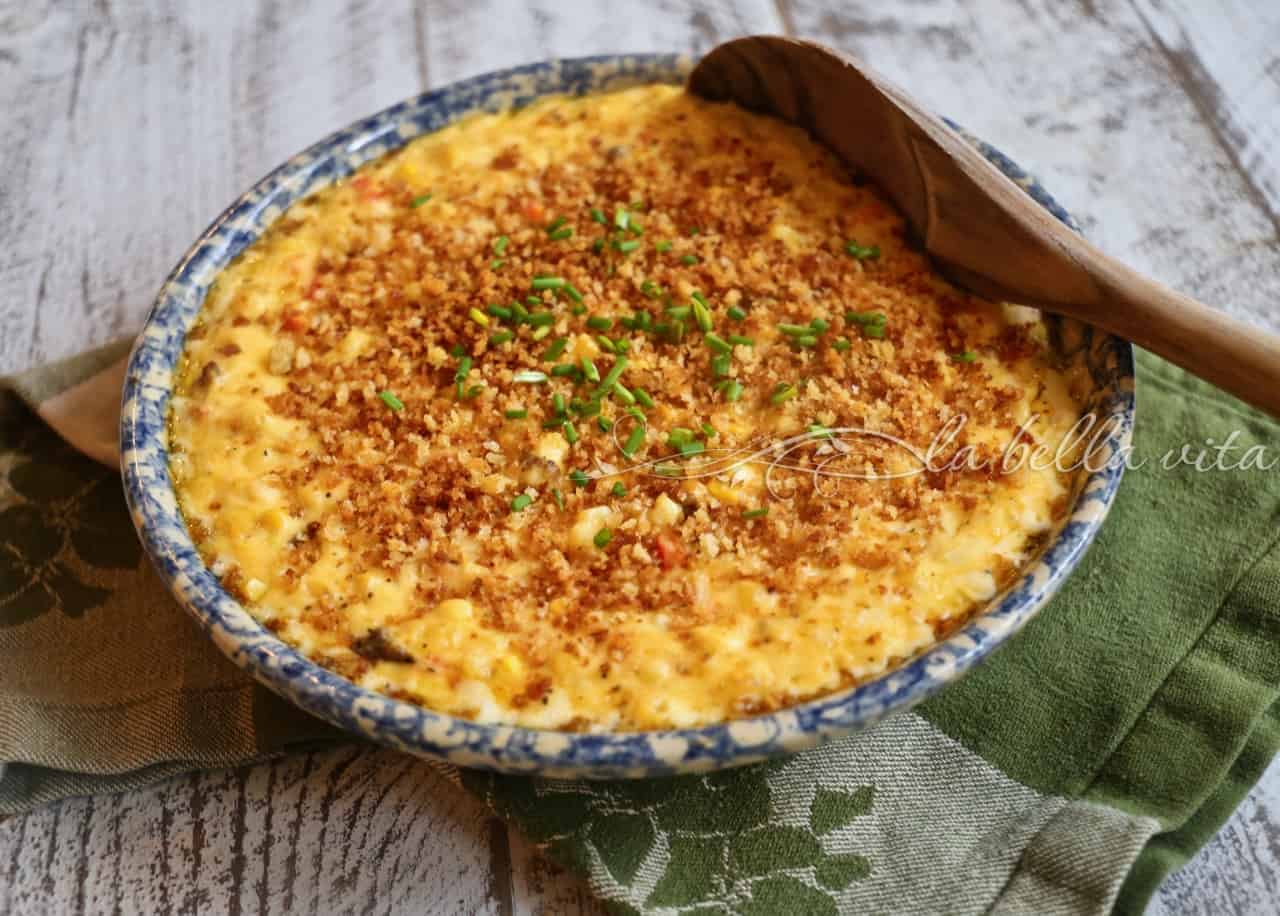 Creamy, cheesy, and golden sweet corn!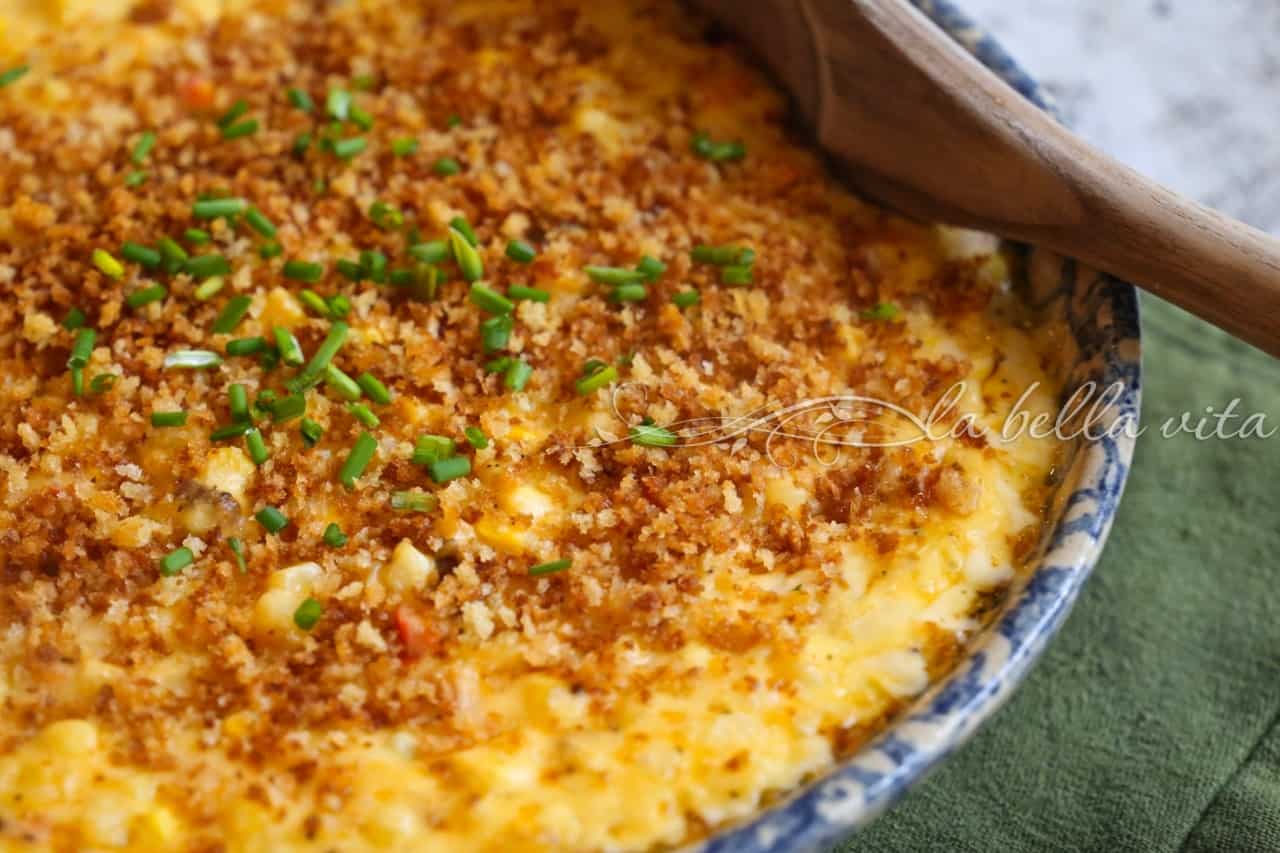 Fresh corn is simply one of the best vegetable gifts from the garden. It's a standard side dish on many American tables and always present on our holiday buffets. Now if you want to go beyond simple buttered corn, this recipe is seriously the absolute, Ultimate Cheesy Corn Casserole with Pepper Jack, Buttered Crumb Topping and Garlic.
This corn recipe takes plain buttered corn to the highest level of deliciousness that I have EVER experienced! There's so much going on in this corn dish beyond the sweetness of the corn itself: crunchy, buttery panko breadcrumb topping, cheddar and pepper jack cheeses, a thick, garlicky sauce, sweet red peppers, chives, and for a bite, there's hot pepper sauce for that delicious kick.
I promise you that You. Will. LOVE. This!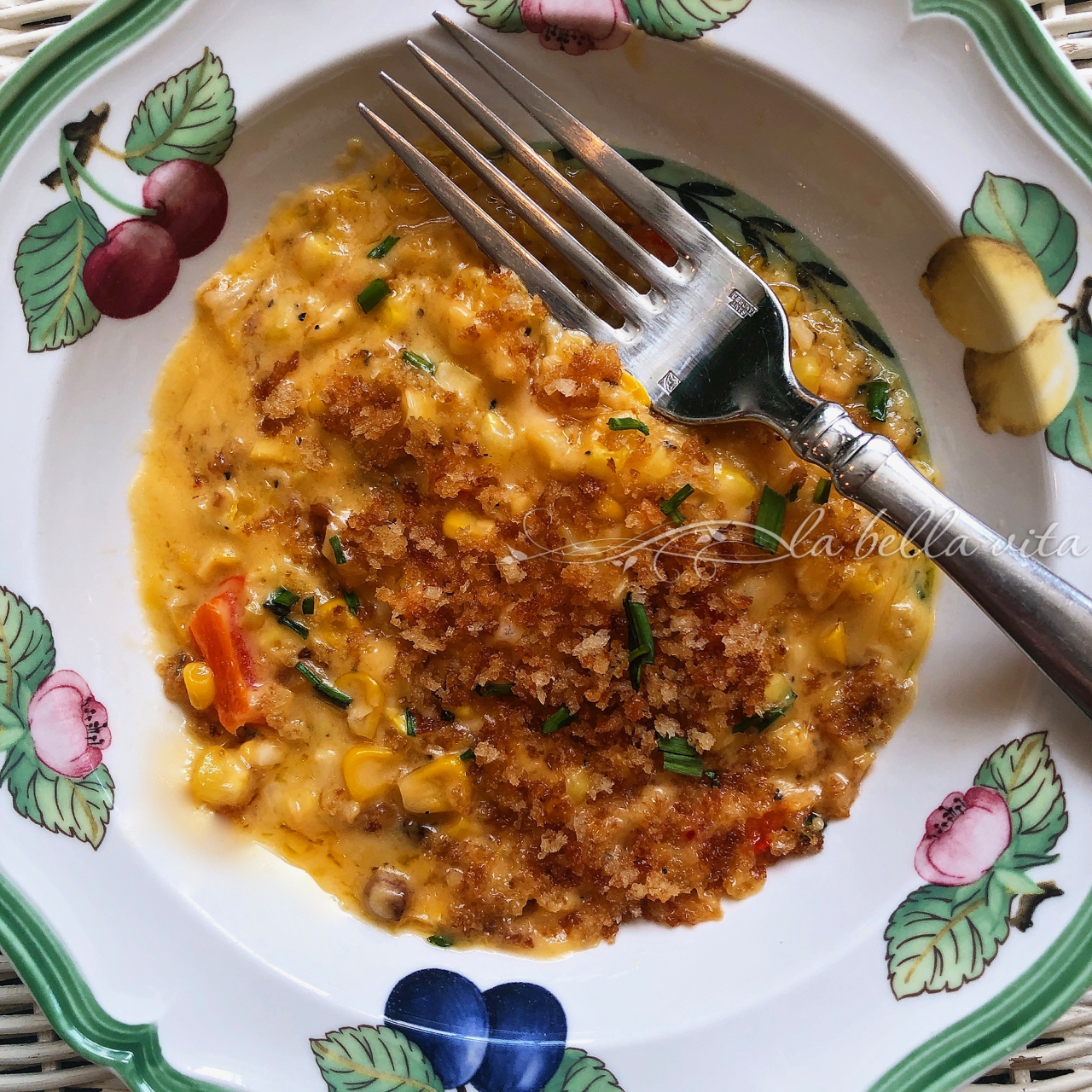 Please share the love and pin this vertical image:

Print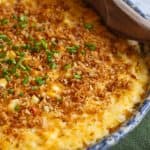 Ultimate Cheesy Corn Casserole with Pepper Jack, Buttered Crumb Topping and Garlic
---
Description
This is the most incredible creamy, cheesy, packs-a-punch-of-pepper-heat corn casserole. Perfect to serve next to an expensive steak or a simple hot dog. Your guests will beg for seconds or thirds!
---
Scale
Ingredients
8 ears fresh corn, husks removed and corn cut off the cobs
¼ pound salted butter
½ cup all-purpose flour (substitute rice flour for gluten-free)
2 cups heavy cream
2 cups whole milk
1 small onion, cut into small dice (approximately 1 cup)
1 red bell pepper, cut into small dice (approximately 1 cup)
3 large cloves garlic, minced
1 cup grated pepper jack cheese
1 cup sharp yellow cheddar cheese
2–1/2 Tablespoon Crystal Louisiana hot sauce
salt and pepper to taste
2 Tablespoons salted butter
1 cup panko breadcrumbs
1 cup chives, diced
---
Instructions
Arrange a rack in oven to the center and preheat oven to 350 degrees
Remove husks from corn and then cut off the corn kernels from the cob.
Pour the corn kernels on a baking sheet in a single layer and roast corn for approximately 35-40 minutes until a mix of golden and brown kernels result. Don't worry if they are crispy; this is good!
While the corn is roasting, melt ¼ pound of butter in a large pot over medium-low heat.
Add red bell pepper, onion, and garlic and saute for at least 10 minutes until onion is translucent and red bell pepper is soft.
Whisk in flour until it is evenly distributed and incorporated into the pepper/onion/garlic mixture.
Slowly add milk and cream, whisking vigorously to combine.
Reduce heat to low and simmer until sauce is thickened (about 10 – 15 minutes).
Add grated cheeses slowly.
Season with salt and pepper.
Remove from heat and let cool slightly.
Remove corn from oven when finished roasting to a mix of nice golden and brown colors, but do not turn off the oven.
Let corn cool slightly, then add the corn to approximately 4 cups pepper jack sauce in a large bowl and stir gently to incorporate (add more to taste if necessary, and freeze remaining pepper jack sauce for later use).
Pour corn mixture into a greased ovenproof casserole dish.
In a small skillet, melt 2 tablespoons butter over medium-low heat and add panko breadcrumbs, stirring continuously until breadcrumbs are golden brown and toasted.
Sprinkle breadcrumbs on top of corn mixture and place in the oven an additional 10-15 minutes.
Garnish with diced chives, if desired.
Serve immediately.
---
---
Notes
Very adapted from Hall's Chophouse in Charleston and Greenville, South Carolina.
If your food market doesn't carry Crystal Hot Sauce, I've provided a link above to find it online.
Tips for Buying and Storing Fresh Corn:
Sweet corn is at its best during the late summer months to early fall. An exception to that is in Florida where sweet corn is harvested from fall to spring.
To receive the best flavor from sweet corn, it should be eaten as soon as possible after it is picked because the sugars will begin to convert to starches as soon as it has been picked.
When selecting fresh corn, look for husks that have good green coloring with pale colored silk.
To check the freshness, pull the top of the husk away from the ear and pierce a kernel with your fingernail.
If the kernel releases a slightly cloudy juice it is typically a fresh batch.
If the kernels are dented or discolored, the corn is not fresh.
Avoid sweet corn with dried or dark colored silk or discolored husks.
Buying sweet corn from a roadside stand may result in corn that has lost much of its sweetness from being exposed to high temperatures. The high temperatures will rapidly convert the corn's sugar to starch, causing it to lose some of its sweet flavor.
To store corn, leave the corn in the husk and refrigerate as soon as possible.
If corn has been husked, place it in a plastic bag and store in the refrigerator.
It is best to eat it as soon as possible.
Corn cut off the cob can be frozen for 6 months to a year.
Here's a great tutorial on how to clean, freeze and cook corn whether by boiling, roasting or microwaving:
Here are other delicious corn recipes that you'll enjoy:
Grilled Italian Corn on the Cob with Garlic Basil Butter