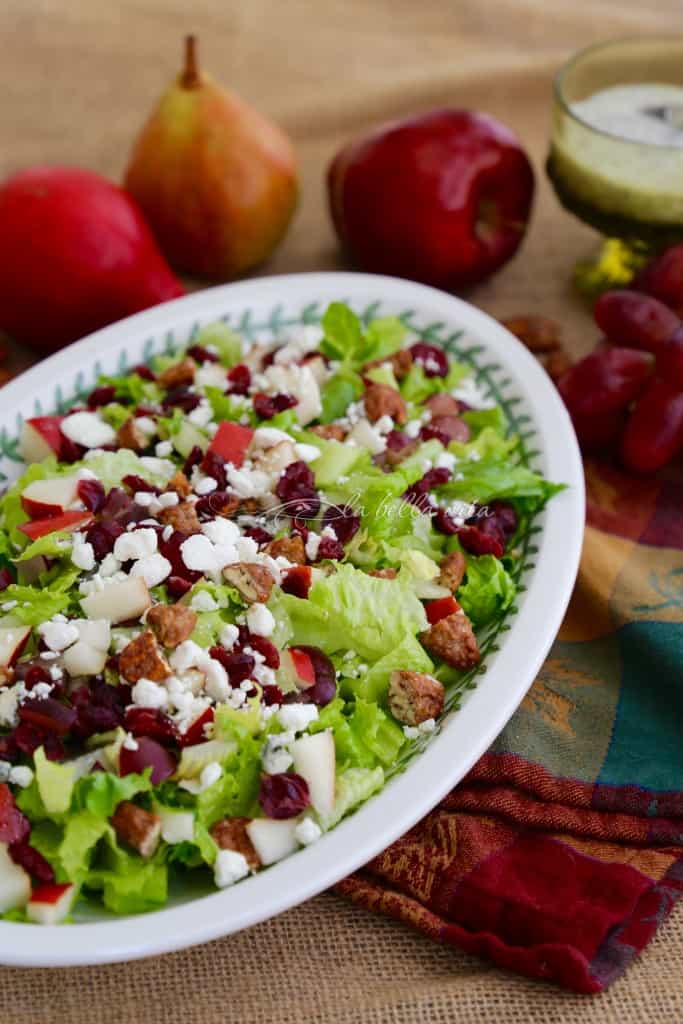 This PERFECT Autumn Chopped Salad highlights delicious fall flavors of pears, apples, thick-cut bacon, cheese, and dried cranberries with a wonderful cranberry balsamic – poppy seed vinaigrette.
Salads aren't just for enjoying in summer! Plus, salads don't need to be boring! Adding fresh fruit, even those of autumn is a great way to make a humble salad superb! Plus, the color of the fruits of fall really adds some eye appeal . . . reds, golds, oranges, and with the brown pecans and bacon, this salad definitely tastes and looks like fall is here!
This salad is my latest BFF recipe in our kitchen!
Super easy and satisfying on top of it all!
This is a wildly popular recipe, Autumn Chopped Salad — and for very good reason: it is quite simply DELICIOUS!
This is one of those salads that every one of the parts looks good, but the sum of the parts greatly exceeds your expectations!
But! To make this salad even more perfect, I used 'praline' sugar-coated pecans and blended Gorgonzola cheese with goat cheese. The sweet crunchiness of the praline pecans combined with the tangy gorgonzola and savory bacon really sing on the taste buds! Along with the sweet pears and chewy dried cranberries, I added beautiful red grapes and a crisp, red apple! Lastly, for the dressing I replaced balsamic vinaigrette with a cranberry balsamic vinaigrette — even my husband loved it!
Oh, and did I say that this salad has BACON? THICK. CUT. BACON? There is just nothing like a combo of sweet and salty flavors!
Make sure that you toss every little morsel of this salad until it is completely coated . . . and get ready to gobble this down in reckless abandon! You'll thank me for this recipe! Trust me!
Chopped salads differ from ordinary salads due to the way that they are prepared and presented. All ingredients are chopped, including the lettuce, and blended together instead of being layered on top. This allows you to create hundreds of options in ingredients!!!! There are a few other interesting combinations that I shared at the bottom of this post just to show the variety and creativity you can have with chopped salads.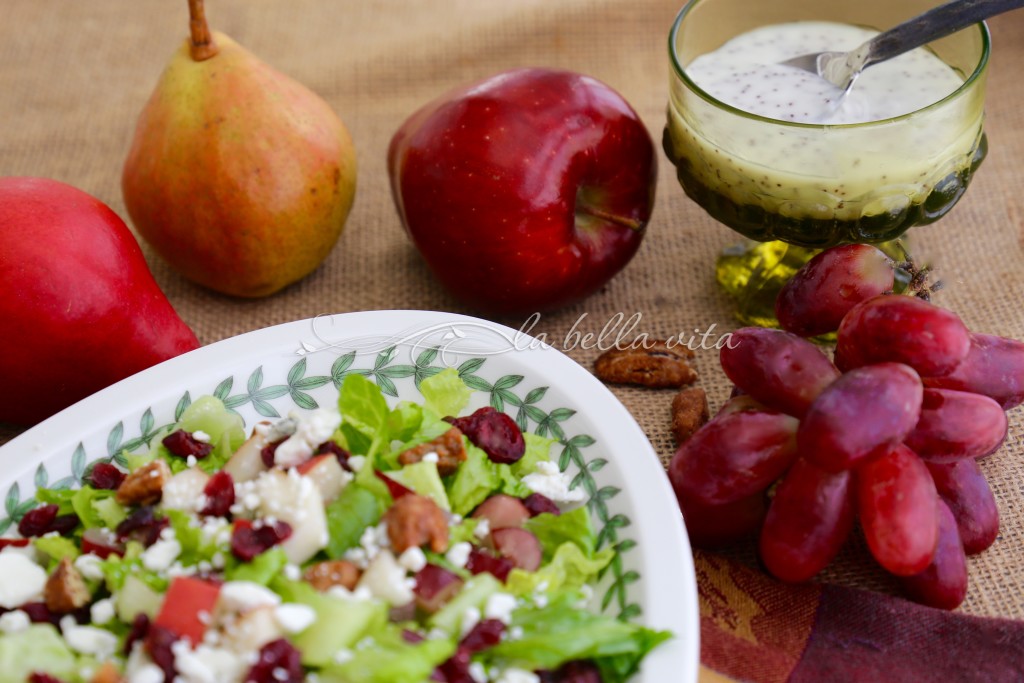 Just before serving lightly dress the poppy seed/cranberry balsamic vinaigrette on the salad. Pass around more dressing to your guests.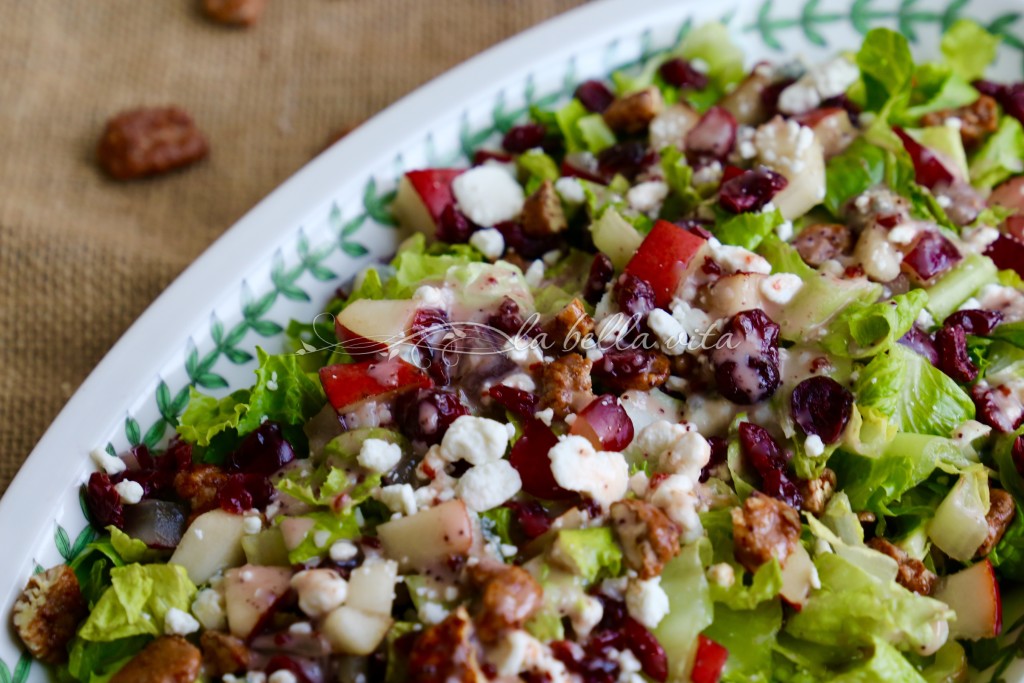 Please share the love and pin the following vertical image:

Print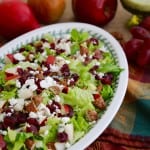 Perfect Autumn Chopped Salad
---
Scale
Ingredients
| | |
| --- | --- |
| 8 cups | romaine lettuce (chopped) |
| 1 | medium pears (red, chopped) |
| 1 | medium apple (red, chopped) |
| 1 cup | dried cranberries |
| 1 cup | red grapes (chopped) |
| 1 cup | praline-sugar coated pecans (chopped) |
| 10 slices | thick-cut bacon (crisp-cooked and crumbled) |
| 4 ounces | feta cheese (crumbled) |
| 4 ounces | gorgonzola cheese (crumbled) |
| 1 cup | poppy seed salad dressing |
| 1 cup | cranberry balsamic vinaigrette |
---
Instructions
Combine all ingredients and drizzle with vinaigrette.
Enjoy this totally delightful salad!
---
N
Have a beautiful and delicious salad-filled day everyone!
.