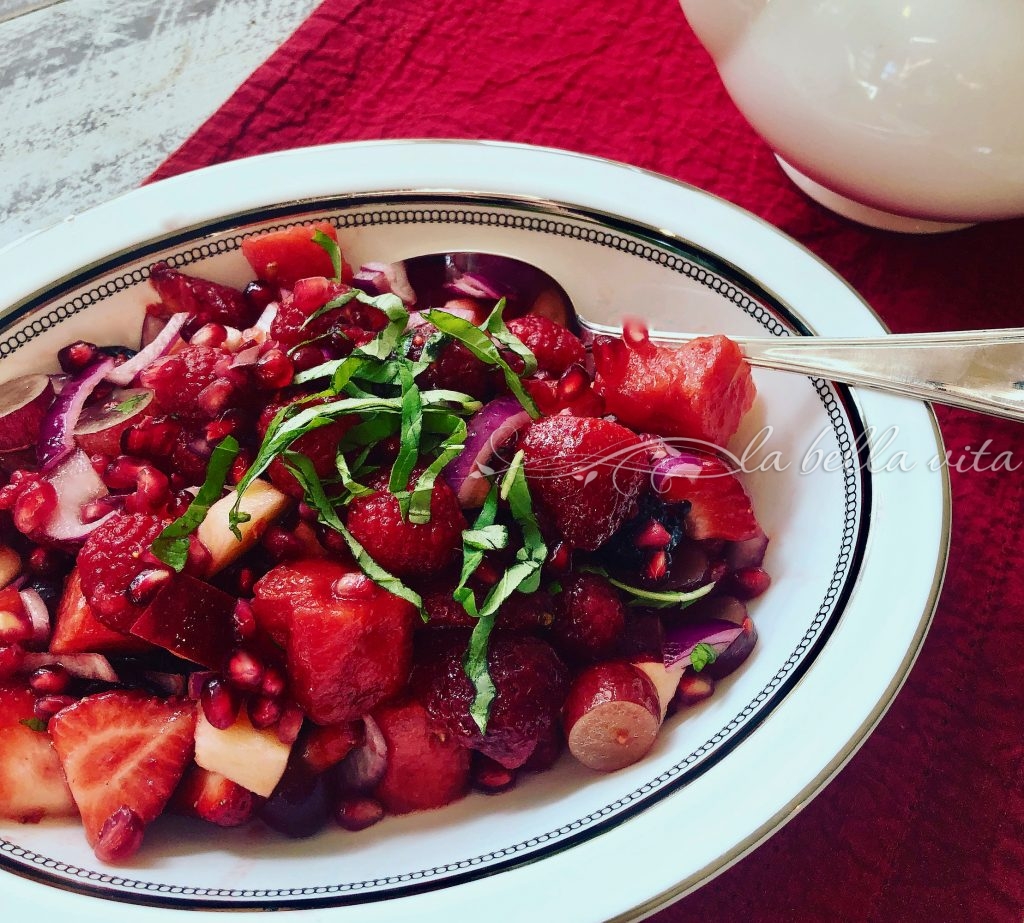 OK, I do realize that it is NOT yet Christmas! Although all of the radio stations began piping out holiday songs and jingles this week and several TV networks have aired holiday commercials. Even though I'm not in the mood for Christmas, it's always a GOOD THING to prepare ahead of time for anything, including what you're going to prepare in only 8 weeks from now!
Now I need to explain how this delicious recipe came into our lives: One year for our annual Christmas dinner one, for whatever reason that compelled me, I decided to add a more 'healthy' fruit salad to the Christmas buffet. Both of my adult kids were begging me to reduce the quantity and types of food offered. I had no idea that such a huge amount of accolades would result from this humble, simple and easy fruit salad recipe: compliments on how delicious the red fruit salad was, and for the amazing amount of GRATITUDE that came from my uber-health conscious adult kids. My daughter even said, 'We need to include this salad for every holiday meal. There is so much less guilt involved!"
So true!
Even my husband who is so averse to trying something new and different than what he ate beginning at the age of 2, said to me, "This is pretty darn good, sweetie!" Heavenly words to my ears! And seriously my dear cooking friends, if this guy says a recipe is good, then the recipe is beyond that . . . it is WONDERFUL!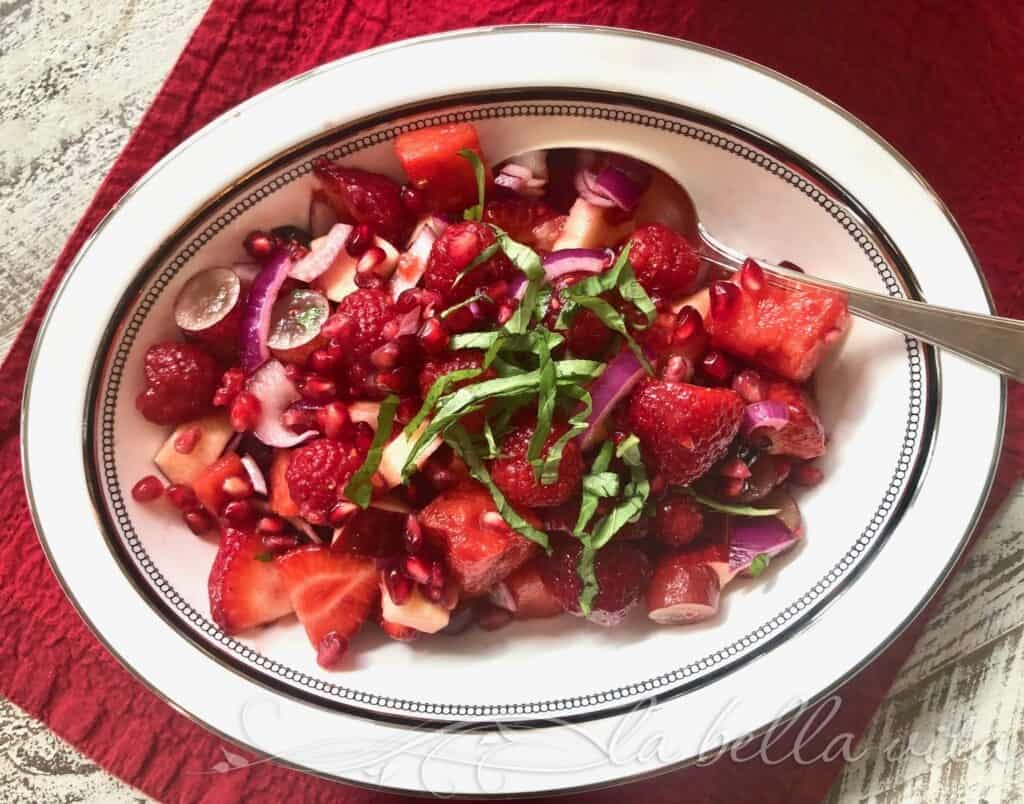 And talk about EASY!
Just rinse clean and slice up your favorite 'red' fruits in a medium-sized mixing bowl, add the vinaigrette ingredients, gently mix and that's it!!! Period. Ready to serve!
Here's the recipe that I truly hope you'll prepare when everything on our typical Christmas meals is so calorie-ridden, a time when you're so in need of one that is healthy for your holiday guests, and yet a recipe that also tastes fantastic!
Please share the love and pin this vertical image:

Print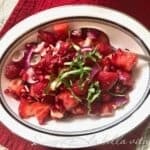 ULTIMATE Red Fruit Salad with Balsamic and Basil Vinaigrette
Author:

Prep Time:

20 minutes

Total Time:

20 minutes

Yield:

8 people

Category:

Salad
---
Description
This salad is so delicious and on top of it, it is amazingly easy to prepare in no time! Lots of your favorite red fruit simply sliced up into a bowl and mixed with a perfect vinaigrette dressing results in a light, healthy and yet flavor-packed salad!
---
Ingredients
1 small container of strawberries
1 small container of raspberries
20 cherries, pits removed and cut in half
1 – 2 cups watermelon cut into 1″ chunks
1 Red Delicious apple, cut into halves, sliced, and then cut into 1/2″ chunks
4 very large leaves of fresh basil, sliced very thinly (or chopped)
1/2 cup of pomegranate seeds (purchase the pre-filled plastic cups in the produce section)
About 10 red grapes, sliced
1/2 red grapefruit, rind removed, cut into 1/2″ pieces
1/2 of a red onion, sliced thinly and then cut again into 1/2″ pieces
2 Tbsp. sugar
2 Tbsp. WHITE balsamic vinegar
4 Tbsp. olive oil
Salt and pepper to taste
---
Instructions
Clean all fruit and slice.
Place all clean and sliced fruit in a medium-sized mixing bowl.
Add sugar, balsamic vinegar, olive oil, salt and pepper.
Adjust amounts of any of these ingredients to satisfy your flavor preferences.
Garnish with thin slivers of basil.
Similar Recipes on La Bella Vita to Enjoy!