Italian Turkey Stuffing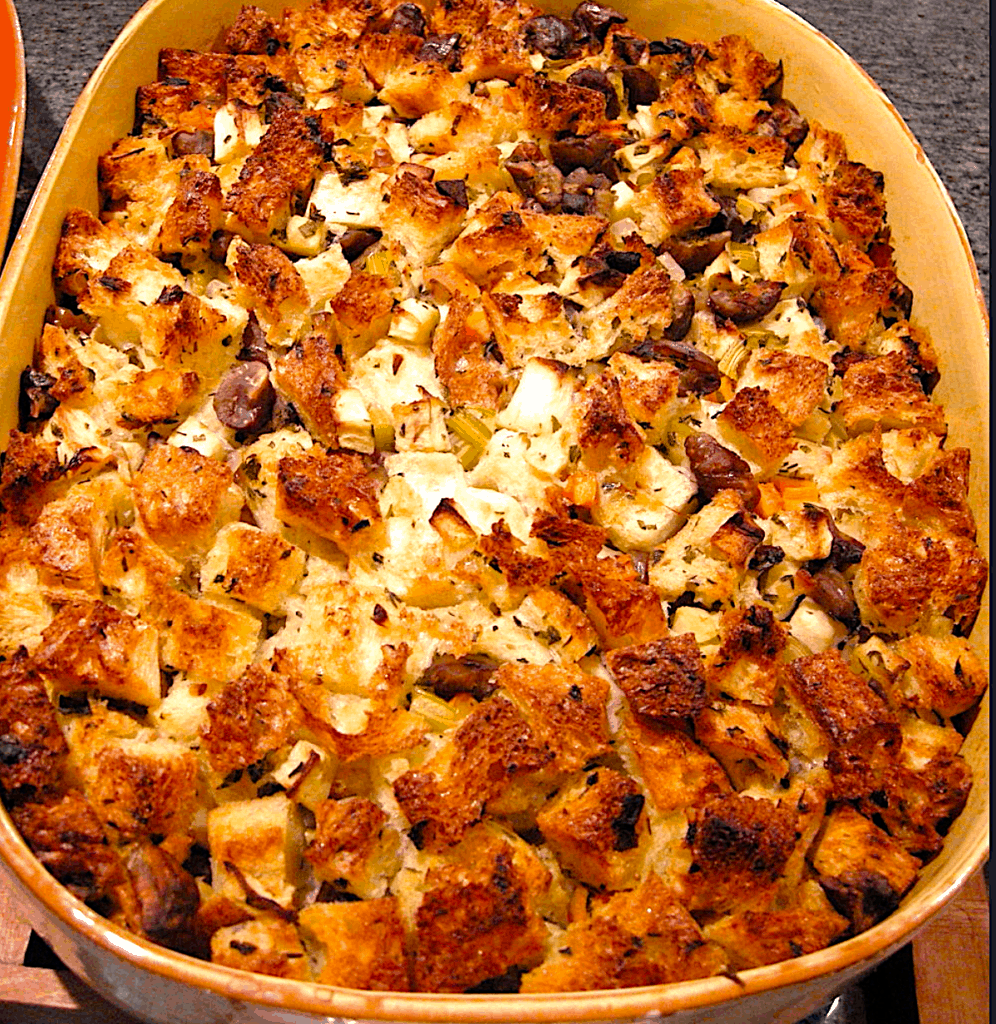 Years ago I found a fabulous recipe for turkey stuffing (or dressing) in Gourmet magazine: Italian Turkey Stuffing !
Any Thanksgiving table would not be complete without stuffing. It would be like serving a naked turkey. Afterall, stuffing is considered to be a classic, hall of fame side dish for the holiday! It's the co-star of the show next to the turkey. Well, mashed potatoes and gravy share that spot too!
This stuffing is so fantastic that everyone in the family prepares it for the holidays. It oozes with melted mozzarella cheese, teeny, tiny bits of pepperoni (and not too much either), savory Italian sausage and a delicious blend of herbs and spices. The bread is freshly baked and not purchased which adds a big 'wow' factor to the texture of the dish. While the bread is still warm, it's tossed with the herbs that just soak into the bread!
The original recipe in Gourmet (which I have since lost) was far too spicy. So I decreased the herbs and spices in a second batch which toned down the overpowering flavor. And since I know my family's taste preferences, it turned out perfectly balanced in the new batch.
A great thing about this stuffing is that you refrigerate it overnight which allows all of the ingredients to marry. That also eliminates one more thing that would keep you busy in the kitchen instead of spending more time with family and guests! That's a real game changer to reduce stress in the kitchen.
You won't believe how wonderful your kitchen (and home) smells when this Italian Turkey Stuffing bakes in the oven!
Here are some other dishes that are always included on our Thanksgiving buffet. All of these recipes have passed the test of time and some overly picky, demanding, critical foodie family members!
Haricot Verts with Herbs (Green beans)
Cheesy Pepperjack Corn with Butter Crumb Topping
Print
Italian Turkey Stuffing
Author:
Prep Time: 45 minutes
Additional Time: 0 hours
Cook Time: 0 hours
Total Time: 45 minutes
Yield: 24 servings 1x
Category: Side Dishes
Cuisine: Italian
---
Description
Inspired by a recipe in Gourmet magazine, once this stuffing was prepared and enjoyed by everyone in my family, it has been the go-to recipe ever since for the entire family coast-to-coast.  Truly a winner!
---
20 oz. loaf of home-made bread, sliced, toasted, buttered, and cut into 1/2 inch cubes . . . (you can also buy and bake frozen bread dough for this)
1 Tbsp. crumbled dried thyme
1 tsp. crumbled dried sage
1 tsp. crumbled dried rosemary (or less since it is so strong)
salt & pepper to taste
3 chopped onions
1 1/2 cups chopped celery & leaves
1 stick plus 3 Tbsp. unsalted butter
one turkey liver, gizzard, and heart — all chopped
1 pound pork sausage . . . plus 1 tsp. garlic powder
8 oz. whole milk mozzarella cheese (fresh if possible), cut into 1/4″ cubes
2 oz. pepperoni, cut into 1/8″ tiny, tiny bits
---
Instructions
In a large bowl, toss the bread cubes with the thyme, sage, rosemary . . . salt and pepper to taste.
In a skillet, cook the onions, celery, AND celery leaves in 9 Tbsp. of butter over medium heat until softened and tender (about 8 to 10 minutes) stirring occasionally and then add this to the bowl of bread cubes.
In the skillet, cook the giblets in 2 Tbsp. of butter over moderate heat, stirring for 4 minutes or until they are browned . . . adding salt & pepper to taste.
Add this mixture to the bread cube mixture.
In the skillet, cook the sausage, breaking it into pieces, over moderate heat until it is cooked through.
Add 1 tsp. garlic and some salt.
Add this to the bread cube mixture.
Add the mozzarella, pepperoni to the bread mixture….toss completely and let cool completely.
Bake either inside a turkey or in a baking dish in the oven at 350 degrees until golden brown on the top.
THIS CAN BE MADE THE NIGHT BEFORE!
Cover with plastic wrap and keep in the refrigerator until ready to stuff the turkey or bake separately (or both).
The aroma will simply amaze you when you open your refrigerator!
---
Notes
Adapted from Gourmet magazine
---
Nutrition
Serving Size: 1 cup
Calories: 500
Keywords: Italian, Thanksgiving, Turkey Stuffing, Turkey Dressing
Do you enjoy La Bella Vita Cucina?
We'd love to have you as part of our community!
Subscribe Below: to get the latest recipes, travel tips and gardening ideas straight into your inbox!