Creamy Cucumber Salad Kissed with Garlic in Dill Dressing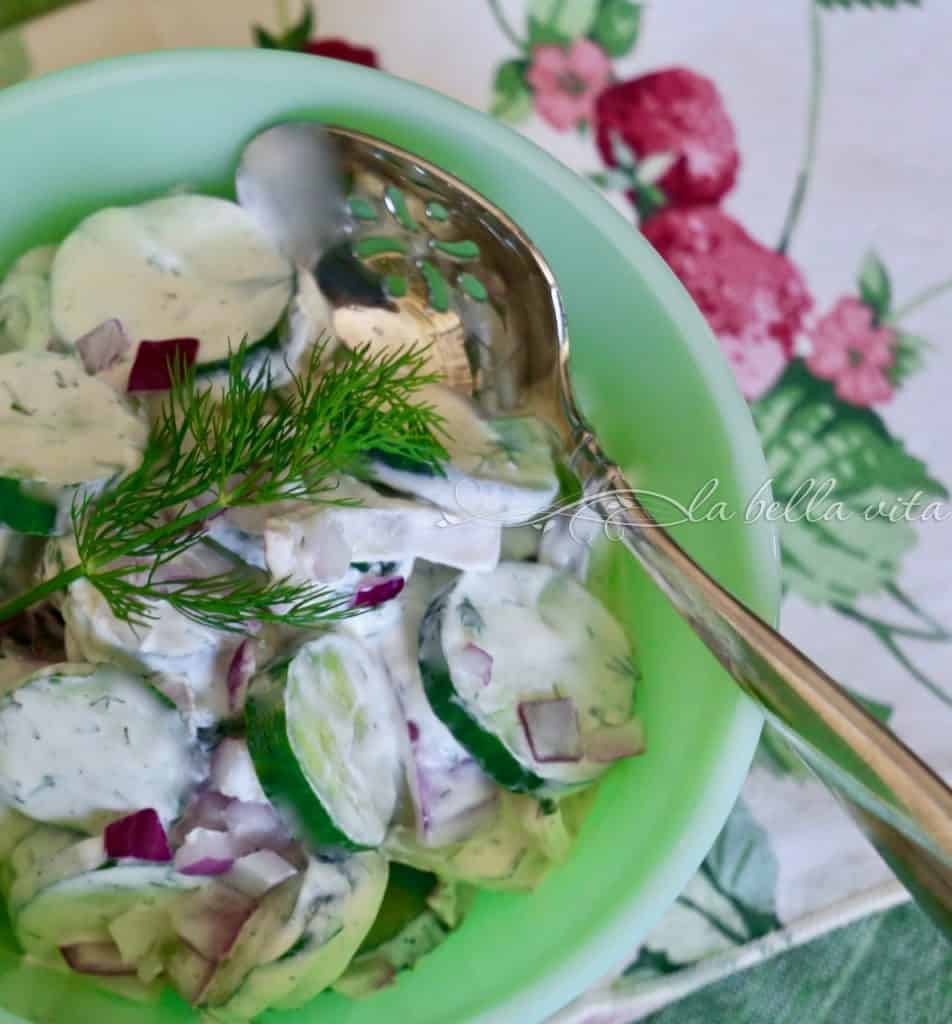 As the weather begins to warm up, I like to serve cold salads in numerous ways. One of my favorites is Creamy Cucumber Salad kissed with garlic. Served cold, it's not only light and delicious, but also it's just so refreshing! Perfect to pack for a picnic, for a side dish when grilling out, or even for taking to a potluck with friends and family.
Creamy meets crispy in this salad in which the creamy dressing complements crunchy cucumbers.
This classic recipe for creamy cucumber salad kissed with garlic is just like our wonderful grandmothers made (with so much love too)! It's lusciously creamy. And has all of the expected ingredients included: fresh cucumbers, red onions, fresh dill, and two delicious secret ingredients not found in other recipes: garlic and onion salt!
This truly takes an ordinary cucumber salad over the top to outstanding!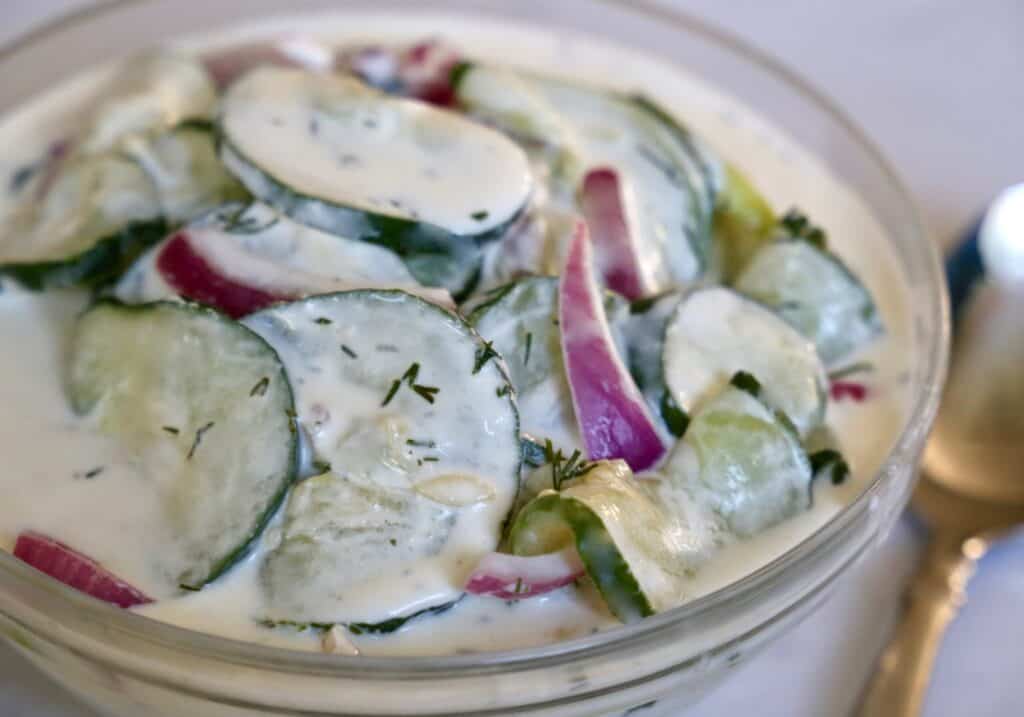 You know this is a really old recipe, so there are lots of reasons to feel a sense of nostalgia when preparing and enjoying it. Many of us can remember that a creamy cucumber salad was a perennial standby for get-togethers with family and friends. I even remember the first time I tasted my first bite: It was during summer, at a family reunion, and I recall just wanting more and more of its refreshing flavor PLUS the coldness of it in the middle of a hot, humid, Midwestern summer!
What the heck is "Gurkensalat"?
By now, most of you know that I'm Italian with no other ethnicity in my background, either on my mother's or father's sides. So how in the world would a Creamy Cucumber Salad enter into my life since it is, well . . . not at all Italian? The answer is that I was raised in an extremely strong German and Scandinavian part of the U.S. – – the state of Iowa. Food is everything to the people in the agricultural state of Iowa, many of whom are German with the strongest nack for farming. A bit of trivia there! We have to thank those that came from Germany for bringing their advanced farming methods to the young U.S.A.!
And with their arrival to the U.S., many German home cooks prepared "Gurkensalat" or Creamy German Cucumber Salad!
It's true that every Italian cook has a different recipe and preparation method for making Bolognese sauce or even a simple Marinara sauce. Well, it's pretty much the same thing for German home cooks. Now, let me just preface this by saying that I realize every family makes this traditional recipe a bit different than everyone else. This recipe includes the very basics of Gurkensalat while making a few easy modifications which, in my humble opinion, make this cucumber salad even better!
Cucumbers were and still are a part of anyone's home gardens, not just in Iowa, but throughout the country. Home cooks love the ease in growing them in their gardens, cooking with them, and canning them.
Another note about German cuisine: You'll find a fresh cucumber salad included on a "Salatteller" (salad buffet bar) in German restaurants. A salatteller often features carrot salad, radish salad, lettuce greens, potato salad, cucumber salad, pickled herring salad, asparagus salad, and even pasta salad.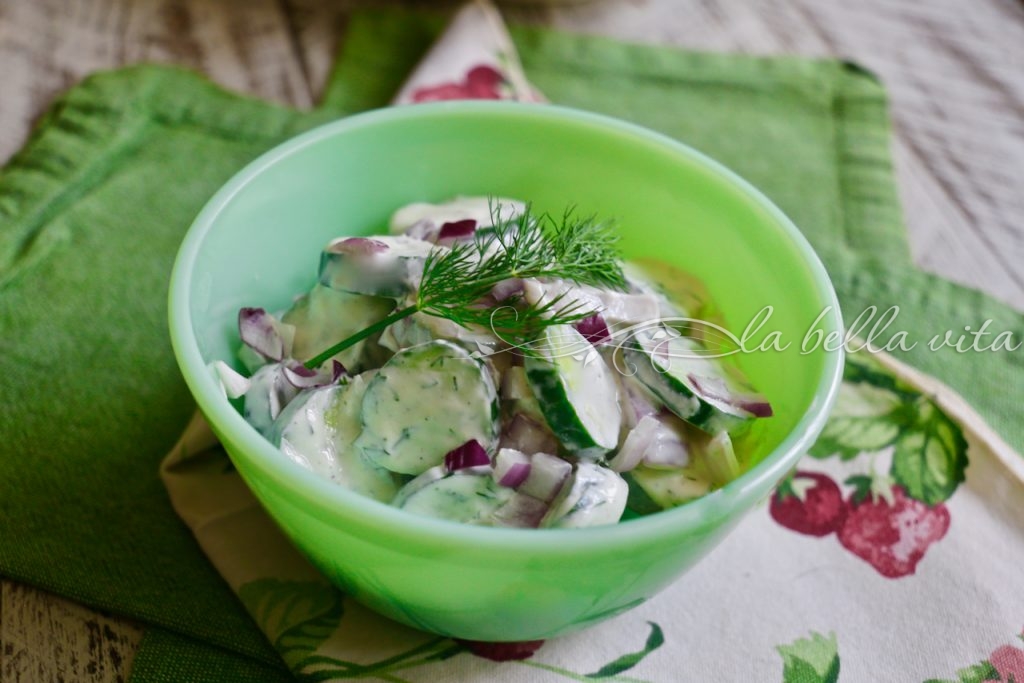 A really good idea to do before pouring the creamy sauce over the cukes is to drain off the excess liquid from the cucumbers. They're full of water, so by doing this, you'll have a more silky, creamy sauce that is far less runny! Just like tomatoes, this is a must . . . to allow the excess liquid to drain out when required (ie: in a tomato pie!)
Something that I also add that gives a little bit more of an Italian twist to the recipe is garlic! Yes, that's right! Garlic just makes most savory recipes better, doesn't it? But then again, it's entirely up to you!
I also used some fresh dill, fresh parsley, and fresh chives from my garden instead of the dried jarred stuff. That always makes a big difference! This creamy cucumber salad kissed with garlic is perfect to pair with grilled chicken, pork, or burgers!
You can turn down the calories in any cucumber salad recipe by using yogurt rather than sour cream and/or buttermilk. But, I prefer the real deal with sour cream and buttermilk. That's totally up to you though.
This creamy cucumber salad kissed with garlic is so nice also because it's just insanely simple to put together! Another big plus about this cuke salad is that you can prep it ahead of time because it stays crunchy and yummy in the fridge until the time of feeding your hungry family and friends!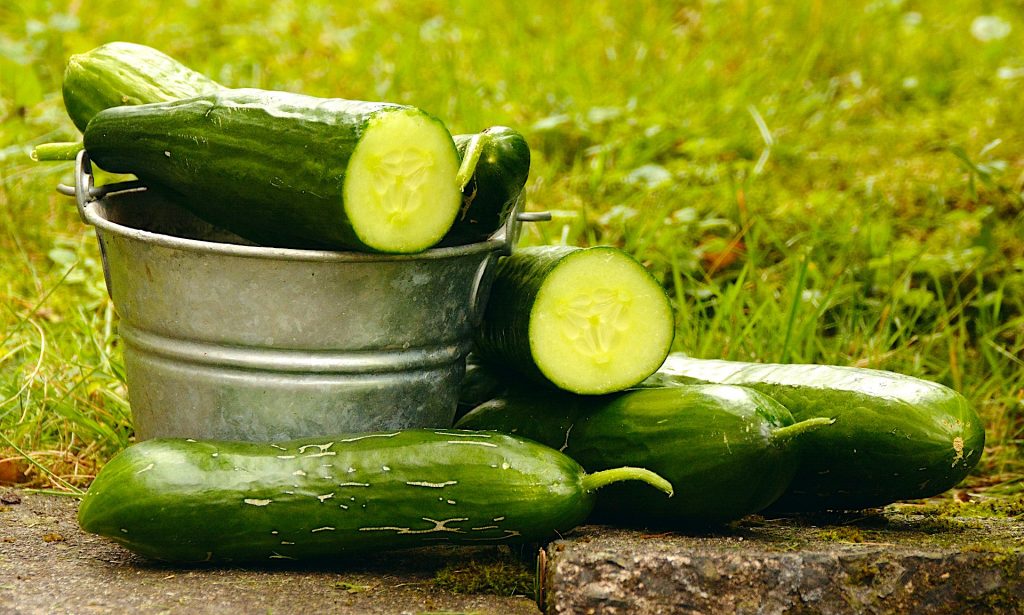 Slice the cucumbers with the pretty green skin left on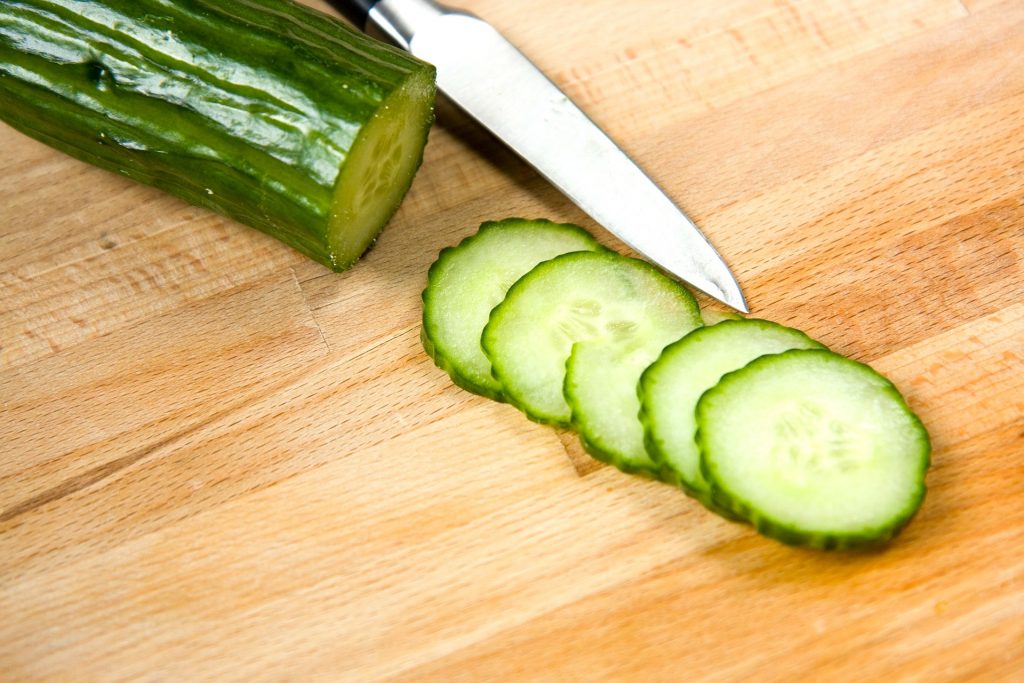 You want that beautiful green color peeking through the cream!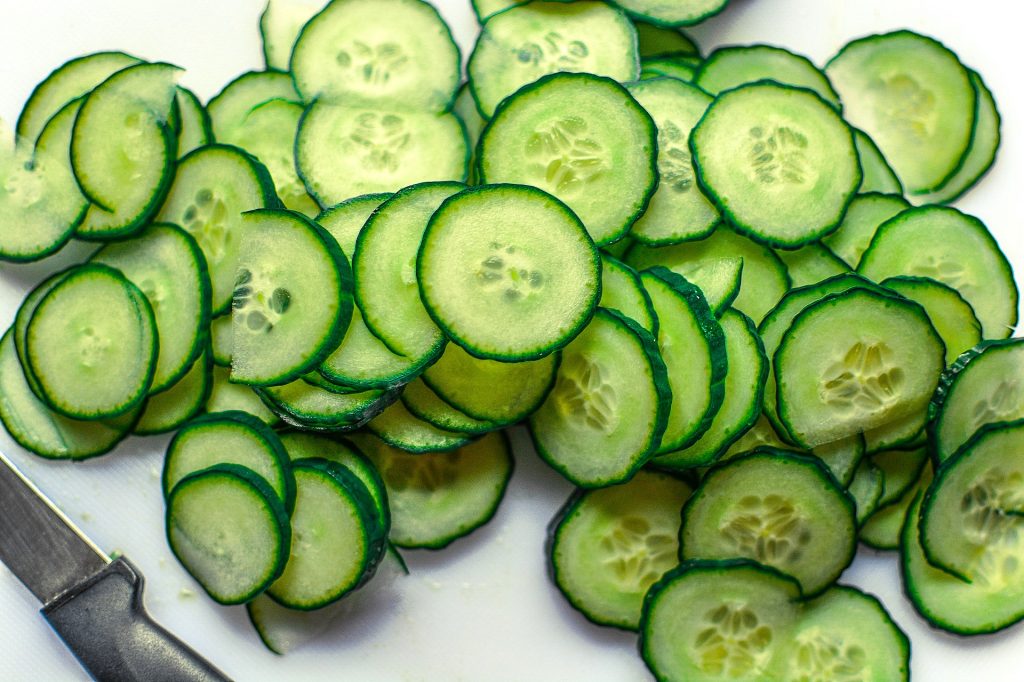 I always add a pop of color by slicing up a nice red onion . . . adds another delicious layer of flavor too!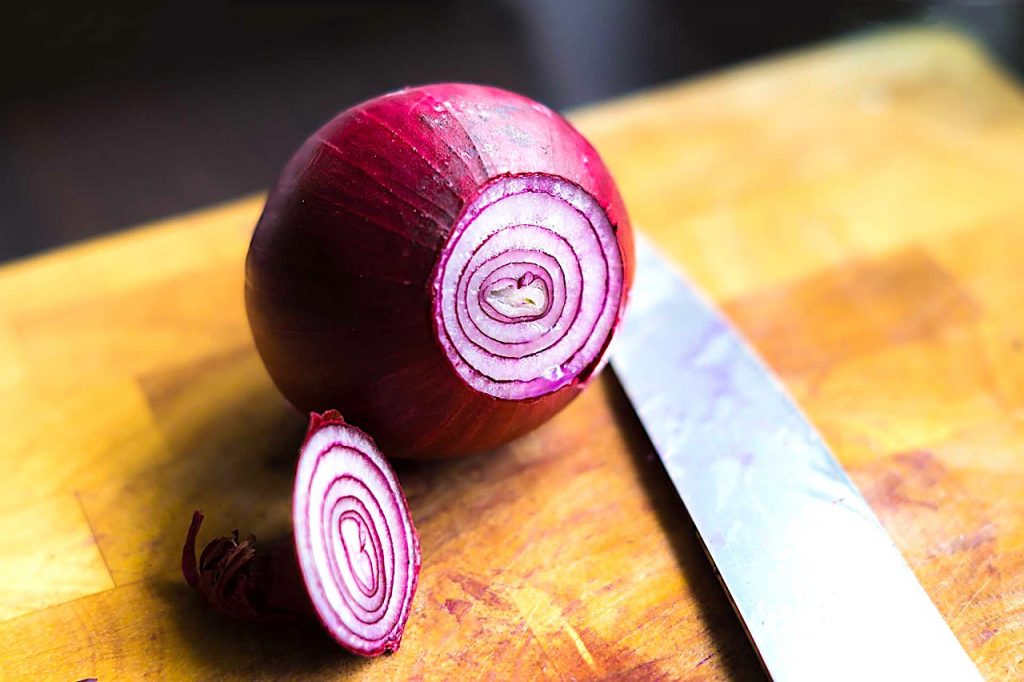 From my kitchen garden, I use fresh dill, Italian parsley, and chives . . . all minced up and tossed in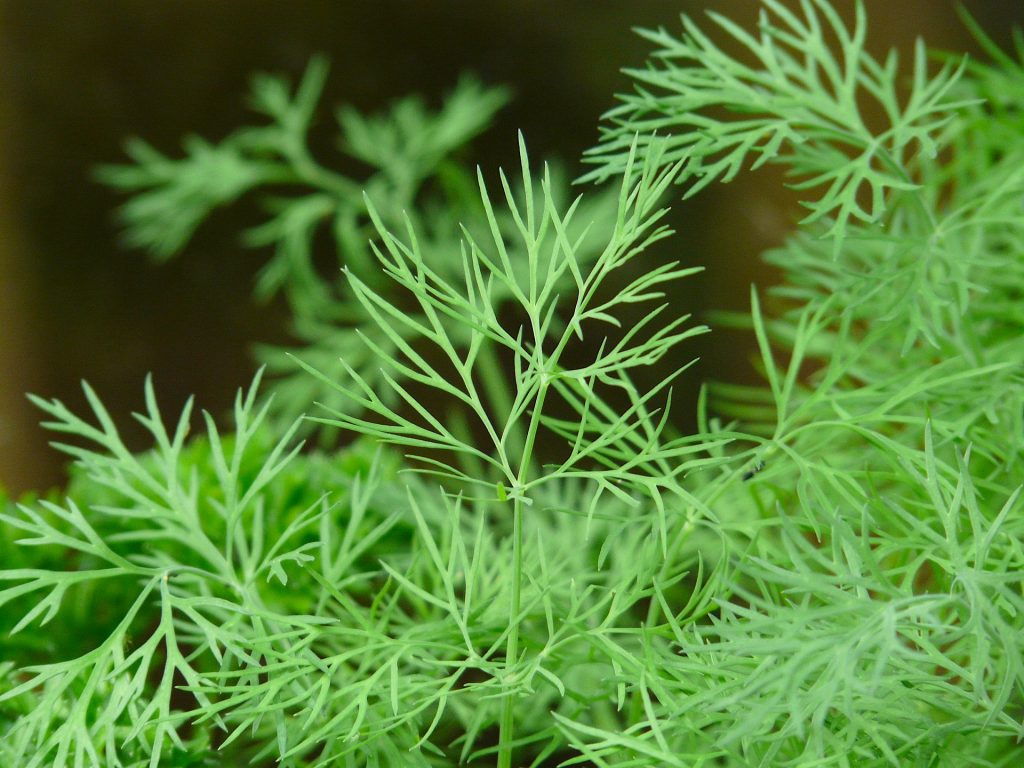 Blend all ingredients except the cucumbers and red onions, which you add at the end.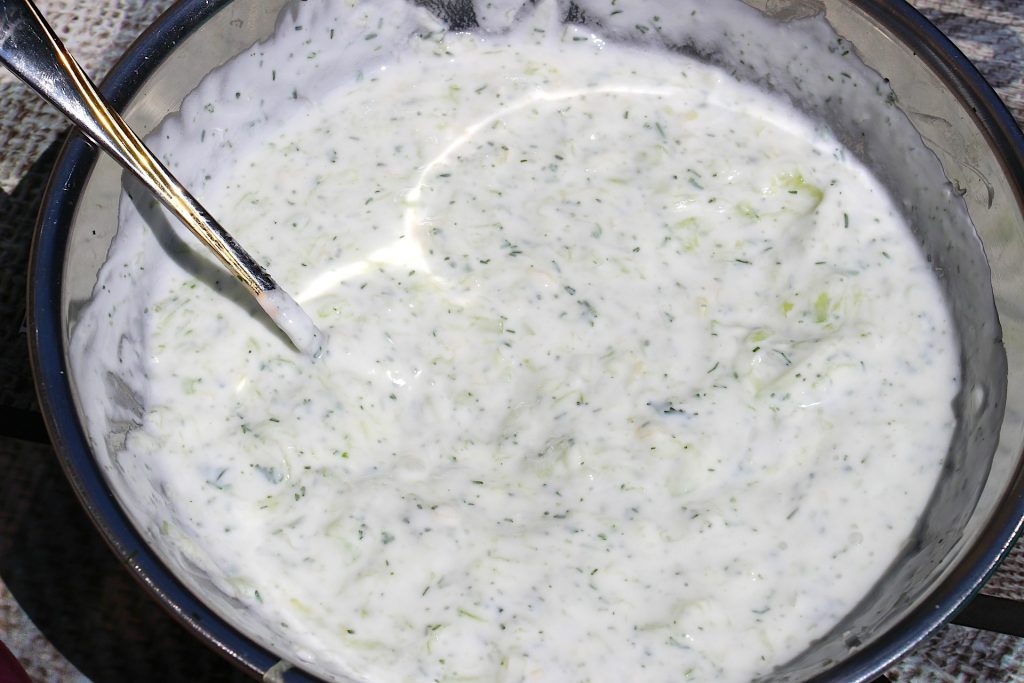 Serve in a pretty bowl, garnish with some fresh dill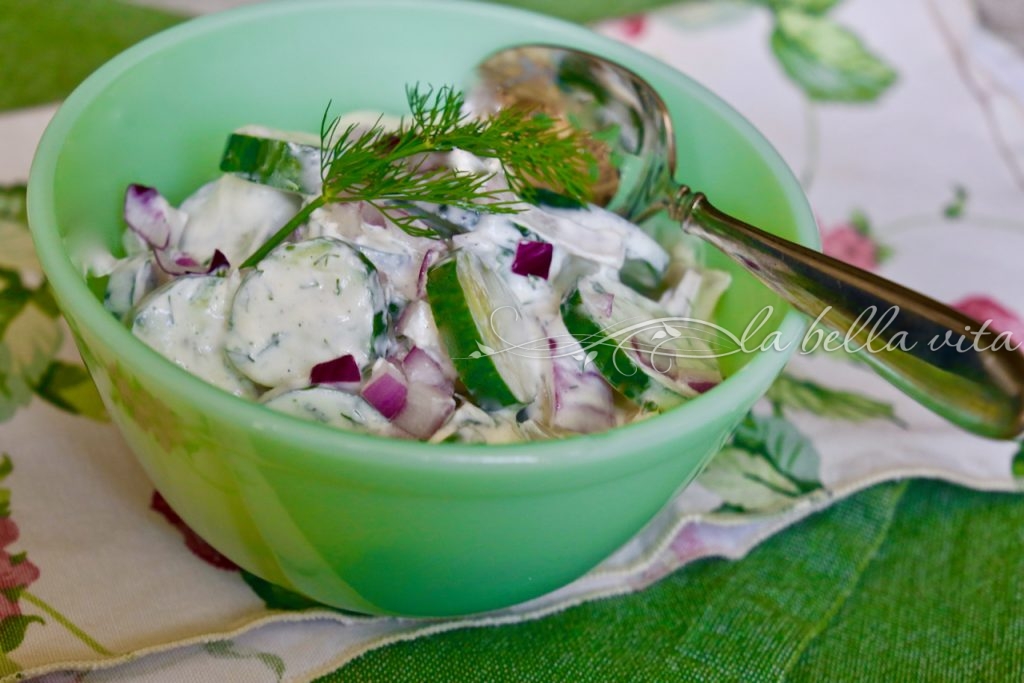 Tips for Making Creamy Cucumber Salad
You can use any kind of cucumbers. English cucumbers tend to be sweeter and have fewer seeds than regular cucumbers. Persian cucumbers are smaller and tend to be sweeter and crunchier.
The longer you let a creamy cucumber salad marinate before serving, then the stronger the flavors will be, as well as the more soft and tender the cucumbers will become. For me, I prefer this. I like a stronger marriage of flavors in everything that I cook/bake. The dressing will also become thinner because the cucumbers will continue to release moisture, but it shouldn't become too watery if you use the salt-drainage method before adding them to the creamy dressing.
Cut up the prettiest and most fresh seedless cucumbers that you can find in your local marketplace or from your garden. If you only have cucumbers with seeds, then you'll need to slice them in half lengthwise and then scoop out the seeds. Personally, I don't mind the seeds, and if you don't either, then leave them in.
Slicing them thicker gives a crunchier bite to the cucumbers, PLUS adds more of a 'green' contrast between the cucumber slices and the dressing.
Some cooks mix all the ingredients together just before serving to guests as soon as it is put together. The problem with that approach is that the flavors of the ingredients don't have time to marry. The flavors of the salad are far better if the ingredients have some time to hang out together for a while.
You can easily make this recipe with plain yogurt instead of sour cream for a more healthy version. Greek yogurt is thicker than regular yogurt and results in a thicker dressing. You can also use Ranch dressing, half and half, or a combination of Greek yogurt and mayonnaise.
Think about swapping out fresh dill with fresh Italian parsley and/or chives . . . or do as I do and add them all. Why not? Have fun with your recipes!
Marriage is often a good thing! This salad tastes best when it's made at least 2 hours in advance and refrigerated to let the flavors marry and get to know each other well!
Creamy cucumber salad can be stored in an airtight container in the fridge for up to one week.
More Fresh Salad Recipes that You Might Enjoy:
Classic Italian Tomato and Cucumber Salad
Italian Summer Vegetable Salad
Thank you for kindly pinning this image:

Products You'll Love To ENJOY In Your Kitchen: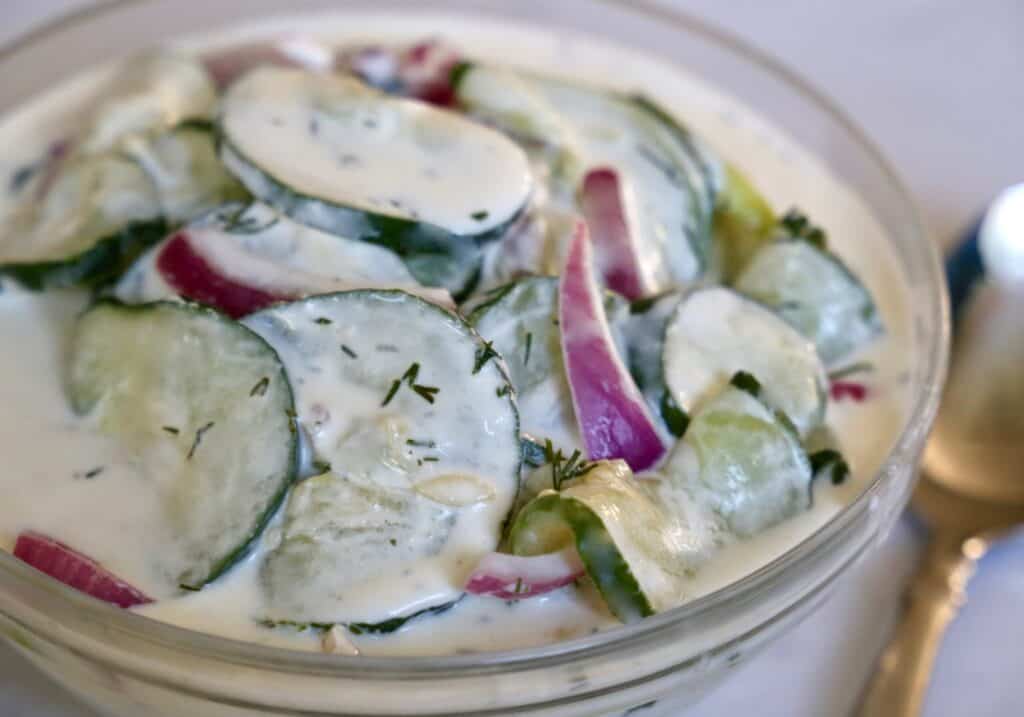 Print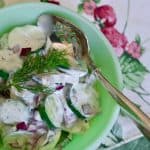 Creamy Cucumber Salad Kissed With Garlic
Author:
Prep Time: 4 hours
Additional Time: 0 hours
Cook Time: 20 minutes
Total Time: 4 hours 20 minutes
Yield: 6 servings 1x
Cuisine: German
---
Description
This Creamy Cucumber Salad with just the right amount of garlic, also known as German "Gurkensalat" will bring back childhood memories of simple, fresh vegetable salads served chilled in the middle of hot summers! Thinly sliced fresh cucumbers dressed in a delightful sour cream, buttermilk, and dill/garlic dressing is sure to please your hungry guests! It's fresh, with a tangy-sweet flavor combo that is irresistible! It's sure to be one of your summertime staples!
---
2 –3 seedless English cucumbers, thinly sliced with the peel left on
1 large red onion, finely sliced into 1/4" widths, and then cut into half rounds
1–1/2 Tbsp. salt (for draining the liquid from the cucumbers)
1 cup of sour cream (you can also use plain yogurt)
1/2 cup mayonnaise. For best results, we recommend Hellman's
1 cup buttermilk
2 Tbsp. champagne or white wine vinegar
4 Tbsp. minced fresh dill
1 Tbsp. minced fresh chives
1 Tbsp. minced fresh parsley
3 large cloves garlic, minced
1 tsp. onion salt
1 tsp. sugar
1/2 tsp. salt
1/2 tsp. light white pepper
GARNISH: fresh dill sprigs
---
Instructions
In a mixing bowl, mix the cucumbers and 1-1/2 Tbsp. of salt.
Pour them into a large colander and suspend it over another large bowl . . . to allow the liquid from the cucumbers to drain from the colander down into the larger bowl.
Wrap the bowl and colander with plastic wrap.
Place this in the refrigerator to DRAIN for at least 4 hours or overnight.
Discard the liquid that collects in the bowl. It is full of salt and not to put back into the salad.
When the cucumbers are ready, rinse them under cold running water to remove any excess salt. Then roll them up in paper towels or a clean kitchen towel.
Press the paper towels/kitchen towel lightly to remove most of the liquid from the cucumbers.
In a mixing bowl, blend sour cream, buttermilk, vinegar, dill, parsley, chives, garlic, onion salt, sugar, and salt.
Mix well.
Add sliced cucumbers and red onions.
Sprinkle again with salt (and freshly ground pepper if you prefer).
Garnish with snips of fresh dill for color!
Serve chilled.
YUM!!! Enjoy!
---
---
Nutrition
Serving Size: 1
Calories: 269
Sugar: 7
Sodium: 3044
Fat: 24
Saturated Fat: 7
Unsaturated Fat: 15
Trans Fat: 0
Carbohydrates: 11
Fiber: 1
Protein: 4
Cholesterol: 34
.