Copycat Carrabba's Tagliarini Picchi Pacchiu, Linguine Toscana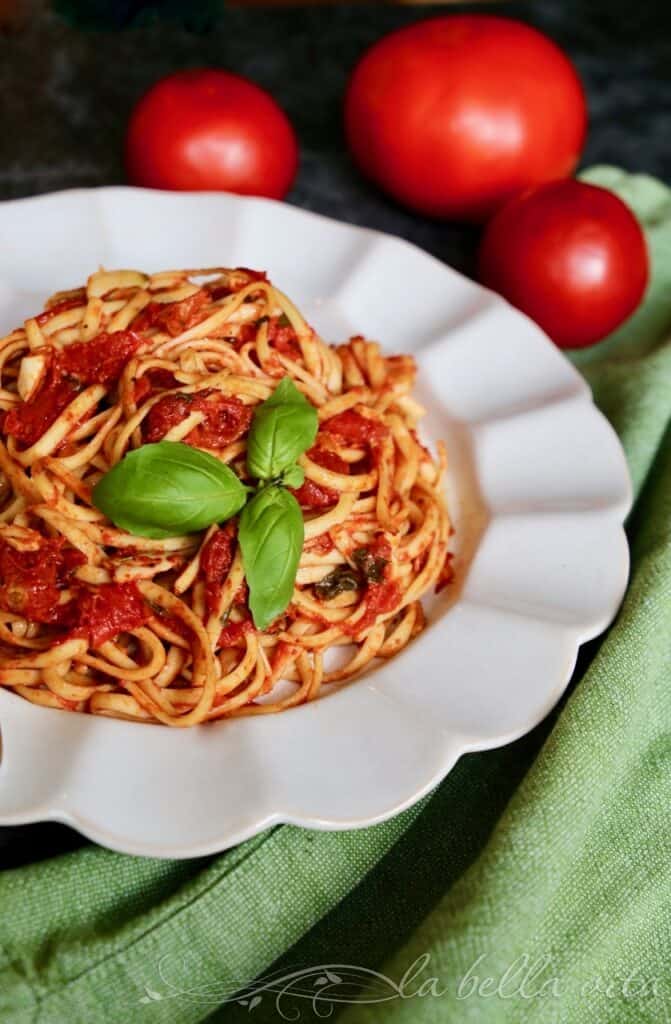 Love garlic?
Then you'll love this recipe, Tagliarini Picchi Pacchiu! It's LOADED with garlic and tomatoes! I'm not talking about just tiny hints of garlic, but hefty chunks and slices of garlic!
But not so much that it is overpowering. This pasta recipe is garlic-perfection in a sauce of summer's freshly-ripened tomatoes, basil, and olive oil.
In this little neck of the woods in South Carolina, there are no Italian eateries . . . seriously! And those that try to prepare Italian food fall way off the radar into the 'horrible and inedible' abyss. (Well, there is one place in town that makes an outstanding 'Osso Bucco', but that's where the menu ends for Italian anything. The closest thing to decent Italian food is in the larger city of Greenville near us, which has a blossoming, vibrant culinary scene brewing. Nevertheless, all of the eateries there naturally focus on the "New South" explosion of inventive menus . . . reasonably the right thing to do, but still nothing Italian.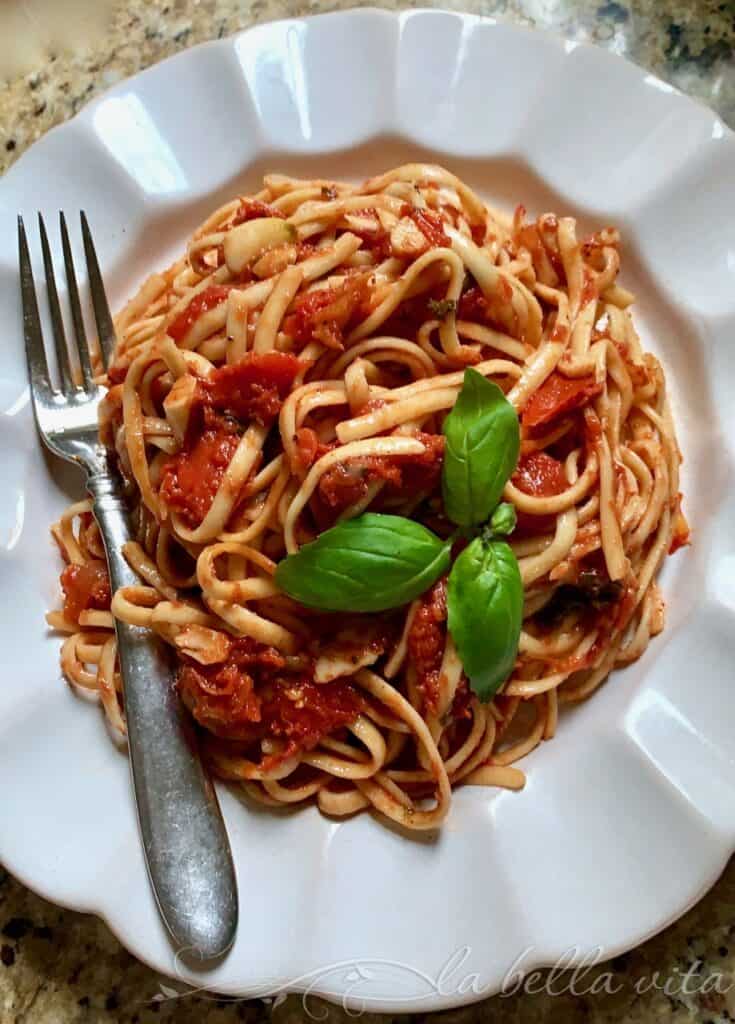 Now I'm not a huge 'chain restaurant' fan, but rather prefer small family-owned eateries. But I have to say that you can really get a good Italian meal at Carrabba's. The first time we went with a couple of friends. One of them ordered a pasta dish that I had never heard of or tried, "Tagilarini Picchi Pacchiu" In fact this friend ordered two entrees, one to eat while at the restaurant and the other to take home and enjoy at home. All I could think of was that this dish must really be good!
And it is! So much so that there numerous sources for the copy cat recipe for Tagilarini Picchi Pacchiu or Linguine Toscana from Carrabba's.
NOTE: The name of this entree has been changed at Carrabba's, possibly due to the same thing I felt . . . not many Americans are familiar with either Tagliarini or Picchi Pacchiu. Yet many are familiar with both 'linguine' and 'Toscana'. for whatever reason, the restaurant change the name of this dish.
What is Tagliarini?
Taglierini (pronounced tah-lyeh-REE-nee) is a thin ribbon-shaped pasta, long like spaghetti, roughly a tenth of an inch wide, similar to tagliatelle, but thin like capellini. It is a traditional recipe in regions Molise and Piedmont of Italy, in Piedmont called Tajarin and made of egg dough. It's not easy to find. If you can't find tagliarini you can easily substitute one of these similar pasta shapes: Fettuccine or tagliatelle which, both of which are wider, spaghetti, but lacks the toothy texture of the egg pasta, or finally, linguine works too. Tagliarini is used with sturdy sauces and sometimes topped with seafood. You may find it in flavored versions such as lemon or pesto as well. Tagliarini can be made into soup, or dressed with a little butter and extra virgin olive oil.
Tagliarini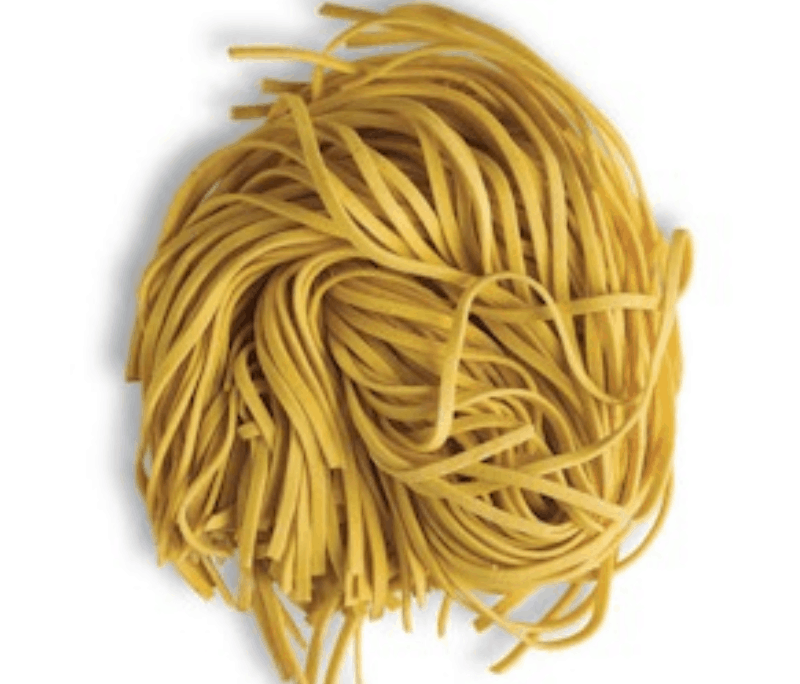 What is Picchi Pacchiu?
Picchi Pacchiu (pronounced as 'pee-kee pawk-ee-oo') is a typical Sicilian tomato-based sauce recipe that's most popular during the summer when tomatoes are ripe and bursting with flavor. "Picchi Pacchiu" is a sauce typical of the lively cuisine of Palermo. Today it is made throughout Sicily. There are numerous dialects in Italy, so there are slightly different names for this sauce: picchi pacchio, picchiu pacchiu, pic pac, picchio pacchiu.
How this pasta recipe got its funny name is unclear, but say that it comes from the sound that a wooden spoon makes while hitting the sides of the pot as one stirs the tomatoes very fast, as well as the sound that the tomato makes when added to the pan/pot.
This delicious sauce is not only used with pasta, but it is also added to fish soups and stews. It is essential to a famous Paremo dish: "Babaluci (snails) al pic pac", a summer delicacy, and especially enjoyed on the Feast of Santa Rosalia (July 10 – 15), the patron saint of the city of Palermo.
Because there are very few ingredients, it is of the utmost importance that the ingredients are as FRESH AS POSSIBLE. The ingredients are few. That explains why this dish is prepared in the summer because only then are tomatoes at their perfect ripe flavor! Garlic and basil are essential in this recipe. If you leave it out, you have an 'orphaned' dish. Also, it is imperative to use only good quality olive, which will make or break the recipe!
Some Italian cooks say that the Basil should not be cut up. Leave the leaves as they are.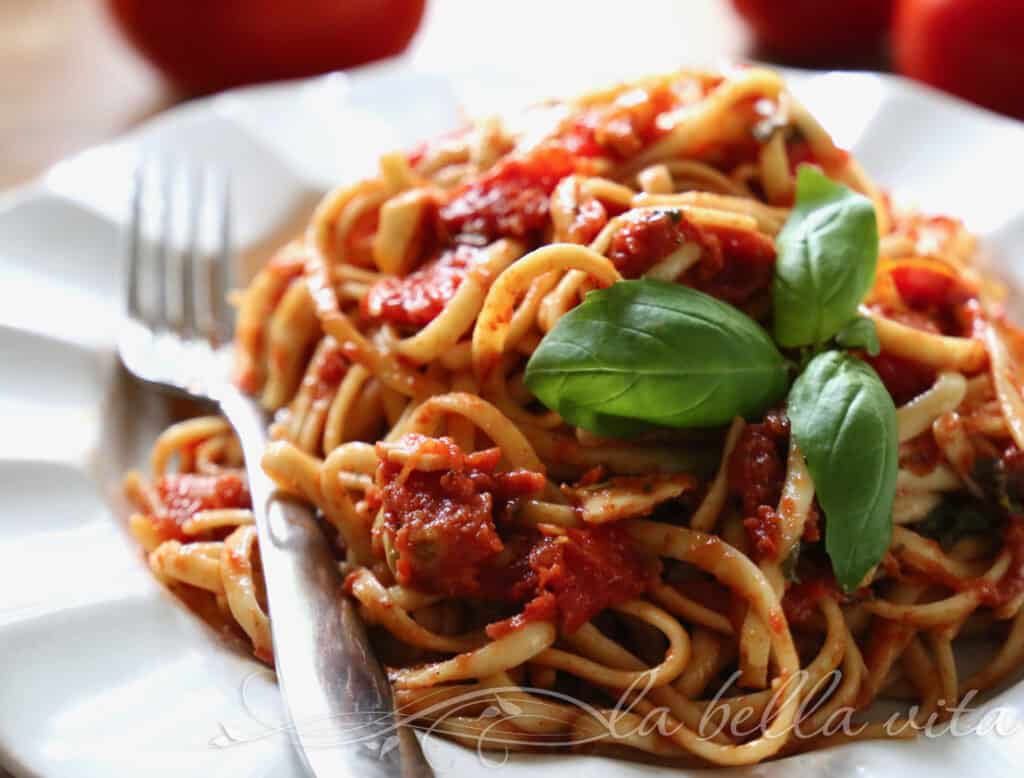 Now that everyone's gardens are producing beautiful plump, red tomatoes along with fresh basil, this is the recipe that you'll want to try with all of that fresh garden flavor.
So grab yourself a wonderful glass of wine and let's get cooking!
Enjoy!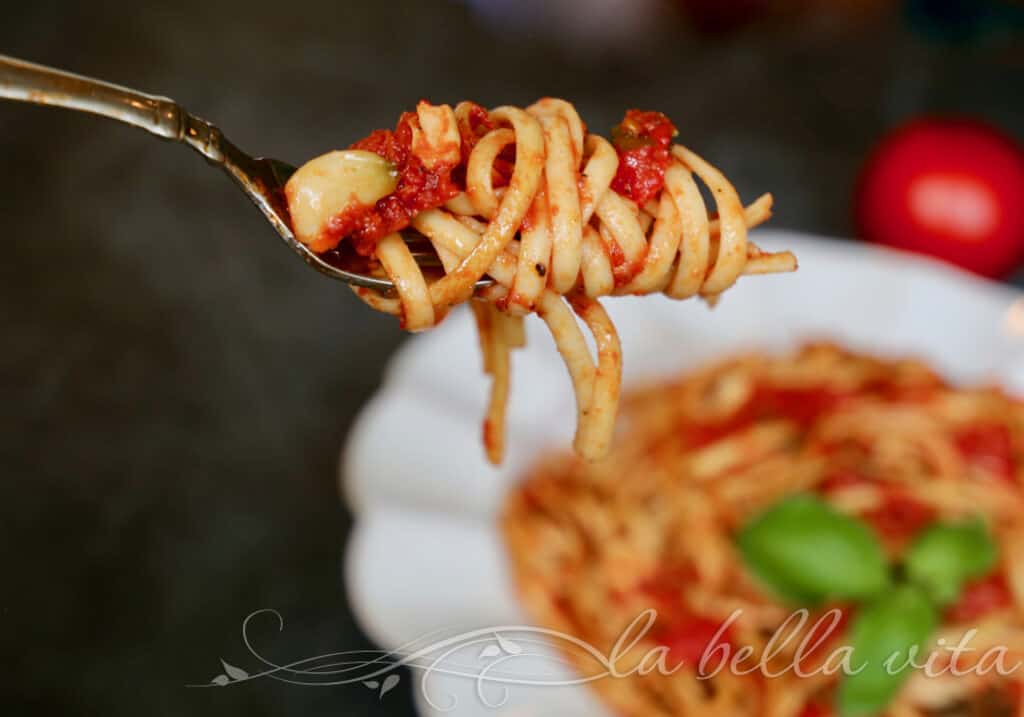 What do you need to make Tagliarini Picchi Pacchiu (or Linguine Toscana)?
You'll need:
LOTS of fresh garlic cloves, sliced
Lots of garden-fresh, ripe, red tomatoes or canned imported San Marzano Italian tomatoes
Basil
Taglilarini pasta (or substitutes mentioned above)
Freshly grated Parmigiana Reggiano (Parmesan) cheese
Extra Virgin Olive Oil
Salt and pepper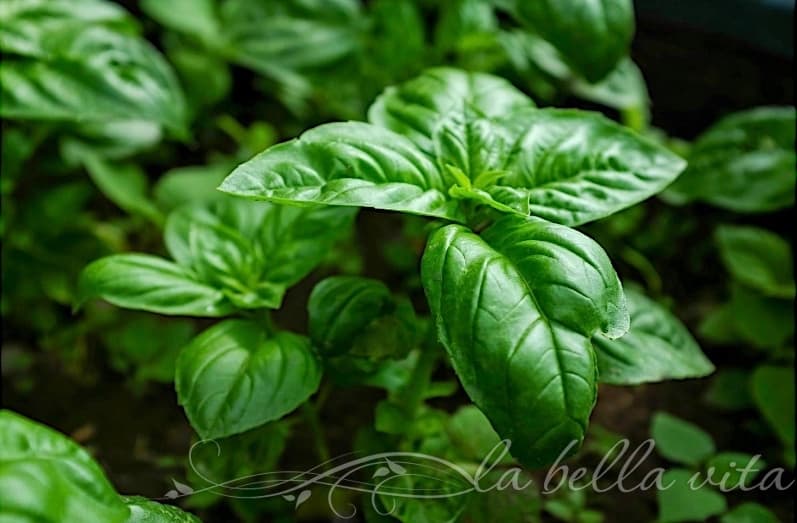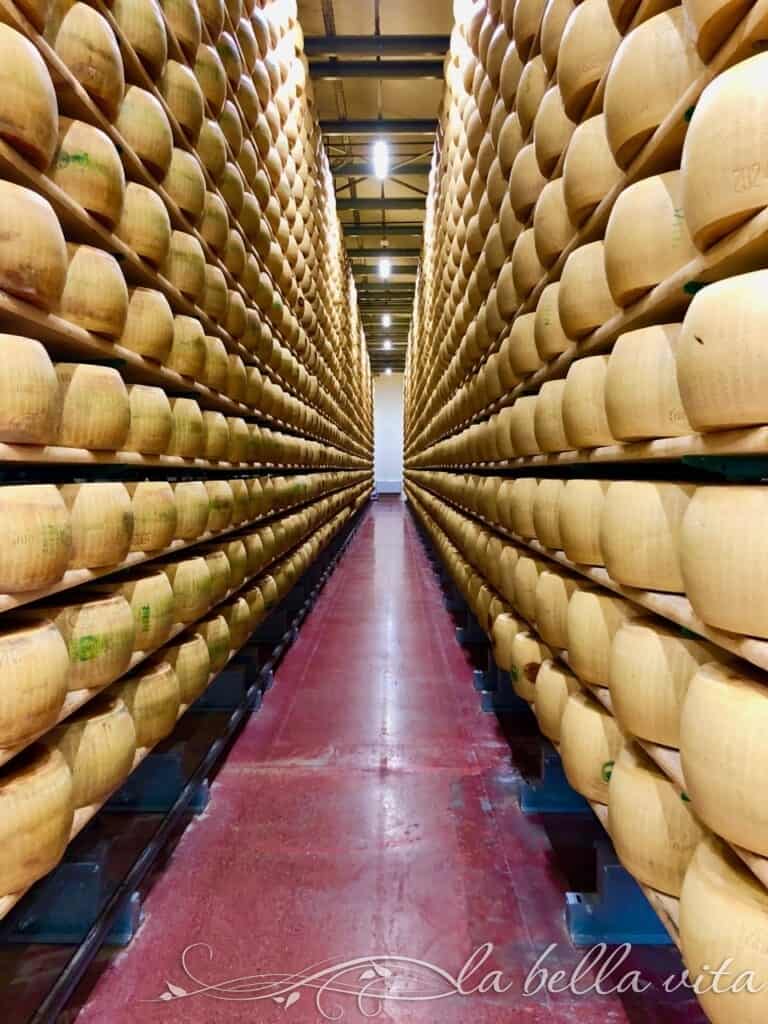 This is a photo taken in my family's hometown of Modena, Italy (in Emilia-Romagna) at a Parmesan production facility. I just HAD to snap several photos of this beautiful cheese that is aging on layers and layers of shelves. Mmmm, wouldn't I have just loved to take one wheel of Parmigiano Reggiano home to the States with me?
Other Fresh Tomato Recipes that You'll Enjoy:
Taglierini pasta is very, very difficult to find. Here's a link to purchase it online: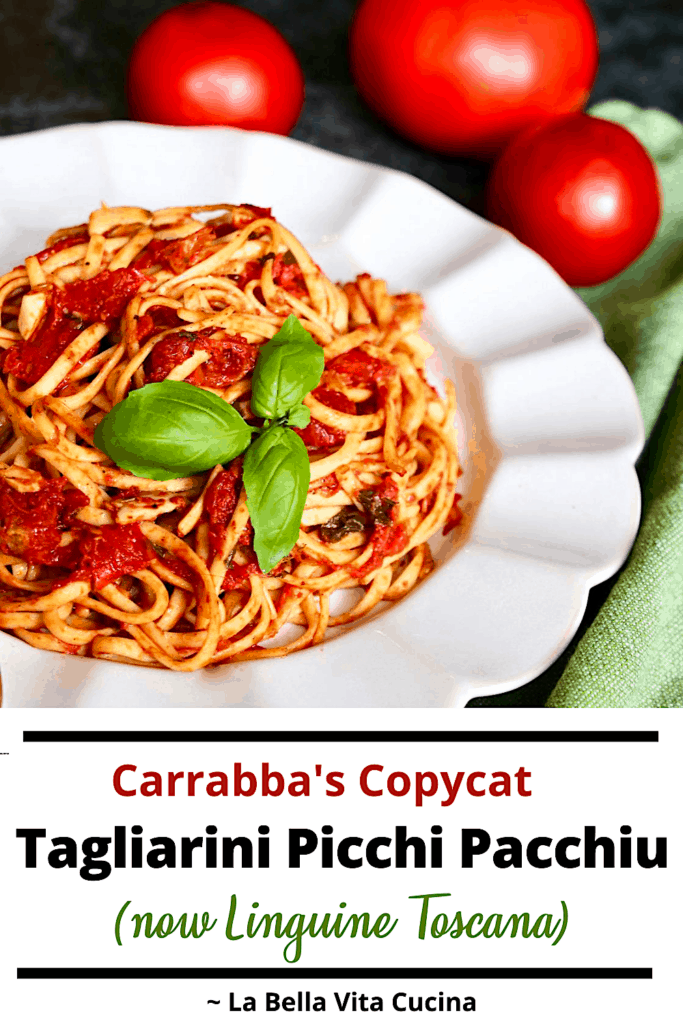 Print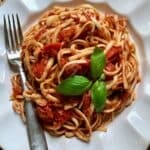 Tagliarini Picchi Pacchiu (Now "Linguine Toscana")
Author:
Prep Time: 15 minutes
Additional Time: 25 minutes
Cook Time: 10 minutes
Total Time: 50 minutes
Category: Pasta
Cuisine: Italian
---
1/2 cup extra-virgin olive oil
5 – 6 garlic cloves, thinly sliced
24 oz. of fresh tomatoes with juices or 1 can (28 ounces) whole tomatoes in juice (preferably San Marzano)
1/2 cup chopped fresh basil
2 Tbsp. kosher or sea salt and 1 Tbsp. freshly ground black pepper
2 Tbsp. sugar or to taste to tone down the tang in the tomatoes
1 pound tagliarini, linguine or fettuccine
---
Instructions
Heat the oil and garlic together in a small skillet over medium-low heat just until the oil is warm and the garlic is soft, about 5 minutes.
Remove skillet from the heat and let set to infuse the oil, about 30 minutes.
Pour fresh tomatoes and their juices into a bowl.
Squeeze the tomatoes through your fingers until the are coarsely crushed.
Stir in the garlic in its oil and the basil.
Season with salt and pepper.
Let stand for 1 to 2 hours for the flavors to marry.
Bring a large pot of water to a boil over high heat.
Add salt to taste.
Add the pasta and stir well, separating the strands.
Cook according to the manufacturer's directions until al dente.
Drain well.
Return the tagliarini to its cooking pot.
Add the sauce and mix well.
Cover and let rest for a minute.
Serve hot.
---
Notes
I added 1 – 2 more cloves of garlic.
I added a good heaping 2 Tbsp. sugar to the original recipe to tone down the tang of the tomatoes.
You can also add hot red pepper flakes for a little 'fire' to the flavors.
You can also add Italian sausage, bell peppers, onions, etc.
---
This post was originally posted in 2014 and reposted with updated information in 2020
.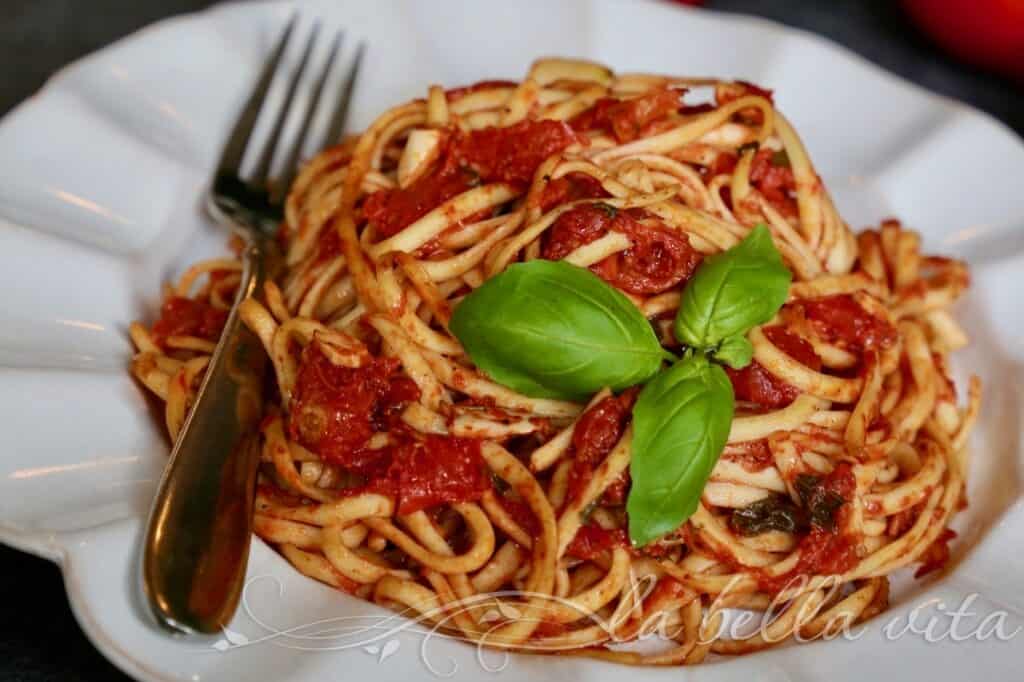 .