Classic Pumpkin Roll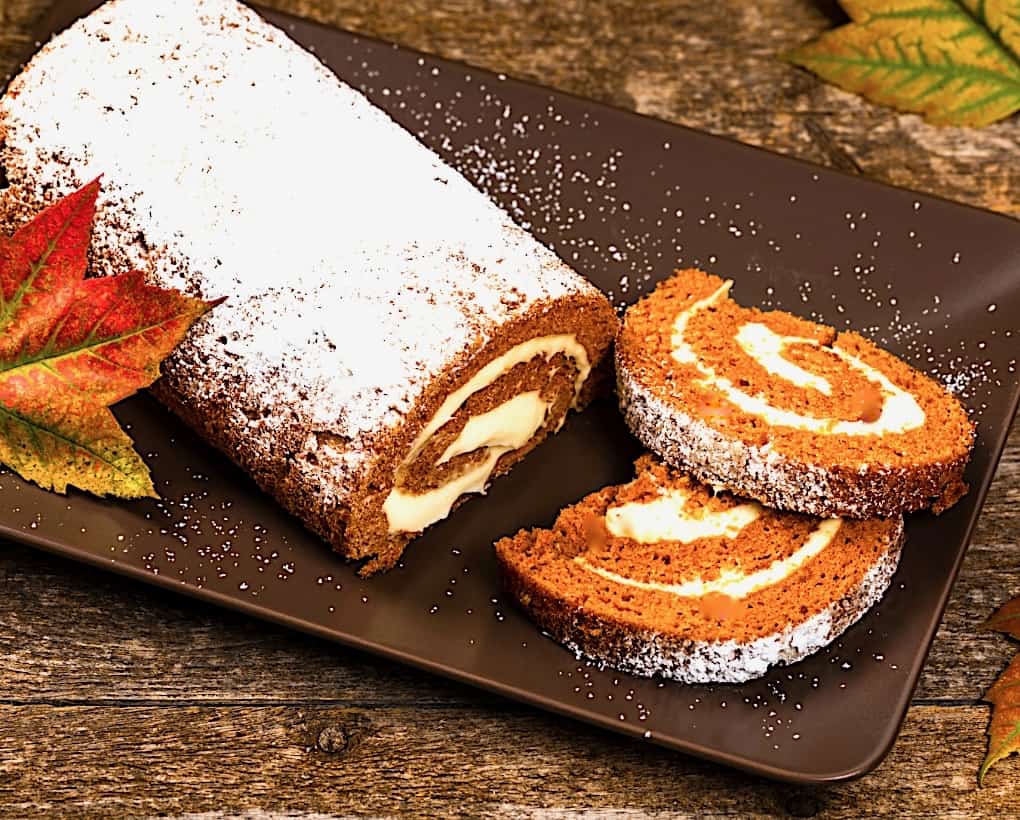 The moment that I took my first bite of a classic Pumpkin Roll, I instantly loved it! The moistness of the seasonal pumpkin and spice flavors in the moist cake wrapped around a creamy, sweet filling was simply irresistible. It's a classic autumn recipe that everyone welcomes.
Just like you do, my family has a long tradition of making our favorite seasonal recipes. And without fail and always welcoming in autumn is a comforting, deliciously spicy, and creamy pumpkin roll.
The changing of seasons from the hot summers to cooler glorious days of autumn is such an enjoyable time to bake again. And a slice of this pumpkin roll perfectly pairs with a hot cup of java or tea while we watch the colorful leaves displayed before us.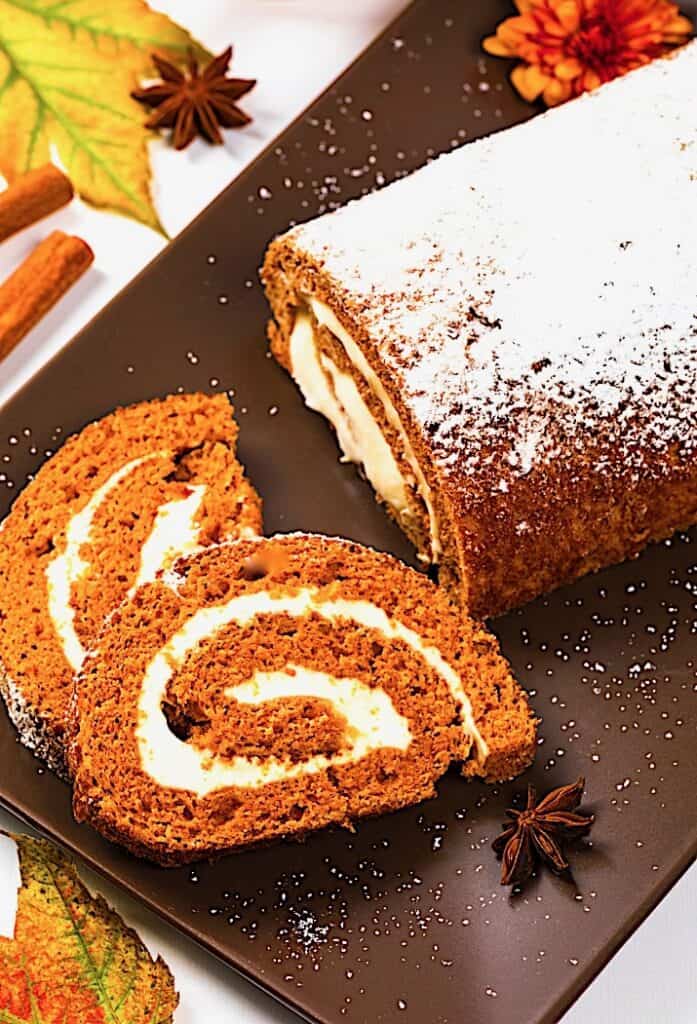 Easy, easy, easy!
Pumpkin rolls just LOOK fancy, don't they? So much so that most people think you went to a whole lot of trouble to make them. Most people shy away from preparing them with questions such as "How do you keep it from cracking and falling apart?" or "How does the filling stay nicely inside?"
Well, the truth is pumpkin rolls (and any cake roll) are surprisingly very simple to make! And a pleasant surprise that is! You just have to have the right pan, some parchment paper, and follow a few easy instructions that I've provided below.
Tips for the best pumpkin roll
Roll the cake sheet when it's warm out of the oven.
This is the most critical, must-do step for obtaining that lovely roll without falling apart. The cooler the cake becomes, the more it will become dry which causes it to crack and split apart while you're rolling it. And you certainly don't want that! The warmth keeps the rolled cake together.
Make sure that the filling is nice and thick.
The consistency or thickness of your filling is a big deal too because you don't want it to squeeze out of the cake roll. Your cake slices will come out much cleaner as well if if you have slightly stiff filling.
Make sure that the cake is cooled completely before spreading on the filling.
A warmer cake sheet is perfect for the rolling step, however, when spreading the cream cheese filling, you want the cake sheet to be cooled completely so that the filling mixture doesn't melt. Put the rolled and filled cake in the fridge for an hour wrapped with plastic wrap to preserve the cake's moisture. After chilling it in the fridge, you'll have nicer, cleaner cake slices because the cooling effect sets the filling more firmly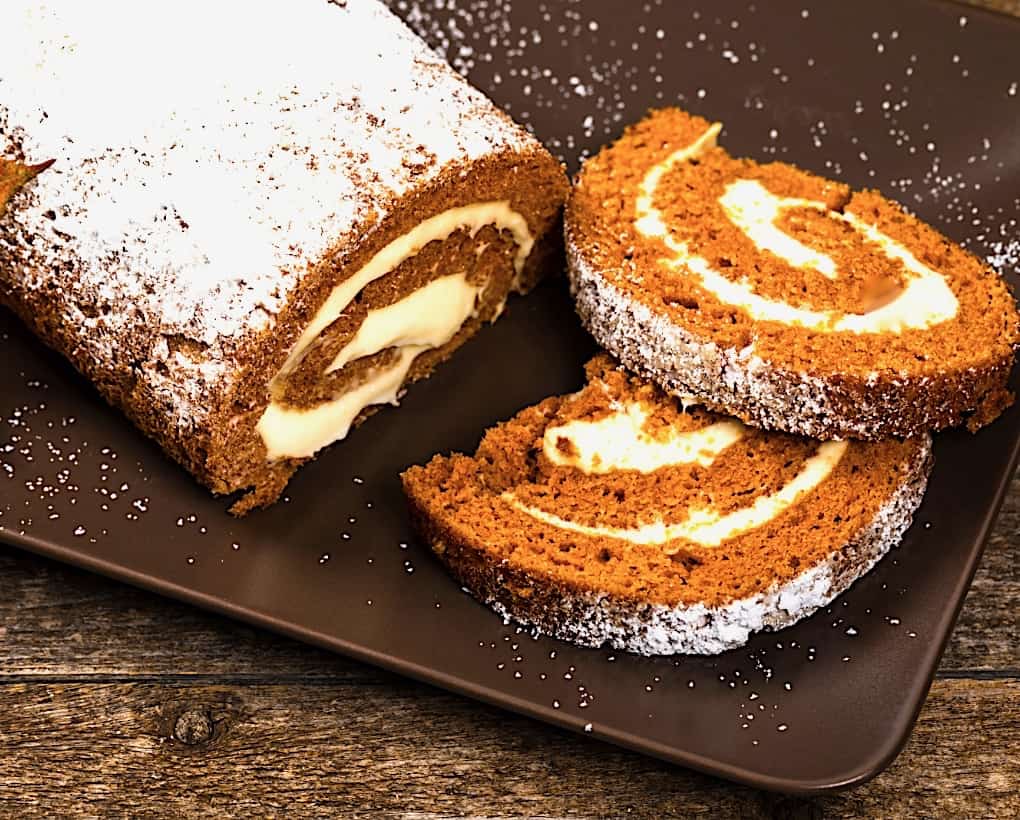 How long can pumpkin rolls store in the fridge?
When wrapped snuggly in plastic wrap, it's safe to say that you can refrigerate pumpkin rolls for up to 3 days.
Can Pumpkin Rolls Freeze Well?
Yes! A pumpkin roll can be frozen for at least a month. When ready to use, thaw for about an hour before cutting.
More Pumpkin Recipes That You'll Enjoy!
Nutella Pumpkin Mini Cheesecake Bites
Amazing Pumpkin Brownies for People Who Hate Pumpkin
PIN FOR LATER!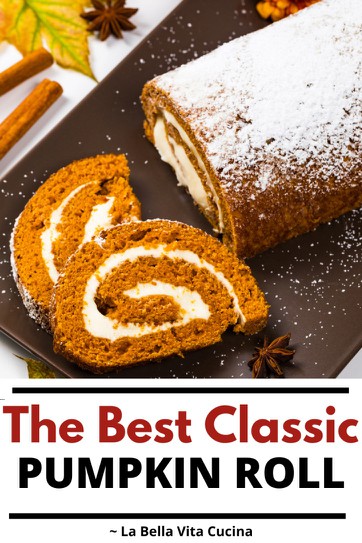 To Help You In The Kitchen, I Use and Recommend These: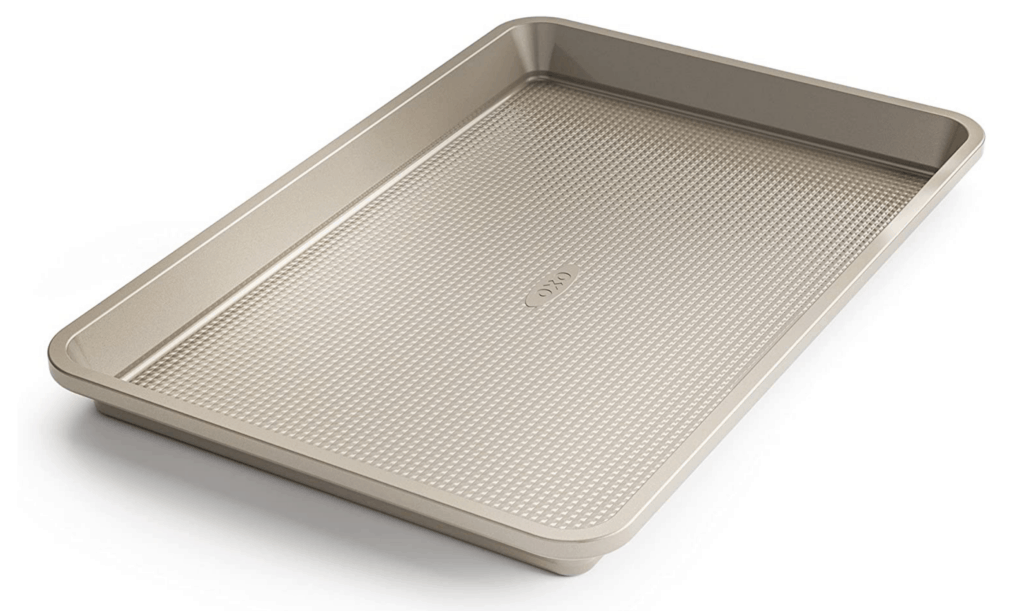 OXO Good Grips 10 x 15 Inch Jelly Roll Pan
Thin Kitchen Flour Sack Towels
Reynolds Parchment Baking Paper (Exclusive to Amazon)
Print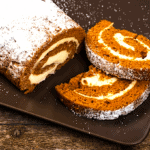 Classic Pumpkin Roll
Author:
Prep Time: 40 minutes
Cooling Time: 2 hours
Cook Time: 20 minutes
Total Time: 3 hours
Category: Desserts
Cuisine: American
---
Pumpkin Cake :
3/4 cup all-purpose flour
1/2 teaspoon baking powder
1/2 teaspoon baking soda
1–1/2 teaspoons ground cinnamon
1 teaspoons pumpkin pie spice (*or see below for substitution)
1/4 teaspoon salt
3 large eggs
1 teaspoon vanilla extract
2/3 cup granulated sugar
2/3 cup pumpkin puree
1/2 cup packed light or dark brown sugar
For Rolling: 1 cup powdered sugar
Cream Cheese Filling:
1 (8 oz.) cream cheese, softened to room temperature
1–1/4 cup powdered sugar, sifted
6 tablespoons butter, softened to room temperature
1 teaspoon vanilla extract
1/2 teaspoon salt
---
Instructions
Make the Pumpkin Cake Roll:

Preheat oven to 350° F (177° C). Spray a 10 x 15 inch jelly roll pan with non-stick cooking spray or spread soft butter all over pan to prevent the parchment paper from sticking. Line the jelly roll pan with parchment paper, leaving an extra 1-inch of parchment sticking up on both 15-inch sides of the pan so the cake lifts super easily after it's baked. you can easily lift the cake out after baking.
In a large mixing bowl, whisk together flour, baking powder, baking soda, cinnamon, pumpkin pie spice, and salt in a large mixing bowl until combined. Set aside.
In a separate medium mixing bowl, whisk the eggs and granulated sugar for 1 minute until thick. Add in the vanilla, pumpkin, and brown sugar and whisk until just combined. Fold this mixture into the flour mixture with a rubber spatula, and stir together until just combined.
Spread the batter evenly into the prepared jelly roll pan. Give the pan a little shake or tap to ensure that the batter is evenly level and is spread to each corner of the pan.Bake for 17 to 18 minutes, or until the cake springs back when touched with your finger.
Lay a thin, clean kitchen towel flat on the counter. Sprinkle 3/4 of the powdered sugar thoroughly over the towel.
Remove the cake from the pan by carefully lifting up the parchment paper and invert the cake out onto the sugar-covered towel with the parchment paper on top. Peel off the parchment paper. Then very slowly, while the cake is STILL WARM and starting with the narrow end, use your hands to roll the cake until it is completely rolled up. Transfer the cake roll to a wire rack, and cool until it reaches room temperature.
Allow the cake to cool completely while still rolled up in the towel for a minimum of 2 hours. While the cake is cooling, make the cream cheese filling.
Once the cake has reached room temperature, transfer the cake roll to a flat surface. Gently and carefully unroll it until it is flat again. Spread the cream cheese filling evenly over the cake, leaving a 1/2 – 3/4 inch border on all sides of the cake. Then gently and carefully roll the cake back up tightly, but without the towel.
Loosely wrap the pumpkin roll in plastic wrap and refrigerate 30 minutes to one hour before slicing and serving. Dust the pumpkin roll with more powdered sugar on all sides.
Transfer it to your serving dish. Slice and serve.

Prepare the Cream Cheese Filling:

1. Whisk together cream cheese, powdered sugar, butter, and vanilla extract in a mixing bowl until smooth. If the filling is too thin, add more powdered sugar. If it is too thick, add a half teaspoon or two of water. (You want a medium consistency so that the filling is easy to spread, but not too warm or thin that it will ooze out of the cake when you're rolling it up.)
---
Notes
If you have leftovers, just re-wrap the pumpkin roll in plastic wrap and store in the refrigerator for up to 5 days. Or freeze for up to 3 months.
.