How To Make The Best Cheesy Italian Rigatoni Torta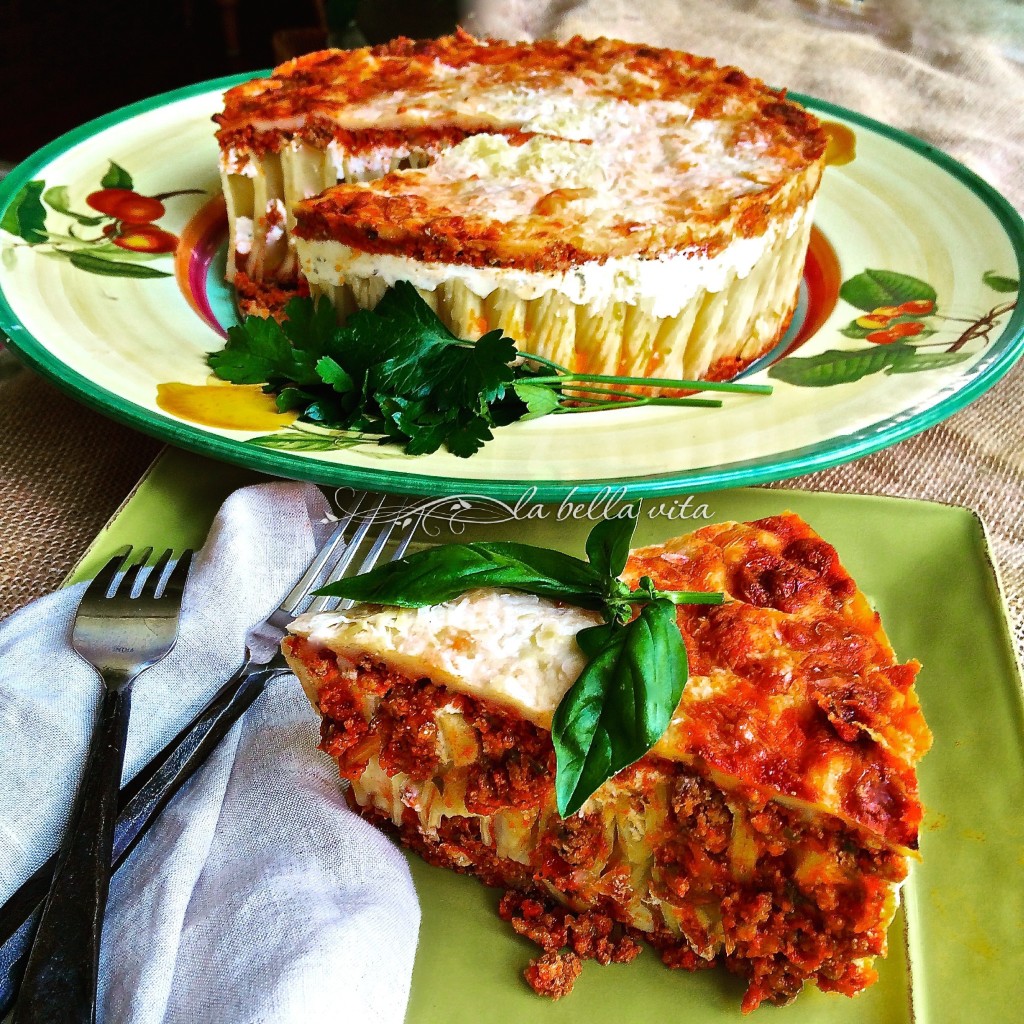 Are you in the mood for some 'pasta heaven' on a plate?
If you are, then here's a superb recipe, (once the Bolognese sauce is made), that is super simple to make, yet looks as if you've worked for hours preparing!!!!
I'm NOT KIDDING!
This Cheesy Italian Rigatoni Torta is also FUN to make . . . so get your kids or grandchildren in the kitchen with you to place the pasta noodles upright around the pan.
This is what is known as a 'savory cake', packed with pasta, plus a creamy, cheesy-herb filling, and then topped with a hearty Bolognese sauce.  Finally, to make it even better than ever, a thick cheesy layer tops it off to perfection!  
And oh, you should smell the aroma while this torta is baking!  I know that you're just going to love this!
Well, I have lots of folks on Facebook and Instagram waiting for this recipe, so I need to post this recipe for them . . . pronto, as promised!  The photos taken as this torta was made is teasing my family and friends to no end!
Enjoy the photos of my "step-by-step tutorial" and recipe!
Here are some additional secrets to success with this outstanding recipe:
Try to use either a homemade Bolognese sauce OR, if you don't have this, use the best-prepared sauce in your market, that has sauteed ground beef and pork included in your sauce.
Do not forget to include the Italian herbs in the ricotta/egg mixture!
Prepare this a day ahead and allow all of the ingredients to "marry" overnight in the refrigerator and "gel" or stick together so that it doesn't fall apart when served straight out of the oven.
Watch the salt, other than what you put in the pasta water…..allow your guests to salt this to their preference so that it isn't too salty at first …. that is impossible to reverse.
ENJOY!!!!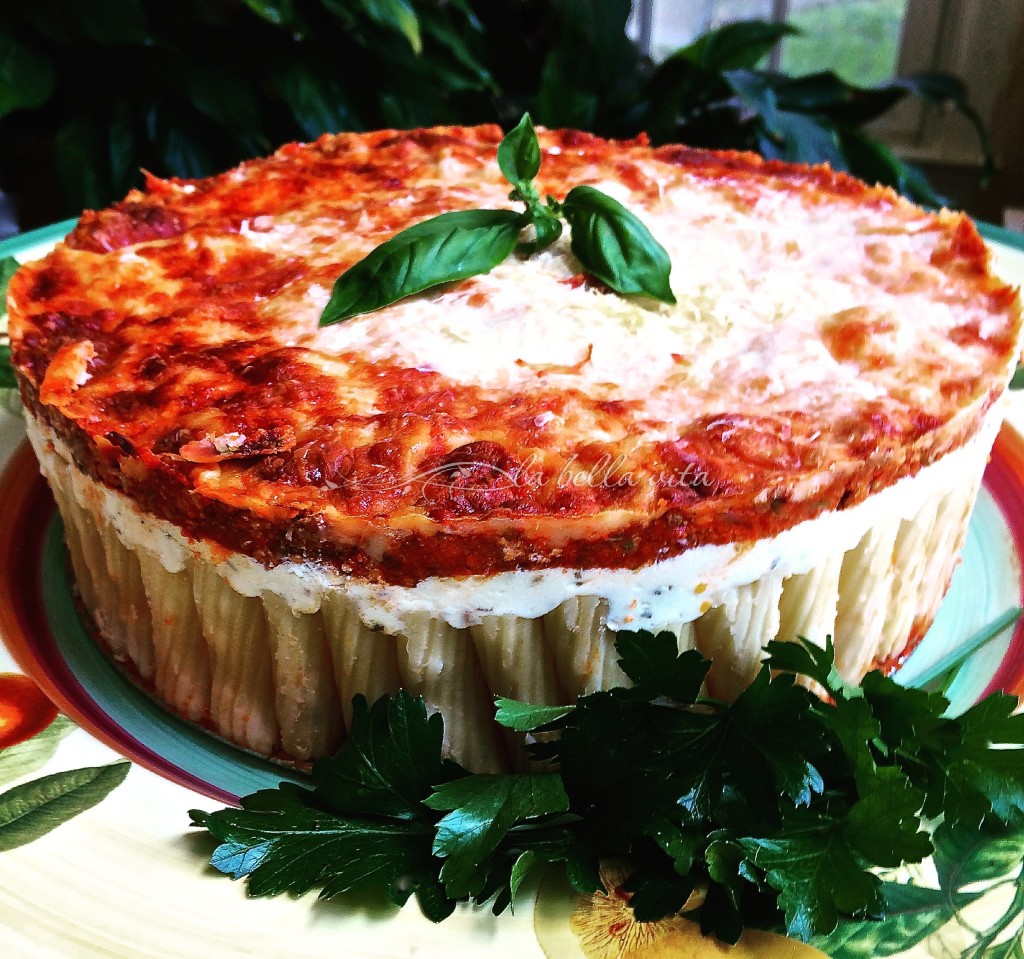 ..
Stop!  Interruption!
Every now and then someone wonderful tries one of your recipes, even if it is imperfect!  Then that kind individual chooses to share it with special friends to enjoy and experience.  But it doesn't stop there!
This special friend, from miles away, decides to make a professional video of the process to prepare your recipe to share with friends on a Facebook page as well as a culinary website.  Peter is that person that I am describing.  Peter is my Facebook and Italian culinary friend from afar, with SERIOUSLY over 8,000 followers of his Facebook page.  This man totally puts me to shame in both his skills in his Italian kitchen and behind the camera with his amazing video photography expertise (which I know absolutely NOTHING of!)
Isn't this just one of the beauties of the Internet and blogging?  I know that is a blessing to me!
I hope that you enjoy Peter's video.  Peter can answer your questions about the trials and rewards of preparing this Italian Rigatoni Torta . . . PLEASE KNOW THIS:  The best food bloggers welcome ways to improve recipes and do not claim to know the 'perfect' recipe.
I know that I do!
So feel FREE to join in and let me know what can be improved in ANY recipe that is shared here on "La Bella Vita Cucina"!
GRAZIE  xoxoxoxo!
And now, give yourself a BIG TREAT and watch Peter's video of preparing this delicious Cheesy Italian Rigatoni Torta!
"In The Kitchen With Peter" step-by-step video instructions!
After watching this cooking video, do yourself a big favor and "Like" Peter's Facebook page!
Print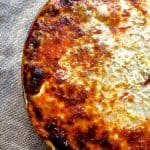 Cheesy Italian Rigatoni Torta
Author:
Prep Time: 0 hours
Additional Time: 0 hours
Cook Time: 0 hours
Total Time: 0 hours
Category: Pasta
---
1–1/2 pounds of rigatoni
olive oil cooking spray
2 – 3 Tbsp. olive oil
2 cups parmesan, parmiggiano-reggiano, fresh and finely grated
2 – 3 cups home-made Bolognese sauce (I use my family's recipe that I keep tubs of frozen sauce in my freezer)
16 oz. ricotta cheese
1 jumbo egg
2 tsp. Italian herbs of your choice: dried or freshly minced oregano, Italian parsley, basil, thyme, sage, pepperoncini and/or garlic
2 cups finely shredded mozzarella
1 cup finely shredded parmesan, parmiggiano-reggiano
---
Instructions
Instructions
Boil water in a tall, deep pan.
Add about a half teaspoon of salt to the water.
When water is boiling, add the rigatoni pasta noodles and boil for only 3 minutes.
Remove immediately.
In a large bowl, add the olive oil.
Then add the rigatoni and toss until all noodles are coated with olive oil.
Add the 2 cups of parmesan/parmiggiano and toss so that the noodles are covered with cheese.
Spray the bottom of a 9 or 10″ springform pan with olive oil cooking spray.
Layer a little bit of Bolognese sauce on the bottom of the pan.
Place the rigatoni noodles vertical around and completely filling the pan.
Mix ricotta, egg, and herbs.
Pour this mixture over the panful of noodles.
Gently tap down so that the mixture can get into and around the noodles.
Layer Bolognese sauce on top next and again gently tap down to get the sauce in the noodles.
Sprinkle the mozzarella all over and then sprinkle the parmesan/parmiggiano cheese on top of the mozzarella.
Place the springform pan on a pizza pan or baking sheet to prevent the cheese from melting all over the oven.
Bake in a 400 F degree oven for 20 minutes on the lowest rack, and place a pizza pan or baking sheet on the top rack to use as an 'umbrella' to help prevent the top of the torta from burning.
Turn the heat of the oven down to 350 F degrees and bake for another 15 minutes, watching so that the top does not burn.
Remove from the oven and allow it to set for 15 minutes before serving.
Better yet, let the torta set overnight and reheat the next day. This helps prevent the torta from falling apart just after baking.
When ready to serve, take a very sharp, thin knife and run it as close to the inside wall of the springform pan ring in order to 'loosen' the rigatoni noodles away from the pan walls.
Slowly and carefully, remove the springform ring.
With a long knife, run the knife between the bottom of the torta and the bottom of the springform pan base.
Slice, serve, and ENJOY!!!!
---
Notes
If you don't have homemade Bolognese sauce on hand, then you can use your favorite pasta sauce with sautee'd beef and pork blended in. But for the real deal . . . use homemade sauce whenever possible.
 Here are Peter's step-by-step photo instructions!
Lastly, if you would like to prepare one of the recipes that I have shared here on "La Bella Vita Cucina", it would be my utmost pleasure to share your photos and thoughts (even with recommendations for changing the recipes).  
Know that you will be sharing your website or blog with thousands of like-minded people!
 ENJOY!!!
.