Lemon Risotto with Roasted Asparagus and Three Cheeses
Most of us aren't aware that the harvest season for Italian lemons is RIGHT NOW — from June until October! Yes, that's right! It's time for harvesting lemons in Italy! And to recognize this fabulous, can't-live-without-lemons season, I made a very easy and packed-with-flavor Lemon Risotto with Roasted Asparagus and Three Cheeses.
My first visit to Italy was to the heart for Italian lemon groves. Before this special trip to Italy with my mother and father in October, I had no idea about the culinary importance of lemons to the Italian people. From fresh-squeezed lemon and zest on top of almost any dish to lemon-flavored desserts, lemons are an essential part of Italian life.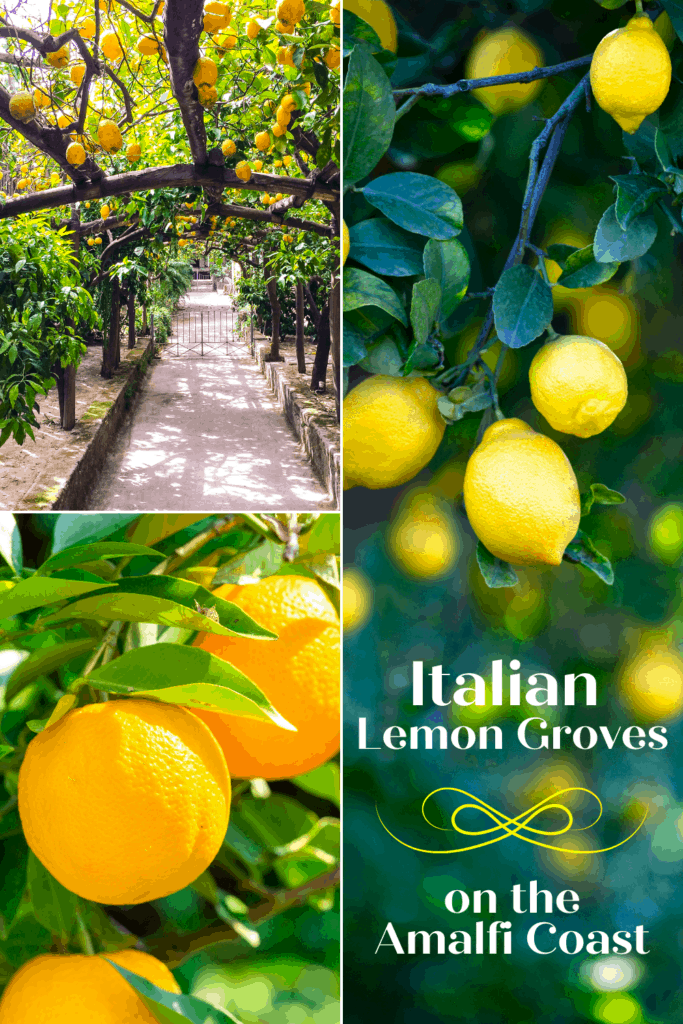 The next time you drive the winding mountain road on the Amalfi Coast, you need to stop (if you can) at a fruit stand to pick up some fresh Italian lemons the size of grapefruit. These lemons have a vibrant, sweeter taste instead of sour that we're used to in the States. Sicilian lemons are very prized and famous because of the perfect warm, subtropical climate and weather conditions to grow them.
This beloved citrus fruit has countless feasts and celebrations in Italy at this time.
Locals in every town and village set up small fruit stands overflowing with baskets of huge lemons and delicious lemon specialties for sale: homemade lemon desserts, cookies, bottles of limoncello, and ceramics (ceramiche in Italian) with huge lemons brightly painted on the surfaces. Family-owned trattorie create special lemon-inspired menus including lemon torte and lemon jam (called "marmalade" in Italy). It's a big deal!
Limoncello of course was at the top of my shopping list! Limoncello is wildly popular! Italians use their lemons to make this liquor made from the zest of the lemon, sugar, water, and alcohol. Many Italian liqueurs (bittersweet 'amari')are blended with citrus and herbs, by adding lemon peels and rinds.
I bought a bottle of homemade limoncello at a roadside stand from a little old woman smiling from ear to ear. Along with some of her freshly jarred anchovies and green olives. With the vivid blue sea in the background, I thought I was in some mythical story! All of these foods were heavenly.
My mother and I spoke in our very poor broken version of Italian to the woman. She told us that she made the limoncello (the red arrow points to it), the Castelvetrano green olives in my mother's hand (left side of photo with black arrow pointing to it) and jarred the anchovies (bottom center of the photo with black arrow pointing to it).
Another sweet treat, Granita, or better known as "Italian ice", is a crazy-delicious lemon juice infused shaved ice. It's perfect to enjoy when the weather is hot.
Even if you want to do some 'shop-shop', whether a little bit or a lot, you'll see lemons painted on every type of pottery that you can imagine.
There's even a book totally dedicated to Italian lemons!
This makes a great accompaniment to a perfectly grilled filet mignon or fish. It's also great by itself!
Join me in celebrating lemons with some of your favorite lemon recipes on the blog:
More delicious risotto recipes for you!
PIN FOR LATER!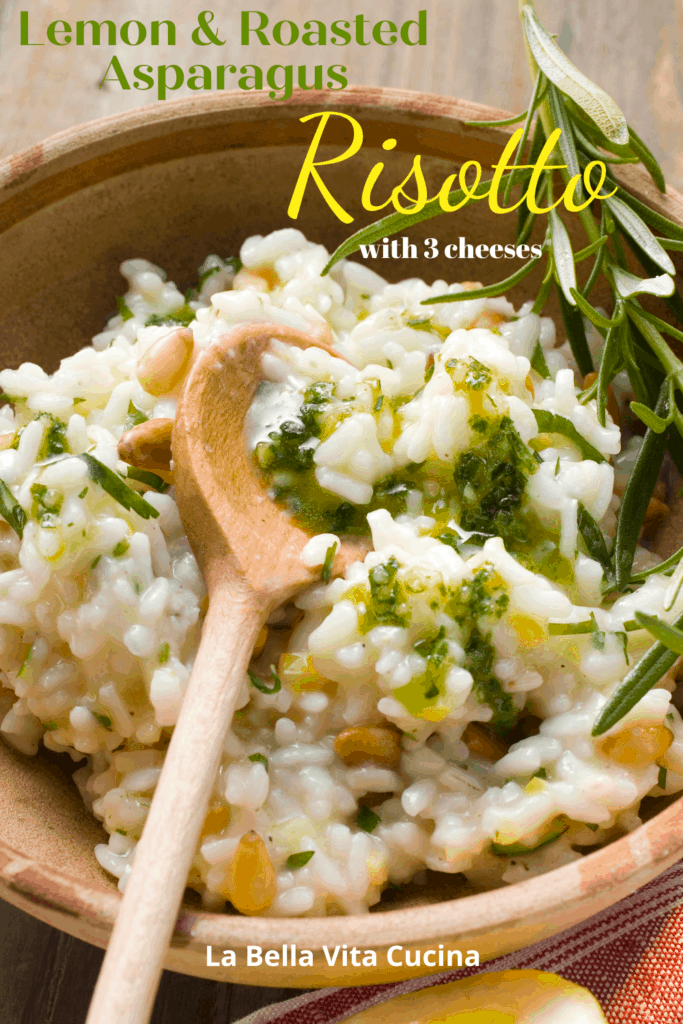 Now let's get to the kitchen, shall we? Here's the recipe!
Print
Lemon Risotto with Roasted Asparagus
Author:
Prep Time: 20 minutes
Additional Time: 0 hours
Cook Time: 30 minutes
Total Time: 50 minutes
Yield: 6 servings 1x
Category: Rice / Risotto
Cuisine: Italian
---
2 cups Italian Arborio OR Carnaroli Rice (better)
2 Tbsp. unsalted butter
2 Tbsp. extra-virgin olive oil
1/4 shallots, finely chopped OR 1/4 cup diced onion
3 large cloves of garlic, minced
6 cups chicken broth (homemade is best), heated through to a simmer
1 lb. thin asparagus, ends snapped off
1/4 cup dry white wine (Chardonnay)
1 cup parmigiano cheese, finely grated
1/2 cup pecorino cheese, finely grated
1/2 cup fontina cheese, finely grated
2/3 cup heavy cream
2 Tbsp. freshly-squeezed lemon juice
zest of one large lemon
2 Tbsp. fresh Italian parsley, stems removed and minced
3 sprigs of fresh thyme
Extra butter and extra virgin olive oil for cooking where indicated.
Garnish: Lemon zest, Italian Parsley, and Thyme
---
Instructions
Prep all ingredients that need to be cut, chopped, minced, grated, etc.
Set all ingredients to the side in pre-measured bowls/cups, etc.
In a large pot, heat the chicken broth to a very hot simmer and don't allow it to go cold. It must be hot to blend into the risotto.
While the broth is heating:
Preheat the oven to 450 degrees F.
In a baking pan, pour 2 Tbsp. extra virgin olive oil. Place the asparagus with the ends snapped off in the baking pan and roll around until all of the asparagus is covered with olive oil. Roast for 5 minutes. Do not over-roast because the cooking continues in the hot risotto and you don't want mushy asparagus. Set aside and when cool, slice into ½ inch pieces.
In a large flat frying pan with tall sides, melt 2 Tbsp. butter and 2 Tbsp. extra-virgin olive oil. Add and gently heat the scallions and garlic (keeping an eye on the garlic because it burns easily) until they are translucent for about 5 minutes.
On medium heat, add the wine and stir it into the rice until it is completely absorbed, stirring constantly. It will begin to look creamy.
Now add one cup or a large ladle of chicken broth AT A TIME, stirring constantly until the liquid is absorbed into the rice each time. When absorbed, add another cup or ladle and stir until completely absorbed. Repeat this until all broth is added and absorbed.
When completely absorbed, add the cream and 2 Tbsp. of butter. Stir constantly until completely absorbed into the rice. The risotto should have a slight firmness to the tooth, 'al dente', not hard and not soft.
Add all of the grated cheese and stir to incorporate.
Add the lemon juice and grated lemon rind.
Taste and see if more cheese is needed, if it needs cream, or if it needs salt and pepper.
Gently stir in the asparagus, Italian parsley, and thyme.
Allow the risotto to rest for 2 minutes in order to swell up while absorbing all of the flavors.
Garnish with minced Italian parsley, chives, or rosemary.
Pass around freshly grated Parmigiano and Pecorino cheese.
---