Guinness Chocolate Cake with Ganache and Baileys Buttercream
It seems that my family just can't get enough chocolate cake to satisfy our addiction to just about anything chocolate. This Guinness Chocolate Cake with Ganache and Baileys Buttercream is a sinful, delectable dream come true! For those who don't enjoy chocolate . . . well, I'll gladly have your slice of heaven, thank you. I just have to say, that this is one of the best cake recipes around.
This cake has a RICH, deep, dark, dense chocolate flavor . . . and mainly due to the addition of some a good old hefty, yet smooth Irish stout. Yet, you don't even taste the beer because the alcohol bakes out, evaporates leaving an interesting complexity to the cake. And the texture? Like all cakes from this kitchen, It had to have more of a fudgy brownie texture in order to pass my kitchen standards. Plus the crumb had to be moist, tender, fluffy, and able to bounce back to shape when pressed with a fork.
Did you notice in the photos of this Guinness Chocolate Cake with Ganache and Baileys Buttercream that I used not one, but two (2) layers of irresistible sweet toppings that take this baby literally over-the-top and beyond! (I could live on frosting, icing, ganache and glaze alone!) The first layer is a creamy buttercream made with Bailey's Irish Cream (couldn't you just drink a whole bottle of this stuff?). On top is an amazing chocolate ganache. How insane is that? After all, what could be wrong in the world when there's more chocolate?
This Guinness Chocolate Cake with Ganache and Baileys Buttercream will be your next crowd-pleaser. Just make sure that you offer a nice cuppa java or ice-cold milk. Having good, high quality vanilla ice cream or gelato adds another indulgent element to the enjoyment of this masterpiece layer cake.
So let's get to the kitchen to have some fun baking this Guinness Chocolate Cake with Ganache and Bailey's Buttercream!
Gather up all of your ingredients, measured out, and ready to go!
What you'll need to make this Guinness Chocolate Cake with Ganache and Baileys Buttercream!
Dark stout beer, such as Guinness
Butter
Dark Dutch-processed Cocoa Powder
Flour
Baking Powder and Baking Soda
Eggs
Sour Cream
Buttermilk
Semi-sweet chocolate
Heavy cream
Vanilla Extract
Bailey's Irish Cream Liqueur
Mmmm, you're going to just LOVE this ganache!
Here are some chocolate recipes guaranteed to bring smiles:
Ultimate, Decadent Chocolate Cake with Ganache
Ooey, Gooey, Fudgy Mississippi Mud Cake
Highly Recommended Items That You'll Enjoy Using in Your Culinary Adventures!
Yes, there is a HUGE difference in quality and flavor between Dutch-processed dark cocoa powder and non-Dutch processed dark cocoa powder, so get the real deal.
It can be very expensive, so here's a moderate-priced bag of Dutch chocolate love!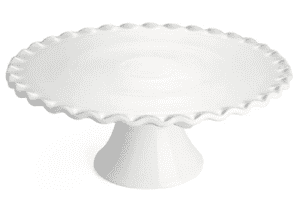 A good cake stand is a must when icing a cake so that you don't have to struggle frosting the cake, as well as picking up the cake
(it's easier to use the pedestal and platter part of the piece. Also looks much better!)
Porcelain White Cake Stand with Pedestal
Guinness Chocolate Cake with Ganache and Baileys Buttercream
Ingredients
For The Cake
2 sticks (1 cup) unsalted butter, softened to room temperature
¾ cup unsweetened DARK Dutch-Processed cocoa powder
2 cups granulated sugar
2 jumbo eggs
2 tsp. vanilla extract
⅔ cup full-fat sour cream
½ cup full-fat buttermilk
2-½ cups all-purpose flour
1-½ tsp. baking powder
2 tsp. baking soda
1 tsp. salt
1 cup stout Guinness beer (use chocolate if you can find it)
3 oz. semisweet chocolate, chopped up
OPTIONAL: 1 Tbsp. espresso powder
For the Bailey's Buttercream
1/3 cup heavy cream
2 sticks of unsalted butter, cut into chunks
1 teaspoon vanilla extract
2-½ - 3 cups powdered sugar
¼ cup Bailey's Irish Cream Liqueur
For the Ganache
⅓ cup heavy cream
¼ cup butter, cut into chunks
2 oz. good quality dark chocolate (60 - 70%), finely chopped
⅓ cup granulated sugar
⅓ cup sour cream, room temperature
1 tsp vanilla extract
⅓ cup Dutch-process, dark cocoa powder
Instructions
For the cake:
Preheat the oven to 350°F. Grease and flour three 8" or two 9" cake pans, and line them with parchment paper circles, leaving at least 1 inch of extra paper hanging over the sides (you will use these to pull the baked cake layers out of the pans). Grease the parchment paper (you'll be glad that you did this). Be sure your 9" pans are at least 2" deep.
Place the stout beer and butter in a large, heavy saucepan, and bring to a simmer at medium temperature until the butter melts. Remove the pan from the heat.
Add the cocoa powder and whisk until the mixture is smooth. Set aside to cool to room temperature or warm, yet not hot to the touch.
Whisk together the flour, sugar, baking powder, baking soda, and salt in a large bowl until well combined; set aside.
In the mixing bowl of a stand mixer fitted with the paddle attachment (you can also use a hand mixer), beat together the eggs, sour cream, buttermilk, and vanilla until well blended.
Add the stout-cocoa mixture to the egg-sour cream mixture. Mix until barely combined.
Add the flour mixture and mix together at slow speed. Using a rubber spatula, fold the batter until the flour is completely combined, scraping the sides and bottom of the bowl. Mix again for one more minute. The batter will appear to be very thin.
Pour the batter equally among the prepared pans. Smooth the tops of the cake batter.
Bake the layers for 35 - 44 minutes for 8" pans, or 45 to 50 minutes for 9" pans, until a toothpick or cake tester inserted into the center of the cake comes out clean.
While cakes are baking and cooling, prepare the ganache and Bailey's buttercream.
Remove the cakes from the oven and cool on a wire rack for 10 minutes before turning the cakes out of their pans. Using the parchment paper, pull the cakes out of their pans and cool to room temperature on the wire racks.

For the Ganache and Bailey's Buttercream
Place chopped chocolate in a medium bowl. Heat the heavy cream in a saucepan until simmering, then pour the hot cream over the chopped chocolate and let sit for 4 minutes. Once that time has passed, whisk until a rich, shiny chocolate ganache forms. Allow the ganache to cool until it is thin and spreadable.
Prepare the Bailey's buttercream by creaming the butter in a large bowl or stand mixer fitted with a paddle attachment. Add in the powdered sugar and Bailey's Irish Cream liqueur, a little bit at a time alternating between each. If the buttercream seems too stiff, add a little bit more liqueur.
To Assemble The Cake
Using a very long, serrated knife, slice off the domes of each cake layer so that they will lay flat on top of the platter and to each other when layered.
Frost and serve immediately or wrap tightly in plastic wrap to refrigerate for up to 3 days before frosting and serving.
On a serving platter, first frost the Bailey's buttercream frosting on and refrigerate for 20 minutes, or in the freezer for 10 minutes to harden up the buttercream.
Spoon the ganache all over the chilled buttercream. With a large, angled offset spatula spread the buttercream smoothly over the cake into an even layer or with some vertical lines (see photos).
Pour and spoon the ganache all over the layer of buttercream, Make swoopy swirls in the ganache if you prefer.
Do you enjoy La Bella Vita Cucina?
We'd love to have you as part of our community!
Subscribe below to receive a FREE e-Cookbook and all of the latest recipes,
travel tips, and gardening ideas straight into your inbox!