Italian Easter Pie Torta Pasqaulina
Torta Pasqualina or Italian Easter Pie is a quintessential Italian specialty to celebrate Easter!  
To celebrate Easter, preparing a traditional, classic Italian Easter Pie (Torta Pasqualina) is a must for most Italians. This is truly one big mama of a torta/pie.   Certainly so massive, time-consuming, and expensive in ingredients, that it is saved only for special celebrations such as Easter . . . this is not your average weekly or even monthly pie/torta!
If this is your first time baking a traditional Italian Easter Pie, know that there is quite a bit of time work involved . . . you might even want to enlist some family or friends into the kitchen to help you with the grating and the slicing of all the ingredients. This is one labor of love!
Made to feed a crowd, Italian Easter Pie is massive, hefty pie packed with literally more than 2 pounds of Italian meats in this puppy:  salami, hot capicola, Italian sausage, prosciutto and pancetta.  And about 3 pounds of assorted Italian cheeses: mozzarella, ricotta, and Parmigiano.  And all baked inside a delectable, buttery, flakey crust!
There are so many versions of Italian Easter Pie recipes!
There are countless regional versions of Italian Easter Pie (Torta Pasqualina), each with their own unique way of preparing it. You might even find that within the regions, this recipe differs among towns and families as well! Of course, everyone believes that their recipe is the best! But that's the way of Italian cooking!
This recipe includes not only meats and cheeses, but also a lot of veggies as well:  artichokes, porcini mushrooms, onions, spinach, Italian parsley, and of course . . . garlic!
Italian Easter Pie is better when prepared a day ahead because it needs to rest for a minimum of 3 hours after baking.  This helps you slice it better into firm pieces.  Just re-heat it for a half-hour before serving so that it is warm.
I don't know about you, but I don't want my cholesterol checked after eating a slice of this pie!
.
Many countries celebrate Easter with recipes that include eggs . . . LOTS of eggs, and Italy is no exception.
In Italy, large, sumptuous Easter pies or tortas made with eggs are traditional. Sometimes called "Torta Pasqualina", "Pizza Rustica", "Pizzagaina", or "Pizza Chena/Piena" and is the first course served to break the modest eating, the sacrificing of certain foods, or the fasting during Lent.
This meaty-cheesy-egg layered pie is a stellar, filled-to-the-brim, show-stopping celebratory dish and absolutely perfect for indulging in at the end of Lent. It is a traditional opulent dish that is meant to feed a crowd and to be enjoyed by many around the table on Easter when we celebrate the resurrection of Christ and His gift of salvation.
Even though you might find recipes that only include meat, cheese and eggs, you'll also find those that include spinach or artichokes or both, as I choose to do! Additionally, I like more eggs, more meat, and more cheese . . . not just one or two of each . . . but ALL of them! Some people prefer the meats and cheeses layered by slices, yet as in my version, many people like the meats and cheeses in tiny cubes. In addition, some enjoy their pie with a fluffy bread dough, while others insist on having a flakey pie crust . . . we like ours more on the bread dough side. I know that I wouldn't like the whole eggs cooked in the middle as some include and I KNEW that my husband wouldn't touch it with hard-boiled eggs inside. So my version has no 'hard' eggs inside.
Some versions even layer the pastry inside along with the eggs, meat, and cheeses, with 12 layers being common to represent the twelve apostles of Christ. One thing that all of the hundreds of versions have in common is that they are all savory and not sweet.
Prepare the pie 1 – 2 days ahead of Easter so that the flavors marry nicely and you won't be so worn out that you don't enjoy the holy day of Easter. During this time, the torta should be refrigerated, but on the day it is served, allow it to come to room temperature 2 hours before serving. Small slices are all that is required due to the heaviness of this dish; it is quite filling.
If you have extra pie dough, you can also cut out a 'cross', or some 'egg and/or flower designs' to symbolize Easter, spring, and new life!
Like frittatas, Italian Easter Pie/Tortas are so versatile in that they can be served warm or cold, and for any meal, breakfast, lunch, or dinner!
BUONA PASQUA!
Print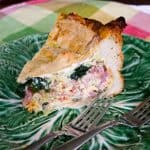 Italian Easter Torta (Torta Pasqualina)
Author:
Prep Time: 0 hours
Additional Time: 0 hours
Cook Time: 0 hours
Total Time: 0 hours
---
Filling
1 package dried porcini mushrooms, soaked in warm water for 30 minutes and drained
2 tablespoons (1/4 stick) butter
1 pound fresh spinach
1 can artichoke hearts, drained and chopped
1 tablespoons olive oil
4 large garlic cloves, minced
4 tablespoon minced fresh parsley
salt and freshly ground pepper
2 pounds ricotta cheese, drained
1 cup freshly-grated Parmesan cheese
8 eggs
1/4 cup whipping cream
4 Tbsp. flour
Layers of Italian Meats and Cheeses
1/2 cup asiago cheese, shredded or sliced
1 large ball of fresh Mozzarella cheese, sliced
1/4 lb. provolone cheese, shredded or sliced
1/2 cup pancetta, cubed or sliced thin
1/4 cup mortadella, cubed or sliced thin
4 oz. hot cappicola, cibed or sliced thin
1/4 lb. prosciutto, cubed or sliced thin
4 oz. soprassetta, cubed or sliced thin
4 oz. Genoa salami, cubed or sliced thin
4 oz. pepperoni, cubed or sliced thin
Pie Dough
Use your favorite high-quality pie dough recipe
---
Instructions
Pre-heat oven to 400 degrees.
Place dried porcini mushrooms in bowl of hot water to plump up for about 30 minutes, drain.
In buttered saucepan, saute' the mushrooms for 5 minutes.
In separate large frying/sauce pan, in olive oil, cook the spinach for 2 minutes.
In another sauce pan, in olive oil, cook artichokes for 5 minutes.
In another small sauce pan, in olive oil, sauté garlic.
Add all of these together, except the spinach, set it aside for the assembly of torta.
Add in the parsley.
Set aside.
In a large bowl, blend ricotta cheese, Parmesan cheese, eggs, whipping cream, and flour.
Add the mushroom, artichoke, garlic, parsley mixture to the cheese-egg mixture.
Assembly of Torta
Spray/grease a 10″ springform pan
Roll out pie dough so that it is wide enough to cover both the bottom and sides of the baking pan.
Pour in about 2 inches of the cheese-egg-artichoke filling mixture.
Bake for about 10 minutes.
Remove from oven and alternate layers of remaining cheeses and Italian meats, except the mozzarella.
Layer the cooked spinach on top.
Layer the slices of mozzarella on top of spinach.
Pour remaining cheese-egg-mushroom-artichoke mixture over the meat and cheese layers.
Place a top layer of pie dough on top and baste with an egg wash.
Bake for 70 – 80 minutes, using aluminum foil to prevent dough from burning.
---
Notes
Adapted with several major adjustments to a recipe found on "The Italian Dish".
TIPS for Making Italian Easter Pie:
Chop up all of your ingredients ahead of time and have everything measured out and ready to go to cut back on time.
As always, only use the very freshest Italian specialty ingredients.
Be creative and add your favorite ingredients and deleting some of those in this recipe that you may not prefer.  Adding chopped red peppers, for example, adds another layer of red pops of color.
It is also common to have hard-boiled eggs inserted in the filling.
Bake one day ahead of serving and refrigerate.
Re-heat for about a half-hour before serving so that the Italian Easter Pie is served warm.
Enjoy this recipe for Italian Easter Pie Torta Pasqualina !
Buona Pasqua my friends!