How To Make the BEST Panzanella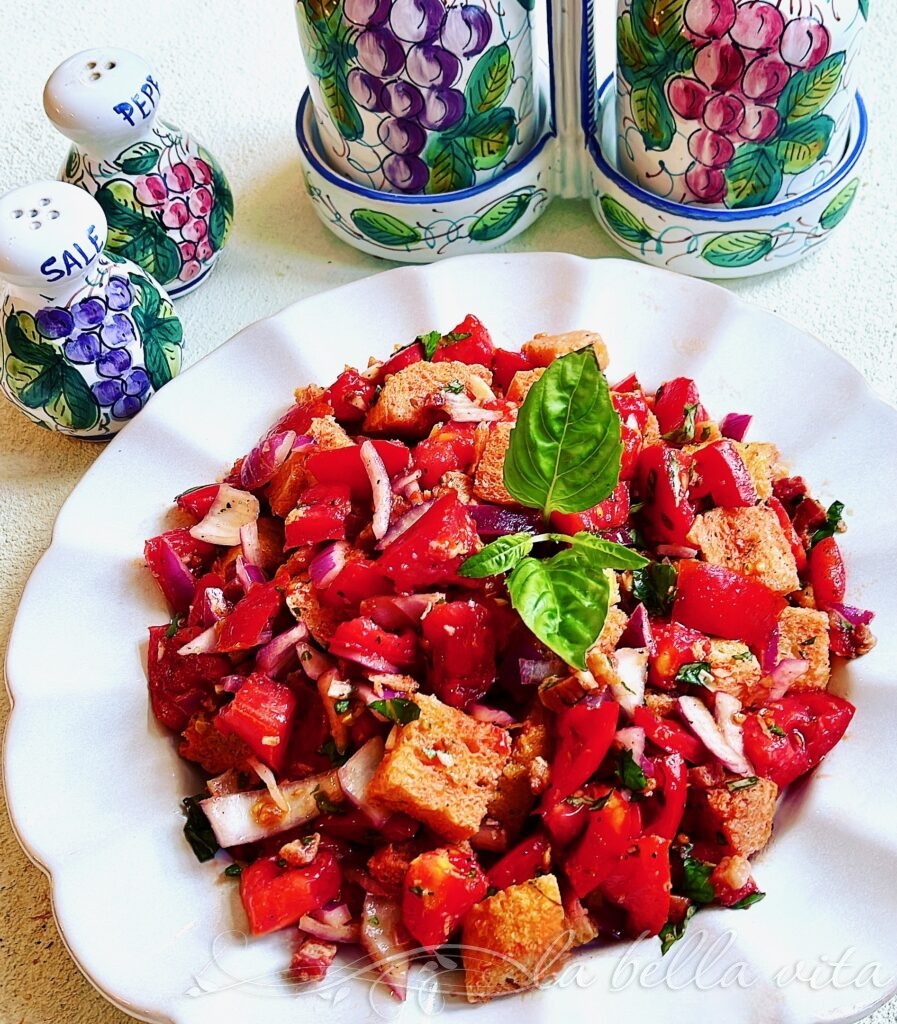 Oh, the dog days of summer! The heat is intense, sunsets never seem to arrive fast enough, ice cubes melt in our drinks faster than cooling off the drink itself, and dangling in cold water is one's only escape. So who wants to cook anything that requires heat? It's time to enjoy beautiful and delicious COLD dishes! What better way to enjoy cooking and eating on blistering hot days, than with a delightful, cold Italian Panzanella Salad with Pancetta! — an ideal recipe to prepare without the use of heat. Before the school bells ring, there's still time for many of us to prepare some tasty cold dishes to pack up in our baskets and head out to either a beautiful lake or a coastal shore's sandy beach.
With tomatoes busting off the vines and mounds of basil perfuming the air, it's the perfect time to enjoy one of Italy's amazing solutions for combining tomatoes, basil, and day-old bread in this zesty summertime salad. Panzanella is by far one of the easiest ways to showcase the delicious bounty of summer's gorgeous, juicy tomatoes. A secret among the best Italian cooks and chefs is to only use super-fresh ingredients to result in the very best dishes that your family and friends will appreciate and respect you for knowing the little things that will make all the difference in their eating experience.
Italians have always had an intuitive knack for creating recipes that prevent wasting food. To throw food away is a huge no-no in Italian families which helps explain the origin of this delightful, cold summer Panzanella salad. And to me, tossing out tomatoes that are spoiling on the vine is well . . . a sin in my gardening book!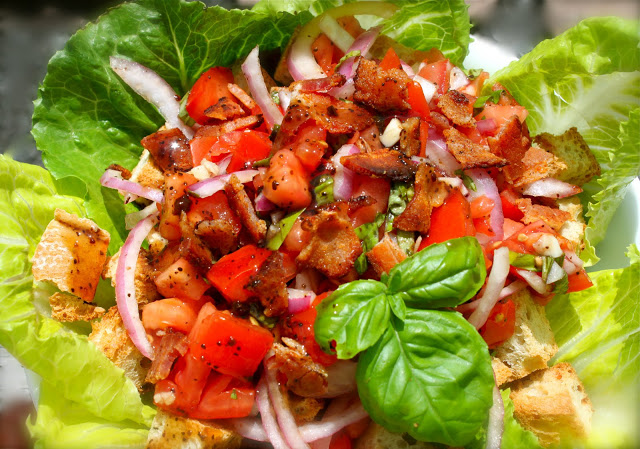 What Is Panzanella?
Panzanella is a delightful salad for using garden-fresh tomatoes and left-over, dried bread. "Pane" (PAH-nay) means "bread" in Italian and "Zanella" (Zuh-NAY-lluh) means 'soup bowl". This tomato and bread salad isn't fancy at all, but rather it's rustic, packed full of flavor, and very hearty and substantial . . . after all it is a bread salad! It's more often enjoyed as a meal in itself because it is so filling.
The 'secret sauce' to Panzanella salad is the combination of the fresh juice seeping out from the tomatoes blended in with the vinegar and olive oil. Even those liquids are taken to another level of flavor nirvana with the added essence of basil, garlic, and onions. The bread starts out almost as hard as a rock (seriously) and then softens as the tomato juice and vinaigrette is soaked up. Like cooking magic or alchemy the old bread is revived back to life in a delicious new way: full of tomato, garlic and basil harmonized flavor with a tender, almost al dente density. Some say to use chewy, slightly stale bread, but that lower level of dryness lends to a more mushy texture to the bread cubes . . . and that's just down-right nasty texture to the tongue. Every element in a simple recipe must be perfect for alchemy to work perfectly.
Panzanella is a classic, yet unpretentious Italian salad that originated from Tuscany way back in the Middle Ages. Similar to most recipes in Italy, the recipe for Panzanella migrated around the Italian (boot) peninsula where home cooks modified recipes to reflect their regions simply by changing out ingredients. But among the variety of recipes, each Panzanella recipe has a distinct and traditional, connecting thread: using up whatever is left over on hand. Panzanella is a delicious recipe that takes advantage of using up old, dried, stale bread.
My nonna (Stella Adani Corieri) always told me stories about the hard times our family had to struggle and endure in the beautiful, but baron mountains where they lived in Northern Italy. Although my relatives in Italy were mere peasants, they were also very clever and resourceful in their cooking methods of peasant dishes that reflected their poverty. Known as "cucina povera", it literally means "cooking of the poor".
Panzanella salad is one of those humble peasant dishes that's origin was inspired by frugal home cooks creating deliciousness from simple, available ingredients. Never wasting anything, peasant cooks resourcefully fed their families stomaches "using every part of the pig, except for the oink", my mother always told me.
My grandparents, great-grandparents, and beyond would be in disbelief to know that today, these peasant dishes now grace the menus of some of the most elite Italian restaurants. In Venice for example, the famous Harry's Bar offers the most incredible Risotto with Porcini Mushrooms for $95 US! Today, those famous foods and recipes that originated from my native region of Emilia-Romagna (Bologna and Modena) in Northern Italy are known for 'delicious simplicity' with few, but high-quality ingredients.

Panzanella Ingredients
Classic Panzanella has just a few fresh ingredients, plus a few Italian pantry staples. Here's what you'll need to make Panzanella:
Stale, crusty bread, several days old, cut into 1-½" cubes/chunks: Use Ciabatta, French bread, or Sourdough. Texture is everything in this salad. You don't want soggy bread, nor do you want bread that's too crispy. If you don't have day-old bread, toast it in the oven or in a skillet on the stovetop.
Garden-fresh tomatoes: Cherry, Compari, or Roma
Fresh basil: Basil makes this salad aromatic and delightful. Do NOT skip it and only use fresh basil
Red onion: Traditional in Panzanella due to its crispness and pungent, sharp heat. Try not to use white or yellow onions.
Extra Virgin Olive oil
Red wine vinegar: Do not use Balsamic Vinegar which is too overpowering for this salad
Garlic, salt, pepper: Panzanella could never be what it is without some of the best, quintessential Italian seasonings
Additions to Satisfy Your Taste Preferences
Pancetta: Diced and Sautee'd. For a little protein and diversity in flavor and texture that doesn't dominate the salad in any way
Bell peppers: Add red, green, or yellow bell pepper for more crunch
Zucchini or Yellow squash
Cucumbers: Offer an additional layer of cool, refreshment. Mini (Persian) cucumbers or English cucumbers work nicely, standard cukes have seeds that you may want to remove
Parmesan cheese: Big slivers are nice, but grated is fine too. Do not use the 'green' can variety. Use good quality, imported Parmigiana!
Capers—Use about 2 tbsp. for a more tangy twist in flavor.
Green olives: Sliced; Use Castelvetrano olives for more tang.
Mozzarella: Diced or grated; offers a creamy element to the tangy salad. A ball of fresh mozzarella is preferred, torn into small bits, or another option is tiny mozzarella balls
Parmesan: Freshly grated and sprinkled all over it adds another level of flavor
Tips for Outstanding Panzanella
Toast day-old bread with garlic-infused oil for extra flavor
Avoid large tomatoes that can be so soft and juicy that they completely break down when sprinkled with salt. You want Panzanella to be a little juicy, and at the same time have some body and firm texture; smaller tomatoes are the answer.
PIN FOR LATER!
Print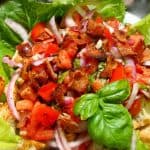 Panzanella with Pancetta
Author:
Prep Time: 30 minutes
Additional Time: 0 hours
Cook Time: 0 hours
Total Time: 30 minutes
Yield: 4 servings 1x
Cuisine: Italian
---
2 Tablespoons red wine vinegar
3 teaspoons extra virgin olive oil
1/2 teaspoon freshly-cracked sea salt
1/4 teaspoon freshly-cracked black pepper
2 – 3 garlic cloves, minced
4 cups coarsely chopped vine-ripe, red tomatoes
1/2 cup sliced red onion
1/3 cup chopped fresh basil
6 pancetta slices (cut about 1/8th" thick), cooked and diced
1 (8-ounce) loaf day-old French bread, cut into 1-inch cubes
---
Instructions
Preheat the oven to 350°.
Arrange bread cubes in a single layer on a baking sheet.
Bake at 350° for 15 minutes or until toasted; cool.
On a medium-high stove setting, saute' the diced pancetta until golden brown. Remove the cooked pancetta from the grease and pat dry with paper towels to remove any remaining grease. Cool.
While the pancetta is sauteeing, combine the first 5 ingredients in a bowl; stir with a whisk.
In a medium mixing bowl, add tomato, onion, and basil; toss well. Set aside.
Add the cooled, diced pancetta.
Add the ingredients (in Step #5) to the tomato/onion/basil/pancetta mixture.
Toss the bread cubes into the tomato mixture; tossing gently to combine.
Serve immediately.
Mangia and Enjoy!
---
---
Nutrition
Serving Size: 1
Calories: 342
Sugar: 6
Sodium: 385
Fat: 27
Saturated Fat: 9
Unsaturated Fat: 16
Trans Fat: 0
Carbohydrates: 18
Fiber: 3
Protein: 8
Cholesterol: 31
Keywords: panzanella, tuscan tomato and bread salad, bread salad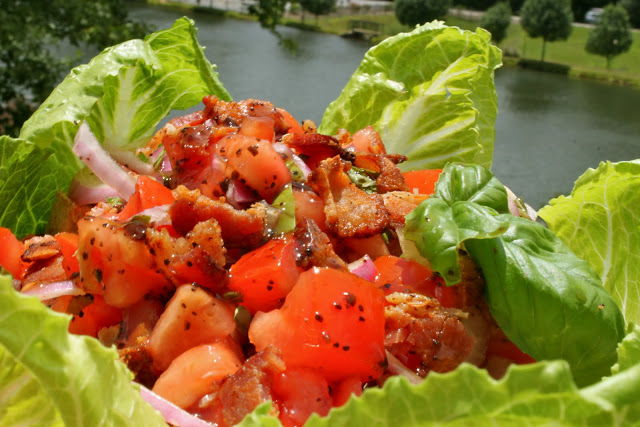 Enjoy this Panzanella Salad with Pancetta!
Originally posted in 2011, Updated Post with More Information and Photos, 2022
.
.
Do you enjoy La Bella Vita Cucina?
We'd love to have you as part of our community!
Subscribe below to receive a FREE e-Cookbook and all of the latest recipes,
travel tips, and gardening ideas straight into your inbox!