How To Make The BEST Italian Stuffed Peppers
Stuffed Italian Peppers! My mother used to make these every summer without fail. They were such a crowd-pleaser and would be devoured immediately upon being served. They're great for either lunch or dinner. We always thought they were so special because everyone got their own delicious pepper filled with a savory stuffing, and infused with Italian seasonings, oozing with hot, melted cheese.
When fresh-from-the-garden peppers are used, there's just no comparison in the clarity and intensity of flavor. My family and I prefer the sweetness of red peppers, but you can use whichever color you like (green, red, orange, yellow, or purple). Each color tastes a bit different. But to me, there's just something special about combining red peppers with Italian seasonings and flavors. And OH! will your home smell divine while you prepare these.
This recipe is quite simple, really and yet still sends stuffed peppers to a new level of deliciousness!
So as I always say, "andiamo in cucina" . . . let's get to the kitchen!
First, gather up your ingredients. The very first thing to do is set out all of your ingredients, all measured out correctly.
The Ingredients
Beautiful Bell Peppers: Try to find them in larger, and similar shapes and sizes; larger and more round are the best for stuffing. Again, any color is fine. Green peppers are the most bitter and red peppers are the absolute sweetest, with orange and yellow falling somewhere in between. Red peppers simply pair the best with the flavors of Italian ingredients. Whatever your personal preference in flavor is, just go for it!
Ground Beef and Ground Italian Sausage: It's easier to use Italian sausage in the loose, bulk form than in the link-style with casings that you have to remove. It's a preference and I hate that step, so I simply buy it in the same form as ground beef. Select the least fatty ground beef available because this recipe already creates enough liquid fat that must be drained before baking.
For even more lean peppers, you can use ground turkey or chicken. Vegetarians can eliminate any beef and simply use 3 times the rice, beans, or tofu.
Proscuitto: I love what a little added flavor of prosciutto does to elevate savory recipes to new heights. And I'm also quite fond of adding pancetta to those recipes . . . either one of these Italian salumerie is delicious in Italian Stuffed Peppers! You don't need a lot, about ¼ cup, chopped up. Mmmm!
Eggs: The stuffing needs an element that binds everything together. Eggs do this wonderfully. Eggs also add another layer of flavor complexity that makes Italian Stuffed Peppers so interesting to the tastebuds! I primarily use jumbo eggs in almost all of my recipes. But I love eggs!
Italian Arborio Rice: I keep certain Italian foods in my pantry . . . and rice is one of them. If you can't find it in your local market, you can have it quickly shipped by Amazon (Arborio Rice). If you are on a Keto or low-carb lifestyle, you can substitute cauliflower rice. You can also use orzo pasta. Either way, only cook it for half the time it says on the package instructions because the rice will continue to cook in the oven.
Fresh and / or Canned Italian Tomatoes: I like to use a little bit of both because nothing in any can is ever able to match the intense flavor of fresh, ripe tomatoes from the garden. Yet, high-quality imported Italian San Marzano peeled tomatoes (Amazon) come in a lovely sauce that is nice to use in this recipe. Now if you have homemade tomato sauce at home as I do, then by all means use that!
Fresh Italian Herbs, Seasonings, and Aromatics: Whenever possible, use fresh Italian Parsley and Basil. If you don't have any and you're in a pickle, it's OK to use the dried version of herbs for Italian Stuffed Peppers. I season the meats before their sear with a generous sprinkling of Mrs. Dash Tuscan Medley and Mrs. Dash Italian Seasonings, plus some Nature's Seasonings (Amazon). I use these whenever I cook because they are salt-free or at least are reduced salt and my family has health issues related to too much salt.
Italian Cheese: I use Italian Parmigiana, Pecorino Romano, and Mozzarella cheese. But sometimes I'll add in a little Asiago for a nice bite or some buttery Fontina. Even though you can't go wrong with any of these, do use a nice blend of gooey, creamy, melty cheese (Mozzarella, Smoked Provolone, or Fontina) with a tangy, sharp cheese such as Parmigiano, Pecorino, or Asiago.
Breadcrumbs: Although a 'quiet' ingredient, that's lackluster, it holds a key job in the success of this recipe: it helps the eggs form the 'glue' to keep the stuffing all together. I've never used panko, but you can try it if you like. I use plain-flavored because I've already included herbs and spices. But if you want even more herbs and spices, then use "Italian-Flavored Breadcrumbs".
How To Make Italian Stuffed Peppers
First, preheat the oven to 350 degrees F.
Second, bring a tall pot of water to boil to cook the rice. When it comes to a boil, cook the rice for HALF of the time stated on the packaging instructions. Once that time has been reached, immediately take the rice to the kitchen sink and run clean, cold water over the rice to stop it from cooking more. When cooled and drained, place the rice in a medium-sized bowl and set aside.
Make The Stuffing
Gently heat the olive oil
Saute' the chopped onions in the olive oil
Add the minced garlic and saute'
Add the ground beef and Italian sausage and brown. Add the prosciutto after they have browned.
After the meat is nicely browned, add the chopped Italian parsley and basil
Squeeze the peeled tomatoes into the meat mixture, leaving the sauce (if using canned) set aside
Add tomato paste
Tip the pan to an angled position and spoon all of the grease out. Squeeze as much out as possible. Discard the grease.
Add the cooked, drained, and cooled Arborio rice
It's coming along nicely!
Add the freshly-grated Parmigiana and Pecorino cheese
ADD SALT AND PEPPER TO TASTE at this point
As mentioned earlier, set aside any remaining tomato juice from the can. Now spread it around the bottom of the baking pan
Gently stuff as much of the stuffing into each cleaned-out bell pepper half
Bake in a 350-degree F oven for 40 minutes, covered with aluminum foil on a center rack
Carefully remove the hot baking dish to a cutting board or rack.
Remove the aluminum foil.
Generously sprinkle freshly-grated Mozzarella and Parmigiana cheese all over the tops of the Italian Stuffed Peppers.
Return the stuffed peppers to the oven.
Set the temperature to "BROIL" for 10 minutes, keeping a CONSTANT, sharp eye on the peppers to remove them before they begin to burn. You want a beautiful golden and brown color on the cheese.
Once the cheese is browned, remove the Italian Stuffed Peppers from the oven again and set on a cutting board or rack.
Sprinkle chopped Italian Parsley and basil all over the top of the melted cheese.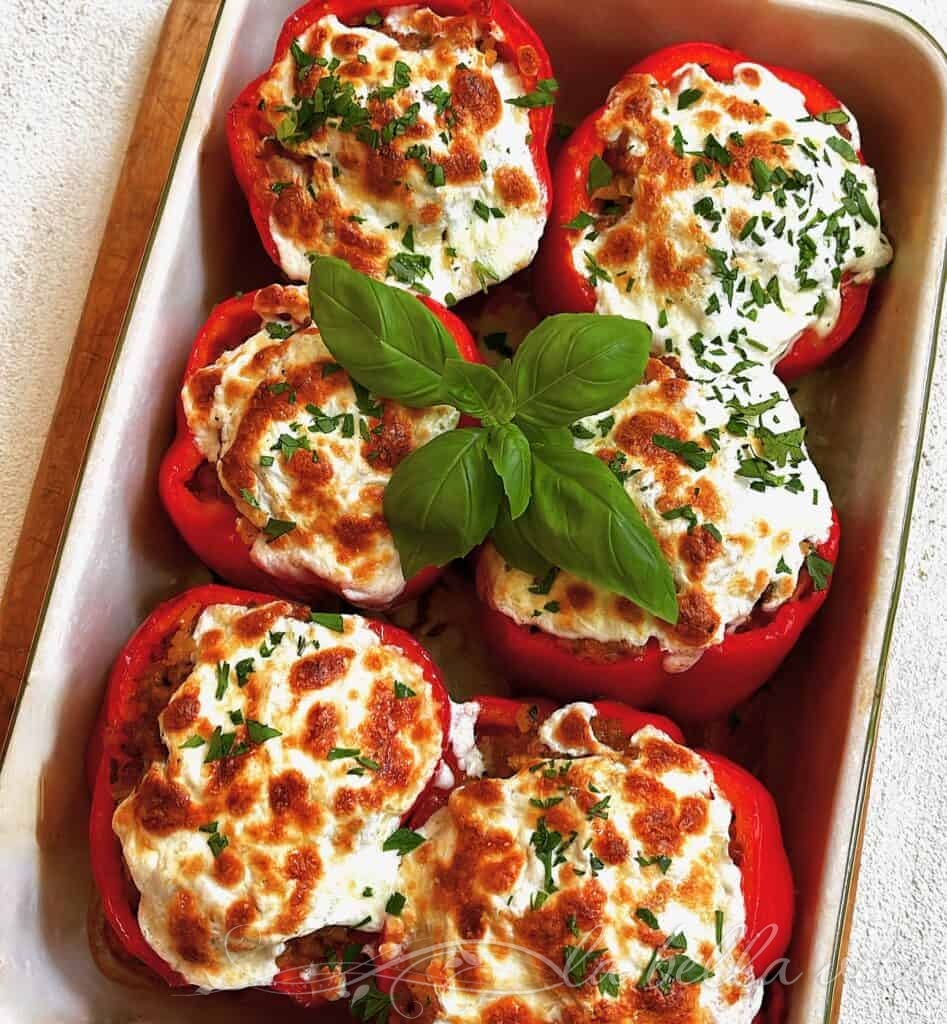 Serve hot and ENJOY!
Mangia !