Butternut Squash Ravioli in Brown Butter and Pancetta
Learning how to make ravioli is not a very common activity for children in the USA. But making ravioli, tortellini, and any pasta was ingrained in me by watching my mother and my nonna in the kitchen. Now that I work full time, along with this blog and an Etsy shop, I only make ravioli from scratch during the summer when my garden is full of spinach. And I only make tortellini for Thanksgiving, Christmas, and Easter. So making this recipe for Butternut Squash Ravioli called for purchasing some time-saving, freshly frozen ravioli.
My mother always served ravioli in her famous Bolognese sauce that my parents offered in their Italian restaurant. And her ravioli filling always consisted of spinach (or swiss chard), cheese, and herbs. I expanded my ravioli-making abilities after enjoying my first bite of butternut squash ravioli in an Italian restaurant during a visit to Atlanta's art museum with my daughter (back in 2001).
I fell in love with the sweet butternut squash filling and nutty brown butter sauce with hints of sage and nutmeg that it was served in.
To cook in sync with the seasons, butternut squash ravioli is just perfect for fall. The truth is that any pasta paired with butternut squash is a delicious marriage of warm and inviting autumn flavors. The roasted butternut squash and sauteed pancetta add even more layers of delicious flavor.
HOW TO MAKE Butternut Squash Ravioli with Brown Butter and Pancetta
Roast the butternut squash. Toss the butternut squash with olive oil. Spread evenly on a baking sheet (lined with either parchment paper or aluminum foil). Roast until tender and lightly browned.
Cook the pancetta. In a skillet, sauté pancetta until reddish-brown and crispy.
Boil the ravioli. Add ravioli to a pot of boiling water and cook until they rise to the top.
Prepare the brown butter sauce. Melt butter in a skillet. Add the sage to the hot butter. Add cream and parmigiana cheese. Add garlic and nutmeg.
Add the roasted butternut squash and the pancetta to the browned butter mixture.
Assemble and serve. Pour the brown butter/squash/pancetta mixture over the ravioli, gently stirring to combine.
Print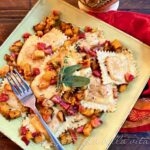 Butternut Squash Ravioli With Brown Butter And Pancetta
Author:
Prep Time: 30
Cook Time: 30
Total Time: 1 hour
Yield: 2 1x
Category: Pasta
Cuisine: Italian
---
2 cups butternut squash cubes
1 Tbsp. olive oil
4 large garlic cloves, minced
3 Tbsps. fresh thyme
1 package of fresh/frozen or homemade butternut squash ravioli
4 Tbsps. butter
1/3 cup tightly packed fresh sage leaves
1/2 cup heavy cream (add more later, if you prefer)
1/2 cup freshly-grated parmigiana cheese
2 large garlic cloves, minced
a pinch of nutmeg
1 cup pancetta, cut into small cubes
---
Instructions
Preheat the oven to 400 F degrees.
Boil a pot of water.
While the water is heating up, toss the butternut squash cubes with olive oil, freshly minced garlic, and fresh thyme.  Spread on a baking sheet.  Use parchment paper if you prefer.
Roast in preheated oven (400 F) for 30 minutes.
Place the ravioli in the boiling water.  Cook for 6 minutes (fresh pasta cooks much faster than boxed pasta, so keep an eye on the ravioli while they cook).  Floating to the top of the water is a helpful way of knowing that the ravioli are finished cooking.
In a medium-sized skillet/frying pan, saute' the pancetta until crisp and dark reddish-brown in color, about 10 minutes.  When done, place the pancetta on some paper towels to remove fat/grease.  Set aside.
While the butternut squash cubes are roasting and the ravioli are cooking, add the butter to a medium-size skillet/frying pan and cook on medium heat for 5 minutes until the butter is browned.  Do not let the butter burn or smoke.
Add the sage to the browned butter, swirling it around the pan several times.  Cook until the sage is dark.  After the sage is darkened, remove it from the browned butter and discard it.
Add the heavy cream and parmigiana cheese to the browned butter.  Cook until the cheese is melted.
Mix in the minced cloves of garlic and a pinch of nutmeg.
Add the pancetta to the mixture.
Remove the roasted butternut squash from the oven and add to the browned butter sauce.
Add the cooked ravioli to the mixture and GENTLY toss them around in the sauce until all ravioli are coated with the sauce.
Season with salt and pepper and more freshly-grated parmigiana cheese.
Garnish with fresh sage leaves and sprigs of fresh thyme.
Bon Appetito!
---
---
Nutrition
Calories: 480
Sugar: 3g
Sodium: 500mg
Fat: 25g
Saturated Fat: 12g
Unsaturated Fat: 3g
Trans Fat: 1g
Carbohydrates: 52g
Fiber: 4g
Protein: 10g
Cholesterol: 68mg
Keywords: Butternut Squash, Pasta, Italian