Easy Butter Rich Spritz Cookies
Classic and easy butter-rich spritz cookies are some of the most iconic Christmas treats! They're just perfect little bite-size bundles of melt-in-your-mouth buttery yumminess! Light, tender and delicate in texture, subtly sweet in flavor . . . and did I say 'easy'?
It's just nice to have something easy and delicious! Simplicity is something I strive for during the crazy holidays! For some weird reason, I'm really into holiday baking this year. Maybe it was the pandemic's total interruption of 'normal' life that I just want to return to, cling to, and enjoy some kitchen chaos with Christmas music playing and kids running around with laughter. I'm getting very nostalgic and spritz cookies fit the bill for classic, old-time, tried-and-true nostalgia!
It's Christmas! Time to bake up some yumminess!
Christmas spritz cookies are also a perfect choice for gift giving since they can be baked ahead of time and wrapped up on platters ready to give to family and friends as they stop by.
Spritz cookies are decorative all by themselves without any help from you, the baker, because of the festive cookie press designs you can choose from. They can be left "as-is" or decorated with sprinkles, food coloring, chocolate, or even flavored like gingerbread cookies.
Great for baking with the kids!
With some sprinkling of colorful sugar crystals, you can decorate spritz cookies to reflect the festivities of the season. Red, green, silver, gold, or multi-colored; the choices are endless, and OH . . . this is where the kiddos love to join you in the kitchen to help decorate the cookies!
I know that you'll love these cookies and see why they are perennial holiday favorites! They'll be a hit at your next Christmas gathering!
Pass the cookies, please!!
What are spritz cookies?
Although my family is Italian, I grew up in the American Midwest where the population is primarily German and Scandinavian. "Spritz" in German means "to squirt/to press", which is how these cookies are made — pressed (or squirted) through a cookie dough press. As kids, we were so thrilled that our mother made these pretty little German cookies!
Italians don't eat a lot of sugary-sweet, frosting-laden cookies. Rather they enjoy cookies or biscotti that have just a faint essence of sugar. So spritz cookies, without any frosting, were just right and soon became a favorite in our Italian kitchen.
Spritz cookies are not sugar cookies. In fact, they are EASIER than sugar cookies that are rolled out, shaped with cookie cutters, and then decorated. Instead, you use a cookie press for different shapes as you push the dough out. Speaking of dough, it isn't refrigerated or the butter becomes chilled and hard, making it very difficult to push the dough through.
Spritz cookies are super-buttery (isn't that why they are so addicting?). But they are not shortbread, another butter-laden treat, that's a bit more crumbly and falls apart more easily than spritz cookies.
Tips for Baking Easy Butter Rich Spritz Cookies
Always buy the highest quality butter and freshest eggs for the best results.
Set out the butter and egg yolks to soften at room temperature so the dough is softer and easier to push through the cookie press.
Add BOTH vanilla and almond extract. I've added almond extract to my baked goods since my mother taught me how to bake when I was a child. I cannot tell you the additional amazing flavor, although very subtle, it makes sweet recipes! Adding lemon juice/extract is delightful for spritz cookies in spring or summer.
Do not refrigerate the dough; it needs to stay soft so that it passes through the press easily.
Practice using the cookie dough press. Use the simplest form first while you get comfortable using the press. Whatever you don't like pressed out, just put it back in the dough and press the dough through again.
Don't use a non-stick baking/cookie sheet OR parchment paper that the cookie dough will stick to.
Decorate spritz cookies BEFORE going into the oven to bake.
Use different colors and shapes of sprinkles. These cookies can be decorated for many different holidays or occasions.
Use an oven thermometer so that you bake your spritz cookies at the correct temperature and for the correct amount of time.
Store for one week at room temperature; freeze for one month.
How to Use a Cookie Press for Spritz Cookies
Here's a nice, short, and sweet video to watch on how to use a cookie press which is essential to make spritz cookies.
A cookie press comes with several round 'plates or discs' in various shapes and patterns to choose from. You can find lovely discs with patterns for other holidays such as Easter and St. Valentine's Day.
Attach the plate/disc that you prefer to the bottom of the press and spoon the cookie dough into the top. Hold the cookie press straight down (upright) with the bottom of the cookie press placed directly on the surface of a COLD cooking sheet. Press down on the lever to release one cookie, lift up the press, and continue with the rest of the cookie dough. If the dough sticks to the press, take a clean knife to cut and release the cookie dough. Spoon more cookie dough into the press as you need it. Change the plate/disc whenever you want a different cookie design.
These spritz cookies are just perfect for your next cookie exchange! If you've never been to a cookie exchange (or cookie swap), here are some great tips from Martha Stewart for having a fabulous cookie exchange party!
Ingredients You'll Need For Buttery Spritz Cookies
A nice, simple line-up is all you need for these easy cookies:
Flour
Unsalted butter
Powdered sugar
Egg yolks
Vanilla Extract
Almond Extract
Salt (or sea salt which I use, but either is fine)
More Cookie Recipes I Think You'll Enjoy!
So let's get to the kitchen and bake some cookies!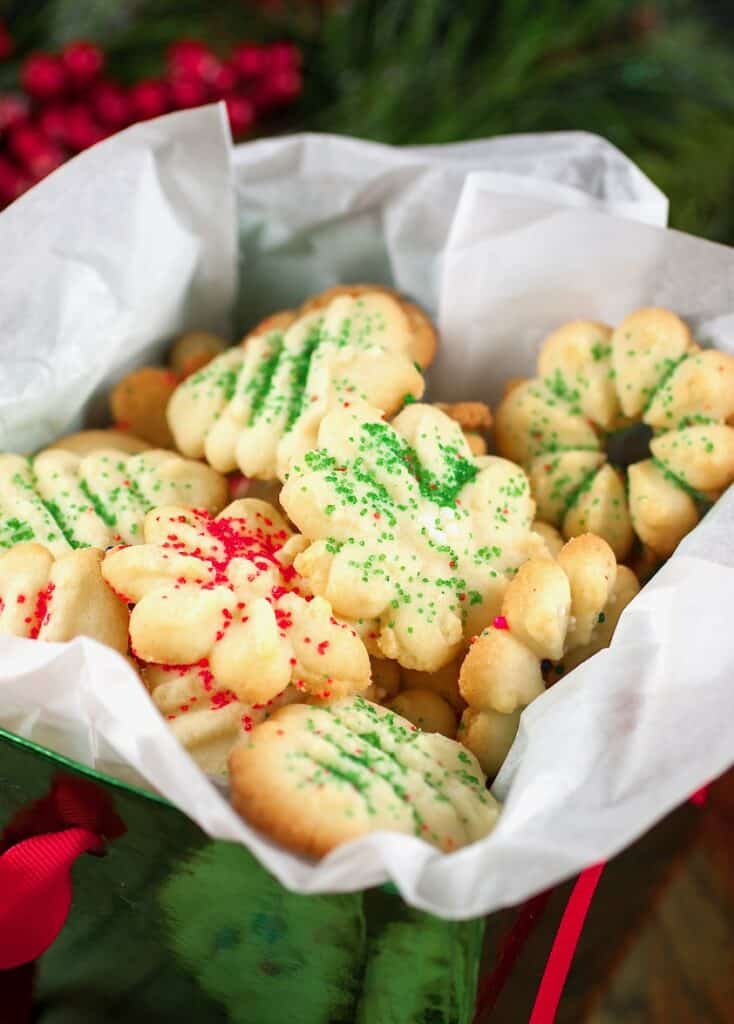 What I Use and Recommend for Baking Spritz Cookies: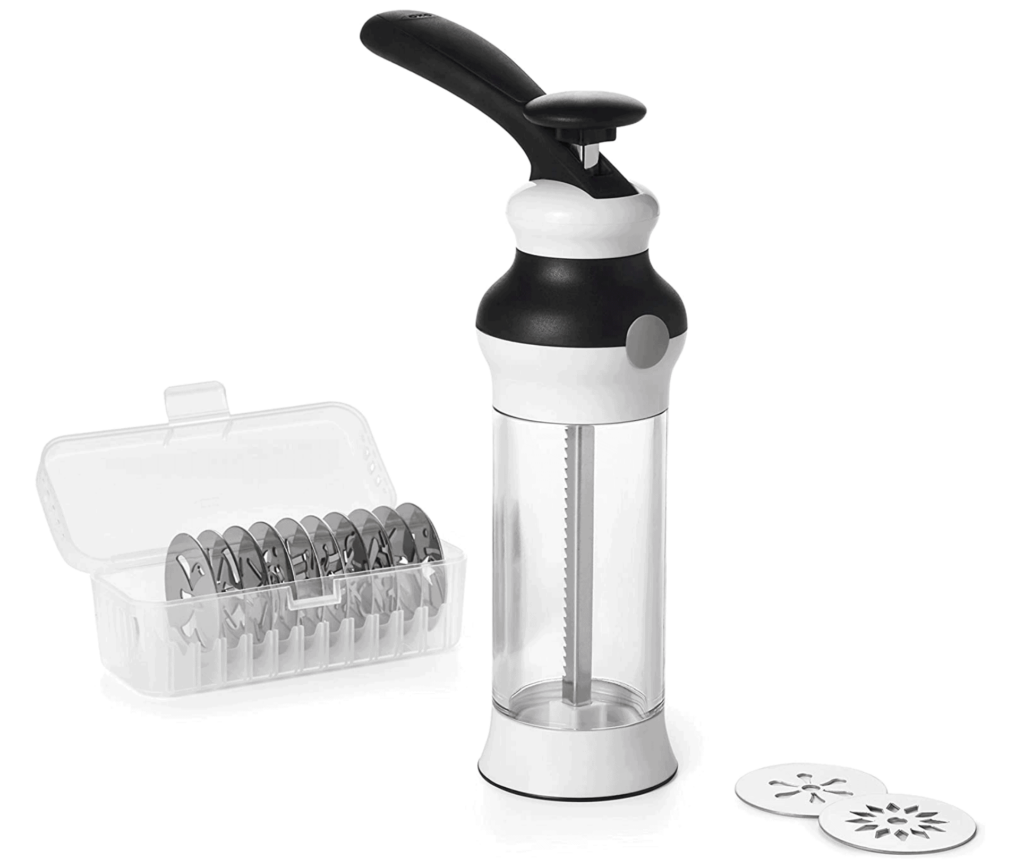 OXO Cookie Press (Amazon Favorite and Choice)
3″ Oven Thermometer (Amazon Consumer Favorite)
(Amazon) Highly-Rated Cookie Baking Sheets
Pin For Later! Thanks!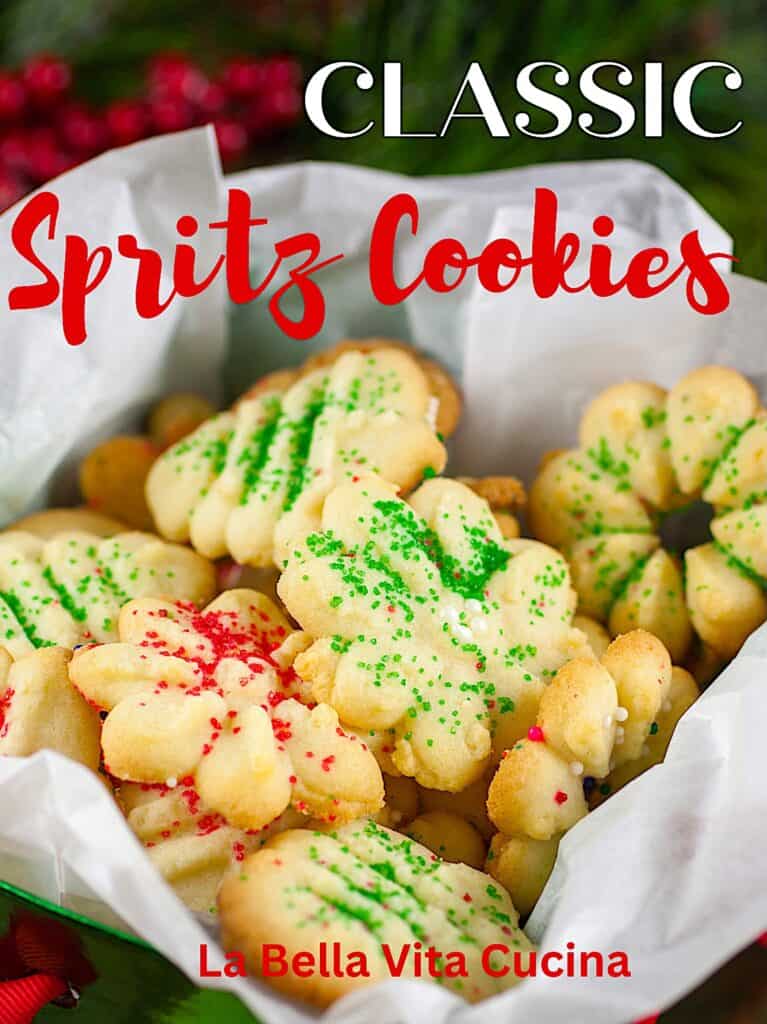 Print
Easy Butter Rich Spritz Cookies
Author:
Prep Time: 30 minutes
Cook Time: 8 minutes
Total Time: 38 minutes
Yield: 20 cookies 1x
Category: Cookies
Method: Baking
---
2–1/2 cups all-purpose flour
1/2 tsp. sea salt (regular salt is fine)
1 cup (2 sticks) butter, softened to room temperature
1–1/4 powdered sugar
2 egg yolks (I use jumbo size)
1 tsp. vanilla extract
1/4 tsp. almond extract
Optional Decorations
Colored sprinkles
Colored sugar
Melted caramel, chocolate, candy bark
---
Instructions
Preheat your oven to 400 F degrees, using an oven thermometer.
Sift together the flour and salt and set aside.
In a medium to large-sized bowl, use an electric hand-held mixer to cream the butter and sugar together until light and fluffy about 3 minutes.
Stir in the egg yolks, almond extract, and vanilla extract and beat well for another minute or two. 
Turn the hand mixer to low speed and gradually blend in the dry ingredients (the sifted flour and salt).  Mix until the flour is fully blended in and the dough is smooth.
Fit your plate/disc onto the cookie press and fill the cookie press with the dough.
Press cookie dough out about 1-1/2 inches apart onto an ungreased cookie sheet and no parchment paper.  Press until it 'clicks' which is enough dough for one cookie.  Lift up the cookie press and the dough should release from the cookie press.
Continue to refill the cookie press with more dough until the entire cookie sheet(s) are full.
Decorate cookies with colored sprinkles, and/or sugars at this time before going into the oven.
Bake for 7 – 8 minutes in the preheated oven, until the bottoms of the cookies are a light golden color.
Cool the cookies while still on the baking sheet for 2 minutes to allow the cookies to set.
Move the cookies to a wire rack to cool completely.
---
---
Nutrition
Serving Size: 1 cookie
Calories: 97
Sugar: 4g
Sodium: 69mg
Fat: 5g
Saturated Fat: 3
Unsaturated Fat: 2
Carbohydrates: 11g
Fiber: 0g
Protein: 1g
Keywords: spritz cookies, butter cookiesl, Christmas cookies