Green Bean Casserole with Pancetta, Porcini and Parmesan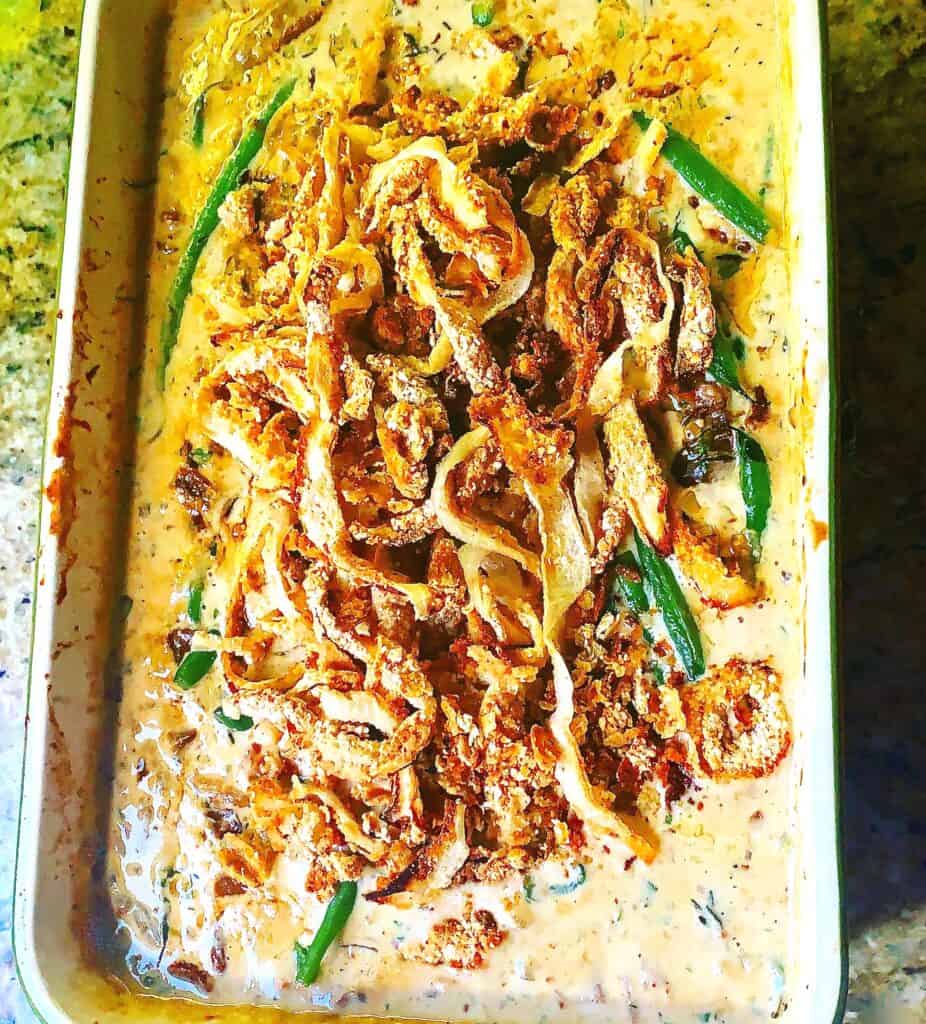 Through the years of adding and subtracting various dishes to my family's Thanksgiving table, the one dish unanimously voted to ELIMINATE, as in 'STOP making this!' has been Green Bean Casserole! With the canned cream of mushroom soup, canned mushrooms, the overcooked large green beans, and the canned fried onions, the old recipe was just a bunch of YUCK to my health-oriented family.
Adios and goodbye!
I hear you! You're saying: "But it's traditional to serve this dish for Thanksgiving, right?" It sure is!
And that's how this delicious recipe for Green Bean Casserole with Parmesan, Pancetta, and Porcini Mushrooms came about! Trust me, there is nothing canned or boring in this vegetable side dish! It's all about FRESH and making from scratch!
This recipe requires a little bit more work and time than the canned recipes, but is Soooo Worth It! This recipe is simply indulgent! The green beans are crispy and crunchy and lathered with a creamy, porcini, pancetta, and parmesan sauce that is simply out of this world. The mushroom sauce is so good, it can be served on it's own as a soup! Topping off the whole dish are freshly fried/baked buttermilk onion rings. Be careful, they're delicious and hard to resist gobbling up while you're making the rest of the recipe.
You can also adjust this recipe easily. If you want more green beans, not a problem. There's plenty of mushroom sauce. Or maybe you want less sauce, so you simply reduce the amount in your casserole.
To create this recipe, I looked at over 25 recipes from home cooks to famous TV celebrity chefs. I analyzed what each of the highest-rated recipes had in common. "Fresh" had to be the first criteria that my new recipe had to be.
So What Do Recipes for Green Bean Casseroles that Use Fresh Ingredients Have in Common?
First Of All, Every Ingredient Is FRESH, FRESH, FRESH!
Don't use any canned green beans, no canned soup, no canned onions, and no canned mushrooms!
Select fresh, thin French green beans (Haricots Verts are very nice) instead of thicker green beans.
Use flavorful fresh or dried mushrooms such as porcini, cremini, or baby portabello mushrooms
Add some smoked bacon or pancetta!
Use more interesting cheeses such as Parmesan, Fontina, or Pepper Jack, just to name a few!
And prepare the fried onion topping from scratch!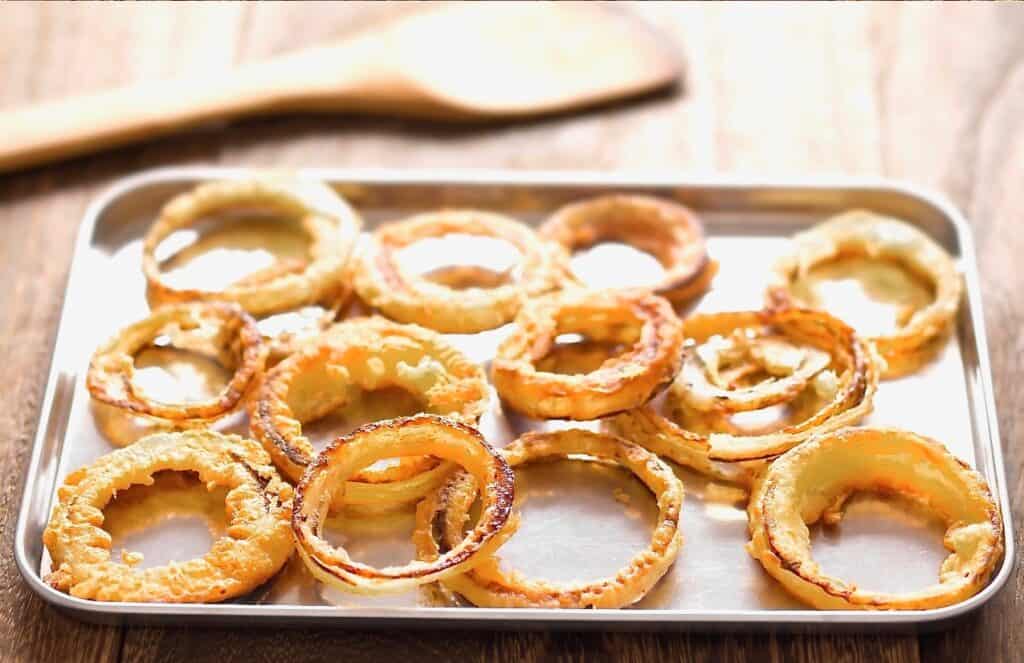 Ingredients That You'll Need:
(Note: the full ingredients list, including measurements, is provided in the recipe card directly below.)
Onions: Use fresh onions in place of canned fried onions. A fried onion topping can't be separated from green bean casseroles, so I top them with fresh, crispy-fried onions! YUM!
Butter: You need this to sauté the onions and garlic plus give it another level of rich flavor.
Fresh green beans: Select beans that are spot-free and not wilted or soft.
Mushrooms: For an Italian twist, use stronger-flavored porcini mushrooms that are in season right now in the fall. But if you prefer a more subtle flavor, use crimini or baby Bella mushrooms.
Garlic: The essential ingredient in all savory Italian recipes!
Chicken broth: To add some extra flavor to the cream sauce.
Worcestershire sauce: Being described lately as a flavoring that adds 'umami', oh you bet!
Heavy cream: Necessary for that creamy yum-sauce . . . no milk or water ever!
Pancetta: Bacon is the classic ingredient. But for an Italian spin on this American dish, I use diced pancetta. This is optional, and takes this green bean casserole to new levels of deliciousness!
Parmesan: Along with garlic, it lends to the perfect Italian flavor-combo!
And now to show you how to prepare this amazing Fresh Green Bean Casserole with Parmesan, Pancetta, and Porcini Mushrooms!
In a tall pot filled with water, blanch the green beans for about 5 minutes. As the green beans blanch, saute' the chopped pancetta until fully cooked and browned.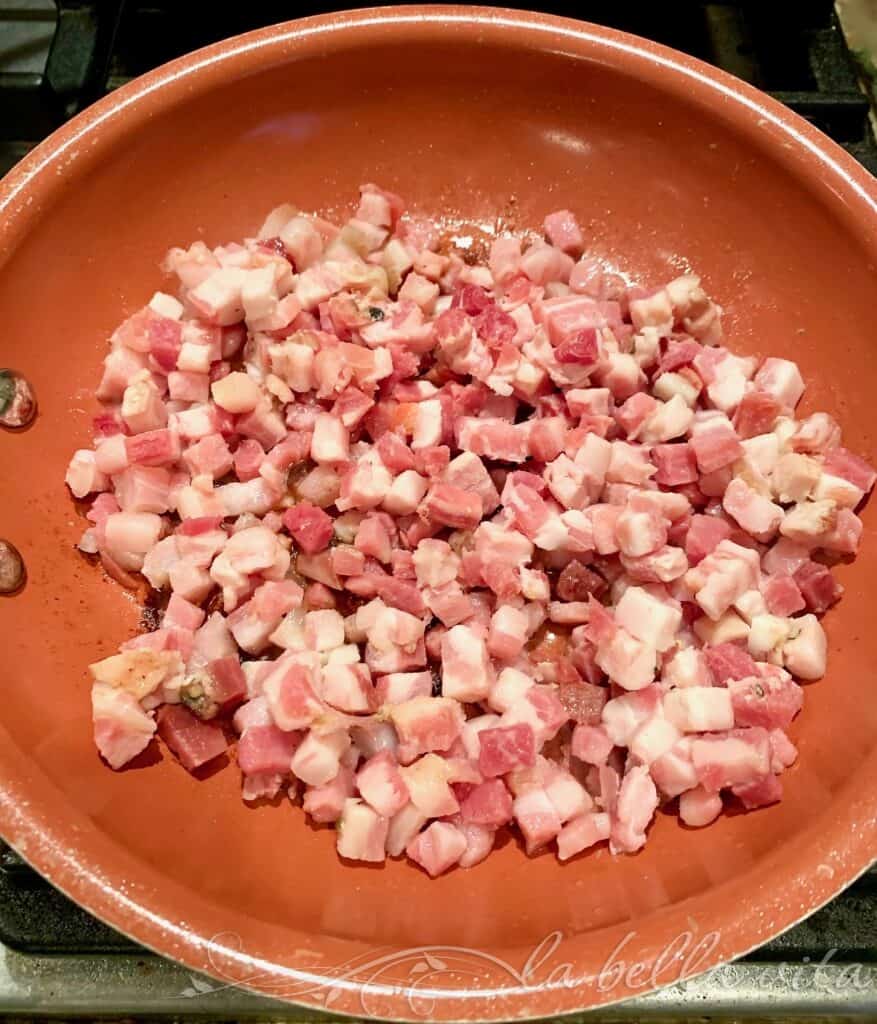 While the pancetta is sauteing, boil 3 cups of water and then place the dehydrated mushrooms in the hot water for 20 minutes.
Once the mushrooms are reconstituted, drain the liquid from the mushrooms and set the liquid aside.
When the mushrooms are cooled off, give them a good chop.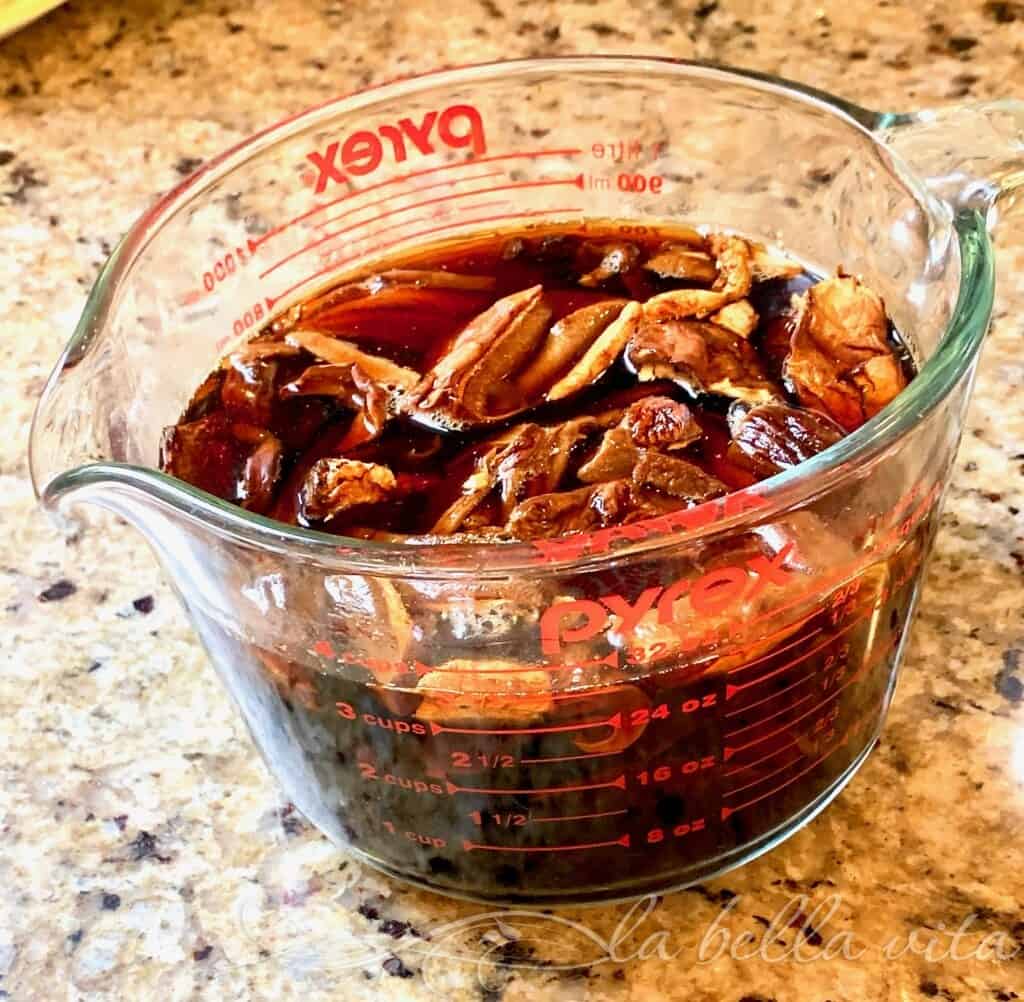 This is a great time to marinate the onion rings while the pancetta sautees and the mushrooms rehydrate,
Place the sliced onion rings in a large mixing bowl filled with fresh buttermilk.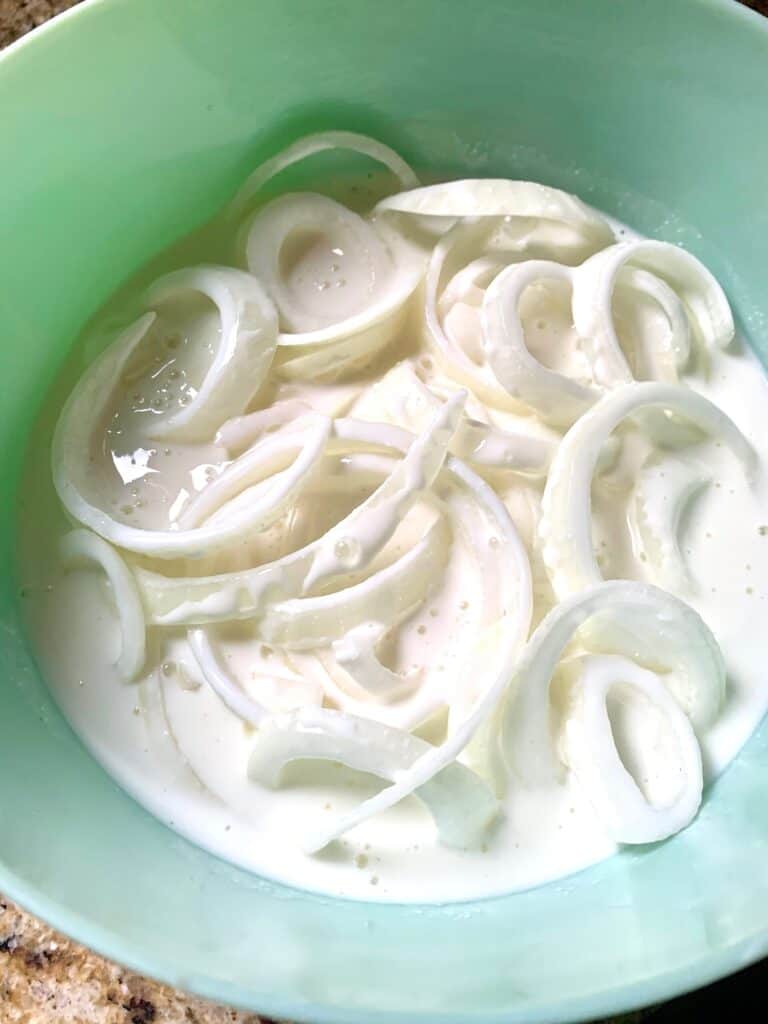 Once the pancetta is finished cooking, place the chopped pancetta on a paper-towel-lined plate.
Discard all of the rendered grease.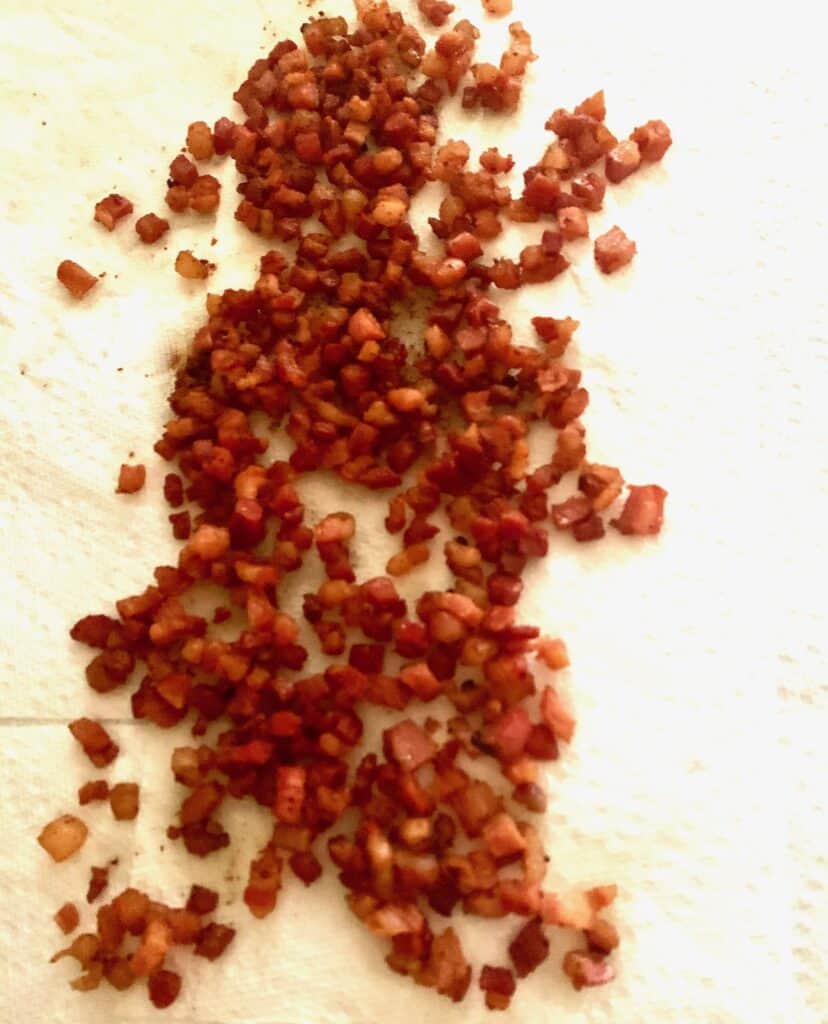 After the green beans blanch in the hot water, immediately place them in a medium-sized bowl filled with ice water.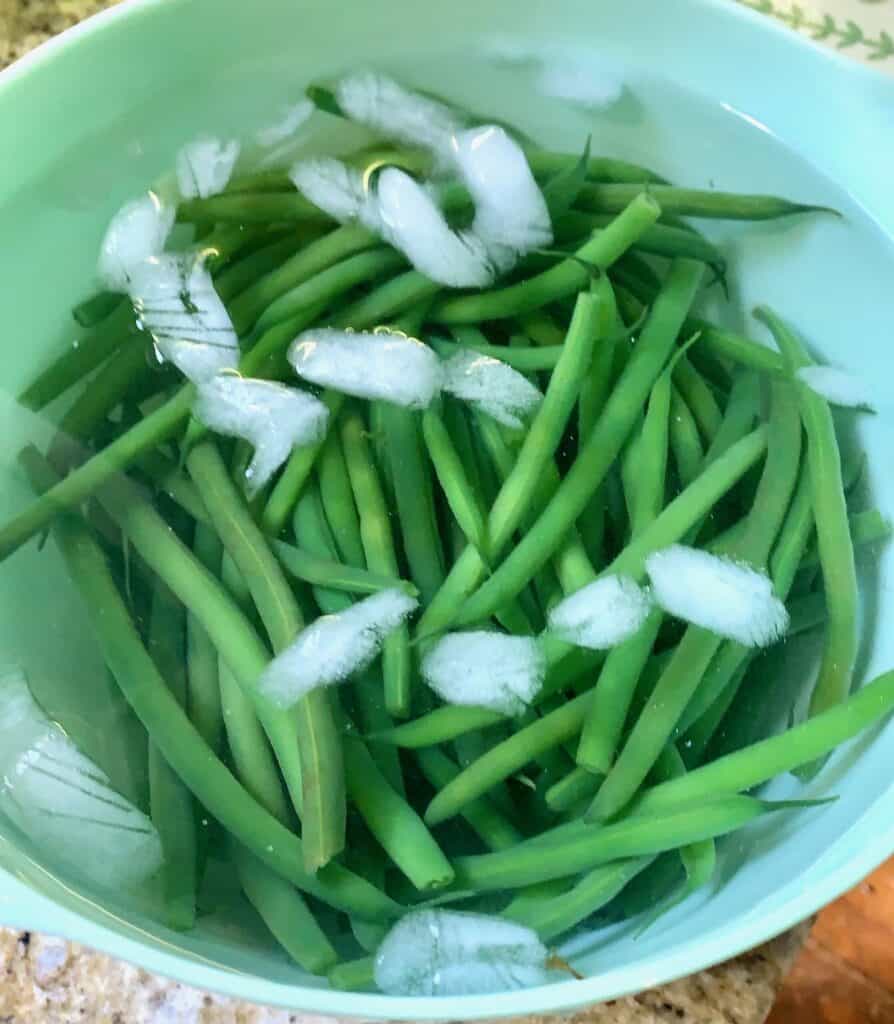 Prepare the fried onion topping from scratch!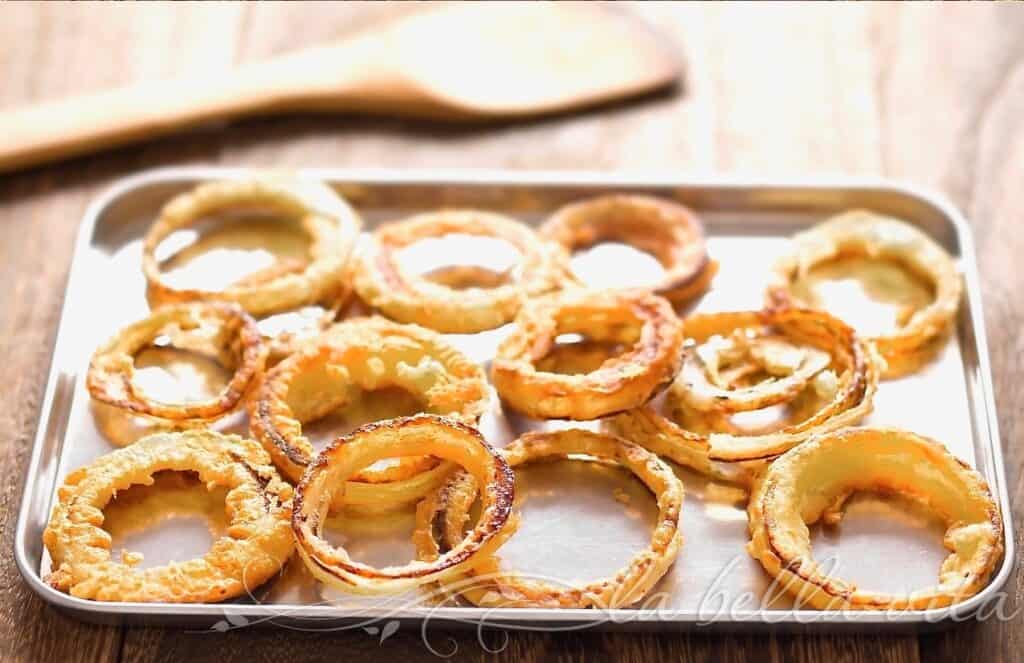 Now let's prepare the cream sauce . . . oh this is yummy! In a large skillet, place the butter, onions, and garlic and saute' until soft and/or a little golden.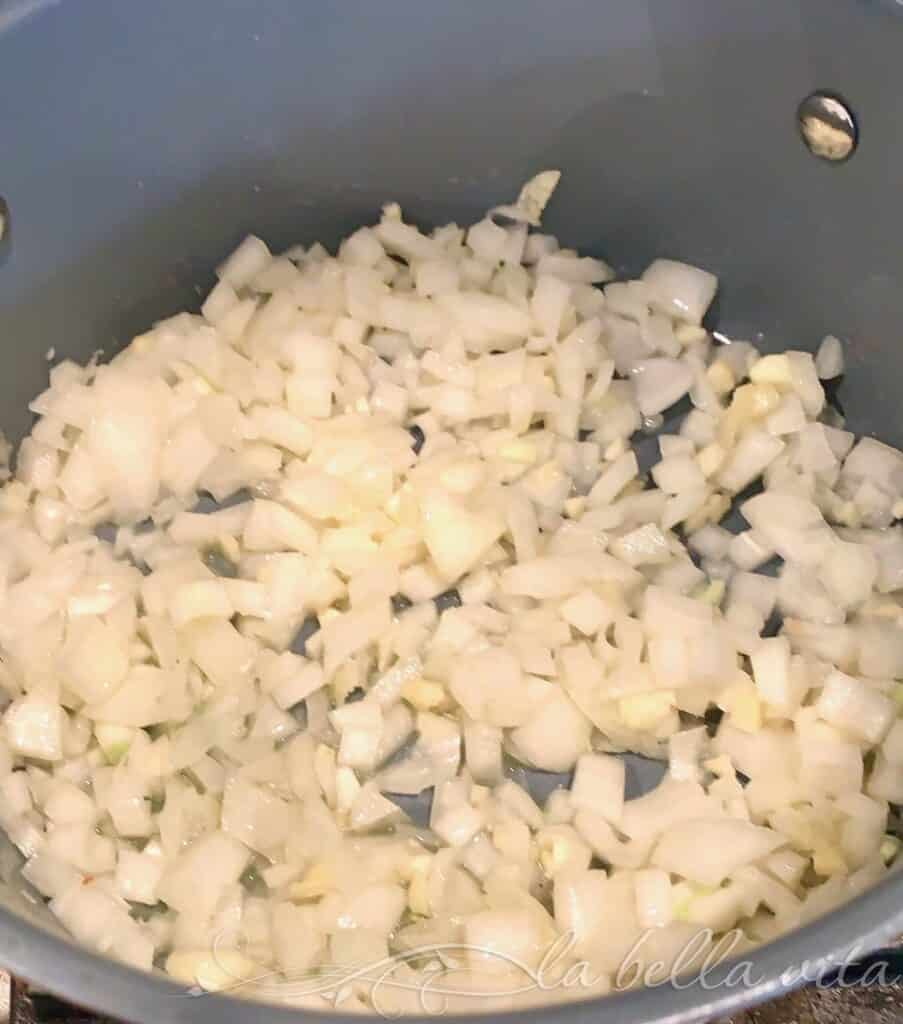 Add the chopped mushrooms to the sauteed onions and garlic.
Add salt and pepper and cook for about 10 minutes,
Add the thyme, nutmeg, cayenne pepper, and Worcestershire sauce; cook for about 2 more minutes.
Sprinkle the flour all over the mushroom-onion-garlic mixture and stir to combine; cook for 1 minute.
Pour the chicken broth into the mixture.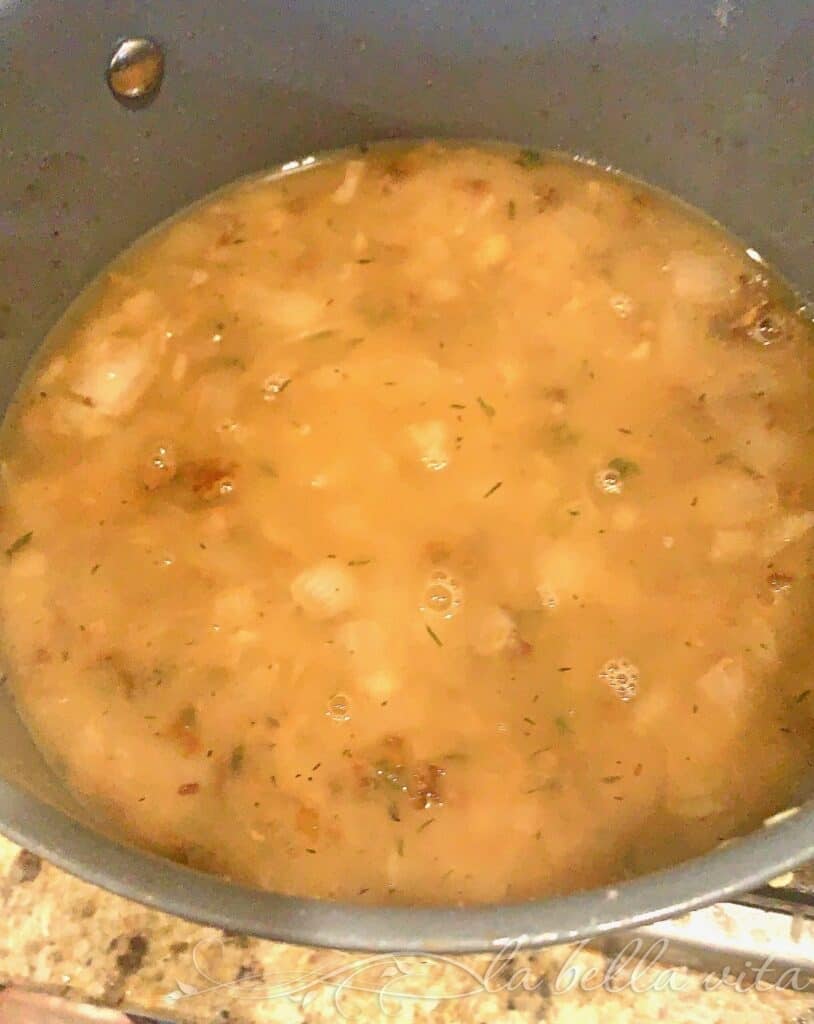 For added flavor, add about a tablespoon of the reserved porcini mushroom liquid (a little bit at a time).
Bring the whole mixture to a boil for 5 minutes or so.
Then reduce the heat to medium-low and add the cream and parmesan cheese.
Cook until thickened, stirring occasionally, for 10 – 12 minutes.
Add the chopped Italian Parsley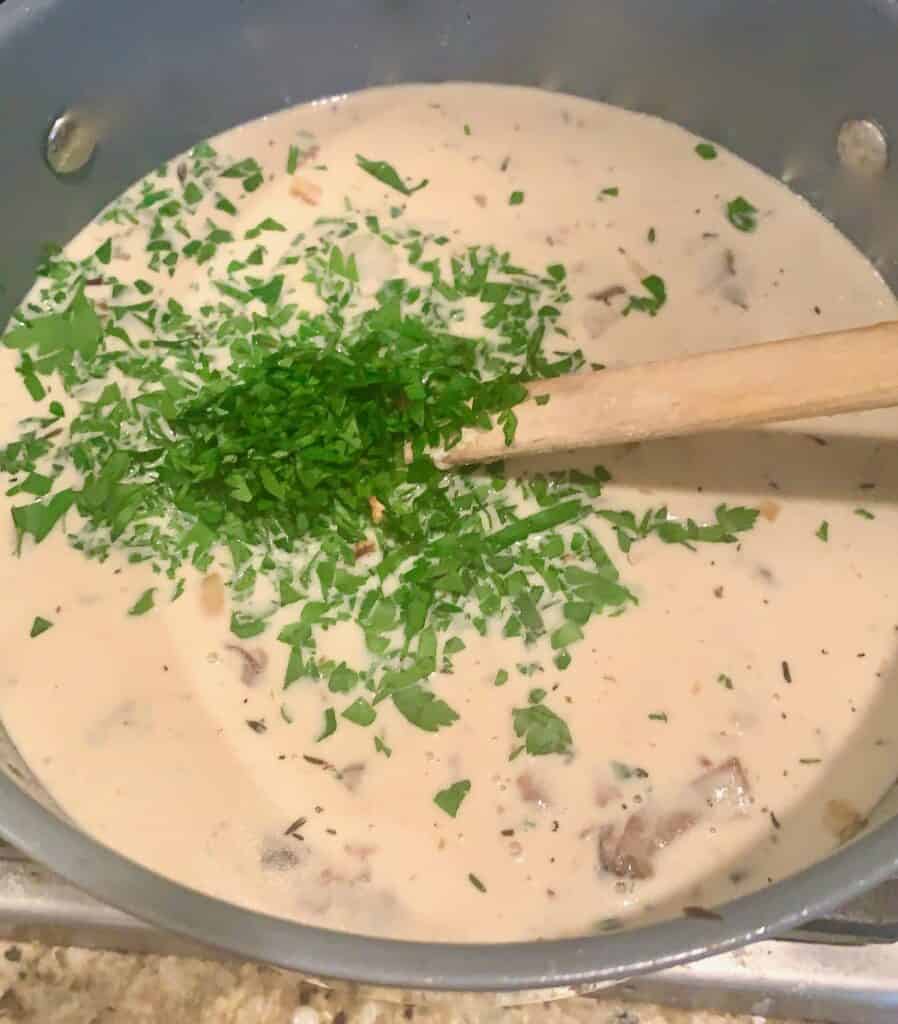 Mix in the pancetta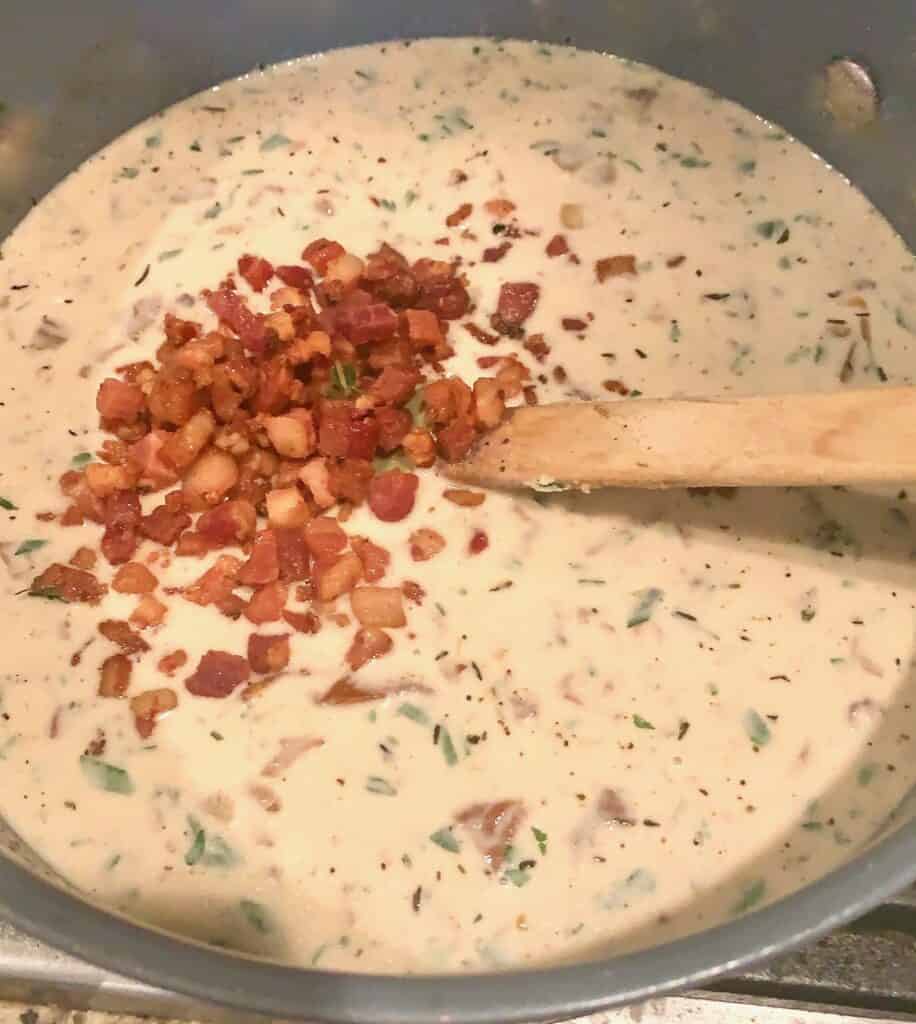 Add the green beans
Pour the entire mixture into a baking dish
Bake at 350 degrees for 20 minutes without the onions on top.
After baking for 20 minutes, scatter the onion rings on top of the casserole and bake for another 5 minutes
(or broil it, but keep an eye on it. You don't want these to burn!)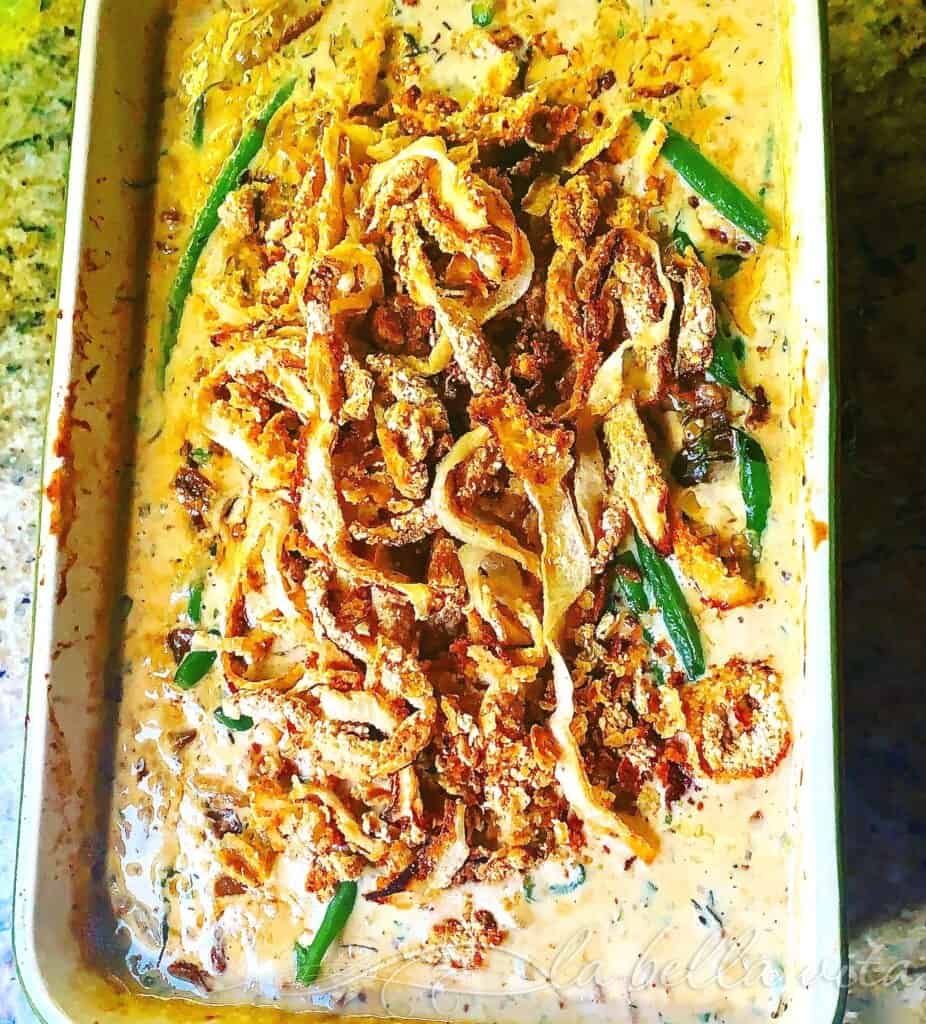 PIN IT FOR LATER!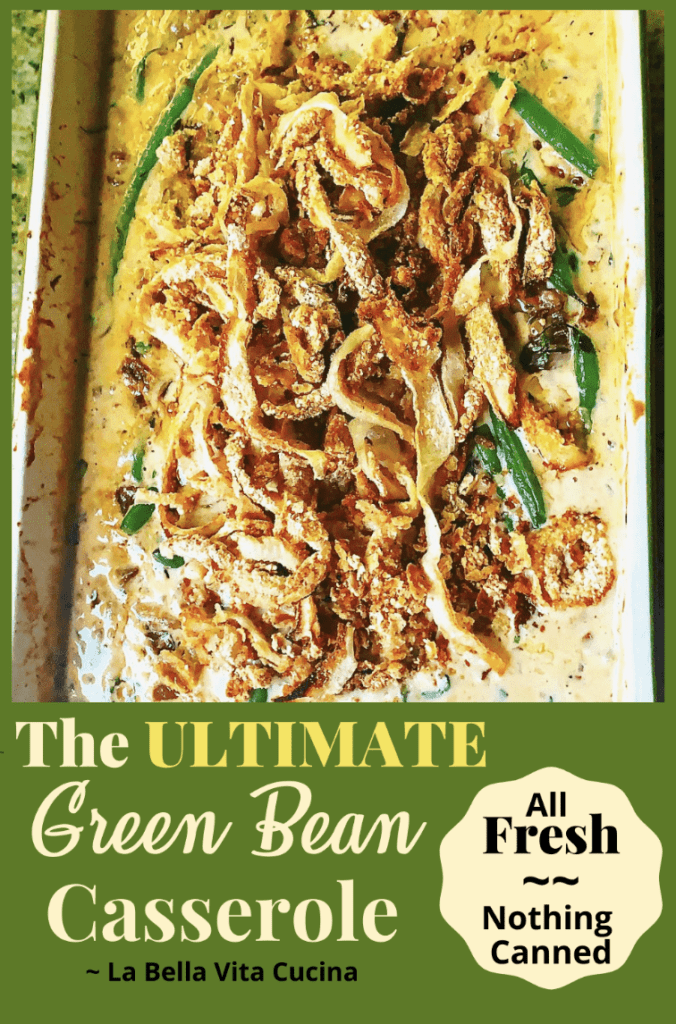 Yield: 8 -10 servings
Green Bean Casserole with Parmesan, Pancetta, and Porcini Mushrooms
This is not your average, typical green bean casserole. This side dish is made from scratch with all fresh ingredients! Nothing comes from a can. FRESH, FRESH, FRESH!!! The flavor of the sauce is decadent and indulgent with the strong flavors of porcini mushrooms, parmesan cheese, and pancetta. Your guests will rave over this delicious recipe!
Ingredients
Buttermilk Fried/Baked Onions
3 yellow onions, thinly sliced
2 cups buttermilk
1 cup flour
3 cups panko
2 Tbsp. fresh Italian parsley, minced
GREEN BEAN CASSEROLE
16 oz. fresh mushrooms, sliced (I used porcini mushrooms)
8 oz. of thick-cut smoked bacon or pancetta
2-1/2 lbs. French green beans, fresh, ends trimmed off
3 - 4 Tbsp. butter
1 cup diced yellow onion
⅛ tsp. cayenne pepper
1 cup chicken broth
3 cups cream or half and half
3 Tbsp. flour
1 cup Parmigiano cheese, freshly-shredded
4 large cloves fresh garlic, minced
2 Tbsp. fresh thyme, minced
½ cup, fresh Italian parsley, minced
⅛ tsp. freshly grated nutmeg
1 tsp. Worcestershire sauce
1 tsp. kosher salt
½ tsp. freshly cracked black pepper
Garnish: Grated Parmesan cheese
Optional garnish: ½ cup Italian parsley, minced
Optional garnish: Diced and browned pancetta
Instructions
Prepare the onion topping:
Preheat oven to 475 F degrees.
Separate all of the onion strips from each other and soak them in the buttermilk for 10 minutes minimum.
Coat a baking sheet pan or two with nonstick cooking spray.
In a large mixing bowl, mix together the breading ingredients: Flour, panko, Italian parsley, and salt. Take one handful at a time of onions that were soaking in buttermilk. Toss the onions with the dry mixture and then place them on the baking sheet pan and spread the sliced onions evenly on the pan.
Place the pan on the middle rack of the oven and bake the breaded onion rings until golden brown, almost 30 minutes, giving the onions a toss 2 - 3 times during this baking period. You can also use an Air Fryer or fry them traditionally.
Remove from the oven and set the onions aside to use later.
Reduce the oven temperature to 400 F degrees.
While the onions are soaking and baking, prepare the mushrooms:
Place the dehydrated porcini mushrooms in a medium-sized bowl and cover them with at least 3 cups of hot, boiling water, and cover with plastic wrap at least 3 cups of hot boiling water to RE-constitute.
Allow them to steep in the hot water/broth for 20 minutes and then strain the liquid through a fine-mesh strainer, reserving at least 1 cup of the mushroom liquid. Set both aside.
While the mushrooms are soaking, saute' the pancetta:
Saute' the chopped pancetta until fully cooked for 8 - 10 minutes. Stir occasionally and when nicely caramelized/or browned, transfer to a paper-towel-lined plate. Drain and discard the hot grease and set the pancetta aside.
While the pancetta is sauteeing, prepare the green beans:
Bring a tall pot of water with 2 Tablespoons of salt to a boil.
Add the green beans and blanch in the boiling water until crisp-tender and bright green (for 3 - 5 minutes).
While beans are boiling, fill a very large bowl with ice water.
After the 5 minute blanch in the boiling water, quickly drain the beans in a colander and immediately plunge the beans into a large bowl of ice water to stop the cooking. Drain the beans and set aside.
Prepare the sauce:
Chop up the reconstituted porcini mushrooms.
Melt butter in a heavy skillet on a medium-high heat stove burner.
Add the chopped onions and garlic, cook, stirring until softened and the onions are caramelized about 5 minutes.
Add the chopped mushrooms, 1 teaspoon salt and pepper, and cook, stirring occasionally, until the mushrooms begin to lose some of their liquid, about 10 minutes.
Add the thyme, nutmeg, cayenne pepper, and Worcestershire sauce and cook for 2 more minutes.
Sprinkle the flour over the mixture; stir to combine. Cook for 1 minute.
Whisk in the broth and some of the reserved mushroom liquid (add a little at a time and taste as you go) and bring to a boil.
Reduce the heat to medium-low and add cream, parmesan cheese, and Italian parsley. Cook until the mixture thickens, stirring occasionally, for 10 - 12 minutes.
Remove from the heat and stir in all of the blanched green beans and the pancetta.
Transfer everything into a 3-quart baking dish (you can refrigerate this casserole, covered, for up to 4 hours, but keep the onion topping at room temperature).
Bake the casserole until bubbling, about 20 minutes. Then sprinkle with the onion topping.
Bake until warmed through, about another 5 minutes.
Garnish (Optional) Sprinkle minced Italian parsley and diced, sauteed pancetta all over the top of the casserole.
The inspiration for this recipe came from a combination of recipes as the basic foundation. Those recipes were from The Pioneer Woman and Alton Brown
Original post in 2020 and updated post in 2022.