Praline Pecan Bundt Cake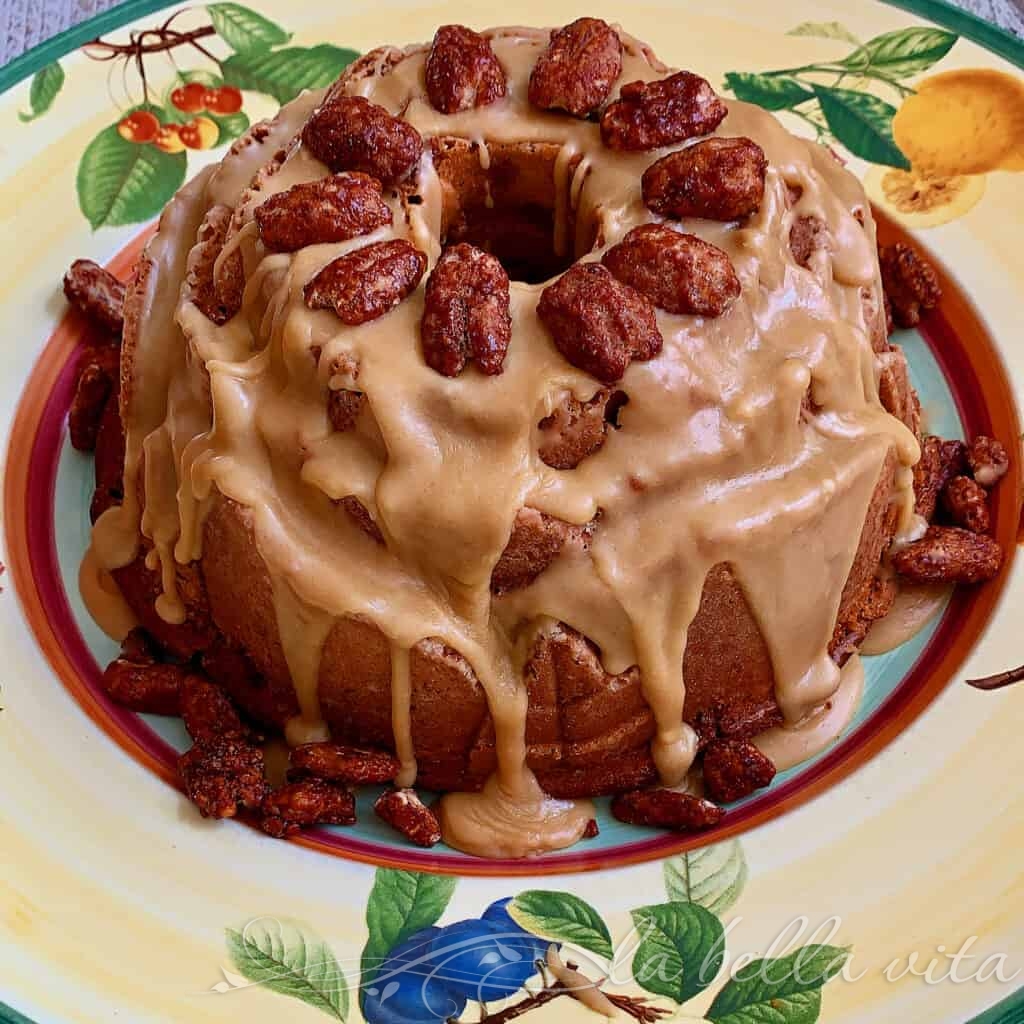 There are SO MANY amazing recipes for bundt cakes! The hardest part is to decide WHICH recipe to make! I'm always in the mood for anything that has a "praline" focus. And after reading the reviews for this Praline Pecan Bundt Cake in Southern Living magazine, I knew that this cake was THE ONE that I would bake with a few revisions.
This amazingly flavorful cake is an absolute must for pecan lovers. My husband just couldn't get enough of this cake the minute it came out of the oven! Great for any time, it is definitely worthy of a special occasion with its "WOW" presentation.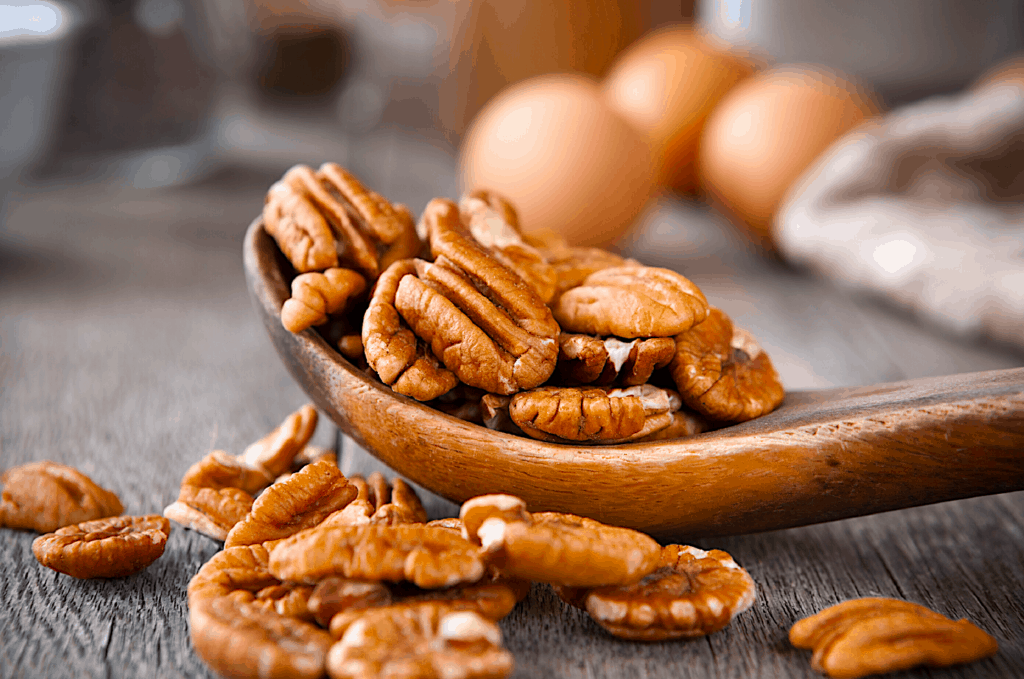 Praline Pecan Bundt Cake is simply loaded with a generous amount of pralines and covered with our thick, rich, and super sweet caramel icing. And of course, garnished with sugar-coated (praline) pecans for a pretty finish and an added layer of sweetened crunchiness. I read somewhere that having a slice of a praline bundt cake in the morning is a preferred tradition among Southern women. But I know that I'd be so obese if I had a slice of this rich cake on a daily basis.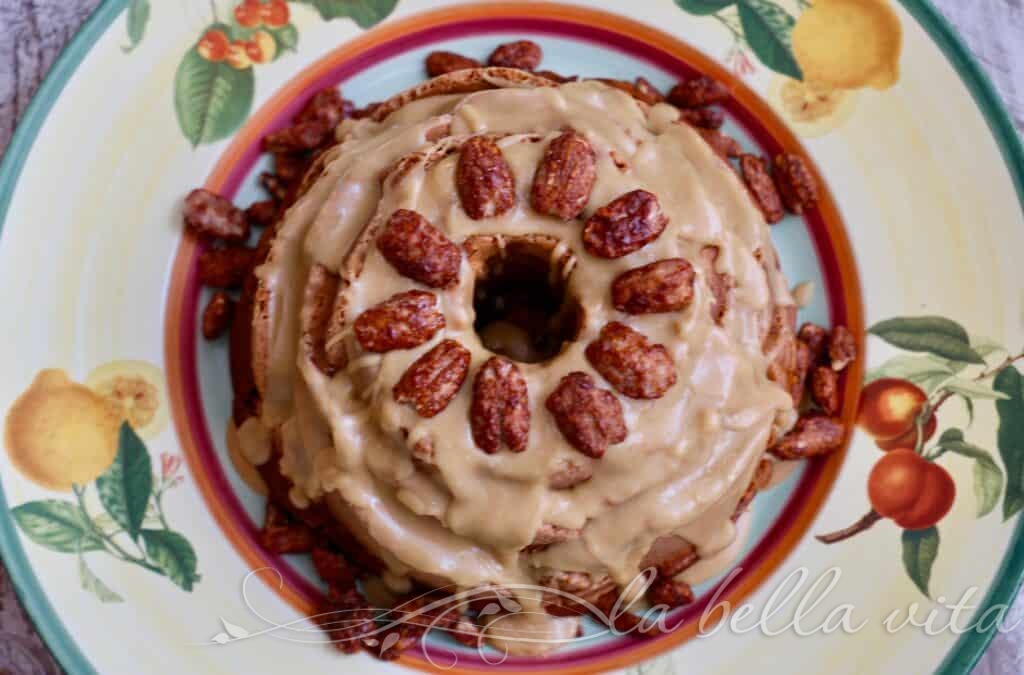 It's impossible to resist the rich and nutty taste of this bundt cake. Use as much of the caramel icing as you like to enjoy its to-die-for yumminess! The icing really makes a huge difference that balances the cake itself that has less sugar sweetness.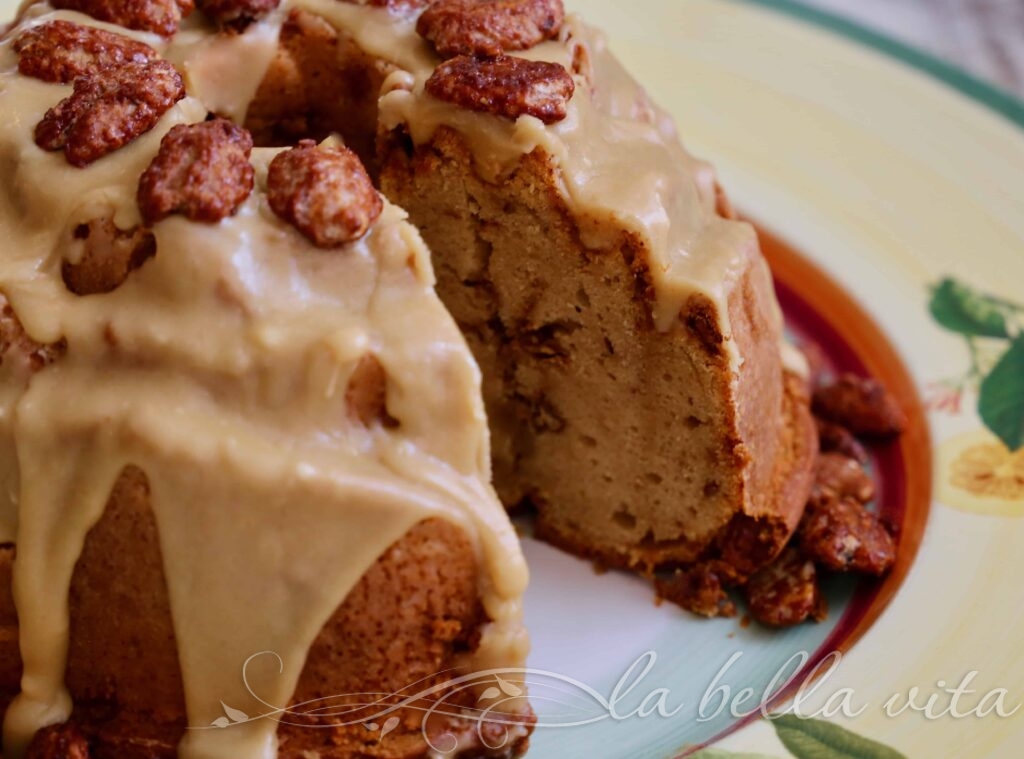 The caramel icing is best served WARM!
The caramel icing hardens quickly once drizzled over the cake. However, since there's a lot of butter in the icing, I recommend serving the cake with warm icing and to pass around a bowl of extra icing for guests to add more if they like. And I guarantee you that they will want more). So it's a good idea to keep a small, HEAVY pan of icing on very low heat to keep it in a state that easily pours.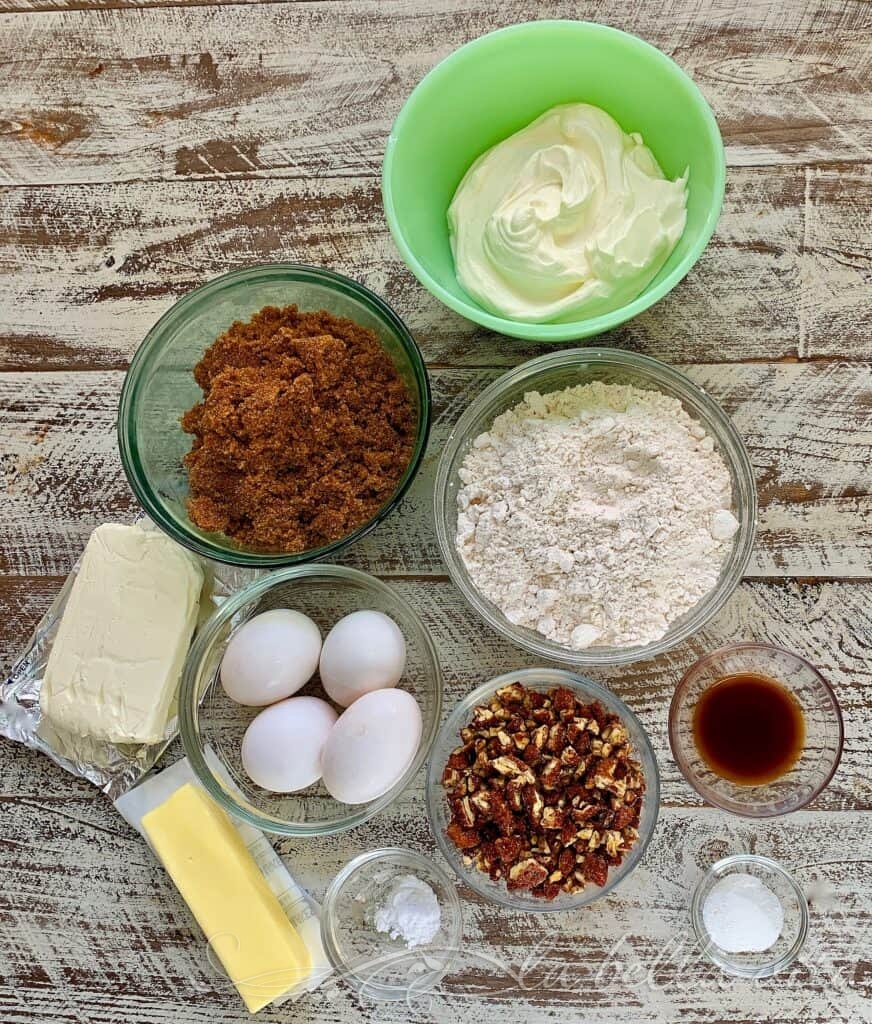 Tips on How to Use Bundt Pans
Always grease your bundt pan. Without this step, the cake sticks to the sides of the pan in the tight little patterns molded into the pan. This includes non-stick bundt pans.
For greasing the pan, use either shortening or softened butter that will stick to all of those tight little spaces in the bundt pan designs. Spread it consistently all over the pan's entire interior or use a special cake baking spray, Bakers Joy that contains both oil and flour.
Add a nice layer of flour all over, with consistency, leaving no empty spots. Tap the excess flour out.
When filling the bundt pan with your cake batter, be sure again to fill in every little indentation of the pan. Slowly add the batter and tap the pan down on the counter after every 2 inches or so is added. Take a spatula and gently press the batter down.
Do not overfill the pan with cake batter, about 3/4th full. Make a mini-cake or cupcakes with any extra batter.
Give the bundt cake the full amount of time that it needs to bake completely. Since bundt cakes are so tall and thick, it is common to take over an hour to 1-½ hours when baked at 325ºF.
Always use a good oven thermometer to ensure that the oven temperature is correct so that the cake bakes for the right amount of time.
Check to see that your cake is baked thoroughly, using a cake tester.
Once your bundt cake is completely baked, always allow it to rest for 15 minutes inside the bundt pan, so that it will firm up and not fall apart when removed from the pan. Do not let the cake cool any longer or it will stick to the pan.
To remove the cake from the bundt pan, first, place another cooling rack or serving platter over the top of the cake and pan. Quickly turn it over and make several taps with a butter knife everywhere on the outside of the bundt pan. While still warm-hot, slowly pull the bundt pan off of the cake.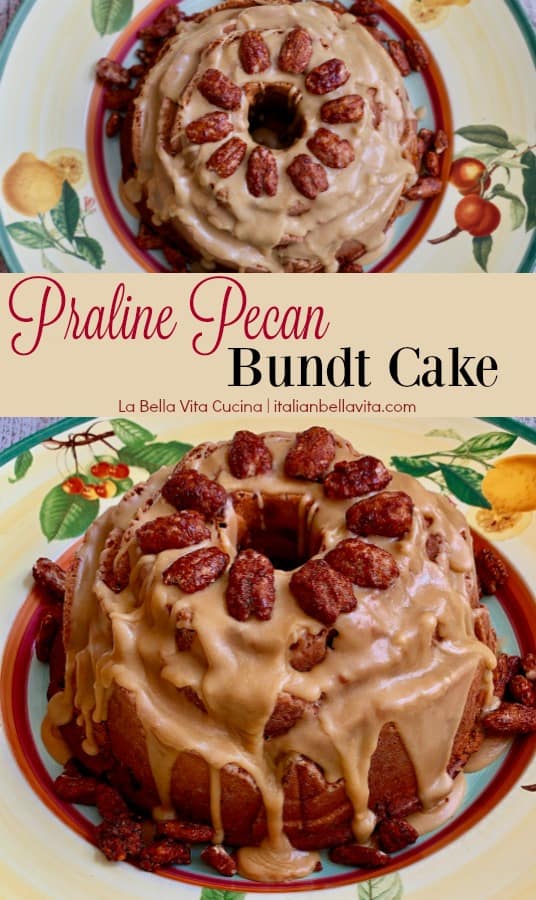 More delicious bundt and/or praline cakes:
Italian Cranberry and Orange Bundt Cake
Peach Bundt Cake with Amaretto Glaze
Carrot Cake with Praline Filling & Cream Cheese Icing
What a delight to receive this photo from my Facebook group friend, Liz, from New York who made this Praline Pecan Bundt Cake for Thanksgiving. Liz even prepared the sugar-candied pecans! She said that it was simply outstanding!
Thanks for sharing your fantastic baking skills, Liz! I'm so glad that your family enjoyed it!
..
I put together a group of absolutely beautiful autumn Bundt Cake Pans that would make wonderful gifts!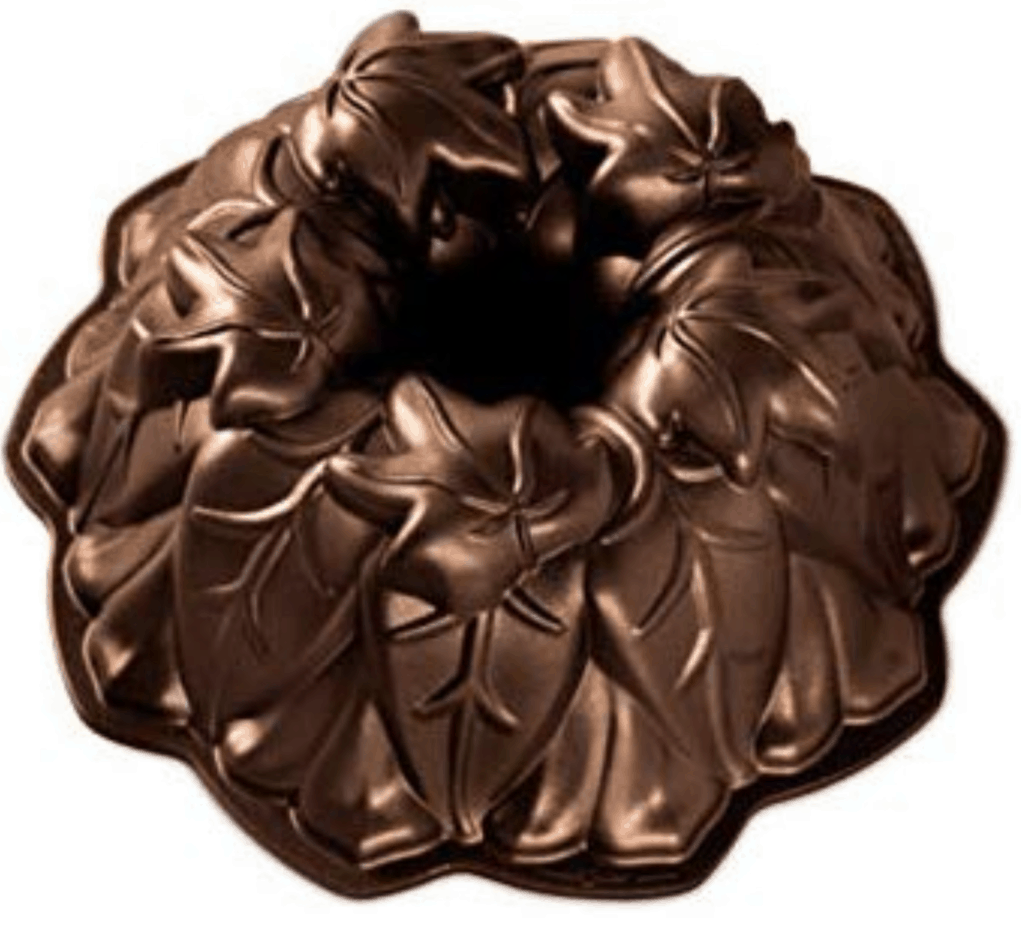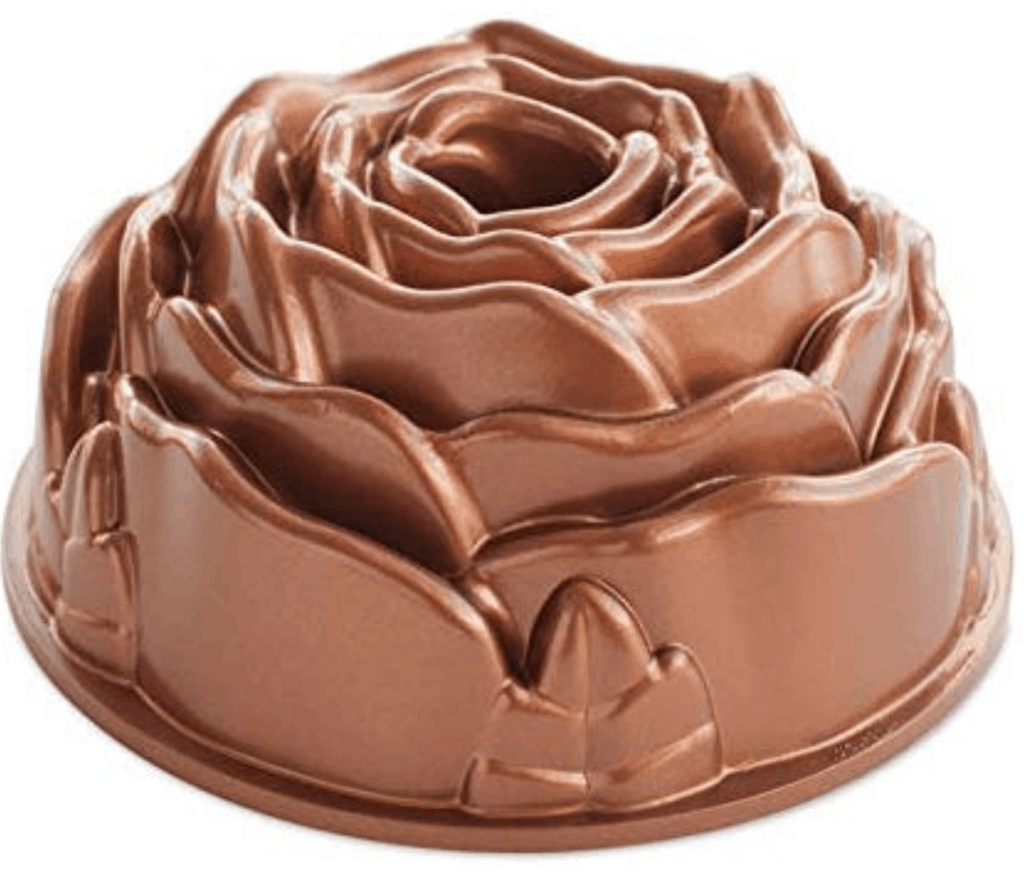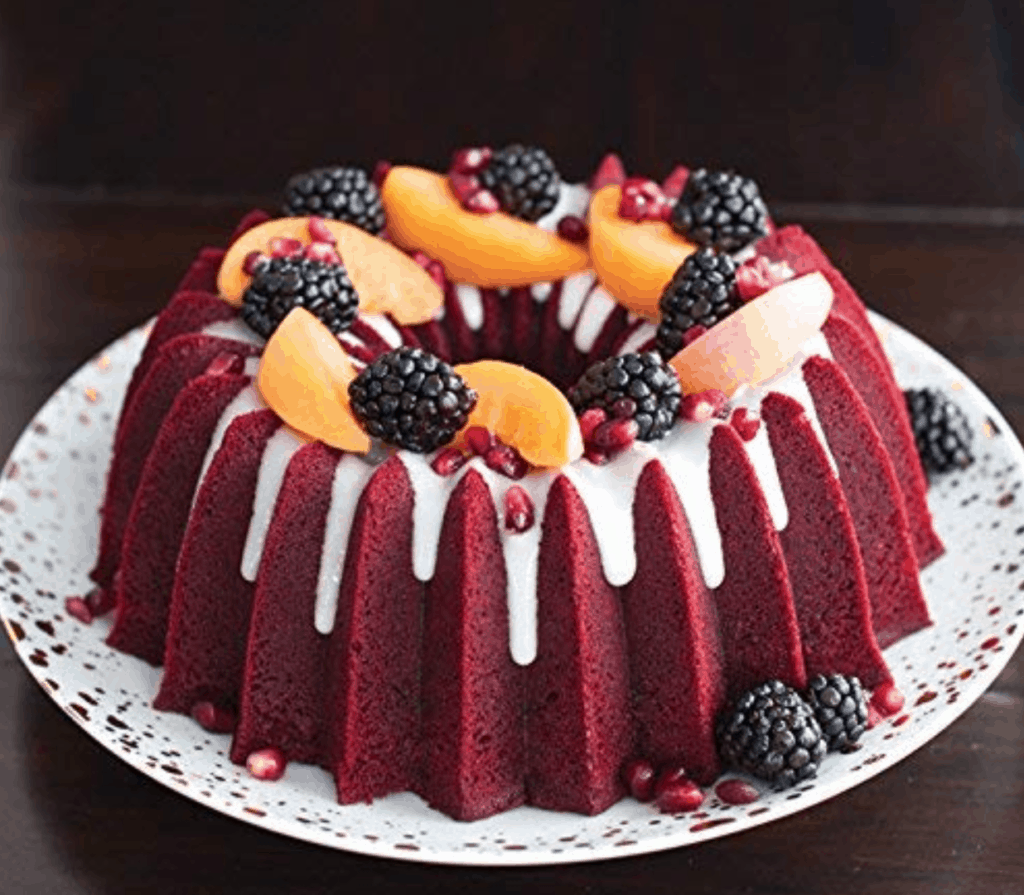 Nordic Brilliance Bundt Cake Pan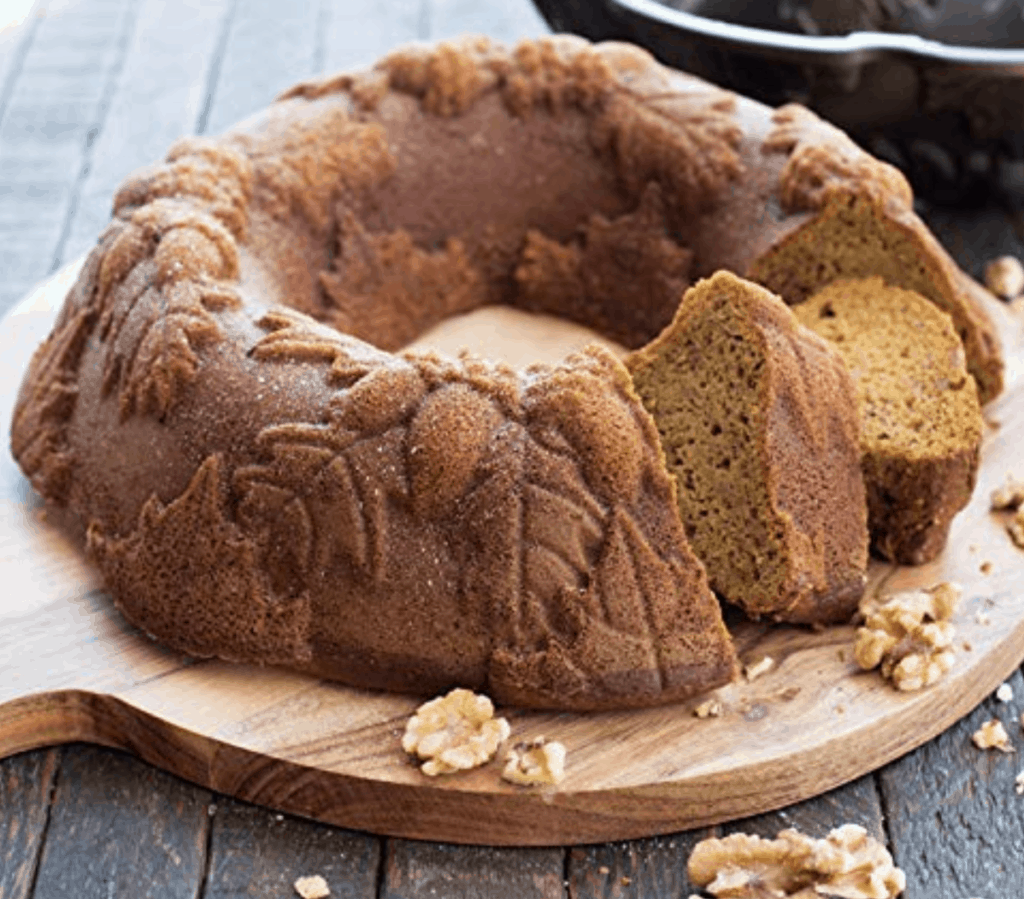 Nordic Autumn Wreath Bundt Cake Pan
Nordic Autumn Harvest Bounty Loaf Cake Pan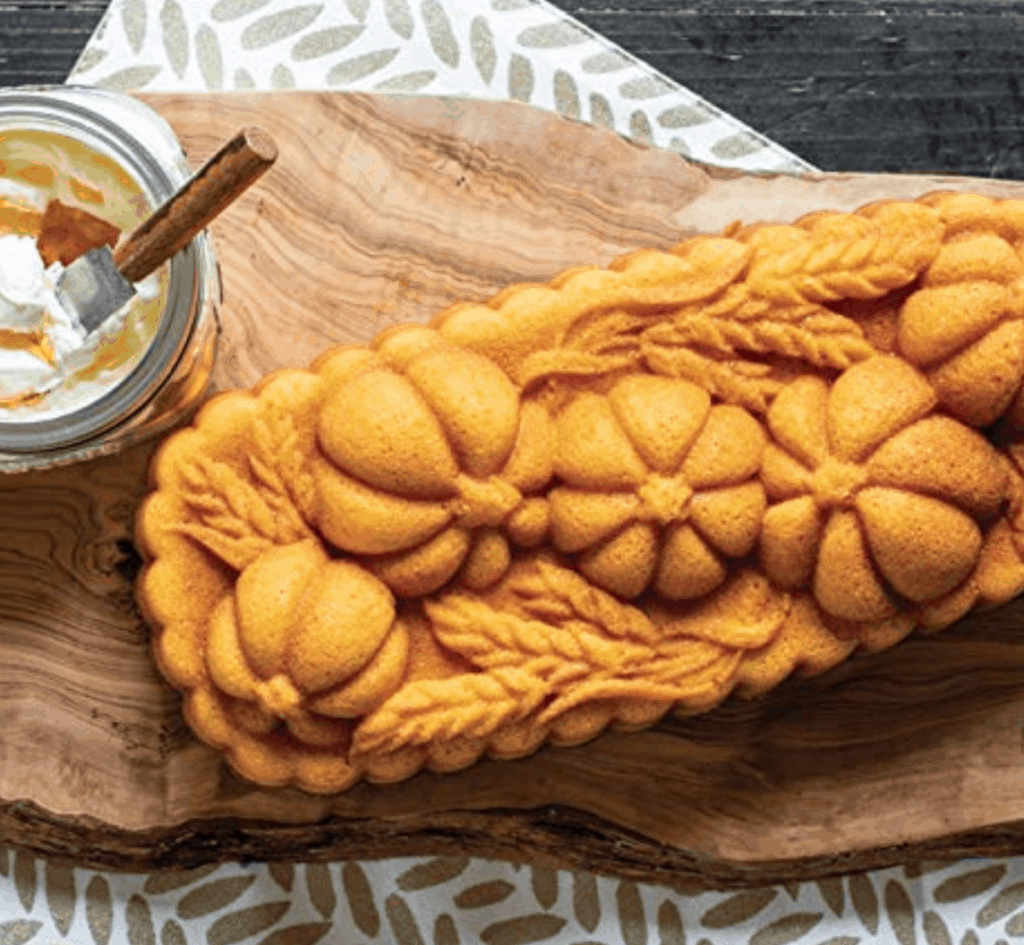 Nordic Autumn Wheat and Pumpkin Loaf Cake Pan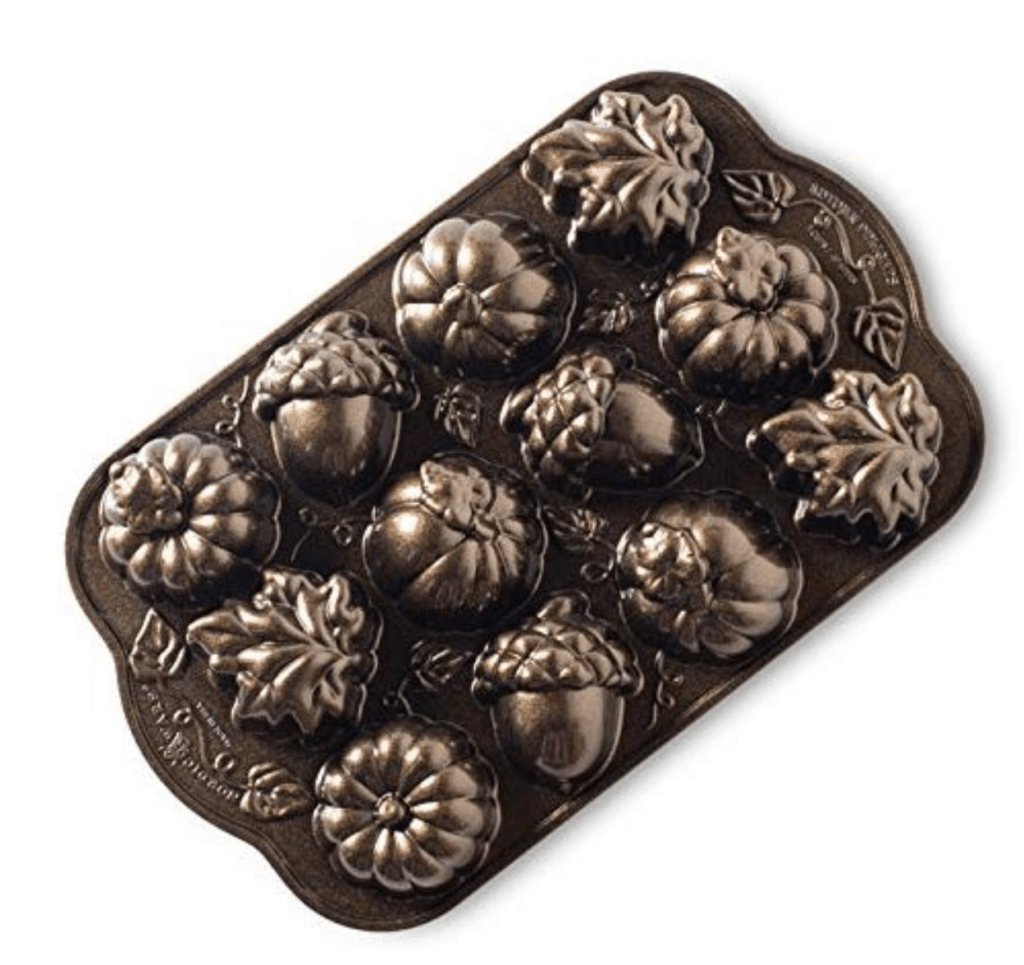 Nordic Autumn Delights Cakelette Pan
Yield: 12 servings
Praline Pecan Bundt Cake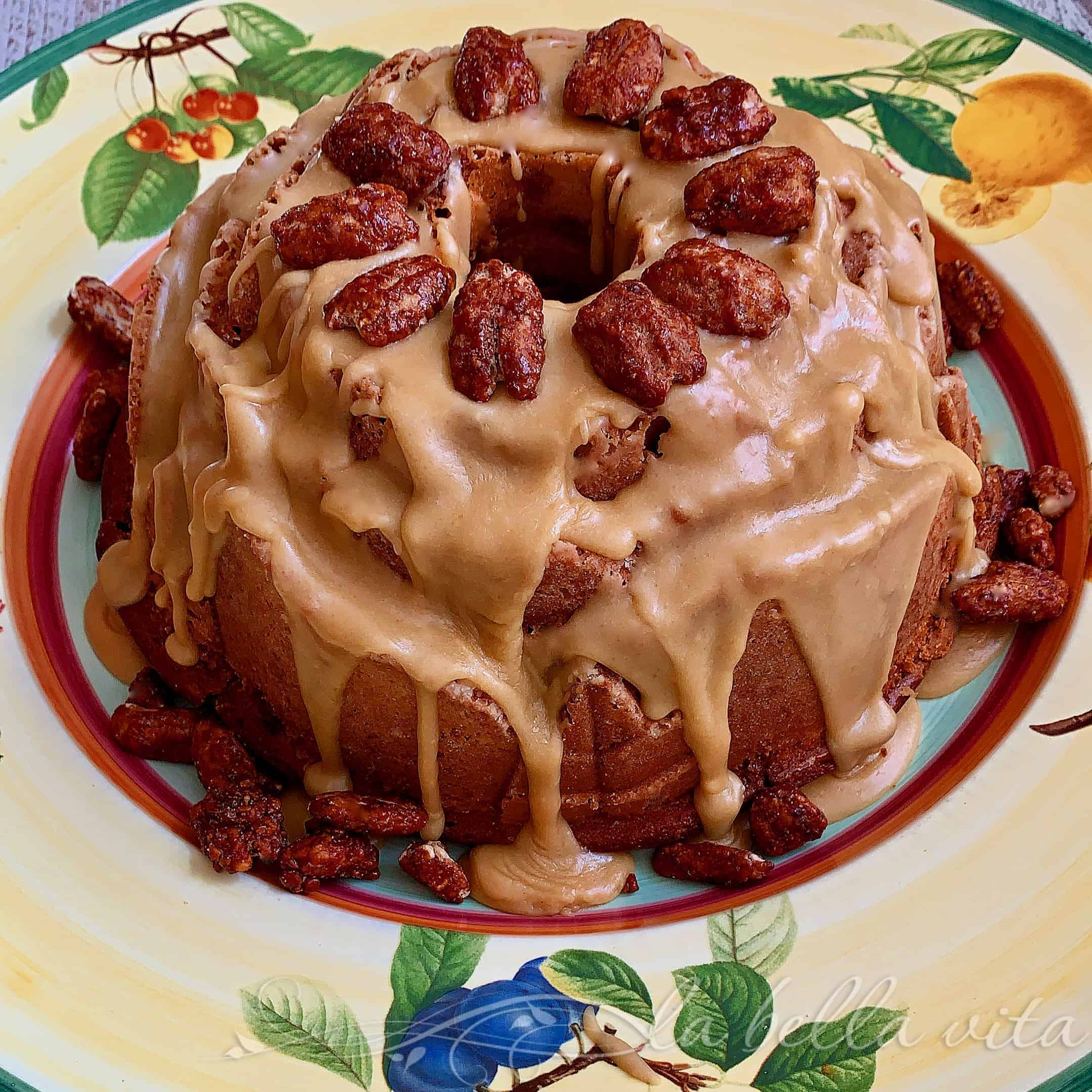 This moist Praline Pecan Bundt Cake is loaded with a generous amount of pralines and covered with a thick, rich, and super sweet caramel icing. And of course, garnished with sugar-coated (praline) pecans for a pretty finish and an added layer of sweetened crunchiness.
Prep Time 30 minutes
Cook Time 1 hour 35 minutes
Additional Time 45 minutes
Total Time 2 hours 50 minutes
Ingredients
For the Bundt Cake:
1 cup butter, softened
1 (8 oz.) package cream cheese, softened
1 16-oz. bag of light brown sugar, lightly packed down
4 jumbo eggs
2-½ cups flour
1 teaspoon baking powder
1/2 teaspoon baking soda
¼ teaspoon salt
1 (8 oz.) container sour cream
1 cup praline sugared pecans, chopped (see below)
2 tsp. vanilla extract
For the Praline Icing
1 cup firmly packed light brown sugar
1/2 cup butter
1/4 cup milk
1 teaspoon vanilla extract
1 cup powdered sugar
Sugared Praline Pecans:
You can find these already prepared in the fresh nut section of your grocer's produce department. Or you can prepare them with this recipe:
2 Tbsp. salted butter
3 cups pecan halves
⅓ cup light brown sugar
½ tsp. cinnamon
1 tsp. salt
¼ cup water
1 tsp. vanilla
Instructions
Beat butter and cream cheese at medium speed with an electric mixer until creamy.
Gradually add brown sugar, beating until well blended.
Add eggs, 1 at a time, beating just until blended after each addition.
Sift together 2-1/2 cups flour and the next 3 ingredients.
Add to butter mixture alternately with sour cream, beginning and ending with flour mixture. Beat batter at low speed just until blended after each addition.
Stir in praline sugared pecans and vanilla extract.
Spoon batter into a greased and floured 12-cup Bundt pan.
Bake at 325° F for 1 hour and 35 minutes or until a long wooden pick or cake tester inserted in the center comes out clean.
Cool cake while in the pan on a wire rack for 15 minutes; remove from pan to wire rack, and let cool for 30 more minutes.
Prepare Praline Icing:
In a heavy, medium-sized saucepan, bring the first 3 ingredients to a boil over medium heat, whisking constantly.
Boil for 1 minute.
Remove the saucepan from the heat and whisk in the powdered sugar and vanilla until smooth.
Stir gently for 3 - 5 minutes or until the icing mixture begins to thicken slightly.
If too runny for your preference, add more powdered sugar.
If too thick for your preference, add more milk/cream.
Drizzle icing over the cake IMMEDIATELY WHILE WARM.
Decorate the top of the cake with Sugared Pecans.
ENJOY!!!!
For the Sugared Praline Pecans:
Preheat oven to 350°F. Line a baking sheet with parchment paper and set aside.
In a large skillet, melt the butter over medium heat. Add the pecans and stir continuously for 3 minutes, to lightly toast the pecans.
Add in the brown sugar, and stir for 2 more minutes to melt the brown sugar.
Stir in the cinnamon and salt, and then add the water.
Cook, stirring continuously until the water is dissolved for 2 minutes.
Add the vanilla and stir to coat the pecans.
Remove from the heat and spread the pecans evenly on the lined baking sheet.
Bake for 5 - 7 minutes, until the pecans are fragrant and lightly crisp.
Remove from the oven and allow the pecans to cool completely while on the baking sheet.
Notes
Adapted from Southern Living
Disclaimer: This post contains affiliate links
This post was first published in 2019 and updated with more information in November, 2022