Italian Lentil Soup New Year's Tradition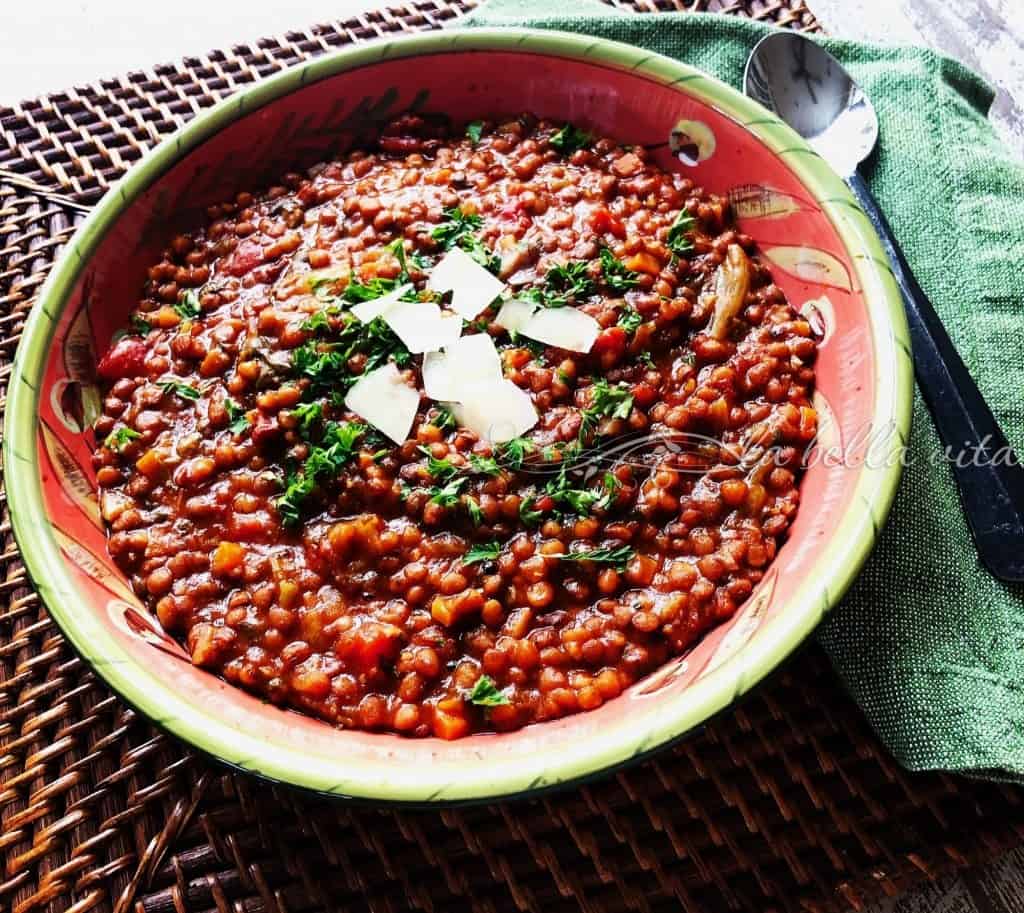 On New Year's Eve in Italy, one cannot forget to eat a hearty bowl of Italian Lentil Soup at midnight!
Once you taste this outrageously, out-of-this-world and insanely delicious soup, you'll understand why Lentil Soup is so special to Italians and savored at the end and beginning of each year! Words can't describe this flavor. If you follow the steps precisely, you'll soon be enjoying it too!
All cultures, including Italians, have rituals for welcoming the beginning of a new year, mostly focused on good health and prosperity.
New Year's Eve is a very special celebration for families in Italy. As in all Italian meals, food is the focal point on "La Festa di San Silvestro" or "Sera di Capo di Anno". Gathering at a large table for a cenone (big feast), family and friends share their thoughts about the previous year's blessings along with hopeful optimism for the coming year.

According to tradition, most Italians celebrate by eating one very important food: lentils
. . . and they seem to do a great job of eating them in large quantities. Lentils are the star and center stage of the table!
I don't know why, but Italians are a bit of a superstitious bunch, and one of those superstitions is that they must eat lentils to bring good luck, fortune, and prosperity in the year to come. At midnight, while the clock is striking, to be truly lucky, you also must eat one grape (chicco) for each of the 12 strokes.
It's hard enough at my age to even stay up that late anymore. I'd fall asleep after the clock chimed 3 times!
After the big dinner ends, Italians party all night long! Fireworks are set off at midnight as a modern version of the old tradition to make tons of noise on the last day of the year to scare off spirits. I'm sure that our neighbors are glad that we don't follow that custom!
Another Italian tradition on New Year's is to wear red underwear to bring good luck in love! Now that custom is mighty interesting!
So "why lentils" you might be asking?
First of all, those little legumes are called "lenticchie" in Italian, the magic of lentils is in their round shape thought to resemble Roman coins, therefore symbolizing money and prosperity. So traditionally, Italians consider eating lentils to bring good luck and fortune to the family for the upcoming year.
It is said that the more lentils that you eat, the richer you will become, and the better your wealth, fortune, and happiness will be the following year.
I think that I just might be pigging out on lentils now! I need all of the help that I can get!
Lentils are served in different ways all over Italy. In Northern Italy, lucky lentils are served on New Year's Day paired with big, plump, fatty pork sausages native to the region, called "cotechino" sausages. OK, so why pork too?
Well, pork is thought to be lucky for abundance, prosperity and wealth because it's so fatty and rich. Pork loin or any cut of pork can be used and is easier to find than cotechino from Modena, Italy and just as lucky!
Italians also enjoy drinking plenty of Prosecco or Spumante ("sparkling wine") alongside their bowl of Italian Lentil Soup on New Year's Eve and/or Day! Drizzling some good olive oil on top of the lentils is also said to bring good health! So many superstitions, huh?
One of the most prized variety of legumes comes from Castelluccio in Umbria. Excellent in flavor! But due to the small amount grown from this tiny town . . . along with a big global, yes, global demand that is greater than what is produced, these little guys can cost a pretty penny. But worth the splurge!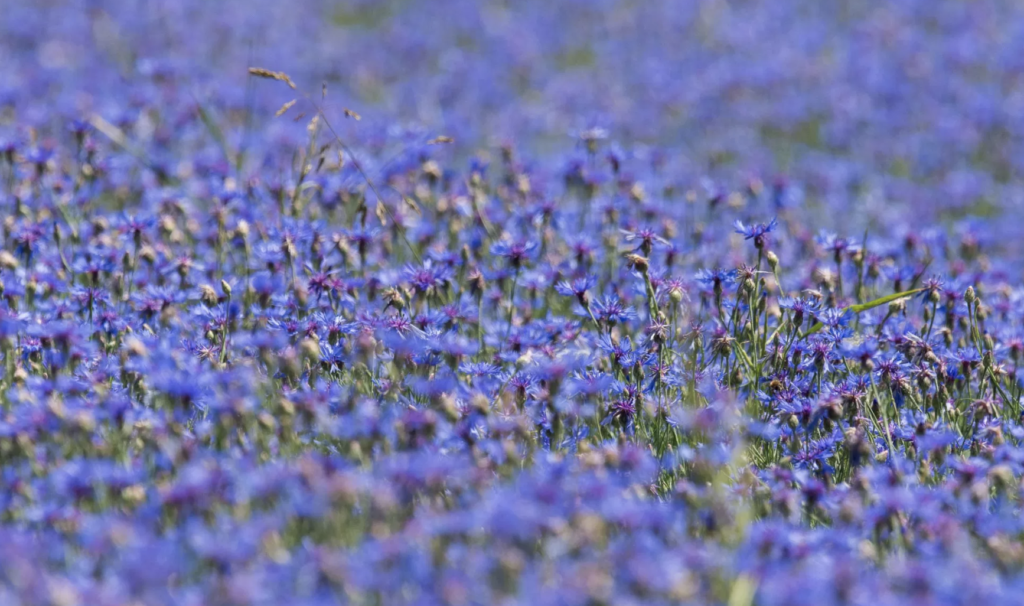 In the hills of Umbria, the Bartolini family has been growing legumes since the 1850's. Their lentils are famous throughout Italy and beyond for their outstanding color, texture, & flavor. This variety is so fine and tasty that it has been awarded "IGP status" (an Italian government guarantee that the food is to be produced in specific protected designated regions only). You know just like balsamic vinegar has to come from Modena only and parmigiana must only come from Parma. Italians are super strict about this standard of quality . . . and we can taste the difference too! Can't you?
Umbrian lentils are actually quite tiny. If you're not familiar with the Castelluccio lentils, I highly recommend that you try them. They cook fairly quickly, keep their shape and serve as an excellent base for any lentil dish.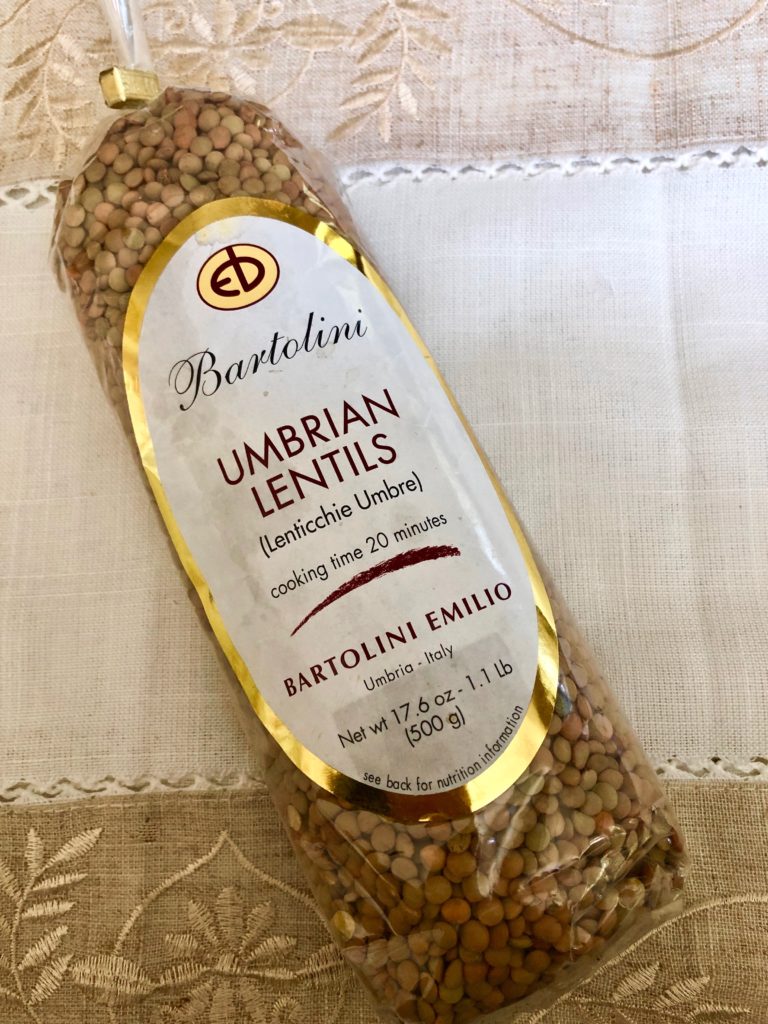 Since these lentils are so difficult to find in most stores in America, here is a handy online link for you to purchase them and have them delivered straight to your home: Bartolini Italian Umbrian Lentils
Lentils can be served as a thick stew and served with something meaty, like sausages. Sausages, especially in Emilia-Romagna and further north, known as "cotechino" (a soft sausage-like salami) are preferably served in northern Italy. Or lentils can be soupier and eaten with a spoon (my family's preference). And lentil soup is really versatile. Like so many good, simple peasant dishes, it becomes even better the next day. So plan on making a big batch to eat today and save the rest for tomorrow.
One of the most iconic New Year's lentil-based dishes comes from the region of Emilia-Romagna. An original specialty most notably from the town of Modena where my family lives, cotechino is a large sausage made from cotica (pork rind) mixed with lean pork and back fat and flavored with salt, pepper, cloves, nutmeg, and cinnamon.
It's sold cooked or raw, then simmered over low heat and sliced into rounds. You can buy precooked, vacuum-packed cotechino. Pork sausages work just as well.
But I'm going to be very honest with you in hopes that I don't insult an Italian. I really, REALLY dislike this sausage. I guess that I'm just not used to something that literally drips of fat. I thought American sausage was fatty, but it doesn't hold a candle to the fat in these bad boys. But who knows, you may like it. Just warning you my American friends!
If you use cotechino, slice it thickly and simply lay on top of the lentils. Remove the skin and fry just like you would do with American sausage.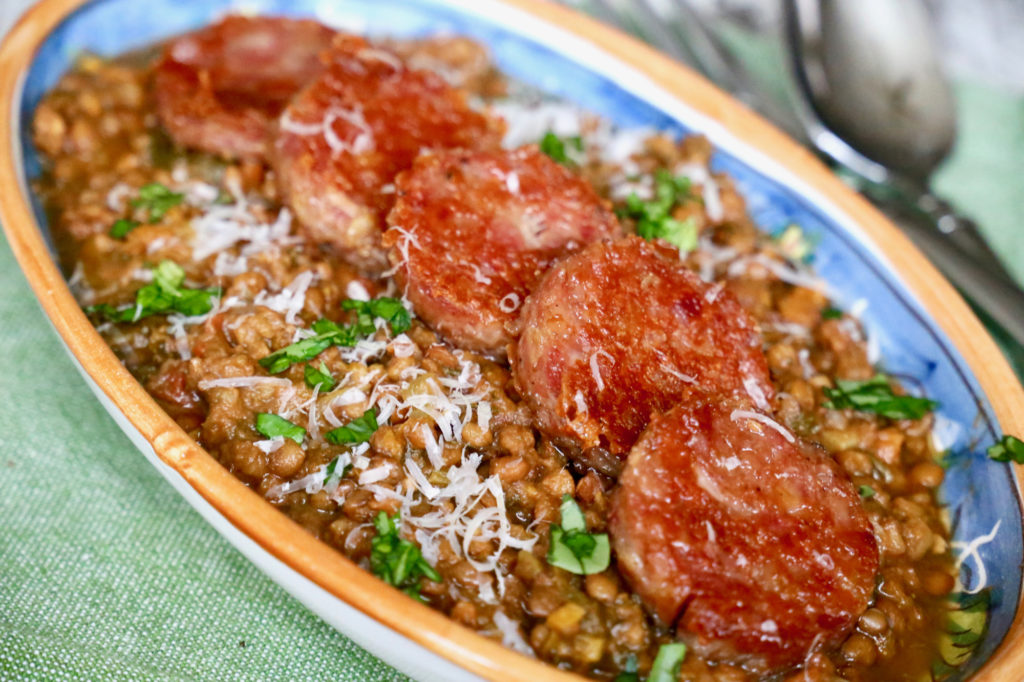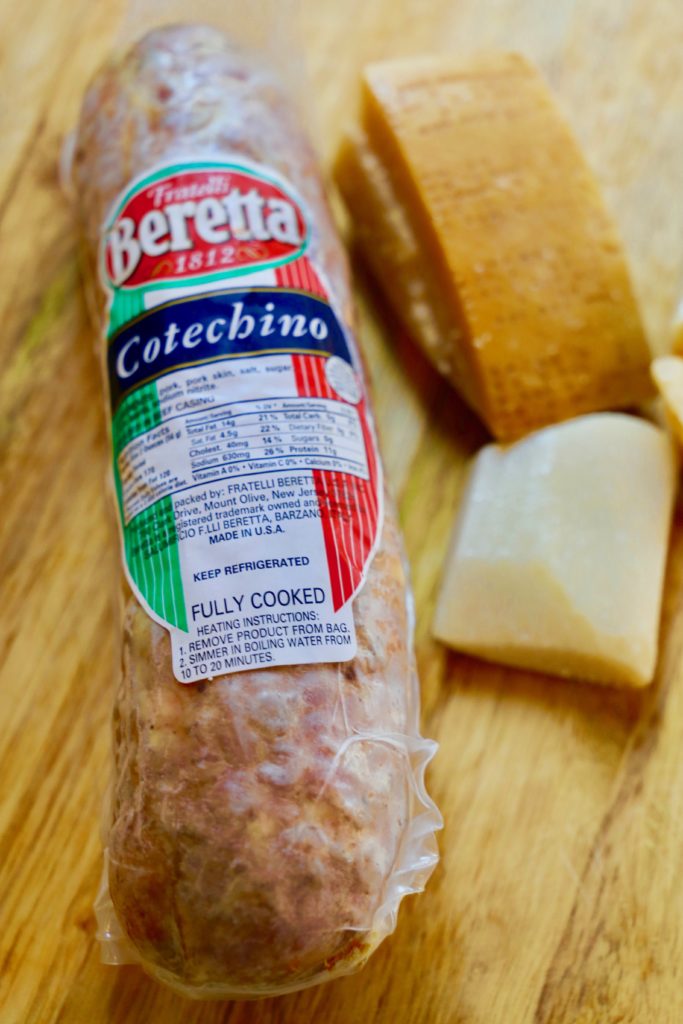 Enough jibber-jabber on my part! Are you ready to get cooking? Here are your step-by-step photo instructions for Italian Lentil Soup!
STEP #1:
Rinse, rinse, rinse those lentils with cold water . . . twice. Use a colander. Rinse, go about doing another step, come back and rinse again!
STEP #2:
Set the Instant Pot on "SAUTE"; drizzle in the olive oil and heat it up a bit, but do not scorch it.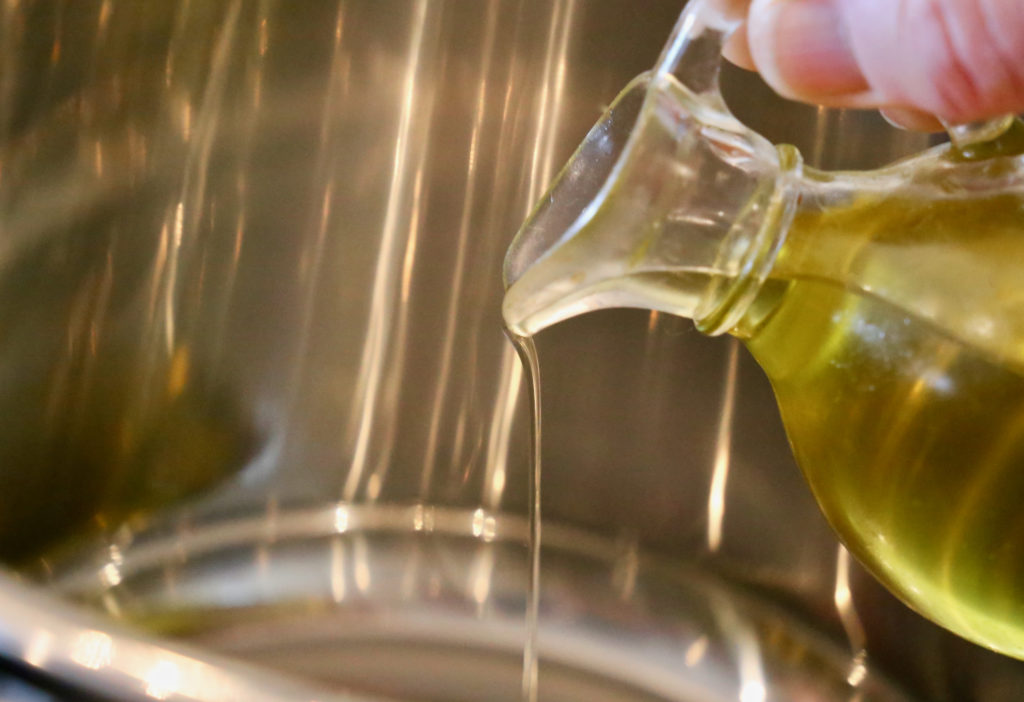 Step #3:
Saute the diced pancetta in the hot olive oil
Then dice the carrots, celery, and onion (the soffrito)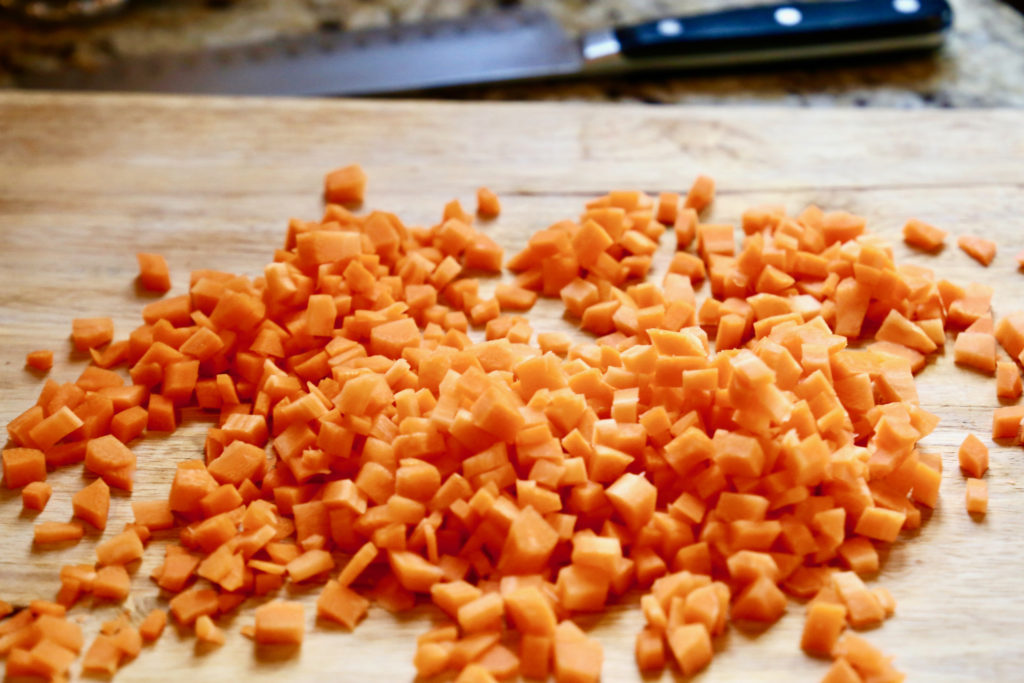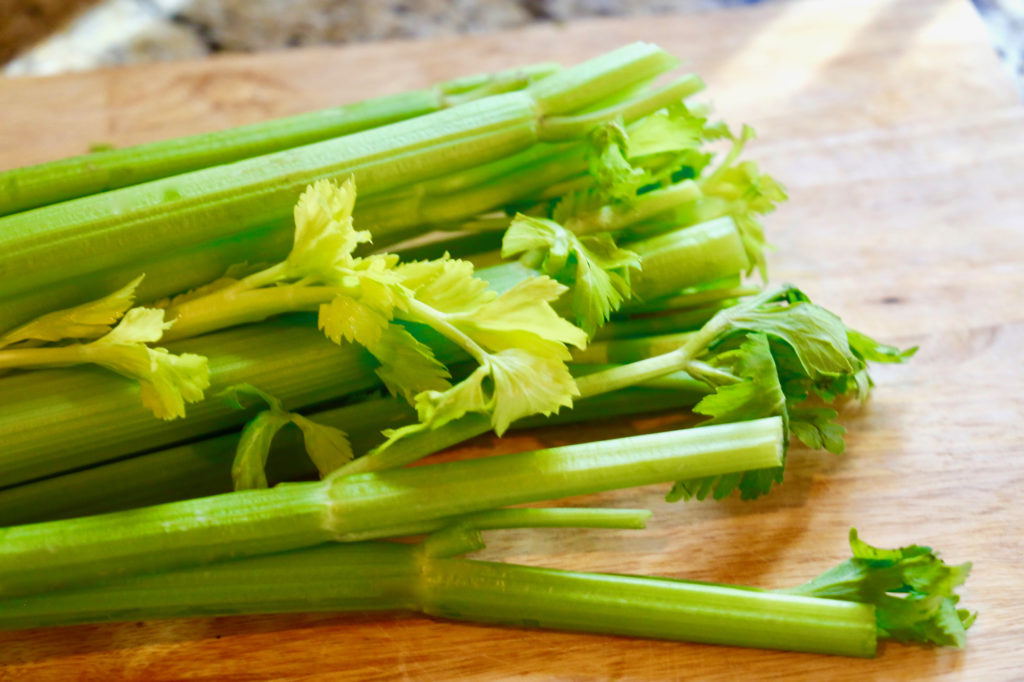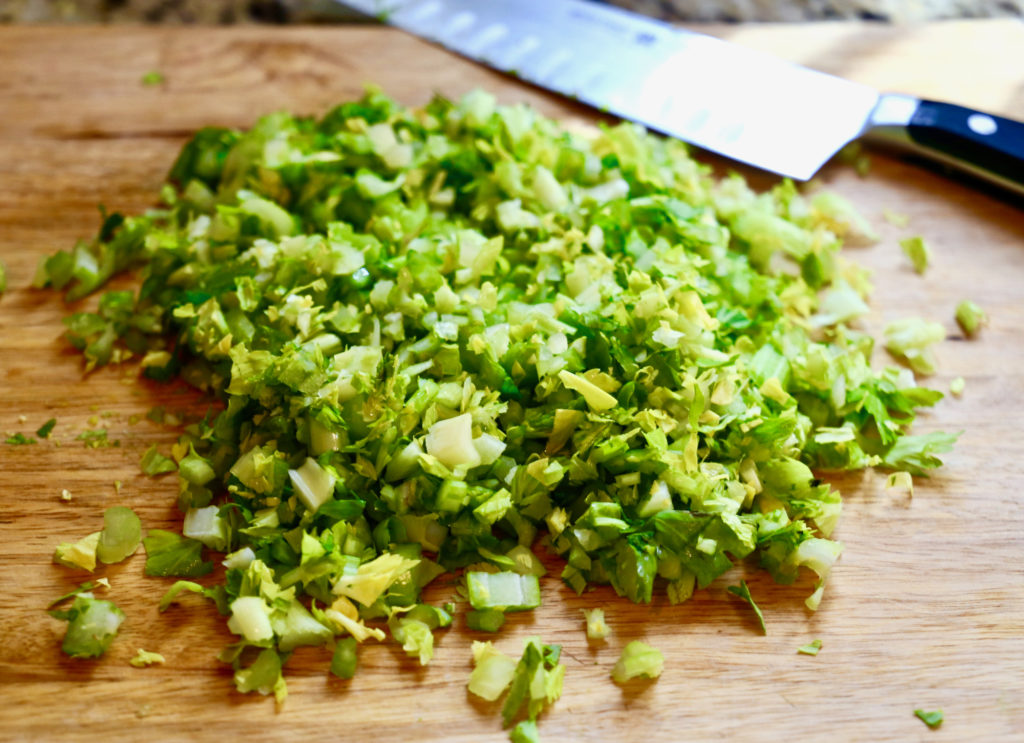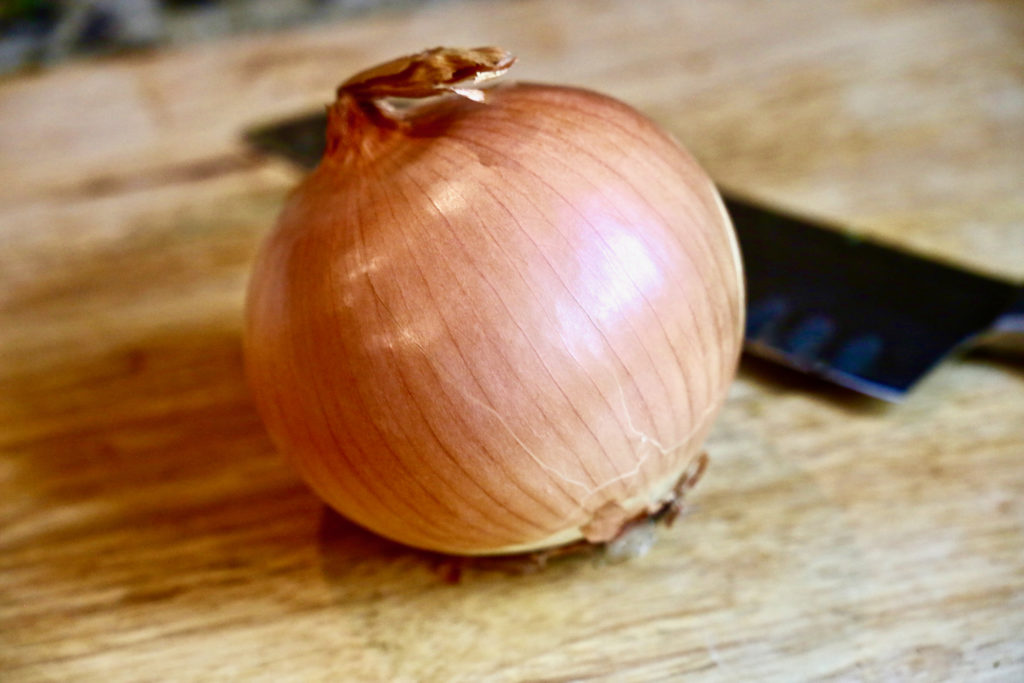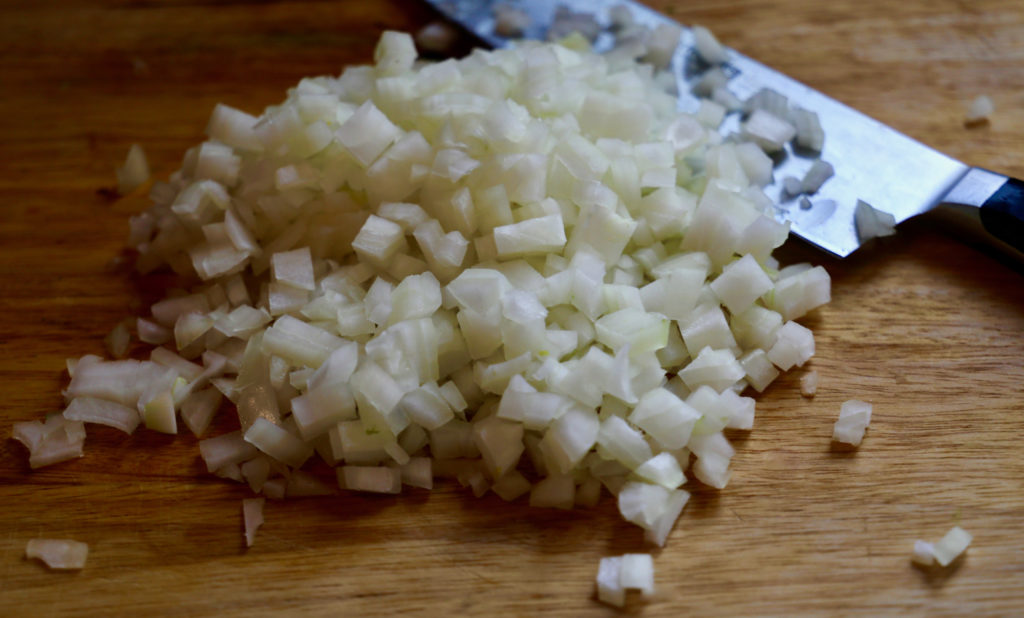 And now you have the "sofritto", the trinity foundation in Italian cooking: onions, carrots, and celery!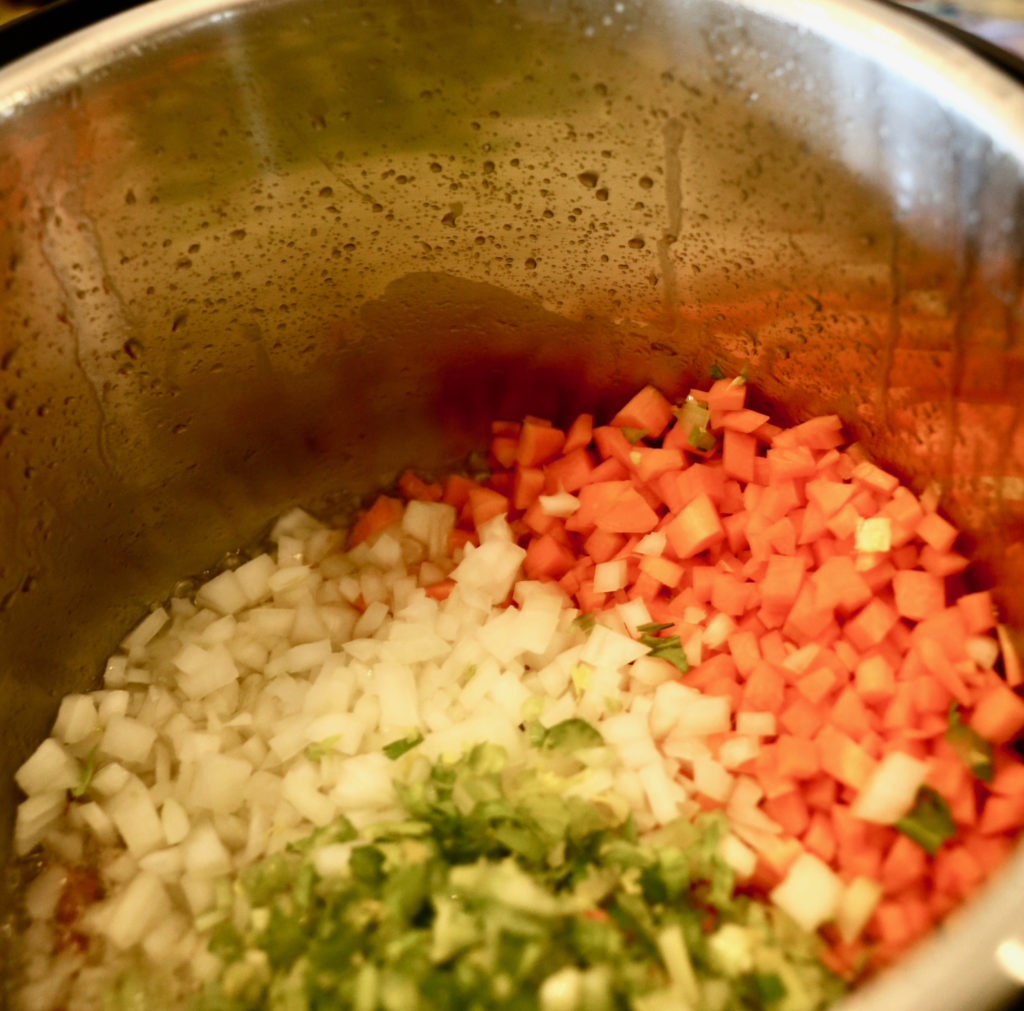 Step #4:
Add the soffrito (onions, carrots, and celery) to the Instant Pot, along with the tomatoes, tomato paste, garlic, chicken broth, and bouillon cube …. and bring to a boil.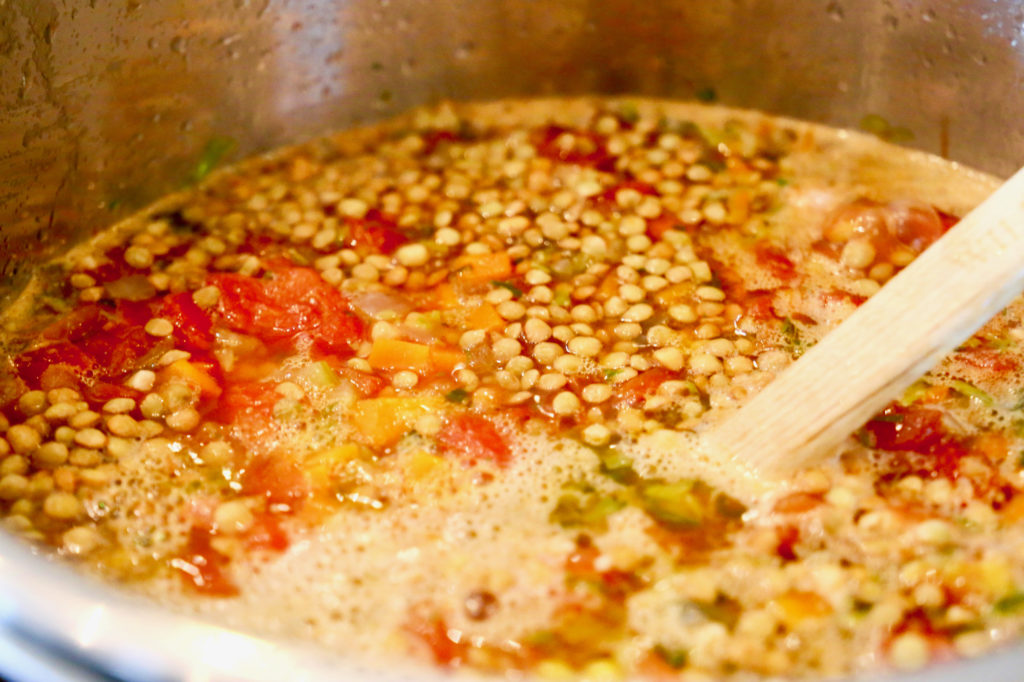 Step #5:
Add the lentils, spinach or escarole, parsley, and Parmigiano rinds. Secure the lid on and set the Instant Pot on "SOUP" for 10 minutes.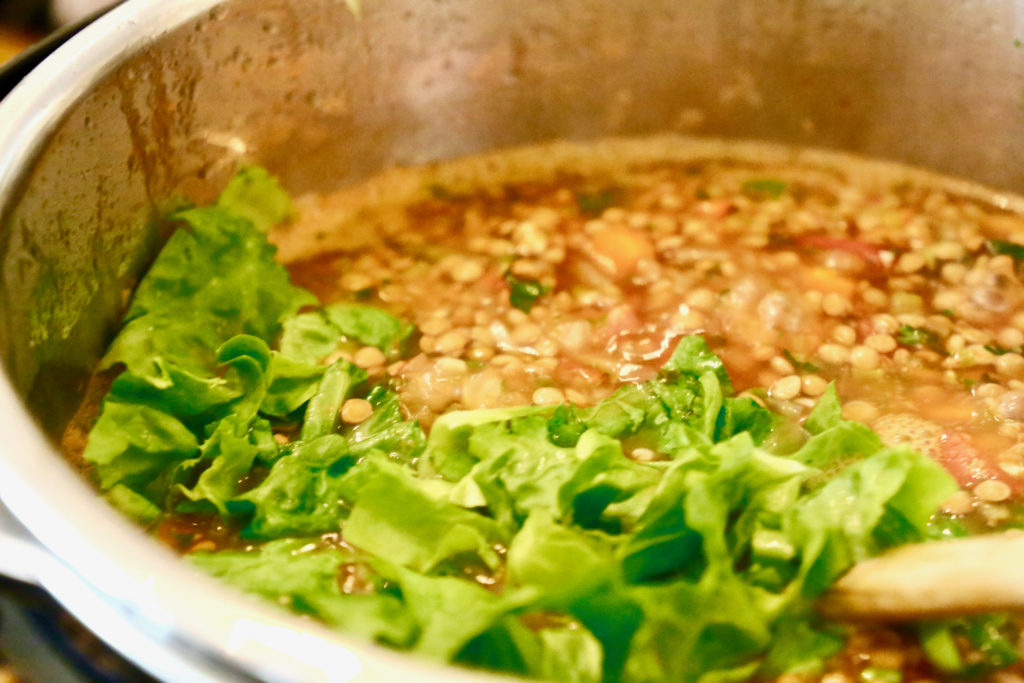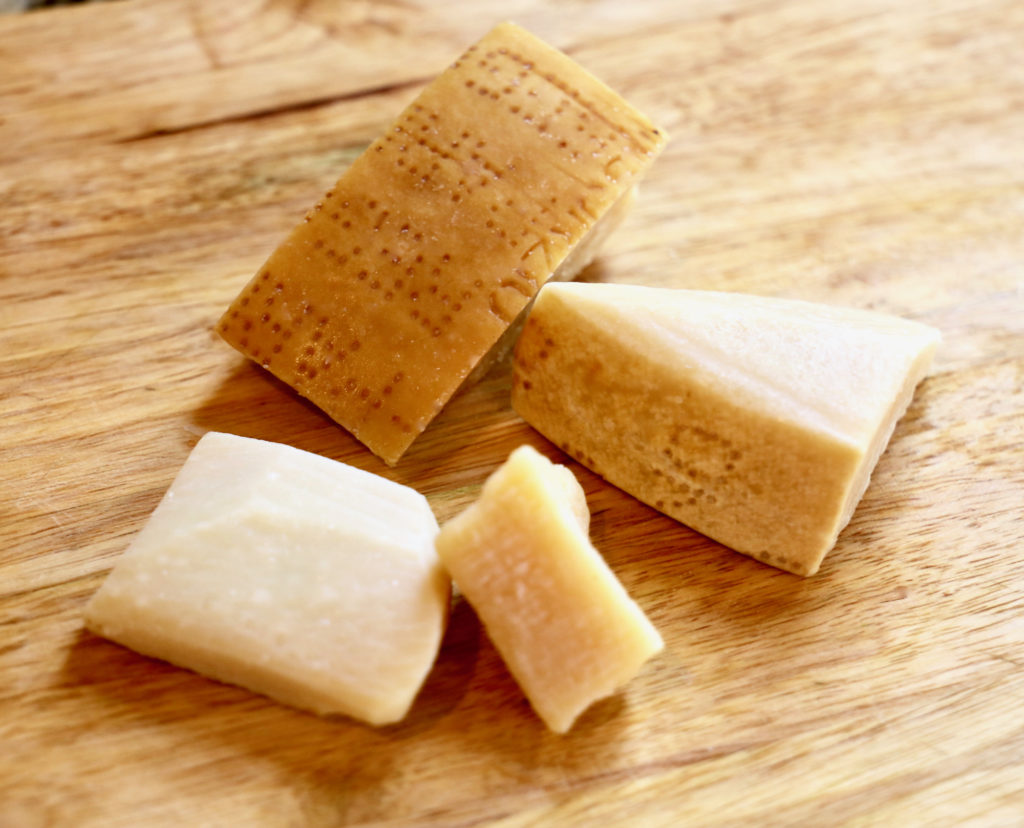 Never throw away the rinds of hard Italian cheese, especially those of Parmigiano cheese. Save them by either freezing them or keeping them in your refrigerator's cheese drawer. These add the most unbelievable flavor to soups and sauces! If you are vegetarian and cheese is not included in your diet, then simply eliminate this part of the process, but know that the final result of soup will not have the same taste of the recipes that I share and prepare here on LBVC.
Set the timer for 10 minutes (keeping in mind that the Instant Pot will also take another 10 minutes to heat up, for a total of 20 minutes).
Secure the lid on, sit back and relax with a nice glass of vino, and play some lovely music.
Then prep a salad, slice some fresh crusty artisan bread, set the table and you'll have a delicious meal in less than 20 minutes!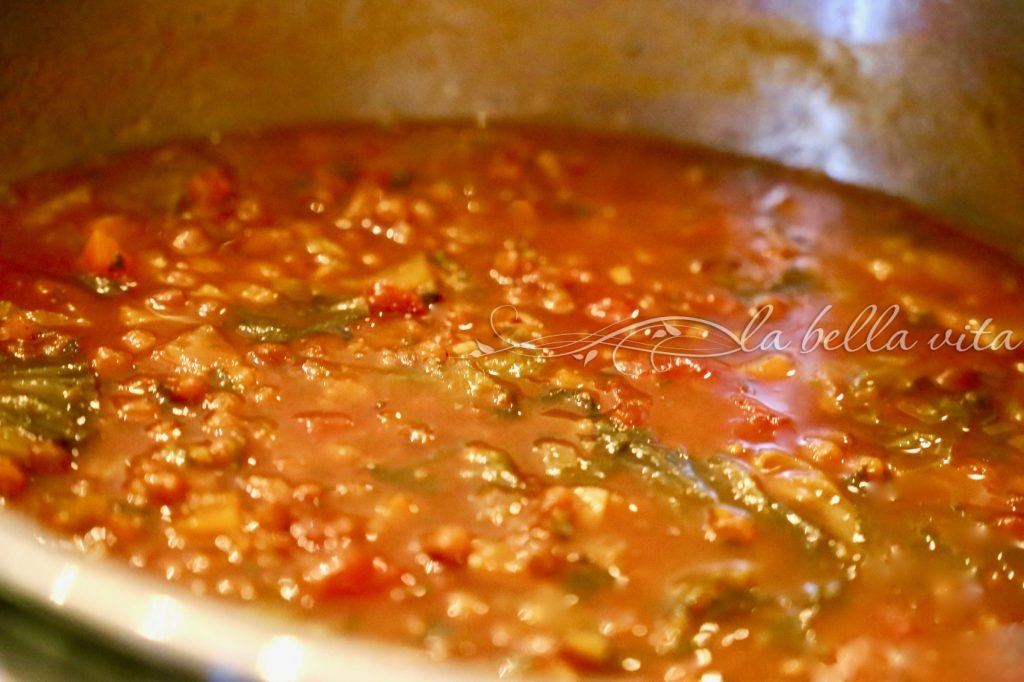 Step #6:
When the time is up and cooking is complete, allow the Instant Pot to release all of the steam. When ready to open the pot, carefully open the lid 'away' from you to avoid any extra dangerous steam.
Ladle the Italian Lentil Soup into large bowls. Serve with grated Parmigiano cheese and minced Italian parsley sprinkled on top. Pass around some crusty Italian bread, olive oil, and butter.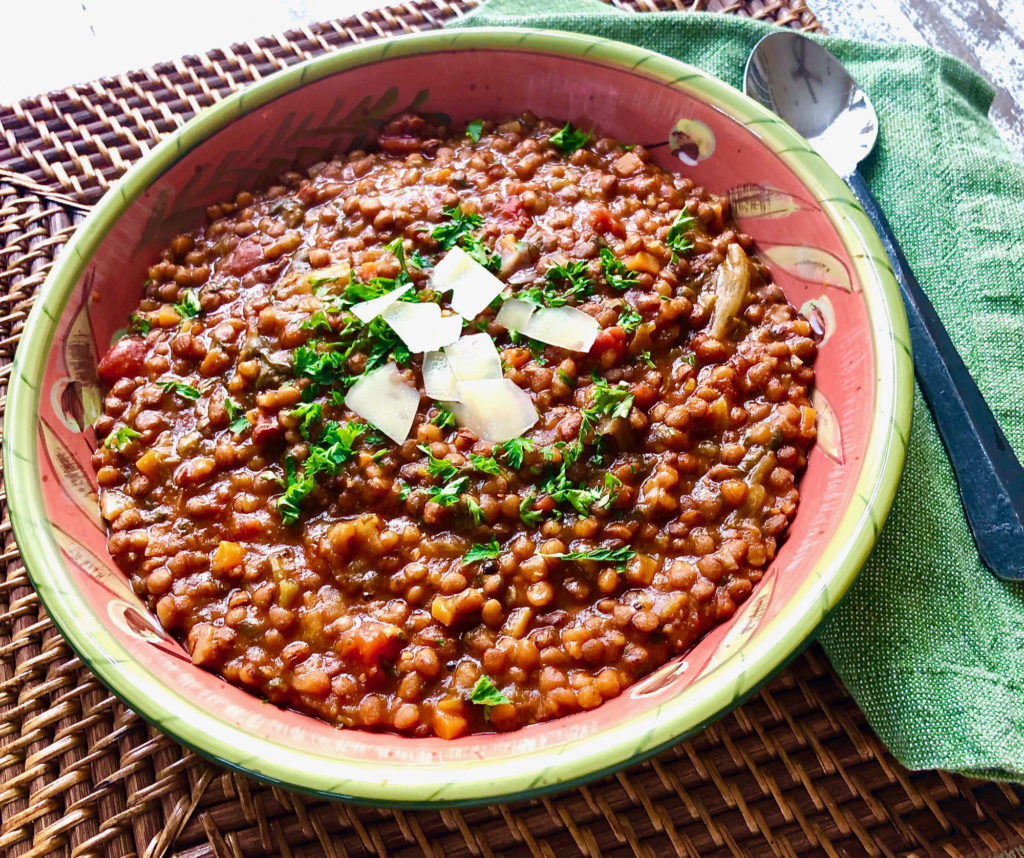 Enjoy a nice bowl of this Italian Lentil Soup "Salsicce e Lenticchie", along with a nice glass or two of Prosecco.
Angela shared a photo of her beautiful and delicious Italian Lentil Soup that she made for New Year's Eve 2020. She even added the sausage that's so traditional too!
"The soup came out amazing! I served it last night after midnight for luck and everyone enjoyed it. And we had the rest of it today. Thank you so much for the recipe! Happy New Year!"

—Angela
My pleasure Angela! Sharing wonderful recipes with you brings me joy and also gives joy to everyone who loves delicious food!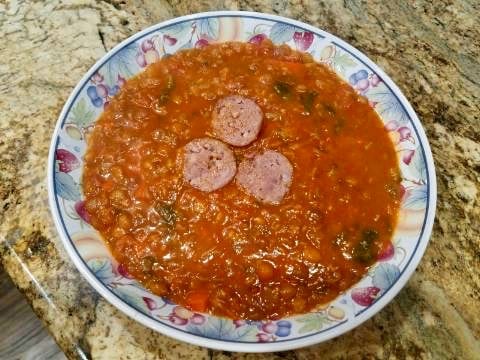 Here are two of the most popular soups on the blog:
Buon Appetito! and Felice Anno, amici!
Wishing you a new year of 2023 filled with health, happiness, prosperity, and all beautiful things.
Please share the love and pin this image, thank you!

Food Trivia: Lentils are some of the world's oldest domesticated plants. Italians developed a variety of ways to prepare these little legumes several millennia ago when first found on the peninsula. These cherished legumes were essential to the huge population of peasants who needed food during hard times. As part of the legume family, legumes are very nutritious containing nearly 30% protein and are an excellent source of fiber.
Print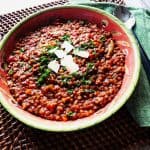 Italian Lentil Soup
Author:
Cook Time: 30 minutes
Total Time: 30 minutes
Yield: 6 servings 1x
---
Description
This is a very traditional soup that Italians enjoy for ringing in the new year!  It's absolutely delicious too!  But hey, we all need a little bit more good health and good fortune too!
---
2 cups lentils, rinsed twice in a colander under cold water
6 cups chicken broth (3 tall containers, not the cans)
1 vegetable bouillion cube
2 – 3 tablespoons extra virgin olive oil for sautéing the soffrito
8 oz. pancetta, diced
1 medium onion, diced
2 celery stalks with leaves attached, diced
2 large carrots, peeled and diced
1/2 cup fresh Italian parsley, stems removed, washed, and minced
1 tsp. dried oregano
1 tsp. dried thyme
1/4 cup freshly minced basil
1 12–oz. can Italian plum tomatoes (preferably San Marzano), crushed with your hands (or buy it already diced/chopped)
1 small 6-oz. can tomato paste
2 cups fresh spinach leaves or escarole, rinsed well and chopped
(optional) pinch of hot red pepper flakes (peperoncini)
2 rinds of parmigiano reggiano cheese
1 bay leaf
1 short sprig fresh rosemary
4 garlic cloves, minced
salt and pepper
Serve with: freshly grated Parmigiano cheese, pass around to guests
---
Instructions
Rinse the lentils in cold water in a colander. Umbrian lentils are so tiny that a paper towel or thin towel is necessary to prevent them from falling through the holes of the colander.
Drizzle olive oil into the Instant Pot and set it to 'SAUTE'.  The Instant Pot will take about 5 minutes to pre-heat. 
When the olive oil is hot, add the chopped pancetta and saute' for 2 minutes.
Add the soffrito of onions, carrots, and celery.  Stir.
Cook, stirring often, until the onions, carrots, and celery are semi-soft, for about 2 minutes.
Turn off Saute.  Stir in the garlic, tomatoes, tomato paste, chicken broth, and bouillon cube.
Set the Instant Pot to 'SOUP' and bring everything to a boil.
Add the lentils, parsley, spinach/escarole, seasonings, and cheese rinds.
Place the lid on and make sure that the release valve is in the "sealing" position.
Press the 'MANUAL' button and set the time for 10 minutes.  The Instant Pot will pre-heat for 10 minutes and then begin to cook.
After 10 minutes, quick-release by flipping the release value to "VENTING" (a little bit at a time).
Once venting is complete, remove the lid and stir gently.
Taste and add additional salt and pepper to taste preferences if desired.
SERVE!
Buon Appetito!
---
Notes
For all of your meat-lovin' family and friends, it's nice to offer 1 pound of sweet Italian sausage links, (or spicy hot sausage if you prefer) cut into slices (to serve alongside the soup on New Year's Eve.