Nutella Stuffed Snowball Cookies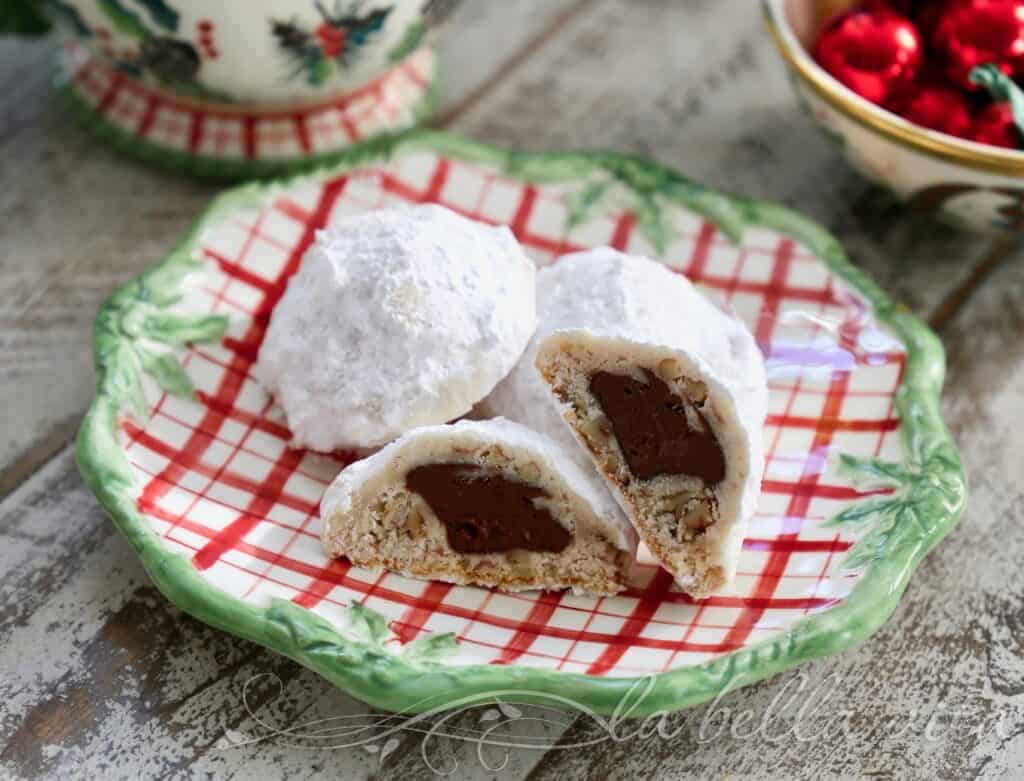 What cookies can top classic Snowball cookies? Nutella Stuffed Snowball Cookies! Still a buttery shortbread cookie with nuts and rolled in powdered sugar . . . BUT with centers of yummy, can't-get-enough Nutella hazelnut spread from Italy.
Snowball cookies are also called Greek (also Italian and Mexican) Wedding Cookies or Russian Tea Cakes. Some people even call them butterballs since they are, you know, so BUTTERY!
Nutella Stuffed Snowball Cookies are sure to be a huge hit, especially with the kids. They'll disappear instantly! And don't leave them out for any hungry pups to grab them . . . I made that big mistake and half of my last batch of these was gobbled up by my dogs! I guess they have good taste!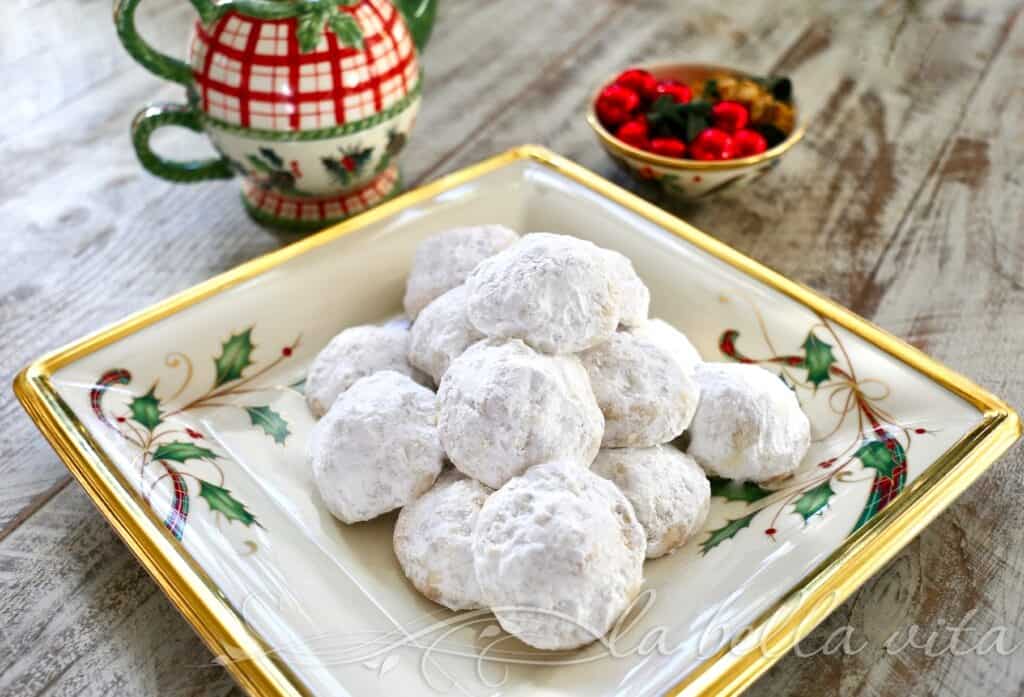 Get into the holiday spirit with this Italian version of the all-time Christmas favorite cookie. You'll have a tough time resisting your temptation to nibble on the Nutella while preparing these cookies! They are so just SO GOOD and ADDICTING!
These Nutella Stuffed Snowball Cookies are so EASY to make and fantastic to make ahead! Saving tons of time to do other last-minute holiday cooking and baking! Gotta love that!
All you do is put a little blob of Nutella between two pieces of dough, form them into balls, bake, and roll in powdered sugar. DONE!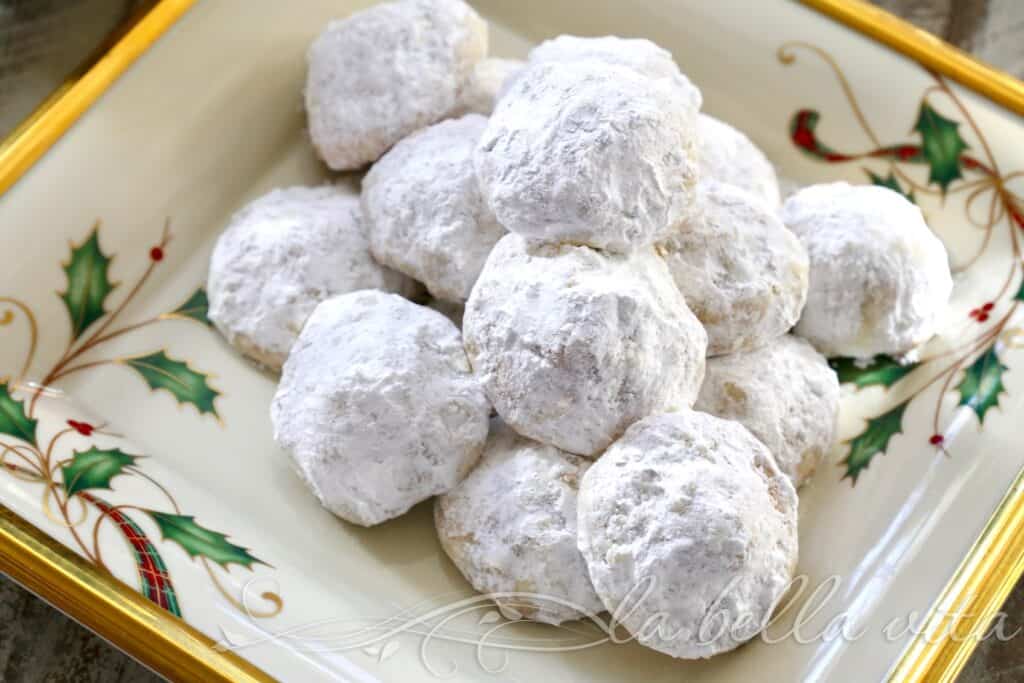 What Are Snowball Cookies?
Snowball Cookies are hands down without a doubt one of my favorite cookies! Also known as Mexican Wedding Cookies, these are one of my favorite holiday cookies as they look so festive and taste even better!
Snowball cookies are an unusual combination of ground pecans, lots of butter, flour, and a bit of sugar. The cookies themselves are not that sweet but are extremely rich from the butter and the nutty pecans. The combination of this almost savory interior with the sweet exterior of powdered sugar is just plain heavenly!
The cookies feature ground pecans, giving them a crumbly texture and toasty flavor throughout. If you've never baked with ground nuts before you'll love this. I grind up my pecans in a food processor then add them to the rest of the ingredients. This ensures each cookie is even in texture and full of that pecan flavor. You can mix this dough up in one bowl using a hand mixer or just a large whisk.
After the dough comes together you form them into perfect little snowball shapes. These bake for just a short 12 minutes before they are bathed in a generous amount of powdered sugar while still warm. The warmth of the cookies heats the sugar-coating them with a lovely layer of sweetness and it does not stop there. After completely cooling these little snowballs get the second dip in powdered sugar.
This is what makes the flavor of these cookies so over the top and of course what makes them look like little snowballs!
Tips for Nutella Stuffed Snowball Cookies:
Avoid using nuts if you know of anyone with nut allergies. You can substitute mini chocolate chips if you like.
When using nuts, you can use the variety of nuts that you prefer: pecans, walnuts, almonds, etc.
Store these snowball cookies in airtight containers.
These cookies can be frozen for up to 1 month. Layer them on parchment paper with wax paper placed between the layers of cookies. Don't put them altogether in one container or bag, but rather freeze them in layers.
The cookie dough can be made ahead and frozen as well, up to 1 month.
If you freeze them after baking, then do roll them in the powdered sugar, but remember to roll them once again after they've been thawed out.
More Christmas Cookie Recipes to Enjoy!
Cranberry Orange Shortbread Cookies with White Chocolate
White Chocolate Drizzled Pistachio Dried Biscotti
Yield: 24 cookies
Nutella Stuffed Snowball Cookies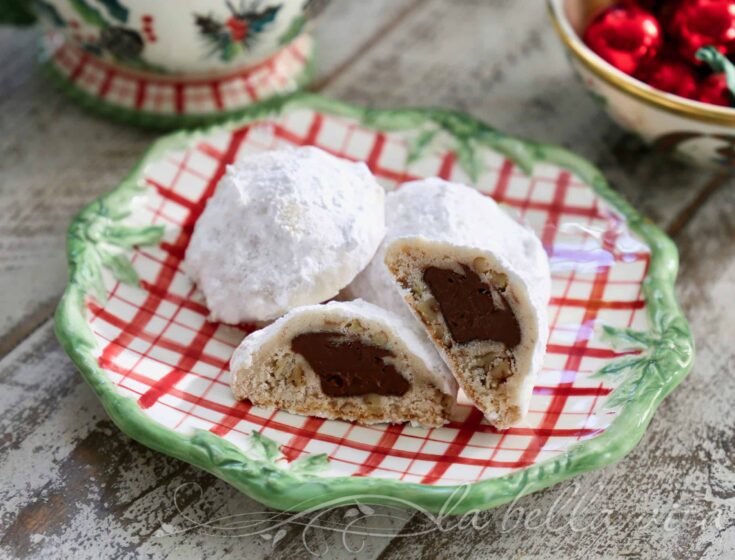 Snowball cookies are a favorite at Christmastime. To amp them up with another beloved food, these snowballs are stuffed with Nutella ~~ a double delight treat! Kids will especially love these cookies!
Prep Time 30 minutes
Cook Time 15 minutes
Additional Time 30 minutes
Total Time 1 hour 15 minutes
Ingredients
½ - 1 cup of Nutella
8 oz. butter, softened to room temperature
½ cup powdered sugar
1 tsp. vanilla extract
2-¼ cups flour
1 - 2 cups finely chopped pecans (or nuts of your preference)
¼ tsp. salt
powdered sugar to roll cookies in
Instructions
Line two baking pans with parchment paper.
Spoon 1/2 teaspoonful of Nutella into little mounds on the parchment paper.
Freeze for at least a half-hour.
LIne tow baking pans with parchment paper.
With either a handheld mixer or stand up mixer, cream the butter and sugar together until light and fluffy, about 5 minutes.
Add the vanilla extract.
Gradually add and mix in the flour until just combined.
Gently fold in the chopped pecans, beating at low speed, scraping the sides of the bowl, until everything is mixed well.
Scoop out 1 tablespoon of cookie dough and flatten it in your hands.
Remove the Nutella from the freezer
Place one frozen Nutella ball into the middle of the dough. Place another flattened piece of dough on top of the Nutella and wrap around it to roll into a ball. Place it on the parchment paper-lined baking sheet.
Continue making cookies until all Nutella balls and dough is used. Keep the Nutella balls in the freezer and remove only one or two at a time to keep the Nutella in a hardened state.
Chill the cookie-lined baking sheets in the refrigerator for 30 minutes.
Preheat the oven to 375 F degrees.
Bake the cookies for 16 minutes or until the bottoms of the cookies are golden - rotating the baking pans after 8 minutes.
Place 2 - 3 cups of powdered sugar in a medium-size mixing bowl.
Allow cookies to cool in the pans for 5 - 10 minutes.
One at a time, roll the cookies in powdered sugar when they are cool enough to touch.
Place cookies on baking racks after coating with powdered sugar.
Roll the cookies in powdered sugar again (so twice coated).
Store cookies in an airtight container. It's best to store in layers. Cookies can be frozen for 1 month.
Notes
The number of snowballs you end up rolling out depends on the size of the Nutella centers and amount of dough around the Nutella.
Recommended Products
As an Amazon Associate and member of other affiliate programs, I earn from qualifying purchases.
This post contains affiliate links. Please refer to our full disclosure here: