Farfalle Carbonara with Pancetta and Peas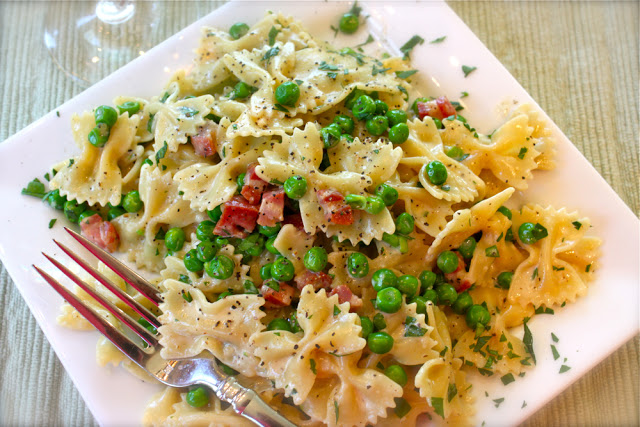 April showers bring May flowers!
And thank God for the rain that we've received before things dry out in the summer here in the Southeastern region of the U.S.A.!
I really appreciate gentle rain showers and thought they were a delightful inspiration to create a recipe. Well, spring peas seemed to be popping up on my brain, so I put my culinary thinking cap on to satisfy this feeling! Since I've got a pantry full of pasta that I need to use plus some cream and peas already in the frig, all I needed for a delicious, fresh spring pasta recipe was some pancetta.
Not a problem, since I was easily able to pick some freshly sliced pancetta up on the way home from the office today.
To increase the smiles on our faces over this recipe: I decided t0 really increase the amount of pancetta for this recipe! I've got a husband who prefers meat over pasta, so I met him half way by adding more pancetta.
It was wonderful!
I added cream, because I figured, "why not?".
Next, I added the classic Carbonara herb of Italian Parsley.
Finally, I needed to add some extra freshly-cracked sea/kosher salt and black pepper at the end when tasting the final results (even though I don't need salt for my health). This recipe certainly required it for enhanced flavor!
I also recommend that the next time I make this to saute' 2 or 3 cloves of garlic in the pancetta fat after the pancetta is cooked. This time I drained the fat, since I certainly don't need it in my nutrition. But it would be nice to complete this recipe with more golden garlic blended in. I think I would also use half Pecorina-Romano and half Parmigiano cheeses the next time, instead of all Parmigiano cheese alone, just for a flavor that I prefer.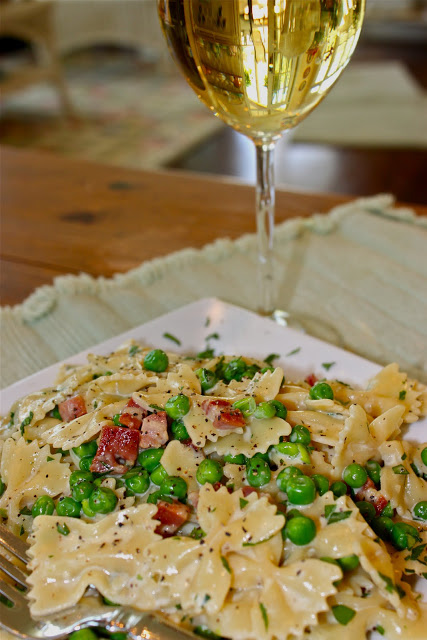 Print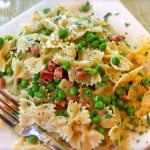 Farfalle Carbonara with Pancetta & Peas
Author:
Prep Time: 0 hours
Additional Time: 0 hours
Cook Time: 0 hours
Total Time: 0 hours
---
1 lb. farfalle pasta (bow ties)
1 jumbo egg
4 oz. heavy cream (changed from 3.5 oz – I mean what's an extra ounce?)
sea salt and freshly ground black pepper
12 rashers of pancetta, roughly sliced (I used 1/2 lb. chopped into chunks)
3 handfuls of fresh or frozen peas
2 sprigs of fresh mint leaves (I eliminated this since we're not crazy about mint with pasta)
2 handfuls of freshly grated Parmesan cheese
2 Tbsp. fresh Italian parsley, chopped (I added this, since it is classic in Carbonara)
more salt and pepper to taste (it needs it!)
---
Instructions
Bring a large pan of salted water to the boil, add the farfalle, and cook for 10 minutes or until al dente (farfalle noodles take a little bit longer than spaghetti noodles).
Whisk the egg in a bowl with the cream, salt and pepper.
Place the pancetta into a another large frying pan and cook until crispy and caramel brown.
When the farfalle is nearly cooked, add the peas to the pasta and water for the last minute and a half.
When cooked, drain in a colander, saving a little of the cooking water.
Add the pasta and peas to the pancetta.
Add the egg and cream mix to the pasta, peas and pancetta mixture. What's important here is that you add it while the pasta is still hot. This way, the heat of the pasta cooks the eggs and creates a silky smooth sauce.
Add the Parmesan cheese and gently blend everything together.
Add the Italian Parsley and once again blend gently (original recipe calls for mint).
Toss together and loosen with a little of the reserved cooking water if necessary.
Season with salt and pepper . . . just a note: it really needs this!
Serve as soon as possible while hot.
---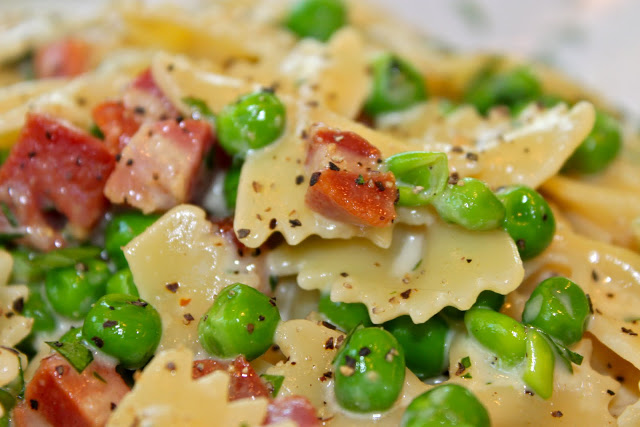 .