Afternoon High Tea at The Balmoral Hotel Palm Court
Experiencing a traditional Scottish Afternoon High Tea should be on everyone's international travel bucket list! Our trip to Scotland was absolutely perfect. And it began with having Afternoon Tea upon our arrival and then again at the end of our sojourn the day before we departed.
There are only a few top-rated restaurants in Edinburgh, Scotland that offer this delightful and delicious foodie splurge. One of them is the Palm Court in the luxurious Balmoral Hotel. From the bright floral entrance with a handsome and polite doorman donned in full Scottish kilt fashion (above) to . . . .
. . . entering the incredibly adorned interior of the reception lobby . . . the anticipation of what is to come beyond the etched, leaded glass door is wonderful. This is an experience, my friends, and it is just the beginning!
There certainly is a lot of variation in preferences for taking afternoon high tea in Edinburgh. Just take a wee peek at the differences among the following lists from food bloggers/newspaper food editors:
So what's the most popular (most frequently ranked) tea room? Click here to find out!
The Results are In! From the lists above, the following were ranked the most frequently:
#3 The Palm Court at The Balmoral Hotel
Nothing is more impressive to me, whether inside or outside, than fresh flowers. They are my visual weak spot and I spend countless hours everywhere that I go photographing them. Did you know that 'blue' is the rarest color of flowers? True! So when I come across fresh, live blue delphiniums and hydrangeas, iris, or even tiny Texas bluebells, it just takes my breath away.
Complimented by green foliage and bright white architectural details, it was a truly special space to enter.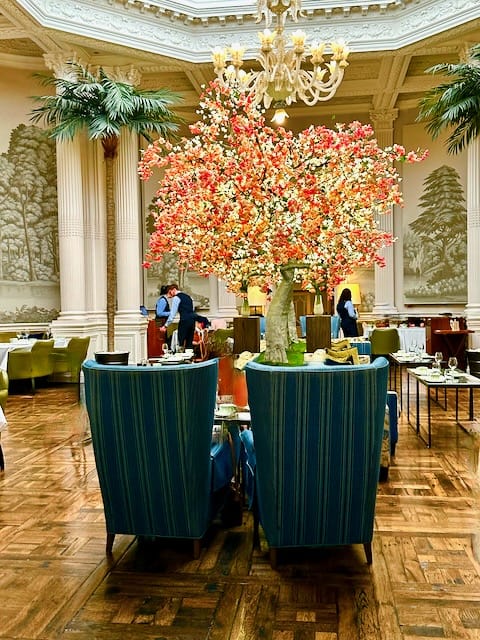 As you enter The Palm Court, you feel an extraordinary 'augh' of the huge, lofty two-story open dining area with decor that is perfectly scaled in size to fill the space in a delightful way. A tall, towering pink, peach, and white blossoming cherry tree is a beautiful central focal point that guides your eyes up and toward a grand glass atrium. You can only imagine what it must have been like to dine in glamourous tea rooms with brightly glassed ceilings and walls when they were all the rage beginning with Victoria and Albert in England.
Did you notice the sage green and beige-grey wall covering? And the palm trees? It is called the Palm Court after all. The upholstery for the cushy leather chairs is also a nice avocado green. The surprising pop of teal blue under the cherry tree is a nice accent to all of the green.
The huge mirrors reflect the light from above and echo images of fresh flowers over and over again.
The delicate soft texture of the cherry tree petals gives a yin and yang effect with the hard, solid texture of the heavy trim in the room.
As you look above, you can see where the sound of a harp is being played live . . . so soothing.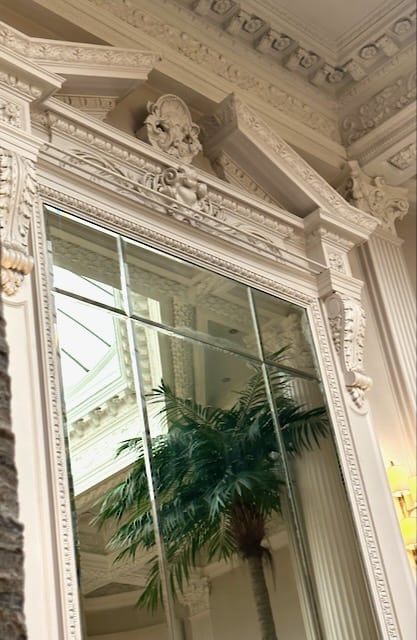 Appropriately selected bone china with green palm fronds carries the natural theme to the table.
Green and white . . . nothing else to compete allowing the china to just visually pop!
The pre-fixed menu with 5 courses included: a cold fruit-veggie beverage, savouries, tea sandwiches, scones, and pastries. It was extremely filling and so impressive with all of the intricate details on the sweet options . . . and each decorated by hand.
We chose one classic tea and one tea with champagne from the options on the menu (below). The price matches the quality, the service, and the experience. Putting all of that together it is very worth the sticker shock to celebrate a special occasion. Plus the fact that you don't have the chance to do this every day, month, or even a year. For us, it's probably a once-in-a-lifetime experience. Who knows?
Enjoy the video below of our server preparing tea for us . . . another unexpected element of The Palm Court's Afternoon Tea that we didn't experience in the other two tea restaurants that we went to in Edinburgh. Everything was just so special in presentation!
The tea is rosy-red colored because I chose a rose-flavored tea which was simply superb!
We enjoyed a nice glass of champagne (above) and then we were served . . . .
a yummy, chilled glass of watermelon-tomato gazpacho juice.
The next brief video shows the entire 3-tier server filled with finger foods for the next 3 courses:
Close up here are the crazy-good tea sandwiches. This is more than my husband and I ever eat for sandwiches! It's literally 2 full sandwiches with amazing fillings!
On the middle tier are the "savouries" which include non-sandwich finger food such as mini-tarts, topped blinis, chips, and crusty artisan bread with a savory topping.
The bottom tier is where the scones, jam, and clotted cream are served. This is house-made Balmoral strawberry jam that my husband went nuts over. . . we're trying to source it on the Internet to have some shipped to us in the States, but so far no luck finding any.
We didn't want to lose a drop of this amazing Balmoral jam on our scones.
The 5th and last course was of course the pastries . . . again, all hand-made and embellished!
We could barely enjoy a bite or two of these after being served so much food in the previous 4 courses. But they do give to-go boxes so we could enjoy them as a late evening snack in our hotel room!
Our Afternoon Tea at the Palm Court did not end with the pastries . . . we were so surprised we recieved two covered tins of loose-leaf tea to take home. So many thoughtful extras go into the Palm Court's Afternoon Tea. What a fine touch to end this perfect tea experience in Edinburgh!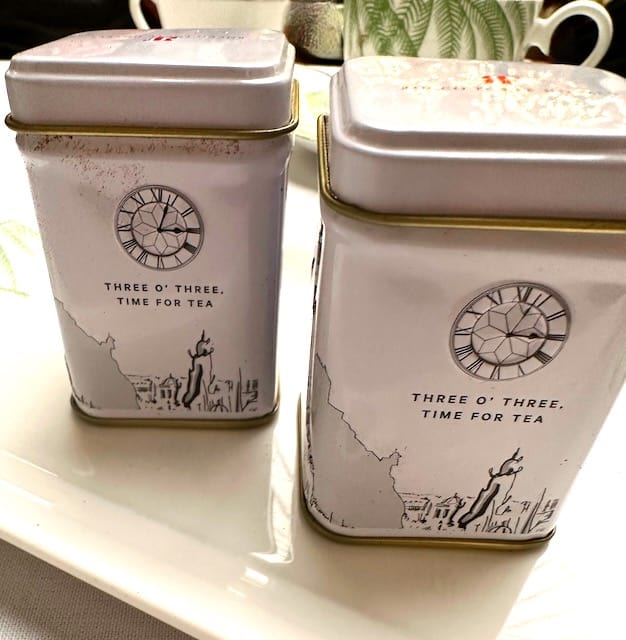 As we left and hailed a cab, I took one more shot of these gorgeous flower arrangements, thinking about how much I miss my gardens whenever I travel.
Leaving out of the front door, more flowers envelop the entryway. In August, the flowers in Scotland were in full bloom with no signs of wilting or burning as they are in my South Carolina gardens this time of year. It literally felt like the month of May with temperatures between 60 – 70 F degrees during the day instead of 85 – 95 F degrees at home.
It may be a typical, gray, cloudy, and rainy day in Scotland, but it's all part of a regular day for the doorman and Scottish bagpiper. Notice the red carpet too!
Finally, do have a listen to the sounds of this talented 'piper' in the next video!
It's been my pleasure to share more of our travels with you here on our blog. I hope that you enjoyed it. If you did, I'd so love it if you could stop back again for more travel stories.
Ciao, Roz