Carrot Cake with Praline Filling and Cream Cheese Frosting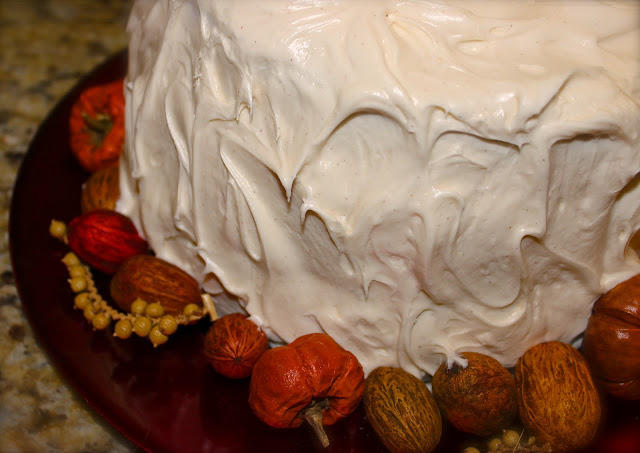 The perfect compliment to pumpkin and apple desserts for the holidays is this spectacular Carrot Cake filled with caramel PLUS icing.   This show-stopping 3-layer cake is decadent and rich.  Truth is . . . it's better than pumpkin pie any day!"  Here's the story on how I created this incredible cake:
What do we have to eat that's sweet?" asked 'Mr. Meat and Potatoes' Bill.
"Uh, nothing hon.  Would you like me to bake a cake?"
"Oh YEA!"
"How about a layered carrot cake?  With a praline filling?"
He was speechless!   Sweets and football games on TV will quiet this man faster than anything I know.  Off to the kitchen I scurry.  This cake took one half of the day to make.  Bill got his cake and ate it too . . . the next day with this Carrot Cake with Praline Filling & Cream Cheese Frosting!  If I wanted to sell this cake I'd have to charge $10.00 a slice just to break even with the ingredients and time that was put into baking it.
This is a very dense, heavy, thick, utterly rich cake . . . if you're looking for light and flakey, this is not your cake.  This is "wow, I-can-only-eat-half-a-slice carrot cake."
Oh, but made with so much love!
Let me warn you, the praline filling alone will send you directly to blissful heaven.  You may even find yourself spooning it . . . no pouring it into your mouth as it cools on the stove.
This is dangerously rich stuff that puts a humble carrot cake way over the TOP!  I think I'll make a bigger batch of it the next time to drizzle over the cake!
I doubled the frosting to make this extra luscious.  For me, it's the frosting on the cake that matters more than the cake anyway!  But I rarely eat sweets, being more of a savory flavor kind of gal.  Maybe that's why my husband begs me to bake . . . I really do need to do this more often.  Baking really is quite fun!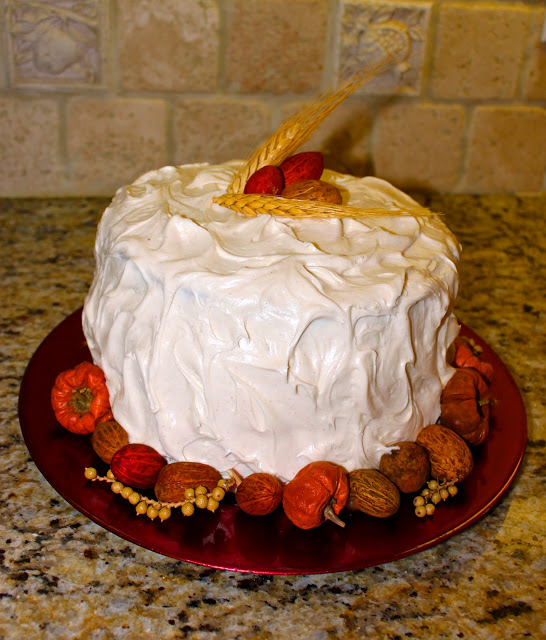 .
all decorated for the new season of autumn, but you can select any season
.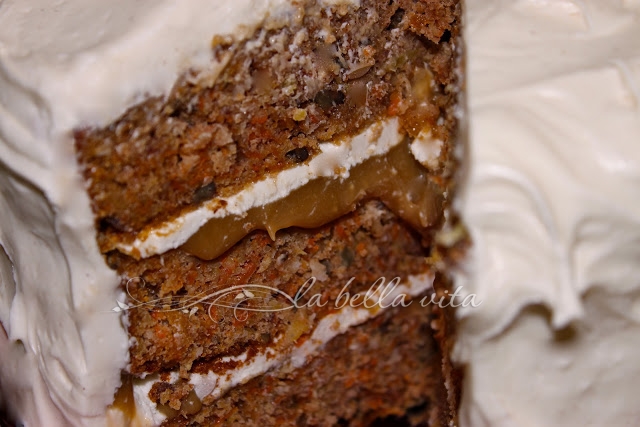 .
.
thick layers of frosting on my cakes, that's why the recipe calls for such large amounts of ingredients.
In this open portion of the cake the praline filling is dripping down the cut cake . . . oh so good!
.
Print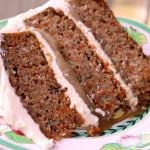 Carrot Cake with Praline Filling and Cream Cheese Frosting
Author:
Prep Time: 0 hours
Additional Time: 0 hours
Cook Time: 0 hours
Total Time: 0 hours
---
For The Cake
3 cups flour
2 cups sugar
1 cup light brown sugar
2 tsp. baking powder
2 tsp. baking soda
1 tsp. salt
4 tsp. ground cinnamon
1/2 tsp. ground ginger
1/8 tsp. ground cloves
1/8 tsp. ground nutmeg
2 sticks butter, softened
1/2 cup vegetable/canola oil
6 large eggs
1 Tbsp. vanilla extract
1–1/3 cups drained crushed pineapple
1 cup shredded coconut flakes
1 cup chopped pecans
6 cups shredded carrots
Prepare praline filling and cream cheese frosting.
Praline Filling
6 Tbsp. butter
1–1/2 cups light brown sugar
1 cup heavy whipping cream
1 tsp. vanilla
3/4 tsp. salt
1/4 cup flour
1 tsp. cornstarch
Cream Cheese Frosting
2 8–oz. packages cream cheese, softened
2 sticks of butter
7 cups powdered sugar
2 tsp. vanilla
2 tsp. butter flavoring
pinch of salt
---
Instructions
For the cake
Pre-heat oven to 350 degrees.
Prepare 3 9-inch round baking pans with butter/cooking spray and flour dusting.
In a small amount (about 1 cup) of water, cook the shredded carrots for about 15 minutes to tenderize.
Drain all of the water from the carrots.
In a large mixing bowl, add the flour, sugar, brown sugar, baking powder, baking soda, salt, cinnamon, ginger, cloves and nutmeg.
Mix well.
Add the softened butter, oil, eggs, vanilla extract, pineapple, coconut, pecans, and carrots.
Place equal amounts of cake batter into each of three prepared pans.
Bake for 35 – 40 minutes or until an inserted toothpick comes out clean.
Place on baking racks to cool.
For The Praline Filling
In a heavy pan, melt the butter.
Add brown sugar and mix well.
Add cream, vanilla, and salt.
Mix well again.
Slowly add in the flour and cornstarch.
Vigorously blend well with a whipping utensil.
Use a small-holed strainer to remove any lumps of flour/cornstarch.
Pour the praline filling into a metal bowl.
Place in the freezer for a few hours to thicken or refrigerate overnight.
For the Cream Cheese Frosting
Blend all ingredients together.
Assembly of Cake
Gently remove cooled 3 cakes layers from pans.
Pour half of the praline filling onto 2 of the cake layers only.
Immediately place these in the freezer if the filling is too runny. This will thicken up the filling more quickly.
Remove chilled cake layers with praline filling from the freezer after several hours.
Spread thick layers of cream cheese frosting on top of the two cake layers with filling.
Place these two cake layers on top of each other and then place the final third cake layer without any praline filling on the top.
Frost the cake and decorate how you like.
---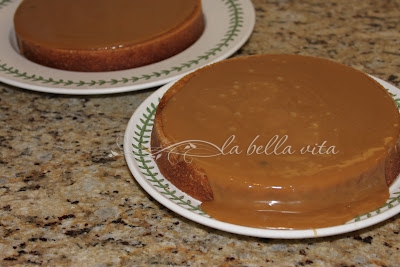 .
pour the praline filling over two of the baked cake layers . . .
place in freezer to harden the praline
.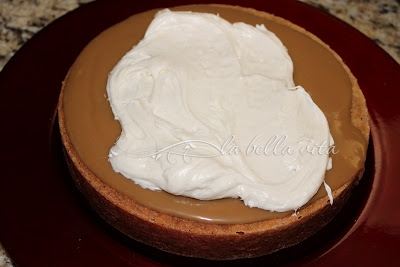 .
.spread a layer of frosting on top of "chilled" praline filling
.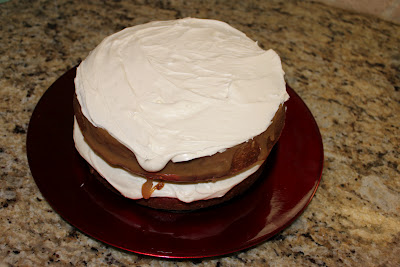 .place the second praline-topped cake layer on next and frost it too.
.
.
.place the third cake layer without praline filling on top and ice the entire cake
.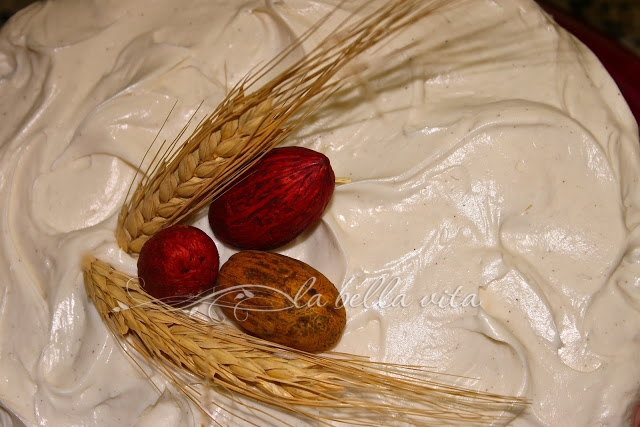 .
.decorate your cakes with simple things from the craft stores such as these wheat and nuts accents.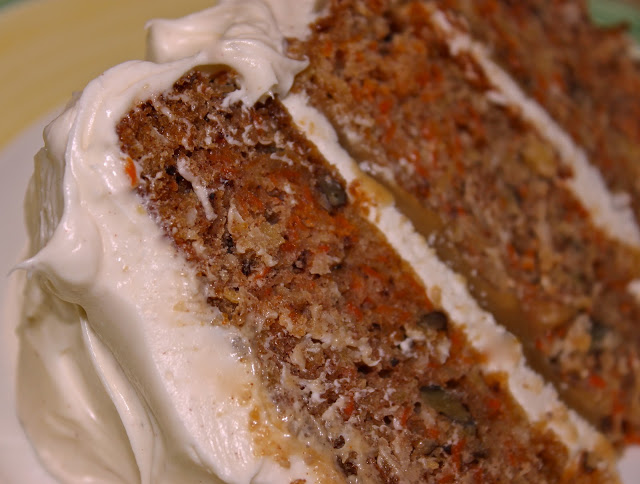 .
.a slice of rich, dense, heavy cake with layers of praline and cream cheese frosting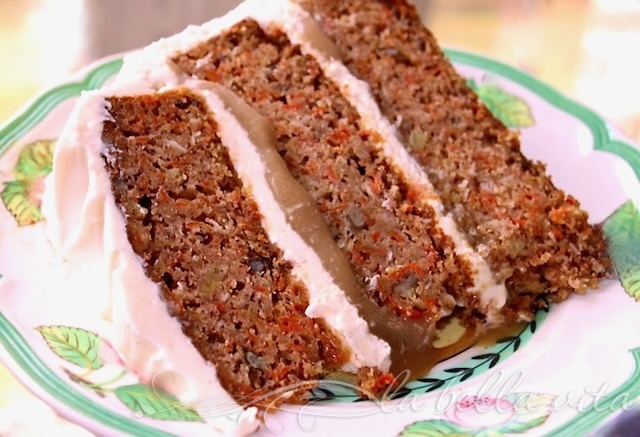 .
My good friend, Liz gave me the honor of baking this cake for her book club and posted it on her blog, That Skinny Chick Can Bake and it was a huge hit among the group and her family!  My sister, Kelly, made it for her husband's birthday and recommended it to Liz.  I know that you'll get the same reactions from others when you present this delicious Carrot Cake with Praline Filling & Cream Cheese Frosting!
Enjoy this recipe for 
Carrot Cake with Praline Filling and Cream Cheese Frosting
.