Strawberry Layer Cake and Sweet Mascarpone Cheese Frosting
Fresh strawberries are perfectly ripe for picking right now . . . a little bit late this year, but bursting with extra sweet flavor! With Mother's Day in just a few weeks, I wanted to share our favorite Strawberry Layer Cake and Sweet Mascarpone Cheese Frosting recipe with you. This cake is so full of flavor, especially with the extra layer of fresh strawberries tucked in between each layer!
Strawberries, when picked at their peak level of freshness have the most beautiful vivid, rich red color. The soft shimmer studded with the tiny seeds adds to their beauty, just tempting us to bite right in.
This cake just "SINGS spring" . . . even if it did snow last week in Colorado. To all of my friends out there, just whip up this cake and you'll be feeling spring right away!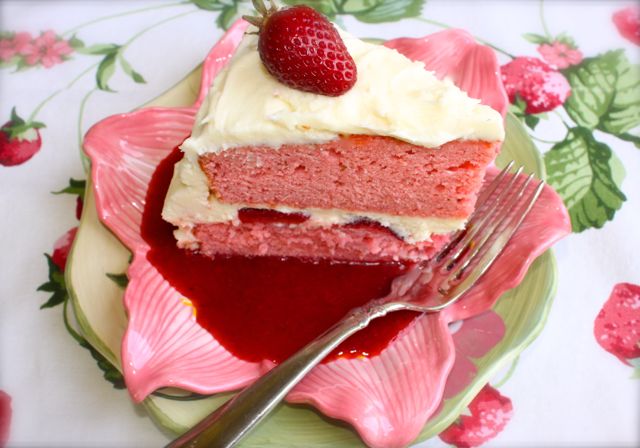 The pool of pureed strawberries adds another level of berry-goodness! You can also use the puree with ice cream, smoothies, and parfaits! It also freezes nicely for using later and through the winter when you're really wanting some fresh strawberries!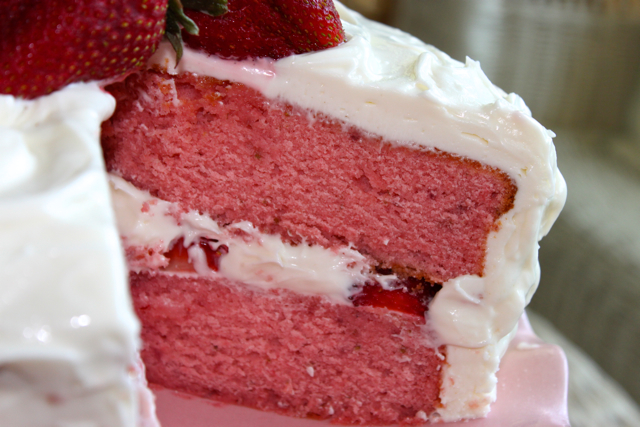 Strawberry Layer Cake & Sweet Mascarpone Cheese Icing
Ingredients
2 cups white sugar
1 (3 oz) package strawberry flavored gelatin
1 cup (2 sticks) butter, softened
4 jumbo eggs (room temperature)
2 3/4 cups sifted cake flour
2 1/2 tsp. baking powder
1 cup whole milk
1 Tbsp. vanilla extract
3/4 cup strawberry puree made from fresh or frozen strawberries (make an additional 2 cups of puree to drizzle over the cake slices or to lay the slices on top of a pool of puree).
For the Strawberry Filling
1 to 2 cups of the mascarpone cheese frosting (ingredients listed next)
1-1/2 cups fresh strawberries, sliced
For the Sweet Mascarpone Cheese Frosting
1 cup butter, softened
2 8-oz packages/tubs mascarpone cheese, softened
8 cups powdered (confectioner's) sugar
1 teaspoon butter extract
Instructions
Preheat the oven to 350 degrees.
Grease and flour two 9 inch round cake pans or three 8 inch round cake pans.
In a large bowl, cream together the butter, sugar and dry strawberry gelatin until light and fluffy. Beat in eggs one at a time, mixing well after each.
Combine the flour and baking powder.
Stir into the batter alternately with the milk.
Blend in strawberry puree and vanilla.
Divide the batter evenly between the prepared pans.
Bake for 30 – 35 minutes in the preheated oven, or until a knife inserted into the center of the cake comes out clean.
Allow cakes to cool in their pans over a wire rack for at least 10 minutes.
Gently tap the cakes out of their pans to finish cooling completely.
To prepare the frosting
Beat the butter, mascarpone cheese, confectioners' sugar, and butter extract until creamy.
Spread the first cake layer with a thick layer of frosting.
Evenly distribute the strawberry slices over the frosting.
Place the top cake layer on top.
Spread remaining frosting on top of cake and all around the sides.
Garnish to decorate: Large, beautiful strawberries presented any way that you like.
I hope that you enjoy this special
Strawberry Layer Cake with Sweet Mascarpone Cheese Frosting!
..