Osso Buco – Classic Milan, Italy (Milanese) Cuisine
Wherever we travel, we always, ALWAYS order native, traditional, and local specialties!
One of the most infamous and delicious recipes from Milan is Osso Buco.
During our visit to this beautiful northern Italian city, I enjoyed Osso Buco (which means "bone with a hole", osso: bone, buco: hole), the name references the marrow hole at the center of a veal shank. This delicious Milanese specialty results from a slow braising of veal shanks with vegetables in a rich sauce. It is often garnished with gremolata and served with Risotto alla Milanese. You can also serve it with polenta if you wish. And my husband prefers them with simple mashed potatoes so that the Osso Buco's flavor medley shines above anything else on the plate.
Although we can order Osso Buco in many nice restaurants in the States now and despite being able to prepare it at home, it's always fun to try it directly from the source of its creation, which is Milan.
We love Osso Buco so much that for our daughter's wedding reception we served it at the rehearsal dinner to over 40 guests! The chef at our local restaurant, where we held the dinner, is a master at preparing this entree.
Oh, Oh, OH OSSO BUCO!!!
Food for the gods, indeed!
The rich flavor of this recipe results from several easy steps in the preparation: first of all, a low and slow braise is necessary to sear the veal shanks in order to seal in the flavor of the meat. Secondly, the braised shanks bathe in an unforgettable rich sauce of tomatoes, wine, and vegetables for several hours until all the flavors marry and the meat just falls away from the bone. Third, the shanks are patted dry with a paper towel so that the braising process produces lots of caramelization. Fourth, the garlic, rosemary, and thyme create an unsurpassed depth of flavor.
Why is Osso Buco so popular?
Coming from its origin in Lombardy, the recipe is made throughout Italy and became very popular due to the ease in preparation and low cost for families wanting a satisfying, hearty, and yet delicious meal. Served with risotto or polenta, Osso Buco was originally a seasonal dish of winter and prepared on charcoal or wood stoves, which in the past, also warmed up the home. However, a major reason for Osso Buco's worldwide popularity was a result of the recipe's inclusion in many classic cookbooks that were published outside of Italy.
I hope that you enjoy this wonderful Milanese specialty!
So let's get to the kitchen to cook, shall we?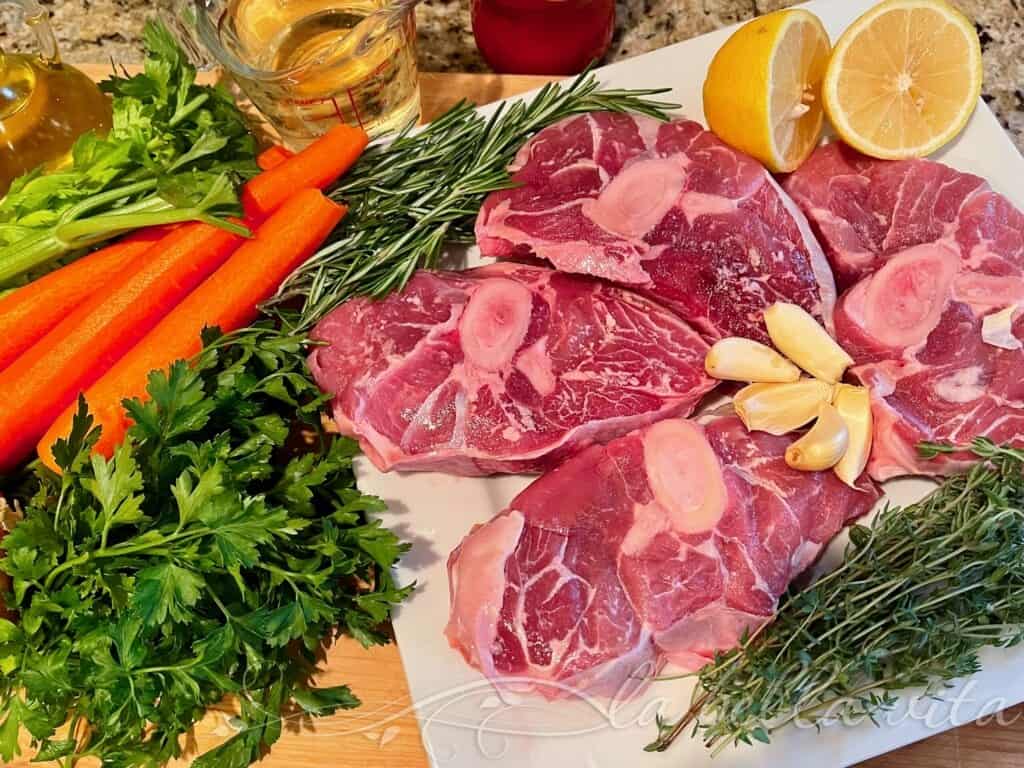 Always lay out all of your ingredients before cooking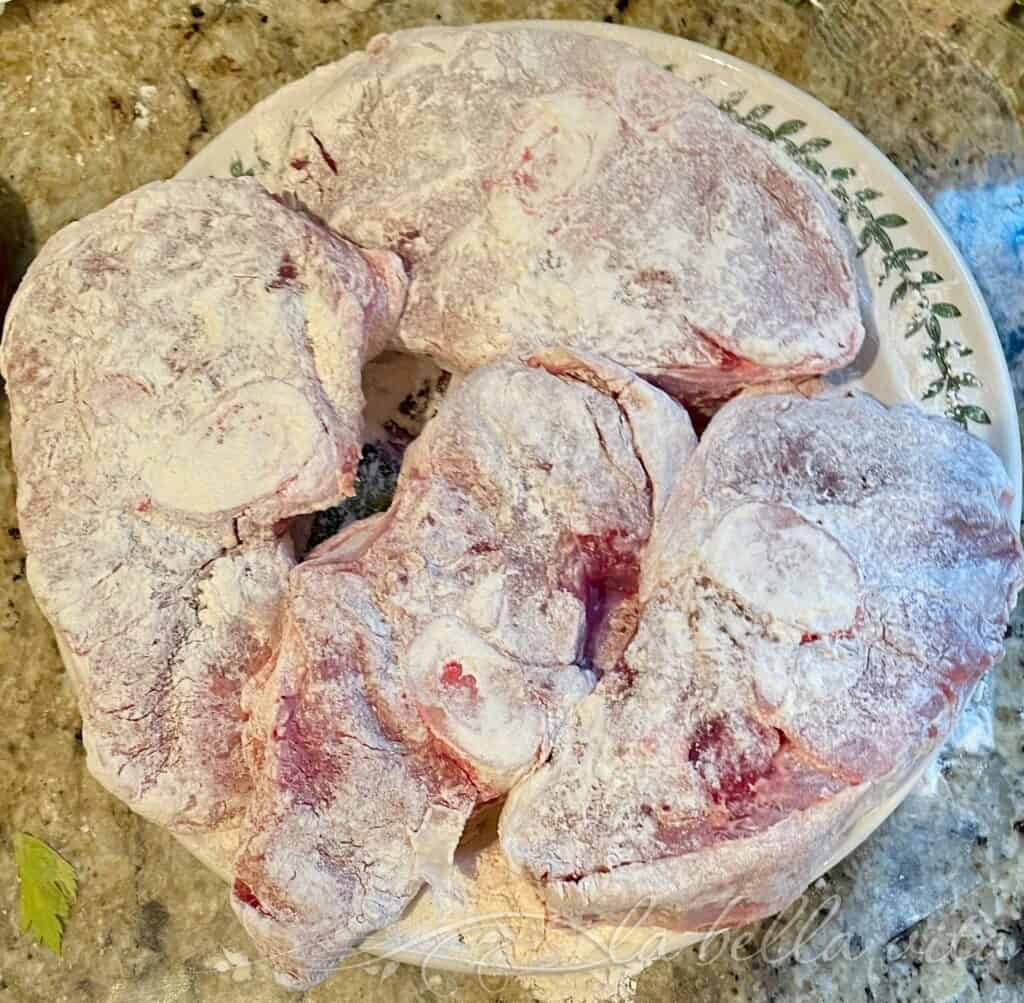 First, tap dry each of the veal shanks with clean paper towels, then dredge into flour only; no eggs are necessary.
Dredge twice to achieve a nice thick coating; make sure that the sides of the veal shanks are coated well.
In a large pot, pour in the olive oil and saute the veal shanks with garlic until golden brown.
If you have any garlic burning or cooking too fast, then remove it from the pan.
None of the garlic is browned or burned, which is what you want.
After all of the shanks are browned move the veal shanks from the pan and hot oil.
Place on a platter and set aside.
To the empty pot with hot oil and garlic still in,
add the chopped carrots, chopped celery (and leaves), chopped onion, and chopped parsley.
Mix well and saute for about 5 – 8 minutes
Add the veal shanks back into the pot on top of the vegetables
Add the wine (and reduce down for about 5 minutes)
Then add the chicken broth, bouquet garni, and tomato sauce/passata.
Reduce heat to low, cover pan, and simmer on low for 2 – 3 hours until the meat is fork tender and falling off the bone.
Visions of our time in Milan, Italy (just a few photos among hundreds taken)
We have walked halfway up the roof at this point!
The never-ending creative architecture, columns, facades, window decor, stairwell cases,
are just amazing eye-candy for appreciative culture mongers!
Michelangelo's "The Last Supper"
next to the Church of Santa Maria delle Grazie
Dining, window-shopping, and people-watching in the Gallerie di Vittorio Emanuele
Please kindly PIN this image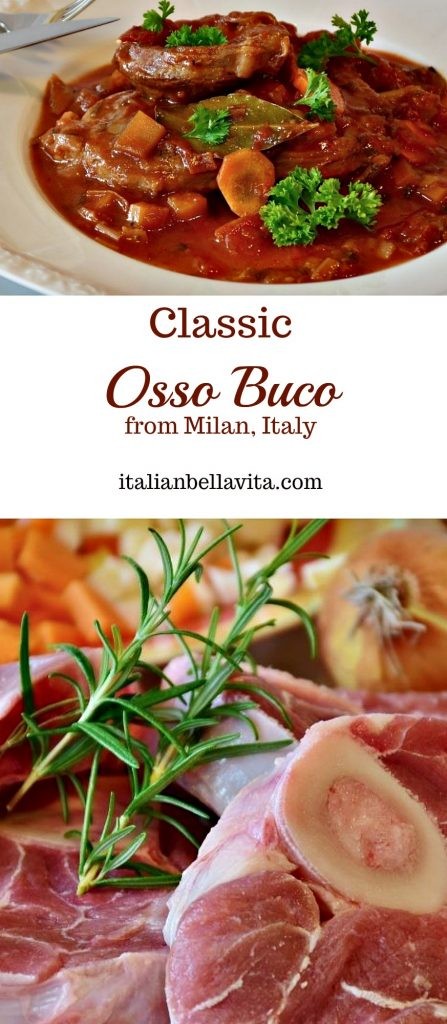 Print
Osso Buco
Author:
Prep Time: 20 minutes
Additional Time: 5 minutes
Cook Time: 2 hours
Total Time: 2 hours 25 minutes
Yield: 4 - 6 servings 1x
Category: Entrees / i Primi
Cuisine: Italian
---
Bouquet Garni:
2 cloves of fresh garlic, minced
1 sprig fresh thyme or 1/2 tsp. dried thyme
1 sprig of fresh rosemary
1 dry bay leaf (optional, I don't use it since the flavor doesn't sit well with my family)
For the Osso Buco:
1/2 cup olive oil
2 garlic cloves, minced
4 – 6 whole veal shanks (about 1 pound per shank), trimmed
Sea salt and freshly ground black pepper
Flour, (for coating the veal shanks)
1 cup of chopped onions (chopped into 1/4 or 1/2 inch pieces)
3 – 4 large carrots, chopped into 1/4 or 1/2 inch pieces
4 stalks of celery, including all of the leaves, chopped into 1/4 or 1/2 inch pieces
1/2 cup chopped Italian parsley
1 cup white wine
2 cups tomato sauce (passata), have more on hand if necessary (which we do)
Chicken Stock – 1 tall container, using 2 cups at first and then adding more when necessary
1 Tbsp, Beef bouillon mixed in the chicken stock
Gremolata:
1 – 2 tablespoons lemon zest
3 tablespoons fresh flat-leaf Italian parsley, chopped
---
Instructions
Prepare the Bouquet Garni
Place the thyme, bay leaf, and garlic cloves into cheesecloth and secure with twine (this is the bouquet garni). Optional: Add rosemary if you like. It's strong so go lightly.  Add this in Step #14.
Prepare the Osso Buco:
Pat dry the veal shanks with paper towels to remove any excess moisture. Veal shanks will brown better when they are dry.
Secure the meat to the bone with the kitchen twine (only if necessary).
Sprinkle veal with salt and freshly ground pepper.
Dredge the shanks in flour, shaking off excess. Dredge a second time.
In a large, deep heavy pot, heat the olive oil; do not burn. Use a pot with a fitted lid.
Add the garlic.
Add veal shanks to the hot pan and brown all sides, about 3 minutes per side.
Do not burn the garlic while browning the veal; if this happens, remove the garlic immediately.
Remove browned shanks and set aside.
In the same pot of olive oil and garlic, add the onion, carrot, celery, and parsley.
Season with salt at this point to help draw out the moisture from the vegetables.
Saute until soft and translucent, about 8 minutes.
Return browned shanks to the pan and add the wine and reduce liquid by half, about 5 minutes. Add the chicken broth and the bouquet garni.
Add the tomato sauce/passata and mix well.
Reduce heat to low, cover pan, and simmer for about 2 hours or until the meat is falling off the bone.
Check every 15 minutes, turning shanks and adding more chicken stock and/or tomato sauce/passata if necessary.
The level of cooking liquid should always be about 3/4 the way up the shank.
Carefully remove the cooked shanks from the pot and place them on a serving platter.
If you used kitchen twine, cut it off and discard it.
Remove and discard the bouquet garni from the pot.
Pour all the juices and sauce from the pot over the shanks.
Garnish with chopped parsley and lemon zest gremolata.
---
original posted in 2017; updated with step-by-step photo instructions reposted in 2022