The BEST Instant Pot Chili
This hearty, comforting, and totally loaded with deliciousness chili will soon be your absolute favorite and BEST chili to cross your lips! With an Instant Pot, you can easily prepare this chili in the blink of an eye! Enjoy this recipe for our 'bowl of red'!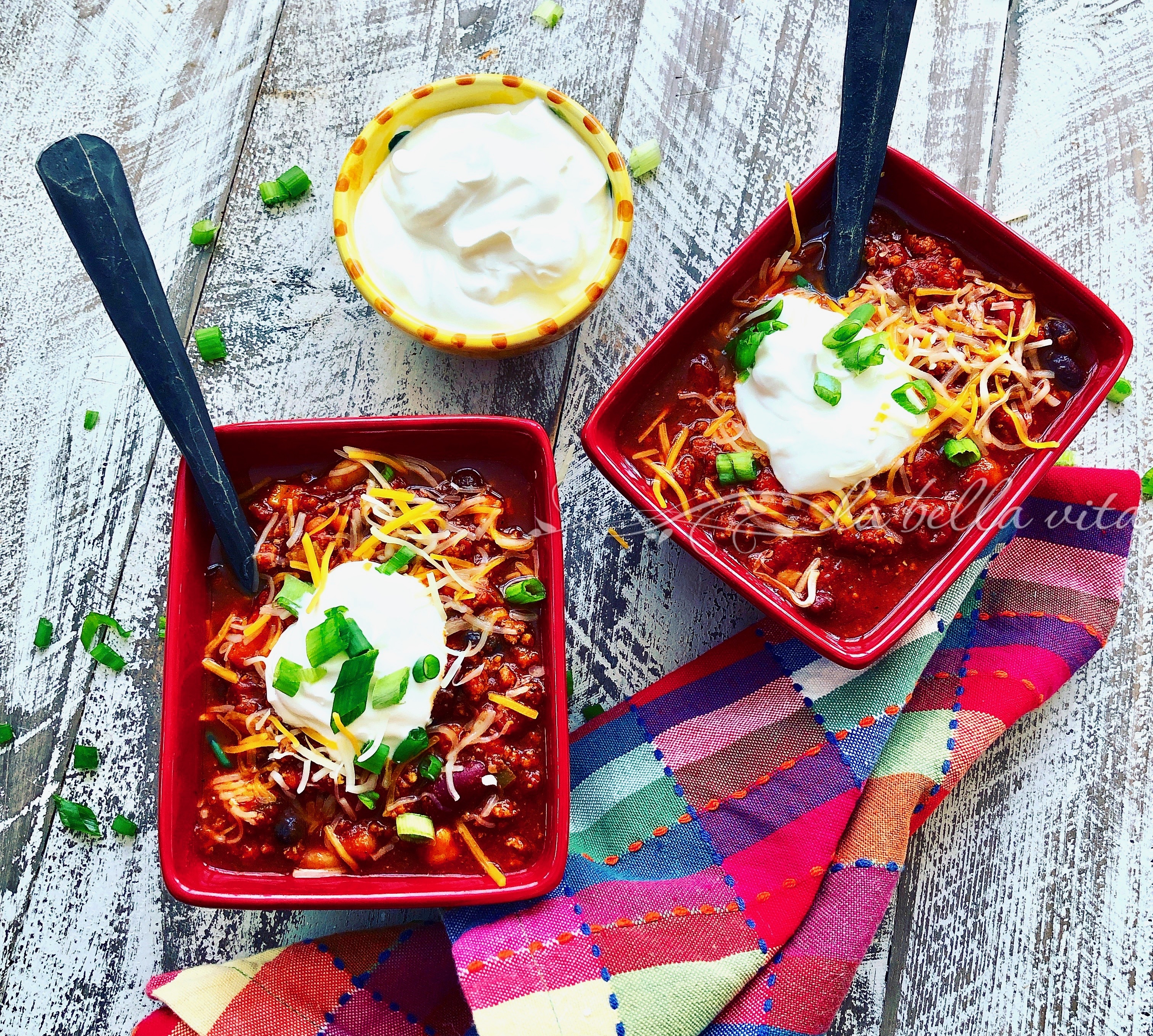 I've become a huge fan of the Instant Pot!
This week I made the BEST and easiest Instant Pot chili EVER! Now I have to be honest with you . . . this is an ancient, old recipe of mine and it's a keeper. It's a tried and true, trusty chili recipe that I created years ago! After testing endless recipes, adding and deleting ingredients, this recipe was born.
I know that you're probably thinking: Sure, it's just another chili recipe. But I'm telling you . . . it's not at all!

First, this recipe has layers of incredible flavors that create a rich, robust sensation on your taste buds. At the same time, it has an amazing variety of textures from the tenderized, crumbled meats and blend of creamy beans.

I've always made a gigantic pot of this chili in a very large and very deep pot on the stove. And now I am making it in less than a ½ hour in an Instant Pot. Well yes, it's true. . . I cannot make the 'quantity' of chili (to freeze in batches) in an Instant Pot.
This is a negative issue and a real, super bummer for peeps like me who like to freeze recipes for convenient grab-thaw-and-cook meals. But since this chili comes together SO FAST in an Instant Pot, I double and even TRIPLE this recipe and still have a huge batch to freeze in LESS THAN AN HOUR!
However . . .
The main point for me to use and enjoy the Instant Pot is purely for
SPEED without sacrificing flavor!
simply because I work full-time and sometimes I just enjoy putting a delicious, from-scratch meal together after my long commute home that's FAST, EASY, and yummy.
If you don't have an Instant Pot yet, you can find it easily through this LINK!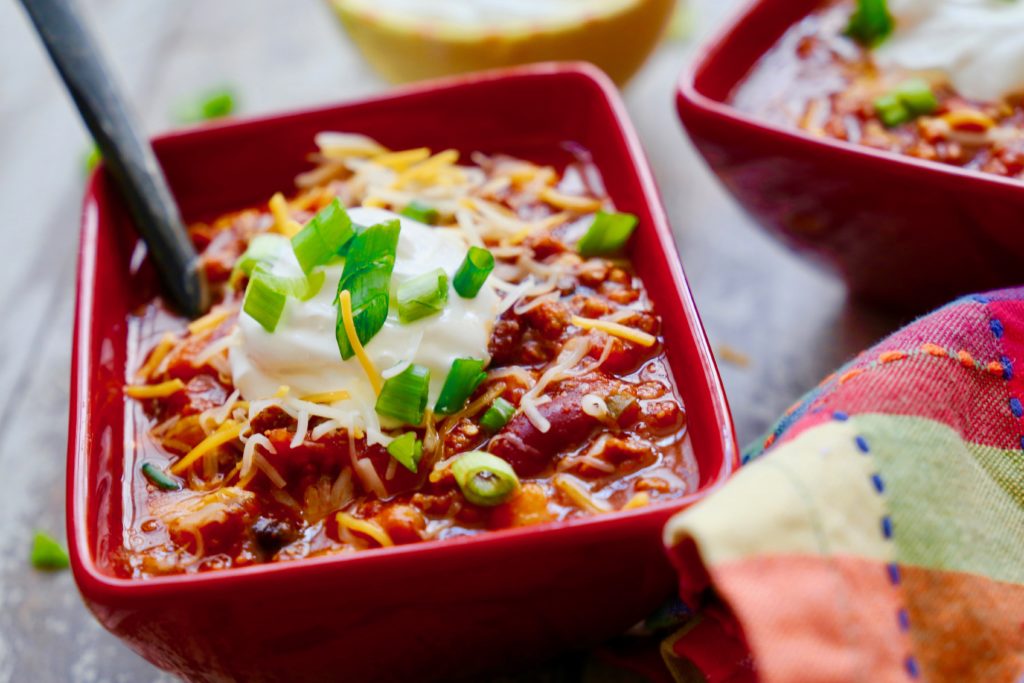 My friend, MJ, from MJ's Kitchen, made this chili and wrote the following to me:
"Timing was perfect with this recipe. Looking at what I had here at the house, I realized that I had the ingredients for chili, so I used your recipe as a guide. I didn't have all of your ingredients but did have the seasoning ingredients. I slow-cooked it on the stovetop this afternoon and the house smells wonderful. Needless to say, it also tastes wonderful! Thanks so much for sharing this!


The sooner we can go through these step-by-step photos, the sooner you can make this chili!
I hope that you find the photo steps to be helpful!
And now as my mother used to say: "ANDIAMO a Cucina!" (Let's go to the kitchen!)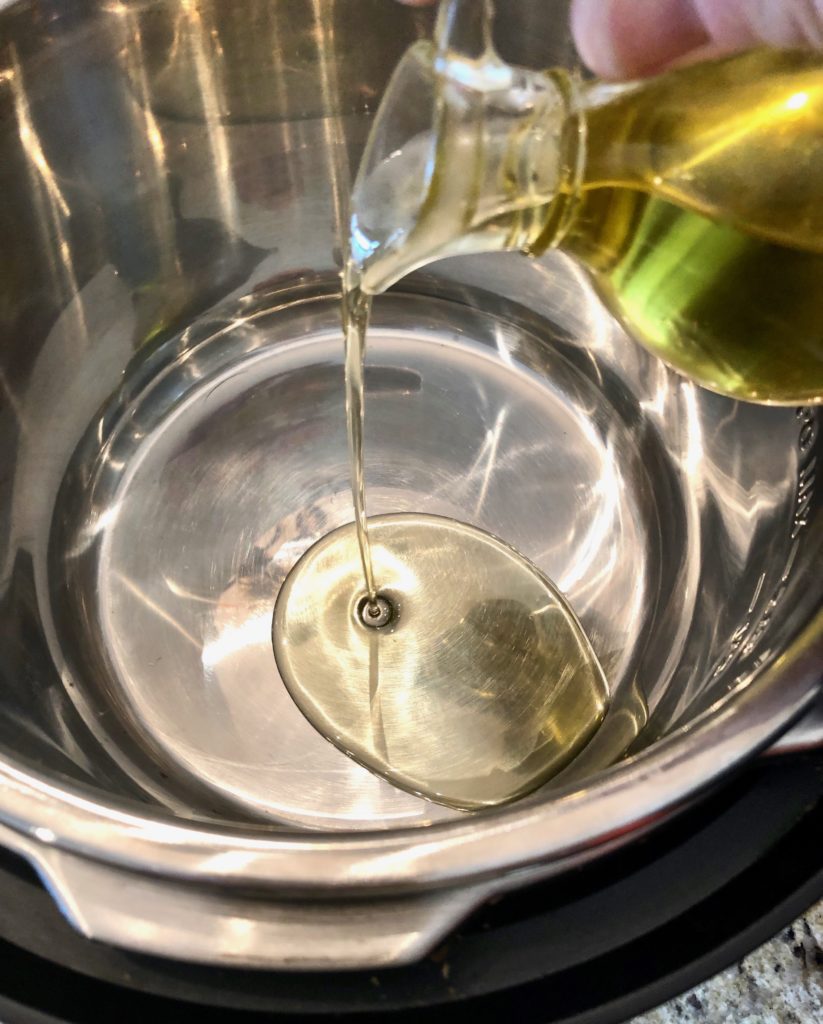 Get out your beautiful golden-green olive oil and pour about 2 – 3 tablespoons in that shiny pot of yours!
Set the Instant Pot on "SAUTE". It takes a few minutes, but you'll 'hear' it begin to heat up. Set the timer for 5 minutes (cuz this baby cooks mighty fast my friends!)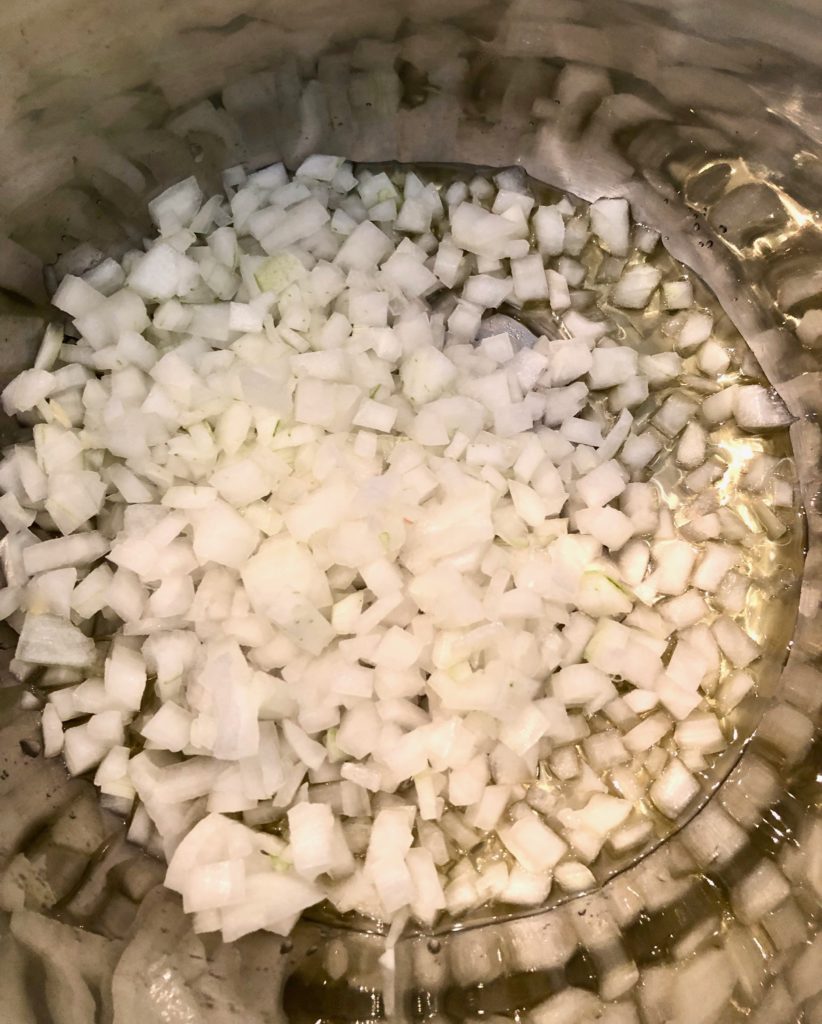 Toss in the chopped onions.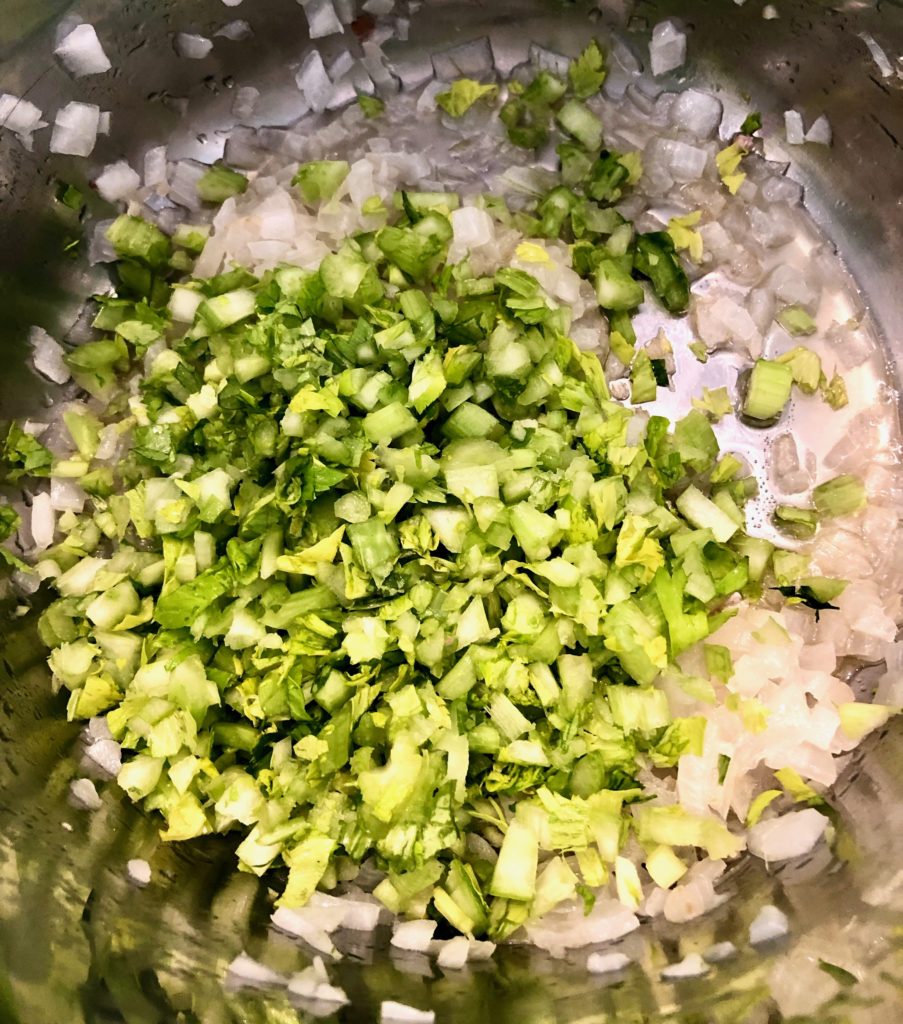 Toss in the chopped celery (INCLUDING THE LEAVES), green pepper, and jalapeño.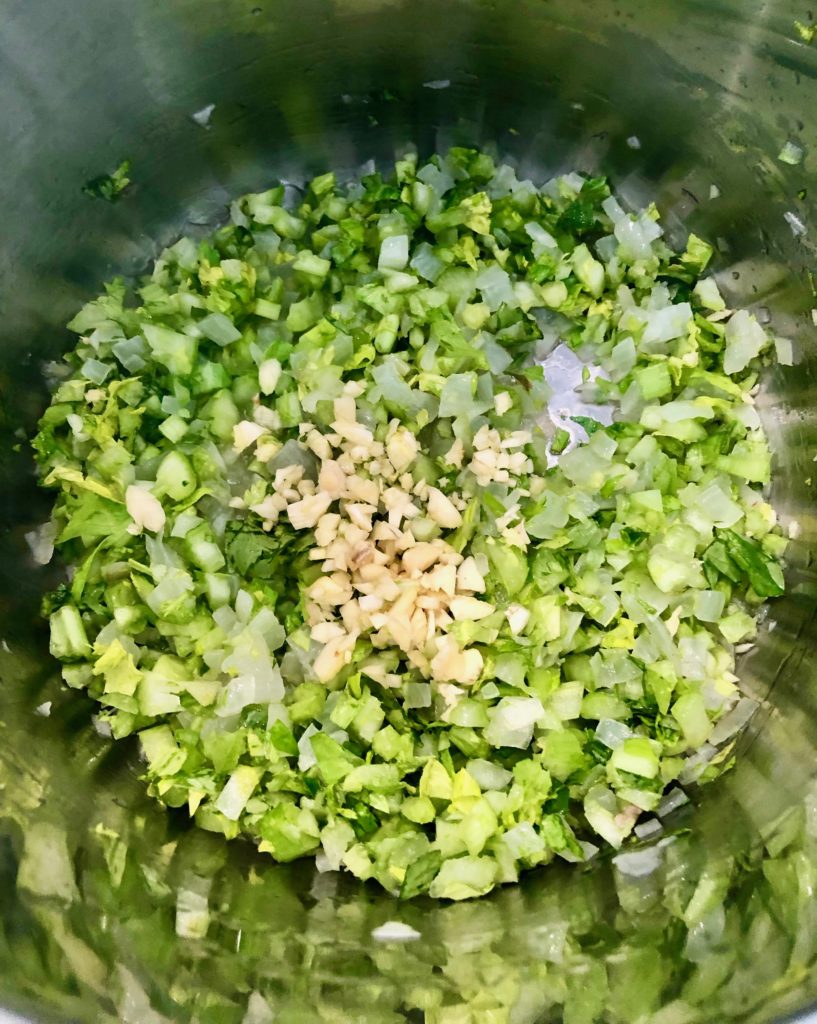 Oh gosh, you can't forget to toss in the garlic!
Sauté for about 5 minutes, stirring occasionally.
Enjoy the aroma! M-m-m!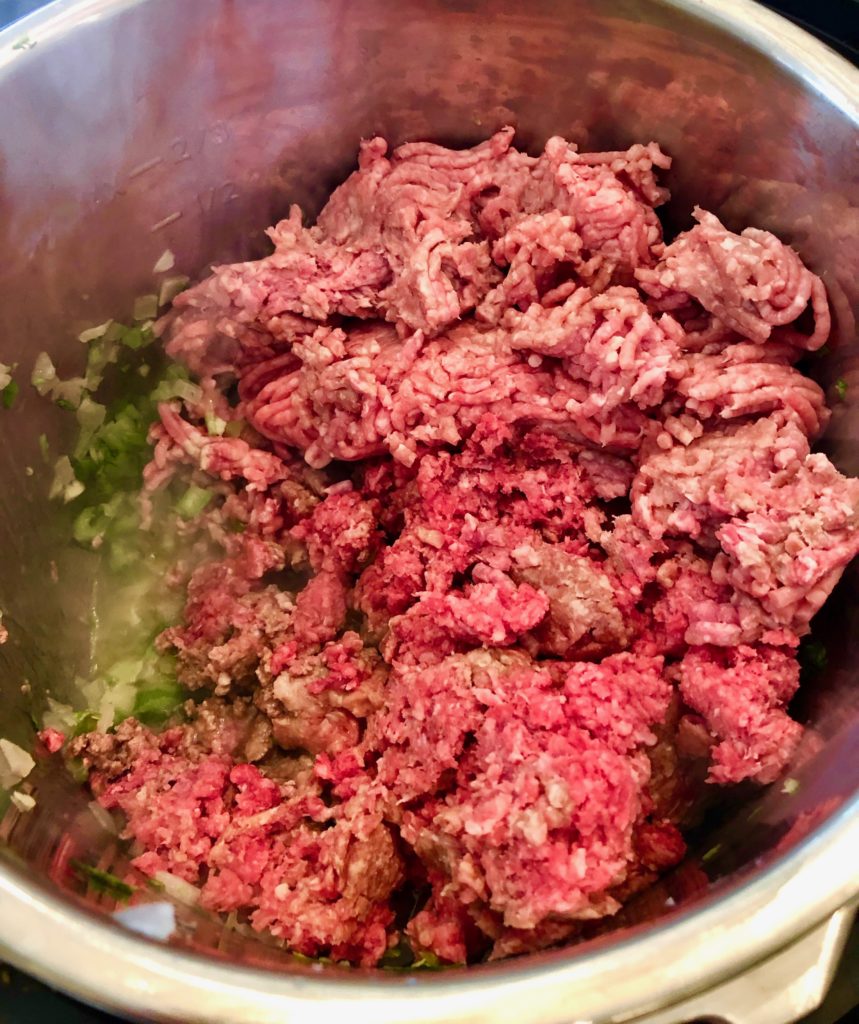 Add the ground beef and ground pork to the sautéed veggies. Continue using the "SAUTE" setting with the timer on about 10 minutes.
You can't walk away from this step due to the fast speed of cooking in an Instant Pot. So plan on hanging out by the pot to stir every few minutes so that all of the meat is nicely browned and mixed with the sautéed veggies.
REMEMBER: When sautéing in an Instant Pot, stuff can BURN in a blink of an eye. A slow cooker crockpot, this baby is NOT! Thank goodness the Instant Pot has a "FOOD BURNING" warning and beeper! NICE!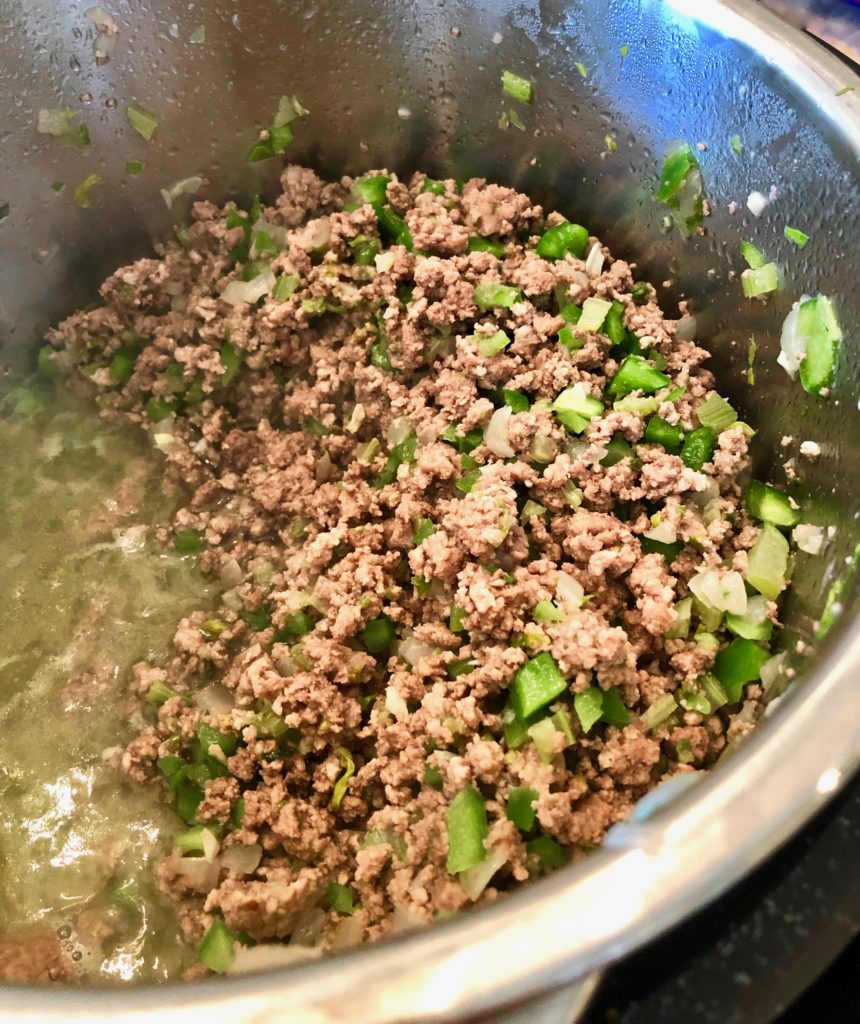 Ah, nice and browned, not burned . . . but oh my stars, what about all of that fatty grease?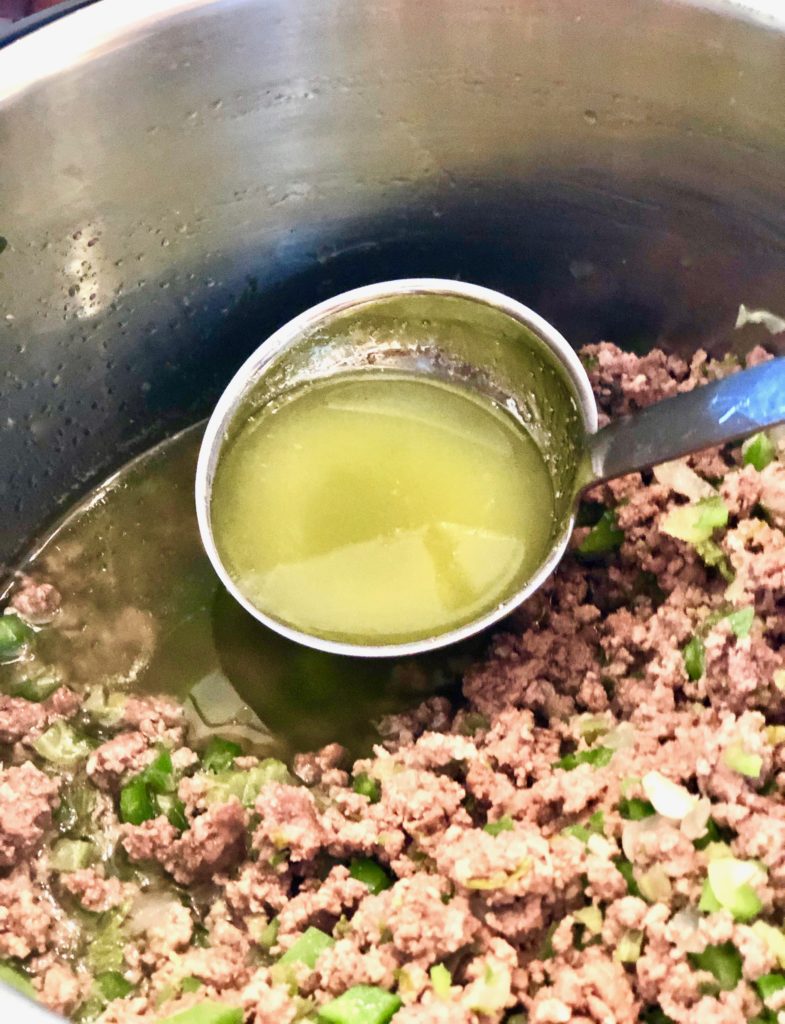 Ladle as much fat as you want OUT of the Instant Pot.
Oh yes, I know what you're saying, "But Roz that's where a lot of the flavor is from the onions, celery, peppers and garlic!" and you would be ABSOLUTELY RIGHT! So you decide how much YOU want to take out and how much you want to keep in for flavor.
This is going to be YOUR recipe in the end. You know what you like and what your family and friends like as well. Follow your knowledge!
This professional stainless steel ladle is currently on sale at 43% off which is one heck of a good deal for a high-end quality ladle!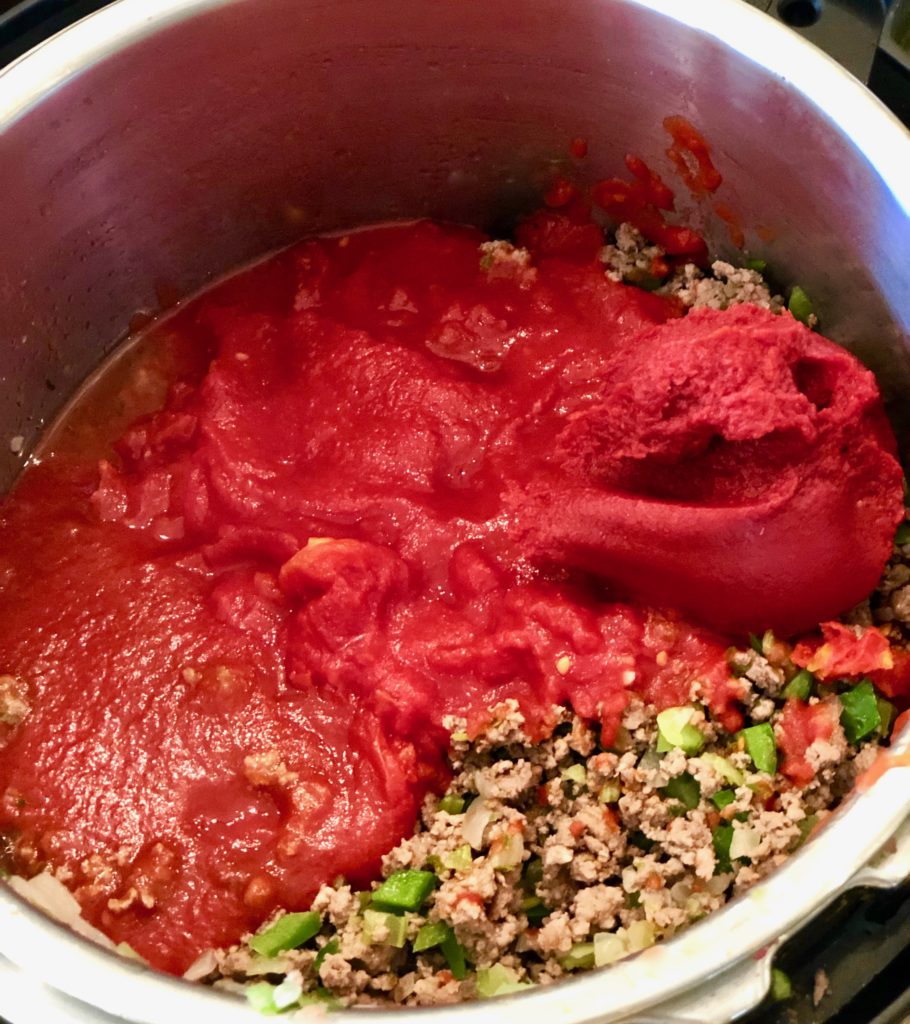 Then add all of those luscious ruby red tomato ingredients: the tomato paste, peeled plum tomatoes, tomato sauce, Rotelle Spicy Chili Fixin's, and V-8 vegetable juice.
Variety is the spice of life!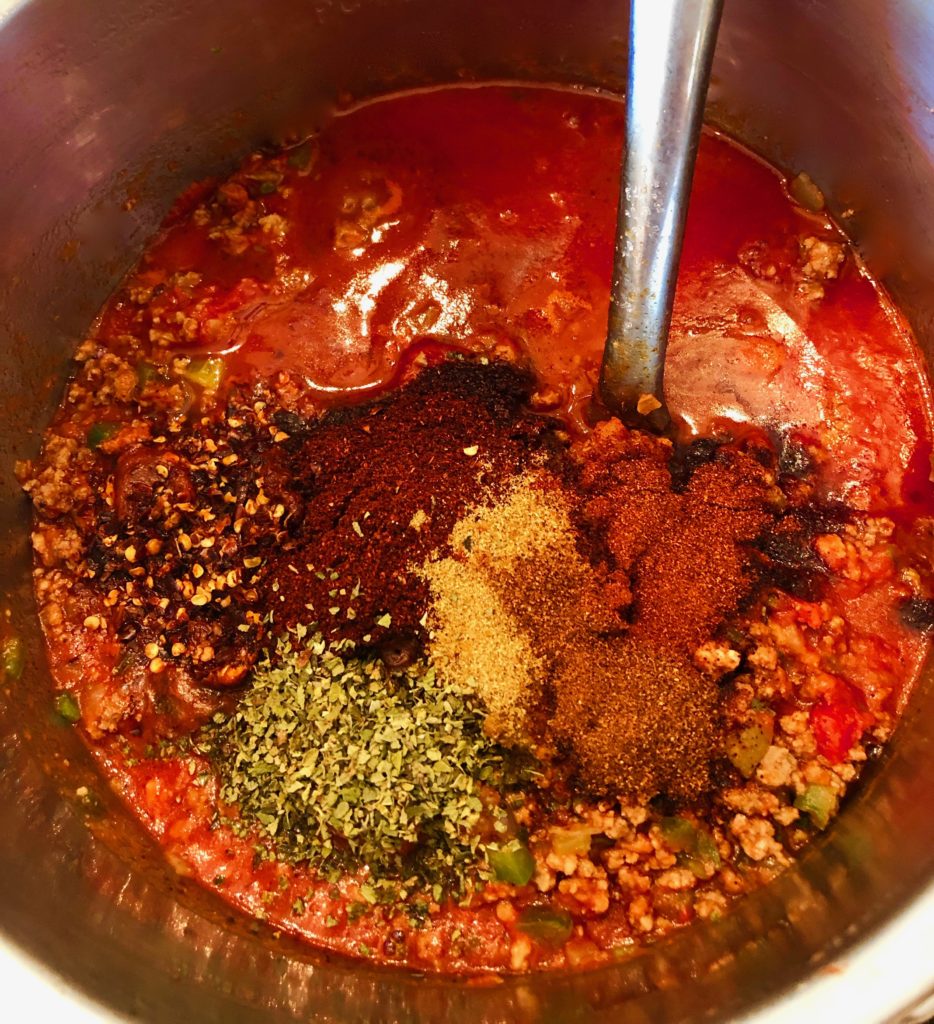 Add all of the spices and hot sauce. . .
starting to smell pretty good, huh?
These will help clear your sinuses, that's for sure!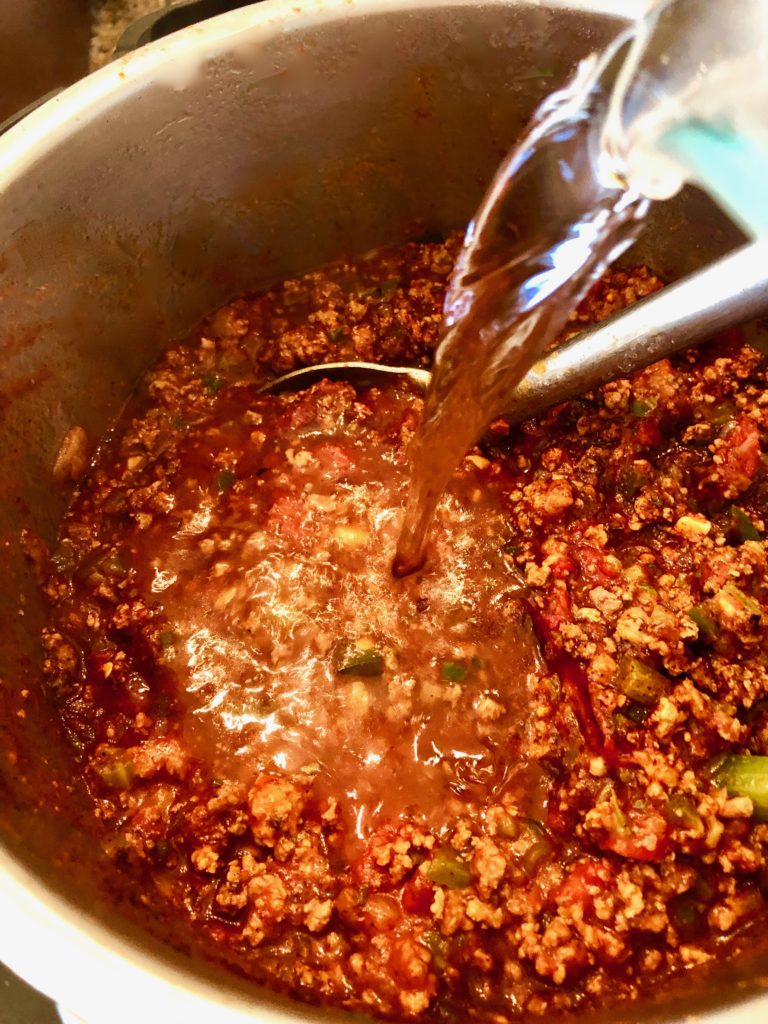 Add some water or more V-8 juice to thin down the chili's consistency.
The chili thickens up as it cooks in the Instant Pot and you don't want it too thick.
This chili recipe isn't supposed to be a 'stew'.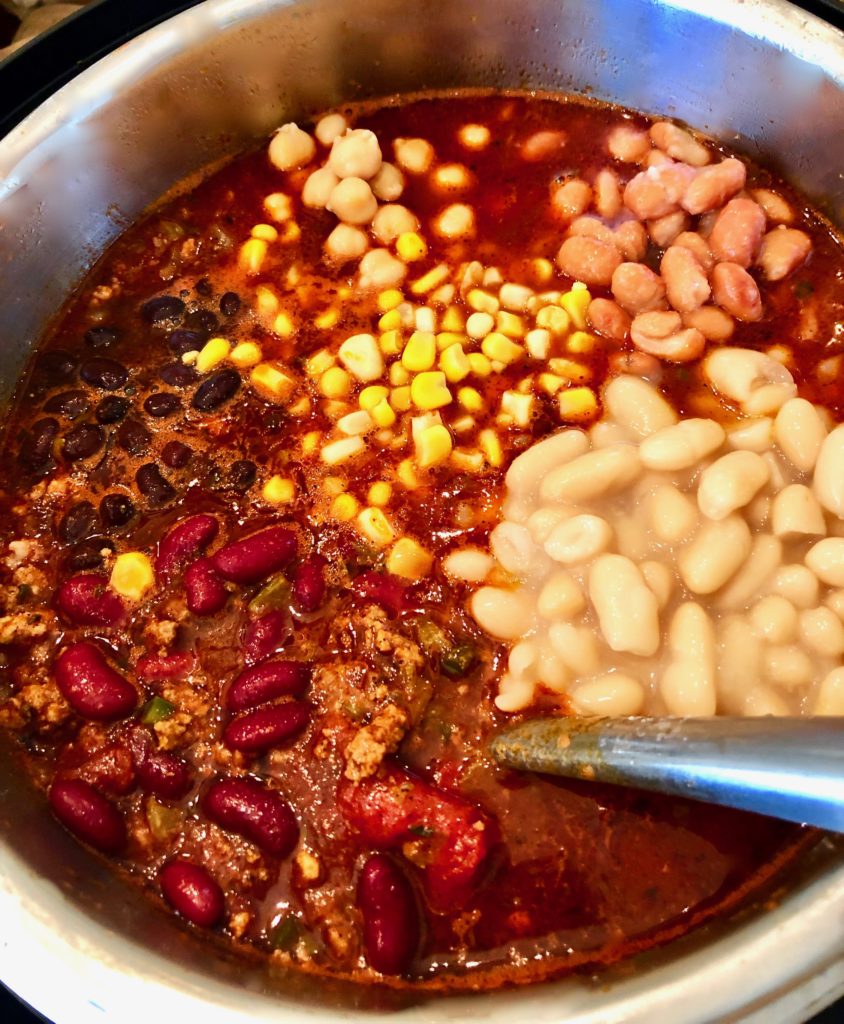 Add all of the beans and the corn.
This is going to rock your world if you're a bean-lover! There are dark red kidney beans, black beans, pinto beans, cannellini beans, and garbanzo beans!
Add or delete whatever you want!
Give everything a good stir.
Place the lid on and twist to secure (you'll hear a beep).
Set the Instant Pot to "MANUAL" for 15 minutes.
Bless it all (if you want) and then . . .
Go put your pretty feet up and enjoy a delightful cup of java, tea or glass of vino!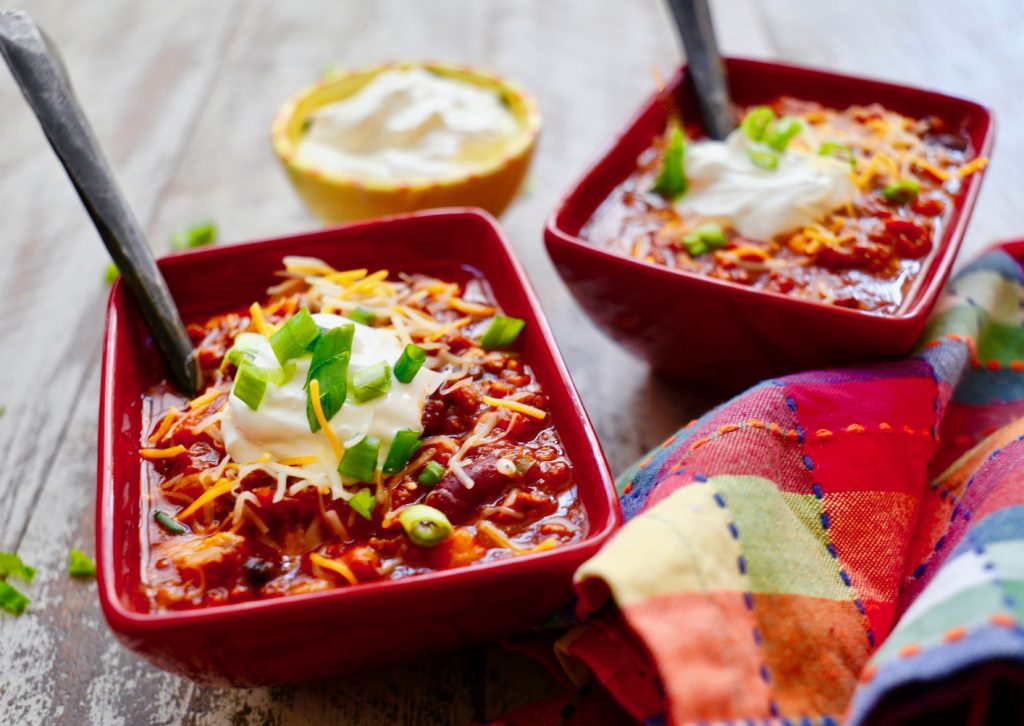 This chili freezes wonderfully too!
Perfect for those busy nights
to simply heat up and serve!
Please Share The Love and Pin This Vertical Image
Thank you for your kindness!

More Delicious Instant Pot Recipes to Enjoy:
Print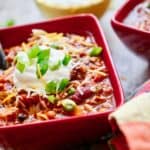 The BEST Instant Pot Chili
Author:
Prep Time: 0 hours
Additional Time: 0 hours
Cook Time: 0 hours
Total Time: 0 hours
---
Description
This chili recipe has been our hands-down favorite for countless years.  It is loaded with a generous variety of beans . . . not just red kidney beans.  The flavor is enhanced with several varieties of chili and can be added or reduced to adjust the heat as desired.  Serve with your favorite chili toppings and you have a bowl of delicious comfort food to enjoy!  Especially when the cold winds blow outside!  ENJOY!!!
---
2 – 3 Tbsp. olive oil
4 garlic cloves, minced
2 cups chopped celery, including the leaves
1 onion, finely chopped
1 large green pepper, chopped
1 small jalapeño chili, seeds removed, diced
1 lb. ground pork
1 lb. 85/15 ground beef or ground round (you can also use ground turkey
1/3 cup chili powder
1 tsp. ground cumin
1 tsp. oregano
1 Tsp. cayenne pepper
1 tsp. paprika
1/4 cup fresh cilantro, chopped
OPTIONAL: 1 tsp. ground chipotle pepper
2 6–oz. cans tomato paste
1 16–oz. can of peeled tomatoes, squished by your hands, and juice
1 16–oz. can tomato sauce
2 cups spicy V-8 vegetable juice
1 can Rotelle Chili Fixin's
1 Tbsp. Louisiana hot sauce
1 – 2 cups water to thin down consistency
OPTIONAL: For stronger beef flavor use beef broth OR
beef bouillon in water, such as "Better Than Bouillon"
2 cans dark red kidney beans, drained and rinsed
1 can black beans, drained and rinsed
1 can pinto beans, drained and rinsed
1 can garbanzo beans, drained and rinsed
1 can cannelloni beans, drained and rinsed
1 can of corn, drained
Freshly ground salt and black pepper to your taste preference level
OPTIONAL: For stronger beef flavor substitute beef broth instead of water and/or add 1 or Tbsp. beef bouillon such as "Better Than Broth"
GARNISH:
Sour cream
Finely shredded 4-cheese Mexican cheese blend
Chopped green onion stems
Crackers or tortilla chips
---
Instructions
Set an 8-qt Instant Pot® to the "SAUTE" setting.
Pour in the olive oil and heat.
Add onions, celery, green peppers, jalapeño pepper, and garlic.  Saute' for no more than 5 minutes.
Add beef and pork and continue to brown on saute' setting for no more than 10 minutes, making sure to break up the meat into crumbles while cooking.
Drain excess fat and discard.
Stir in tomato paste, tomato sauce, peeled tomatoes, and V-8 Spicy Vegetable Juice.
Add all of the spices.
Add all of the beans and the corn.
Stir well to combine.
Add freshly cracked salt and black pepper to taste. 
Select manual setting; adjust pressure to high, and set time for 15 minutes.
When finished cooking, quick-release pressure according to manufacturer's directions.
Serve immediately, garnished with sour cream, Mexican cheese blend, chopped cilantro, and chopped green onions, if desired.
---