Italian Lemon Dove Cake with Limoncello Cream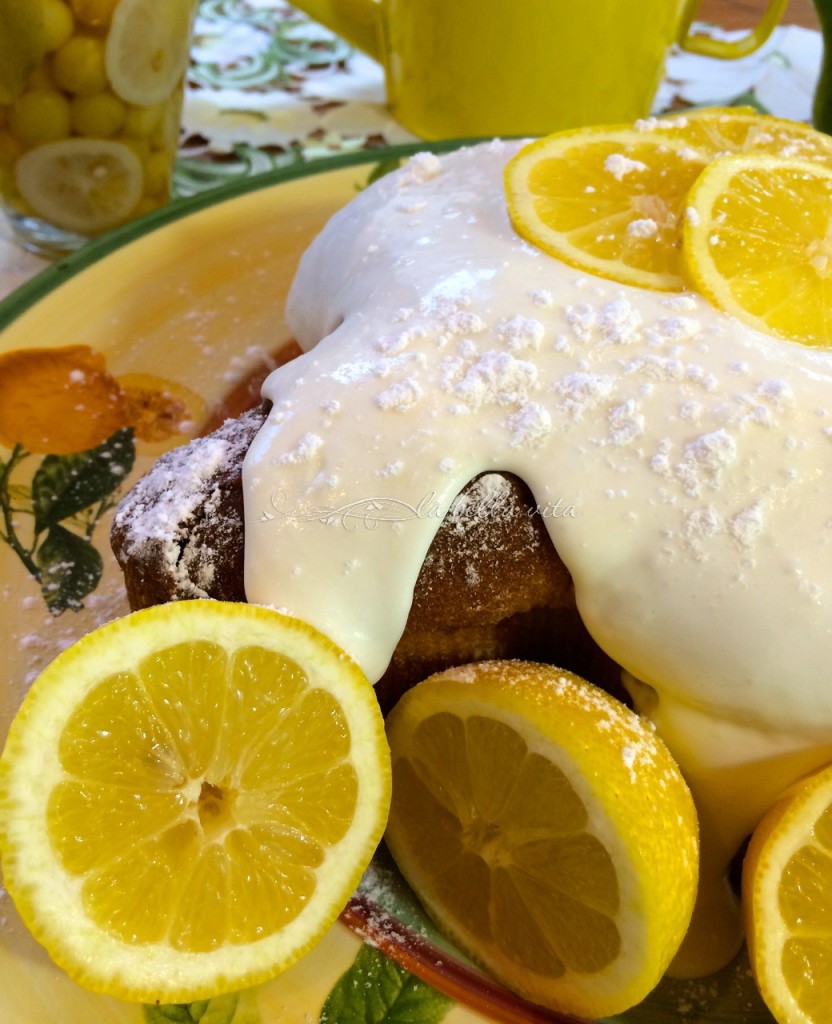 I'm married to a guy who can eat sweets 24/7 and never gains weight, not even one pound!  
It's one of those crazy things that make you think, "It's just not FAIR!"
Some people are just born with better metabolism genes, I guess.
I wasn't one of them!  So luckily for me, I don't crave sweets.
But bake on, I do.
And what do I do when the cake, pie, cookies or whatever are eaten twice a day by this guy?  I have maybe one or two bites at the most, simply because I just don't have a major sweet tooth.
That sounds almost crazy!  But it's true.  Seriously, I have candy in this house that's probably over 2 years old . . . including imported chocolate.  I just need a nibble and that's it.
It's bread, potatoes, and pasta that bring me to my knees.  There's my downfall.
.
.
The "Dove Bread or Cake" (known as "Colomba di Pasqua) is traditionally prepared for Easter in Italy and in many Italian homes around the world.  This sweet bread is the Easter version of Italian Pannetone at Christmastime.  The bread/cake is shaped like a dove and it gets its name.  The dove symbolizes resurrection and peace, so it is quite perfect for Easter and has been an Italian tradition since the 12th century!
However, you don't have to wait until Easter to enjoy one.  In fact, you can bake them, purchase them, and FREEZE them for later.
Dove cake pans are not easy to find, nor are the dove-shaped paper molds, so I've included a link to where you can purchase a dove-shaped cake pan ->    Italian Easter Dove Cake "Colomba" Paper Baking Mold For Italian Dove Cake, Size L12-1/2 x 10 W x 2-1/2 H Model 510009 (3)
This cake/bread is very light and aromatic of the lemons on the Amalfi coast of Italy.  It is packed with eggs, butter and candied lemon chunks . . . oh YUM!  This is a yeast-based bread, so the dough begins with making a 'sponge' first that is allowed to rest overnight.  The next day the dough is rising twice . . . see where the airy, light, fluffiness comes from?
This is a very light cake and super-lemony . . . absolutely perfect with a cup of tea any time of the day!
Italian Trivia over the origin of this beloved Easter cake:
A debate has gone on for centuries as to the beginnings of Colomba di Pasqua, particularly between the two stories of the Milanese and Pavia.  The Milanese story is more commonly accepted which follows:  During the Battle of the Legano, two doves were witnessed flying onto the altar of a chariot that carried the standards of the Lombard League, who had just won defeated Emperor Frederick Barbarossa. The doves were believed to symbolize the Holy Ghost, and so the Colomba commemorates that event and is viewed as a symbol of victory.
.
The icing is very light and not heavy, so use as much or as little as you like.  My husband likes a LOT of icing as you can see here!
.
So if you need a lip-smackin' lemon fix, this will fit the bill!
Lemon Dove Cake with Limoncello Cream 'Columba di Pasqua'
A classic Italian cake for Easter filled with luscious, yet light lemon flavor!
Ingredients
Sponge
1/2 cup warm milk, 105 -115 degrees F
1 envelope (2-1/4 teaspoons) dry yeast, divided
3/4 cup flour
Dough
2 eggs
1 egg yolk
1/3 cup granulated sugar
8 tablespoons butter, room temperature
1/2 teaspoon salt
1/2 teaspoon fiori di sicilia or 1 teaspoon vanilla extract
Grated zest of 1 orange or lemon
2 cups flour
1 cup dried fruit (combination of dark and golden raisins and candied orange
peel)
Limoncello Icing
2 cups powdered (confectioner's) sugar
1 - 2 teaspoons Limoncello
1 - 2 teaspoons freshly squeezed lemon juice
Heavy whipping cream added until desired consistency takes place
Garnish
Sprinkled powdered sugar
Sliced lemons
Instructions
To make the sponge
In a small bowl, sprinkle 1 teaspoon of yeast into the warm milk.
Stir the yeast into the milk and allow to sit for 5 minutes to dissolve.
Stir in the 3/4 cup flour to form a smooth paste.
Cover the bowl with plastic wrap and let set for 12 hours or overnight, unrefrigerated.
To make the dough
Using an electric mixer, beat the eggs and yolk together.
Beat in the sugar, remaining yeast, salt, and extract.
Add the sponge and softened butter; beat to combine.
Add 2 cups of flour and beat just enough to blend in the flour.
If you are using an electric mixer, switch to the dough hook.
Otherwise, transfer the dough to a lightly floured surface.
Knead the dough until smooth and elastic.
By hand you will knead for about 10 minutes.
If you are using a dough hook, knead about 5 minutes.
Add the dried fruit and knead just enough to incorporate.
Place the dough in a large buttered bowl.
Cover with plastic wrap and a kitchen towel.
Let rise in a warm place until doubled, about 2 hours.
Punch down the dough and transfer to a lightly floured surface.
Divide the dough into 2 equal size pieces.
Form each piece into a log about 12-inches long.
Place the first piece into the dove mold in what would be the wings of the dove.
The log goes across the body and around the edges of the wings.
The second piece is placed from head to tail on top of the first piece.
Pat the dough down around the edges of the mold to fill in any gaps.
Cover with a kitchen towel and allow to rise in a warm place until doubled, 45 to 60 minutes.
Preheat oven to 375 F degrees.
Place the mold on a baking sheet.
Bake for 15 minutes and then reduce the temperature to 350 F degree bake for another 20 - 30 minutes.
If the top begins to get too brown, cover the bread with a piece of foil during the last 10 minutes of baking.
Remove from the oven and cool on a wire rack.
For the Limoncello icing
After the cake is baked, prepare the icing by blending all of the ingredients together, adding the whipped cream little by little until you achieve your desired consistency level.
Pour the icing over the cake and generously sprinkle with powdered sugar.
Garnish with sliced lemons.
What's your favorite lemon dessert?  
I'd love to know!
.
.