Asparagus Mimosa with Hard Boiled Eggs and Vinaigrette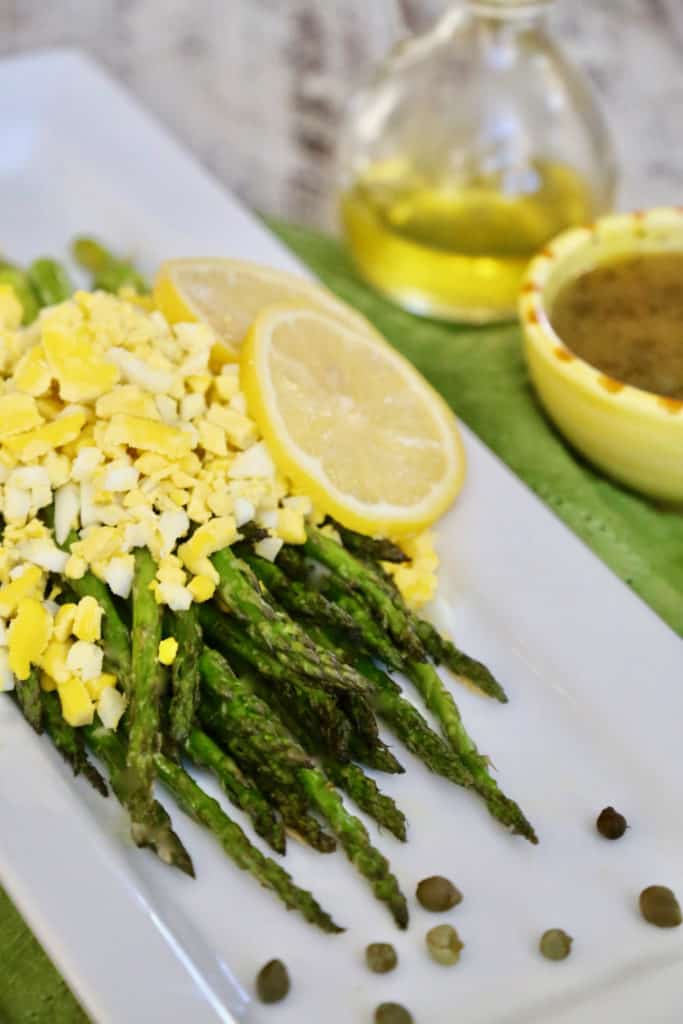 Asparagus and eggs are a beautiful combination. Especially classic in Italian cooking is a well-known dish, Asparagus Mimosa. It's a really simple dish in which the asparagus is served with diced hard boiled eggs on top. The name "Mimosa" was given because the chopped hard boiled eggs look like the fragrant blossoms of the mimosa tree.
Asparagus is available year-round, so you can enjoy this recipe out of its normal spring season. It just bursts with flavor by roasting the asparagus in truffle oil, garlic and parmigiano cheese. The truffle oil has such a seductive aroma that it could almost pass as an aphrodisiac (ooooh)! Another layer to entice the tastebuds is a delicious, tangy caper vinaigrette drizzled on top.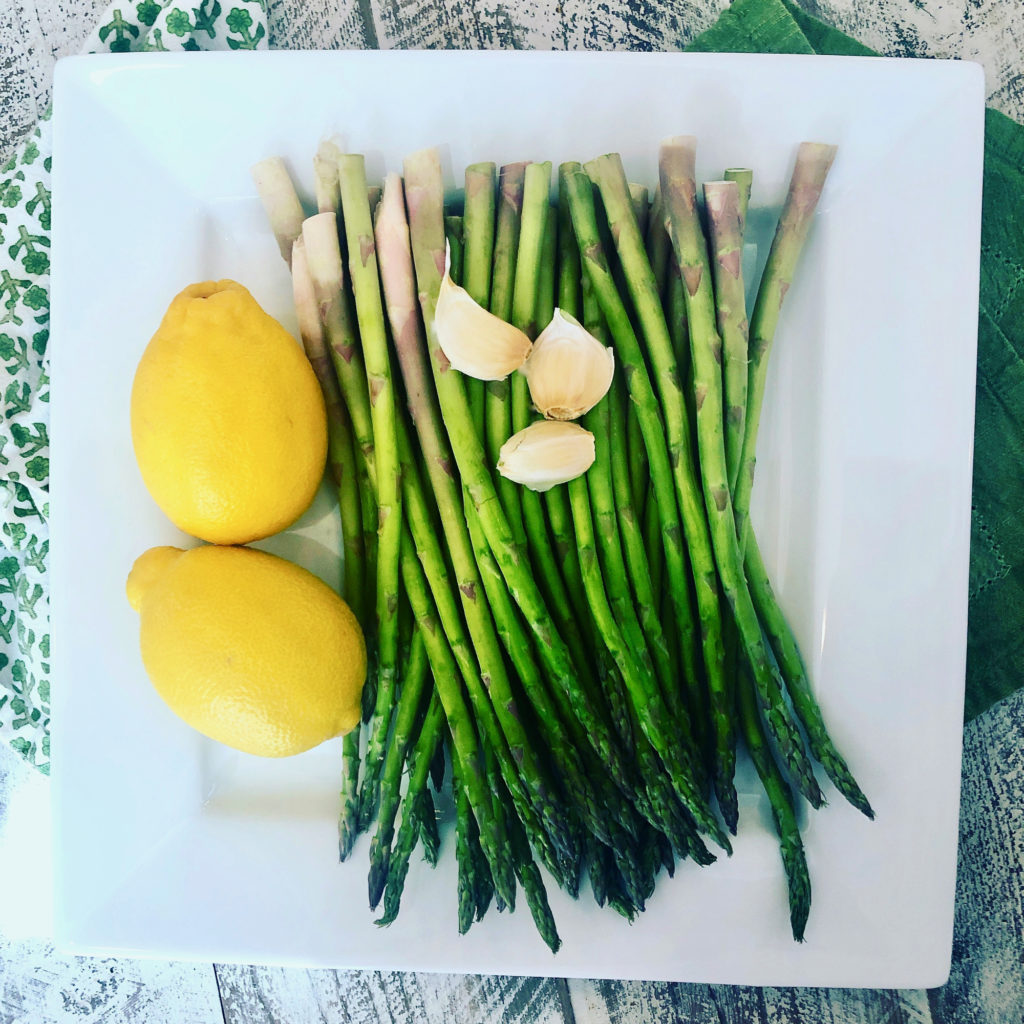 Just take a moment to enjoy nature's simple beauty in the brilliant colored asparagus and lemons! Slowing down is so good for us!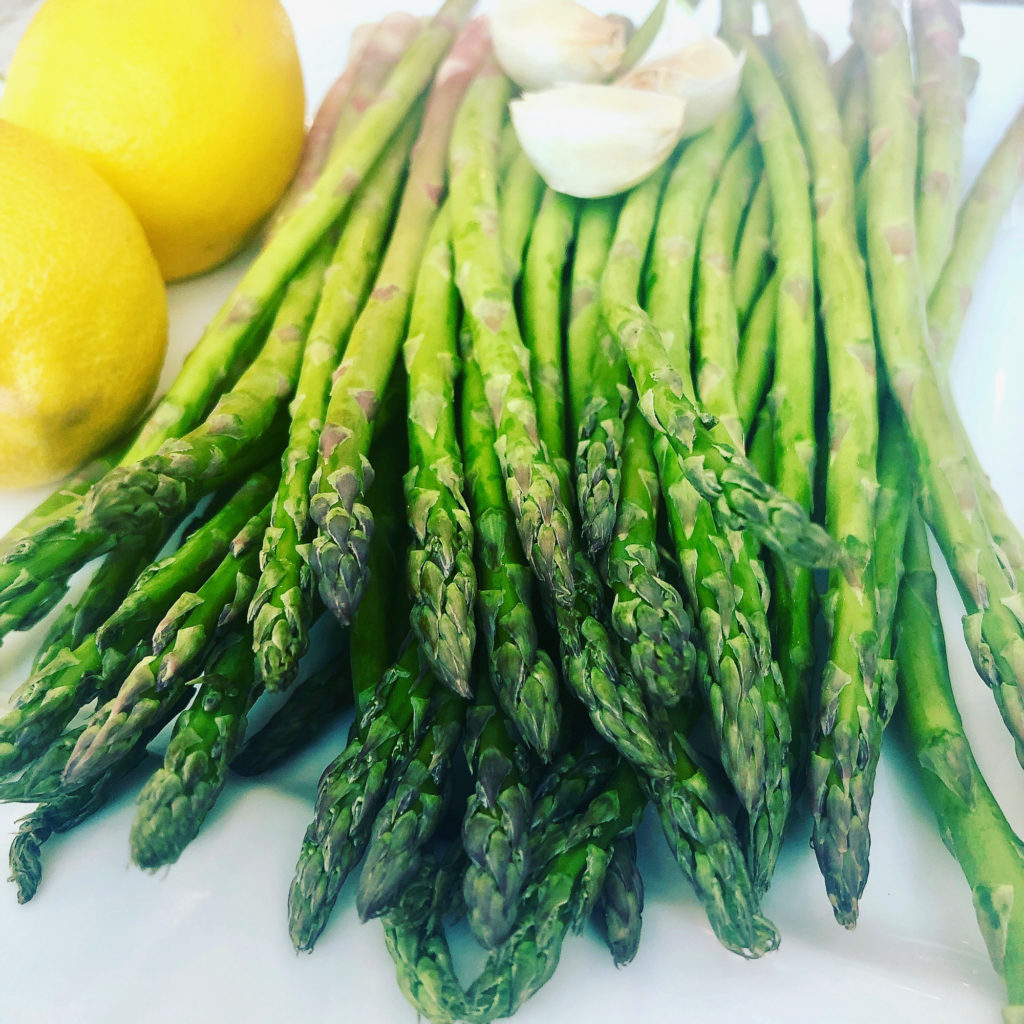 Pretty stuff, huh?
Even though asparagus is pretty, don't forget to give the stalks a good cold-water bath under running water.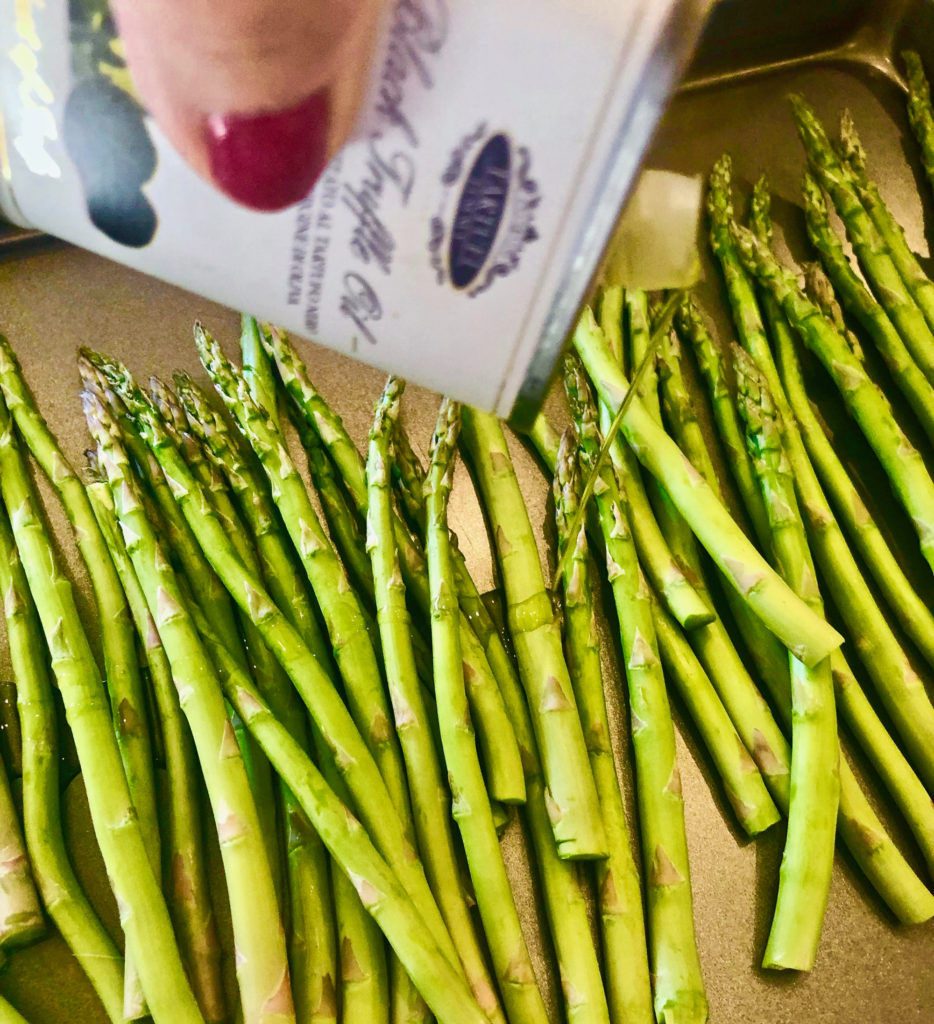 Cut or snap off the woody ends of the cleaned asparagus and lay in a shallow baking pan.
Pour enough truffle oil and/or olive oil to coat the asparagus when you roll the spear around several times on the baking sheet, about 2 – 3 tablespoons should be good.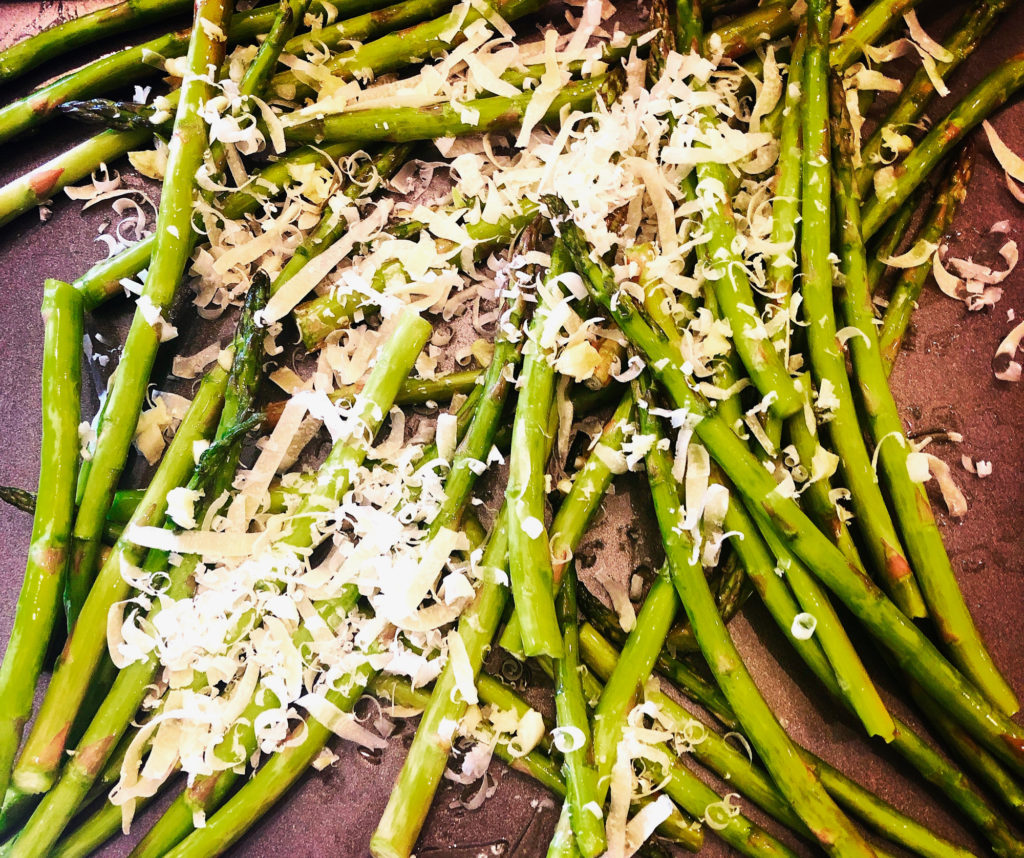 Scatter the minced garlic and grated Parmigiano cheese all over the oiled asparagus and roll around again to coat most of the asparagus.
Bake in 425 F degree oven for 7 minutes.
You don't want these to be mushy. But if they aren't cooked enough for your preference then bake for another minute or two, keeping a sharp eye on them.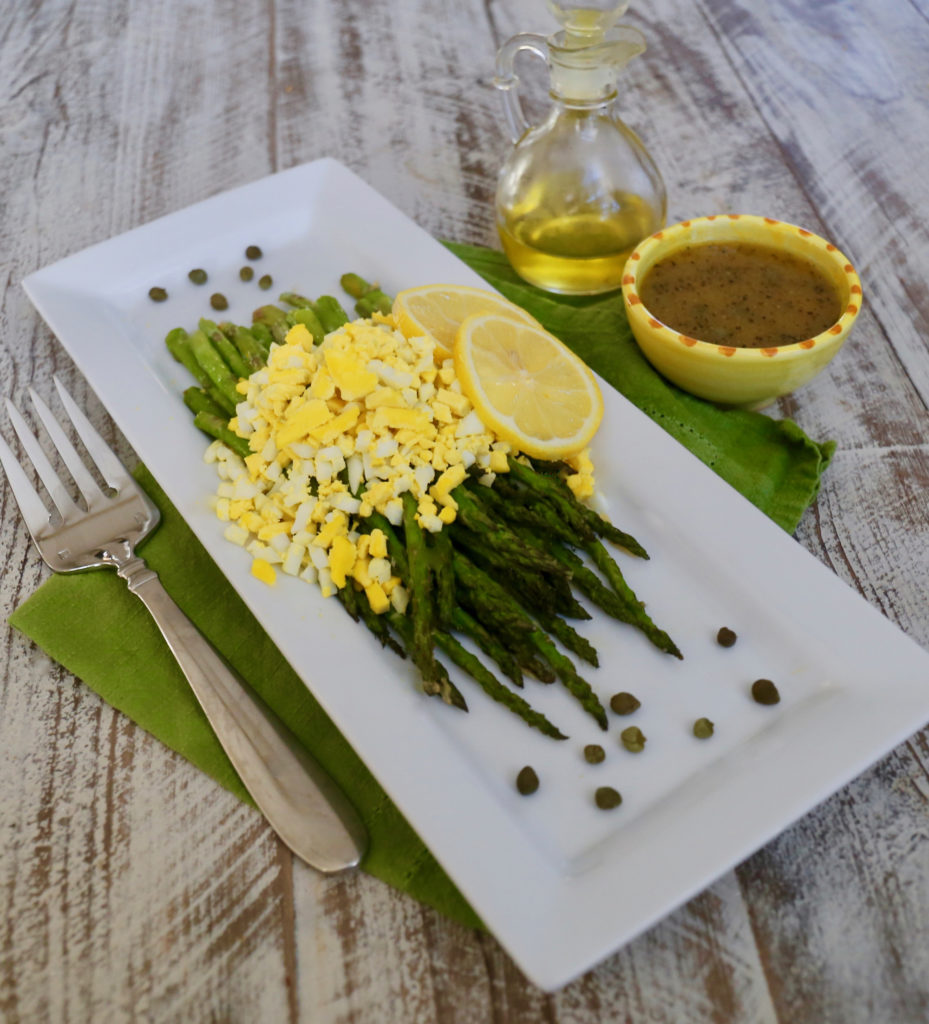 Arrange the roasted asparagus on a serving platter with the tips all facing in one direction. Spread the chopped eggs on top and in the center as if it is a blanket. Sprinkle some capers for garnish as well as a few slices of fresh lemon.
Beautiful!
Serve with the vinaigrette.
Please share the love and pin the vertical image below:

Print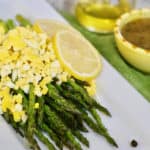 Asparagus Mimosa with Hard Boiled Eggs and Vinaigrette
Author:
Prep Time: 0 hours
Additional Time: 0 hours
Cook Time: 0 hours
Total Time: 0 hours
---
1 pound asparagus
2 hard-boiled eggs
FOR THE VINAIGRETTE:
2 Tbsp. champagne or red wine vinegar
1/4 cup extra virgin olive oil or truffle oil (I used half of each)
1 tsp. Dijon mustard
1/2 tsp. honey (add more if you prefer a sweeter taste)
1/4 tsp. freshly-squeezed lemon juice
1 clove garlic, finely mince
2 tsp. green onions or shallots, finely minced
1 Tbsp. capers, rinsed and finely chopped
optional: 2 anchovies, finely chopped
freshly ground salt and pepper to taste
---
Instructions
Wash the asparagus.
Set oven to 425 F degrees.
Place eggs in a large saucepan of water.  On a hot burner, bring water to a boil.
Boil eggs for 10 minutes and then drain the hot water.
Fill the saucepan with cold water and let the eggs sit in the cold water to cool.
Change the water a few times to keep the water cold and about 10 minutes, crack each eggshell and peel under cold running water to make it super easy to peel.
When eggs are completely cooled, dice the hard-boiled eggs and set aside.
Prepare the vinaigrette by whisking all of the ingredients together.
Place the asparagus in the preheated oven and roast for 7 minutes.
Arrange the roasted asparagus on a serving platter with the tips facing one direction.
Arrange the diced hard-boiled eggs over the center of the asparagus, looking like a mound or a blanket.
Garnish with capers and sliced lemons.
Serve with vinaigrette on the side.
ENJOY!
BUON APPETITO!
---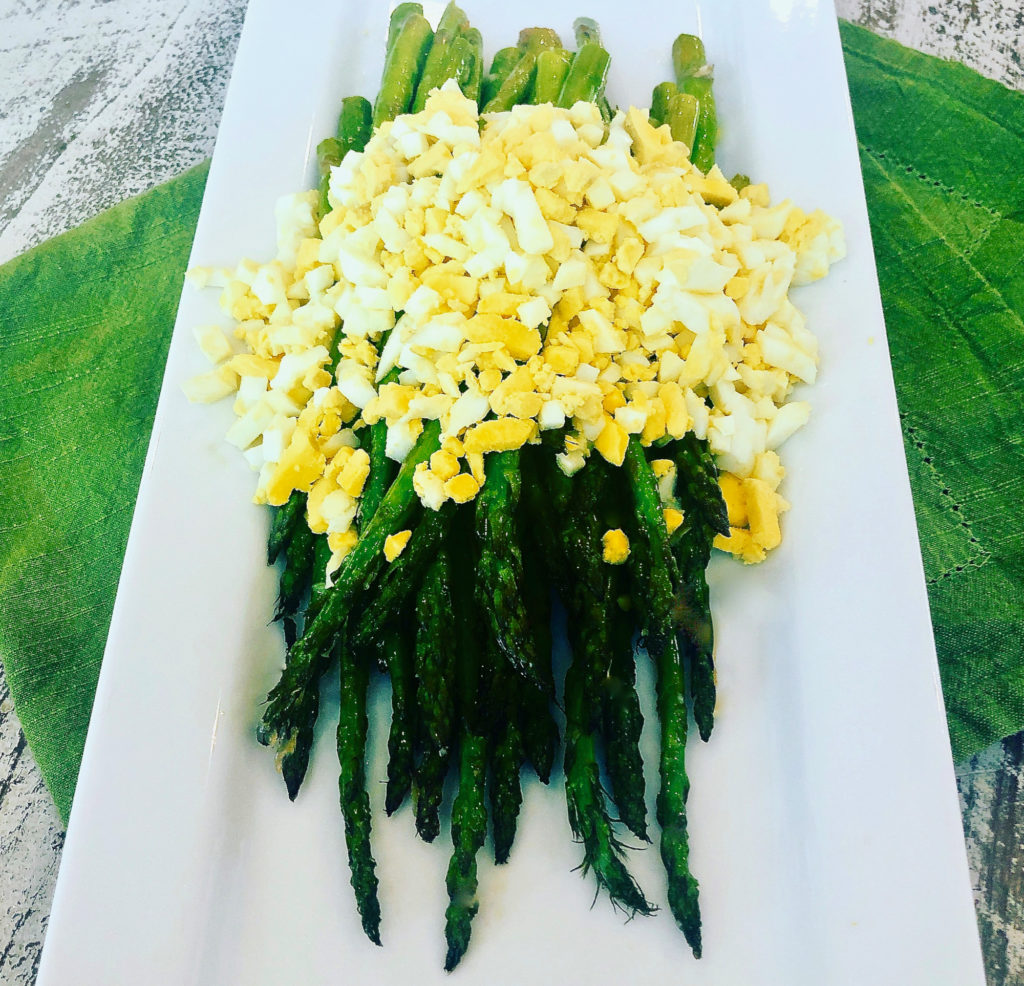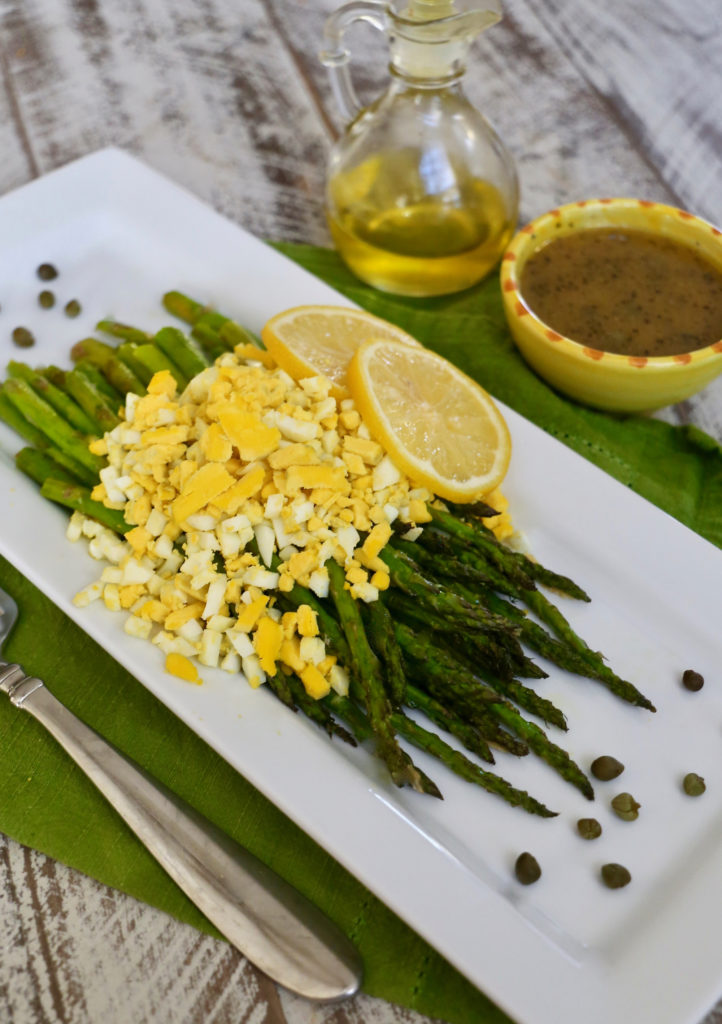 About Truffle Oil: Truffle oil is high-quality olive oil infused with either white or black truffles. The olive oil has an earthy, mushroom like flavor as a result. The most sought after truffles are from Italy. The provence of Umbria is the most reknown for truffles.
How To Select Asparagus: Select bright green asparagus with closed, compact, and firm tips. Look for ends that aren't dry. Select asparagus stalks that are about the same thickness so cooking will be uniform. Thickness does not influence quality. If the tips are slightly wilted, freshen them up by soaking them in cold water.
We're honored to share our treasured, time-tested family recipes with 'amore' from our cucina and acreage to you!

Do you enjoy La Bella Vita Cucina?
We'd love to have you as part of our little community!
Click here: La Bella Vita Cucina to get new recipes, travel tips and gardening tips straight into your inbox!