Roasted Parmesan Garlic Carrots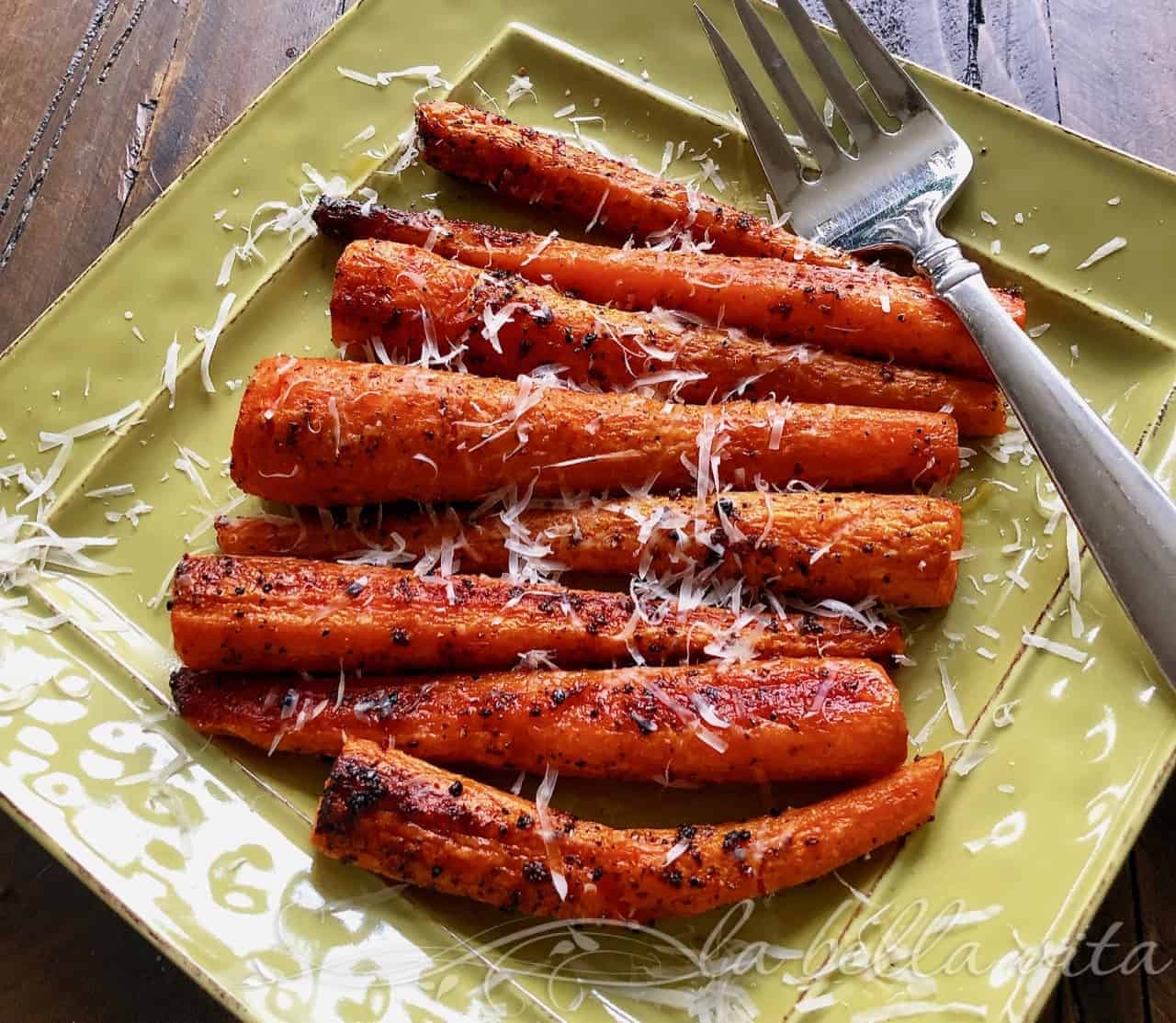 If you're looking for a delicious way to eat more veggies, you've just found the perfect recipe! Roasted Parmesan Garlic Carrots! Fresh, caramelized, crunchy outside yet tender inside . . . this is the perfect side dish! And popping with vivid color to please the eyes first, these carrots are foodie eye candy!
Roasting vegetables is great in so many ways! It's super easy, it boosts the flavor big time, and it keeps the good nutrients in veggies instead of losing them in boiling water.
Do you have someone who hates to eat their vegetables? Well, one taste of these sweet roasted parmesan garlic carrots will change their minds quickly. They'll want seconds of these delicious carrots.
You can have these carrots on the table in less than a half hour from the point of peeling to pulling them out of the oven piping hot to serving them!
So get out your vegetable peeler, baking sheet, and cheese grater and let's get started!
Tips on Roasting Vegetables
Always use a very hot pre-heated oven of 425 – 475 degrees. The hotter the oven, the faster the roasting process takes place.
Parchment paper helps reduce the cleanup, but it prevents the delicious charring that is key to the flavor boost that roasting gives.
Use a large, rimmed baking sheet to prevent the vegetables from rolling off.
If you're roasting a medley or variety of vegetables, use more than one baking sheet and group and prepare each vegetable according to their own special time needs so that they finish roasting at the same time:
Root veggies such as beets, carrots, and potatoes usually need more time (20 minute or more).
Cruciferous veggies such as broccoli, cauliflower, garlic, onions, and cabbage require less time (less than 20 minutes)
Drizzle or spray oil to coat the pan before placing the vegetables on so that you can 'roll' the veggies in oil. This coating helps whatever garlic, herbs, and spices you use to stick to the veggies better.
Always serve immediately while the vegetables are piping hot.
Leftover veggies can be used in salads and smoothies, pasta and risotto recipes, vegetable or chicken broth, stews, or simply eaten as a snack!
Store leftovers in the refrigerator for up to 4 days.
Roasted veggies can be frozen for up to 2 months as well! Simply reheat them in a heavy cast-iron skillet over medium heat, or in the oven at 350 F degrees until hot and ready to serve.
Roasted Parmesan Garlic Carrots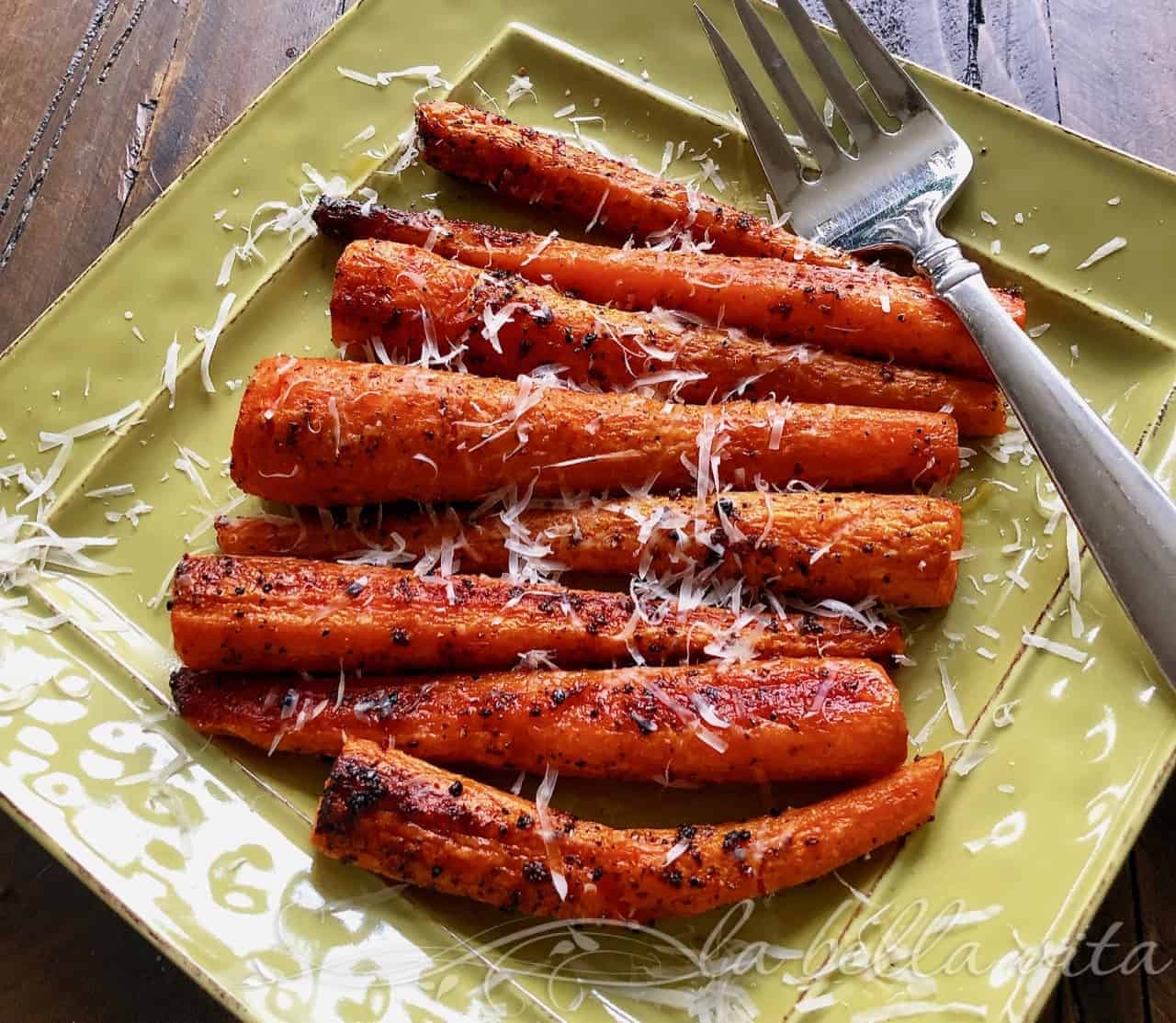 Ingredients
1 medium size bag of carrots, peeled, and both ends trimmed off
1/4 cup olive oil, just enough to coat the carrots
3 garlic cloves, minced
1/2 cup freshly grated parmesan cheese
Mrs. Dash Salt-Free Seasoning (optional)
Instructions
Pre-heat oven to 450 degrees.
Pour enough olive oil onto a baking sheet or pizza pan to coat it.
Sprinkle the minced garlic all over the oiled pan.
Place peeled and trimmed carrots on the oil and garlic, roll them around to completely coat them in olive oil and garlic.
Sprinkle with Mrs. Dash Salt-Free Seasoning (optional).
Place in the oven and roast for 15 - 20 minutes, turning over only once.
Remove from the oven and immediately place the carrots on a serving platter.
Generously sprinkle the freshly-grated parmesan cheese over the carrots.
Enjoy!
Other recipes for roasting vegetables:
Do you enjoy La Bella Vita Cucina?
We'd love to have you as part of our community!
Click below to receive a FREE e-cookbook and all the latest recipes,
travel tips and gardening ideas straight into your inbox!