An Italian Cheese Log for the Holidays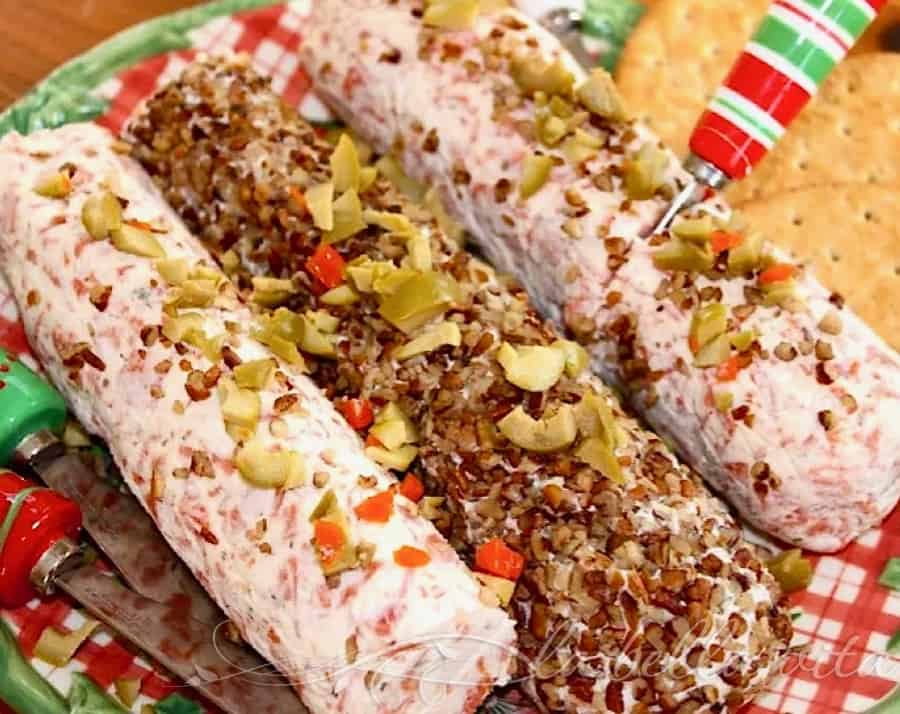 Several years ago I bought a sweet little Christmas cookbook in a hospital gift shop when I was visiting a patient (Simply Christmas Cookbook, 2009). It contains a lot of recipes that sound delicious and extremely easy to prepare. The recipe for an Italian Cheese Log just bursts with holiday cheer!
I hadn't seen cheese balls or logs as appetizers or snack options in several years, so it was nice to have them again. I've noticed a lot more recipes on Pinterest too.
This Italian cheese log is so unique and different from other cheese logs (or balls) because of what's inside! Packed with diced pepperoni, olives, red peppers and green onions, your mouth just might be fooled into thinking that it's antipasto and not cheese! Mmmmmm!
Speaking of antipasto platters, this Italian cheese log is so affordable in comparison to buying an assortment of cheeses on a platter that have been cut up and assembled in advance for you.
So for one Christmas, my mother, my daughter, and my niece gathered in the kitchen to make them for Christmas eve when we open gifts from each other (Santa arrives in the morning). These are truly very good and much better than your average everyday cheese ball or log. And if you're watching your calories, then just have a slice or two, and no more!
Plus these make great gifts!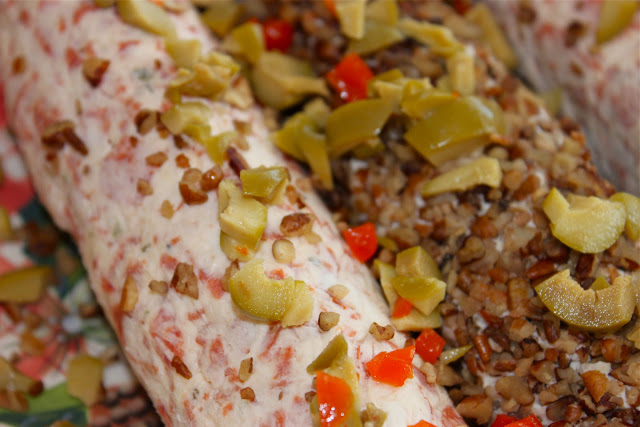 These Italian cheese logs are filled with either pepperoni or chicken and then garnished with brightly colored olives, pimentos, and/or chopped nuts.
Start the FUN and FESTIVITY in the Kitchen Together!
To begin all of the holly jolly Christmas cheer, gather everyone of all ages in the kitchen to prepare these easy cheese logs. Not only are they pretty to look at with all of the bright colors, but they are packed with Italian flavors!
Give the chopping duty to older family and friends and let the younger ones form the cheese logs (you know like with 'Play Dough') . . . they'll be so glad to be included with the 'adults'.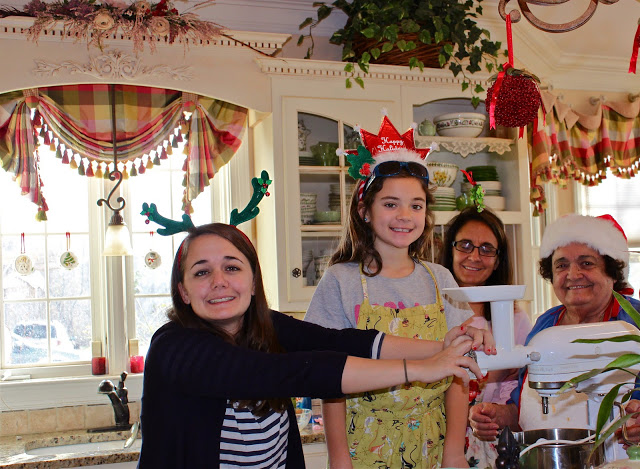 In the kitchen cooking up some love: my daughter, Lauren, Ashleigh (standing on a step stool), my sister, Kelly, and my mother, Retha.
Each of them is spreading more holiday cheer with their Christmas hats!
Kelly has a mistletoe hanging over her forehead on her little hat!
REASONS TO INCLUDE THIS ITALIAN CHEESE LOG IN YOUR HOLIDAY ENTERTAINING:
It's DELICIOUS and bursting with flavor!
You can make it ahead and save tons of time at the last minute!
It's SUPER EASY to prepare!
It's less expensive than a store-bought cheese platter!
Beautiful on the table and to the eye!
Simple to make changes to ingredients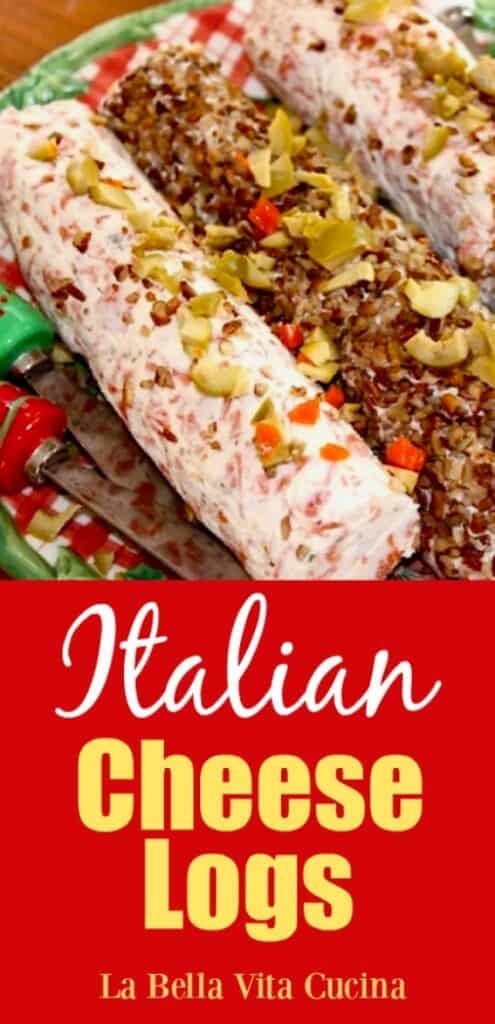 .
So let's get the holiday season kicked off by having this delicious and super easy Italian Cheese Log prepared ahead of time. Your guests will be wowed by this beautiful and festive appetizer!
I recommend these beautiful cheese knives and forks with serving board! Comes with 4 sets to equal 8!!!
I have these 3 darling cheese / butter knives that add a touch of whimsy!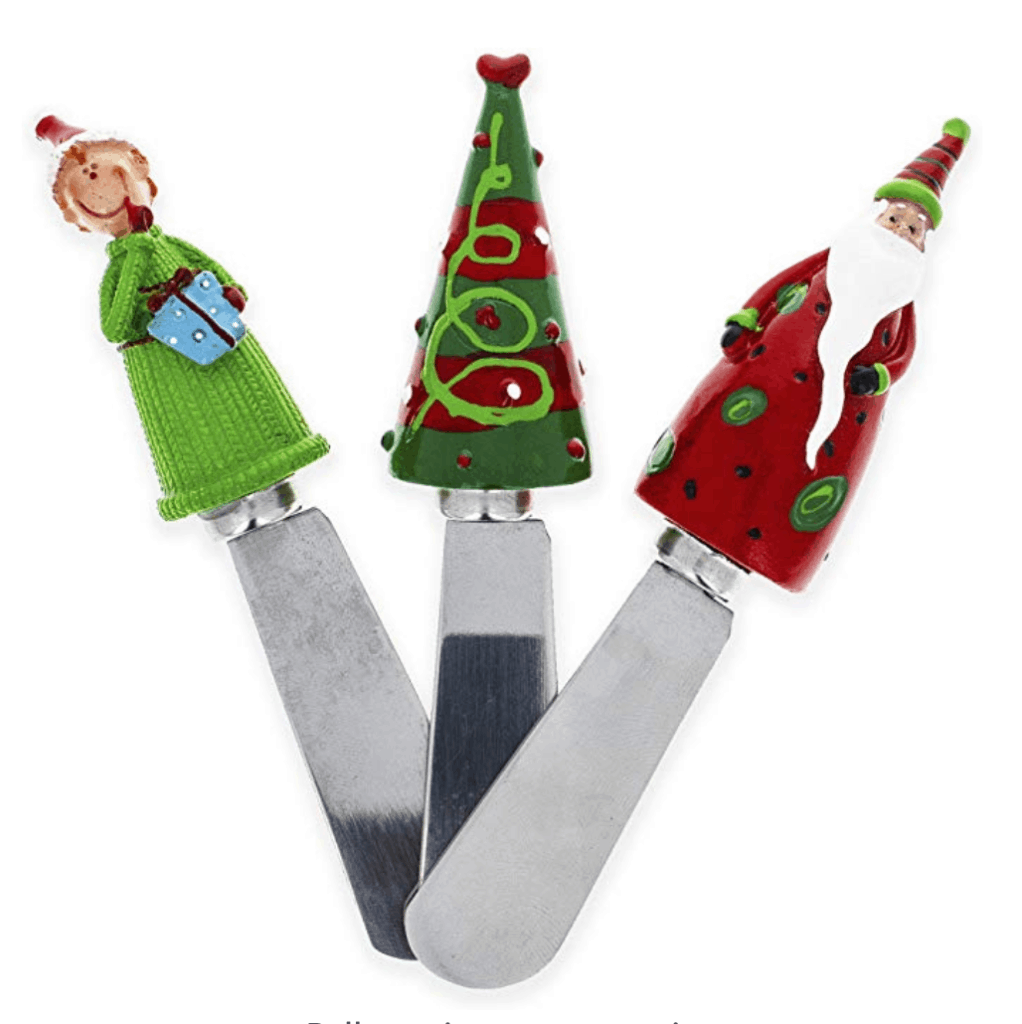 Print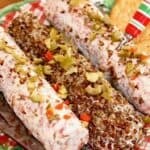 Italian Cheese Log
Author:
Total Time: 0 hours
Yield: 2 – 3 logs 1x
Category: Appetizers
Cuisine: Italian
---
1 lb cream cheese, softened
1/3 cup sour cream
1/2 tsp each of thyme, oregano, basil, rosemary, black pepper OR 1 tsp Italian Seasoning
1 tsp each garlic powder, salt, red pepper flakes (adjust to taste)
1 cup mozzarella cheese, freshly grated
1 cup fontina cheese, freshly grated
1'2 cup Parmigiano cheese, freshly grated
9 oz roasted peppers, drained and finely chopped
6 oz pepperoni, finely chopped
3/4 cup green olives, finely chopped
1/3 cup green onion, finely minced (3 – 4 stalks)
Garnish: chopped olives
Garnish: rosemary sprigs
Garnish: minced Italian parsley
---
Instructions
Spray a loaf pan with oil then line with plastic cling wrap with overhang.
Mix cheese log ingredients together. Taste and adjust salt if needed.
Roll into log shapes.
Cover with plastic cling wrap overhang and refrigerate for 4 hours+ (up to 1 week).
Turn out onto a platter, peel off the plastic cling wrap.

When serving, allow the cheese logs to come to rom temperature.
Before serving, garnish with green olives, parsley and rosemary sprigs to give it a festive look.
Serve with crackers!
---
Notes
For a vibrant topping, mix together:
6 oz sun-dried tomato strips with OIL, roughly chopped
1/4 cup parsley or chives, finely chopped
Garnish: Rosemary sprigs
Keywords: Italian Cheese Log, cheese log, Italian, Christmas, Holiday, Party, Entertaining, Appetizers
Do you enjoy La Bella Vita Cucina?
We'd love to have you as part of our community!
Subscribe below to get the latest recipes, travel tips and gardening ideas straight into your inbox!