30 GORGEOUS Spring and Easter Tablescape Designs and Ideas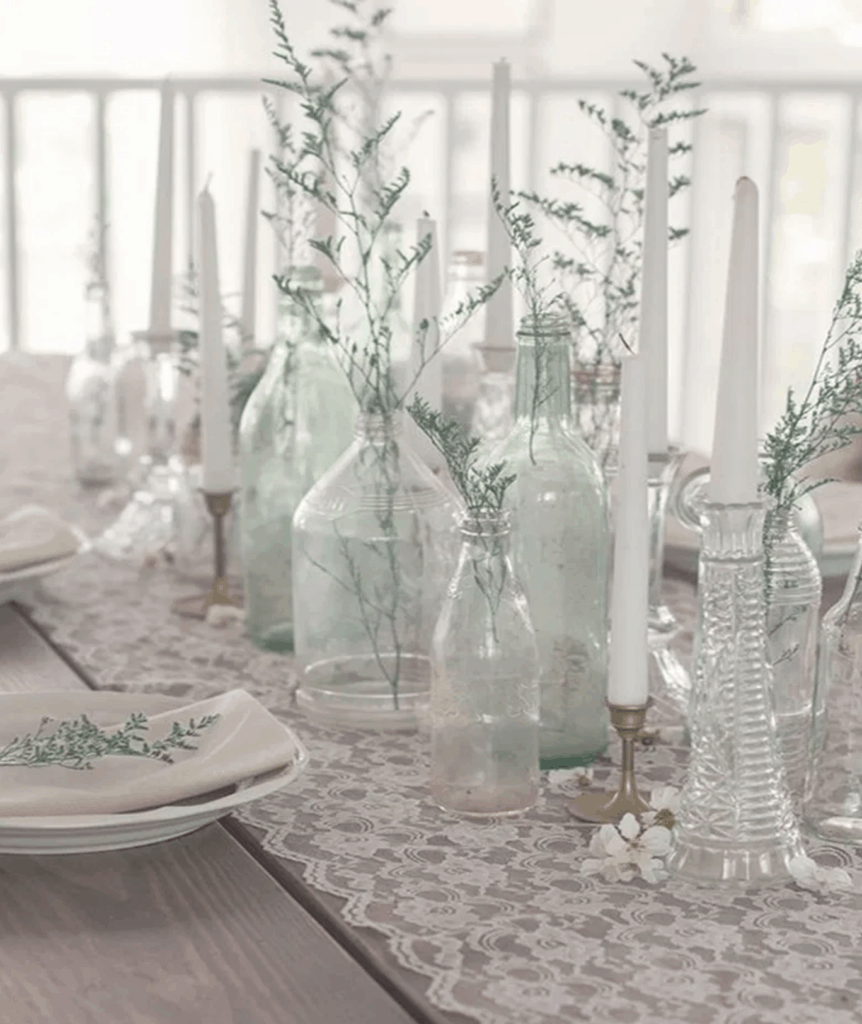 Spring is just the best time of year to create a beautiful tablescape. Decorating for spring and/or Easter couldn't be easier with the following photos of beautiful tablescapes as well as a few single decor items to inspire your creativity!
I grouped these tablescapes together for you by theme: Floral, Eggs, and Bunnies. You can also go through these photos and look for specific color themes: Pinks, Greens, Yellows, Blues, and Lavender/Lilac.
I first posted these photos for spring and Easter tablescapes in 2015 and have continually added to it through the years. So for this year, the latest category is "Linear" which is more of a design 'style' and not focused on the actual elements in the design itself.
Whether you've only got a few hours or you've got all day, there's something here to inspire you and put them together yourself. Doing it ourselves also saves some money, which is always a plus!
So let's get started with the . . .
Floral Theme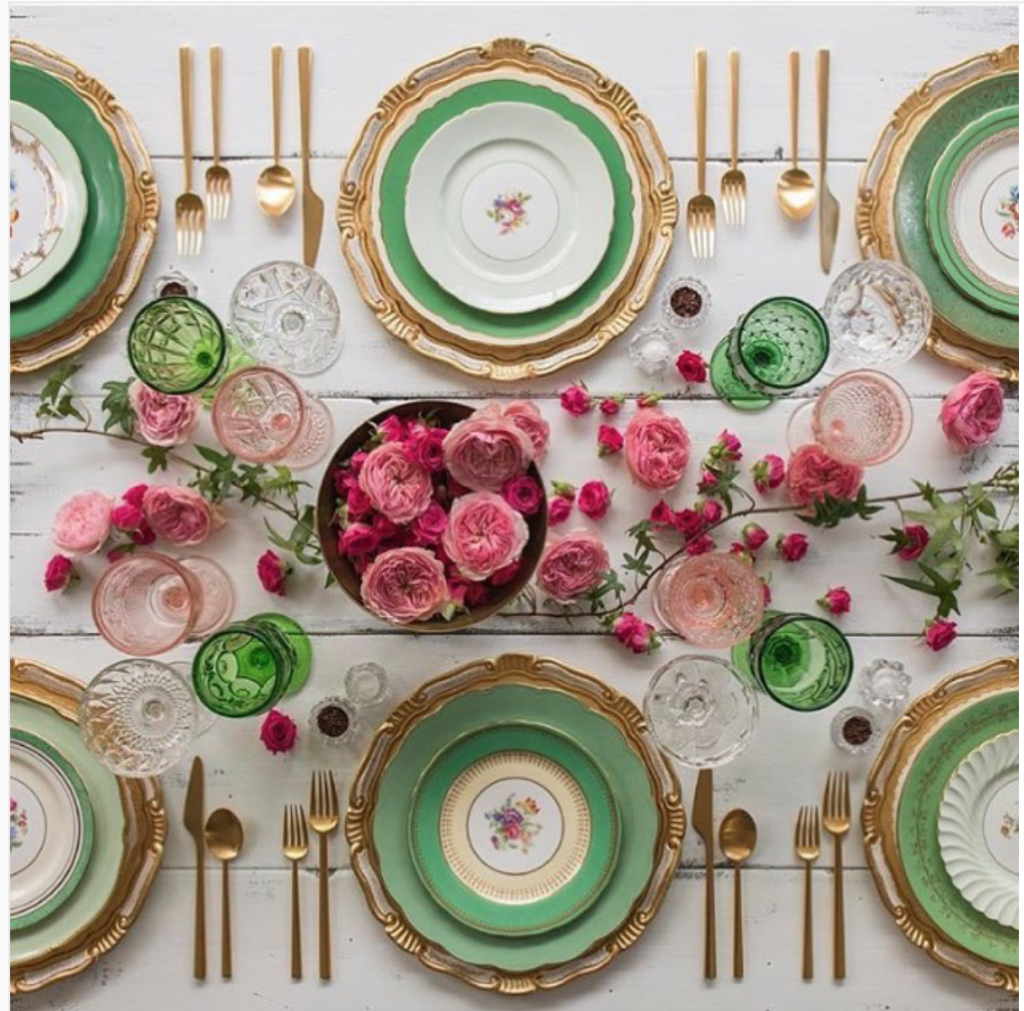 This look just sings spring with the soft pinks and various different shades of green. I love how the 'fancier' gold patina chargers and flatware are juxtapositioned on an old white-washed table! Using the three colors of pink, green, and clear old-fashioned pressed glass is brilliant.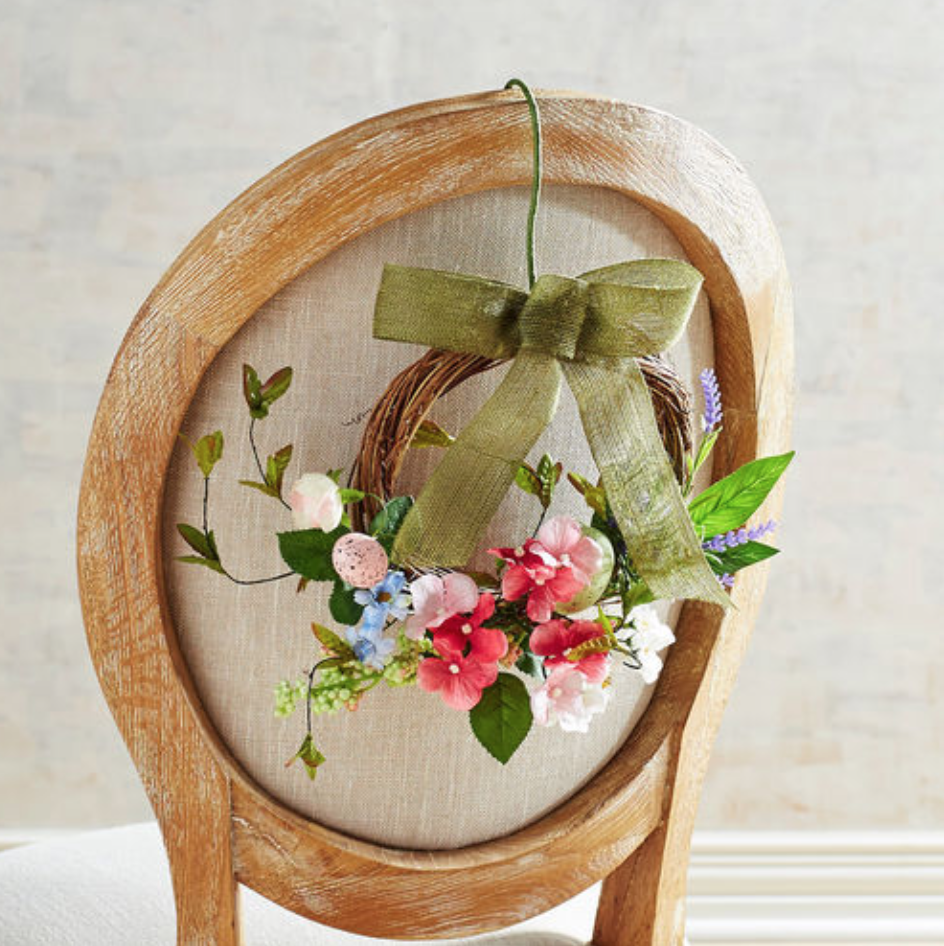 These chair wreaths would be easy and relatively inexpensive to make!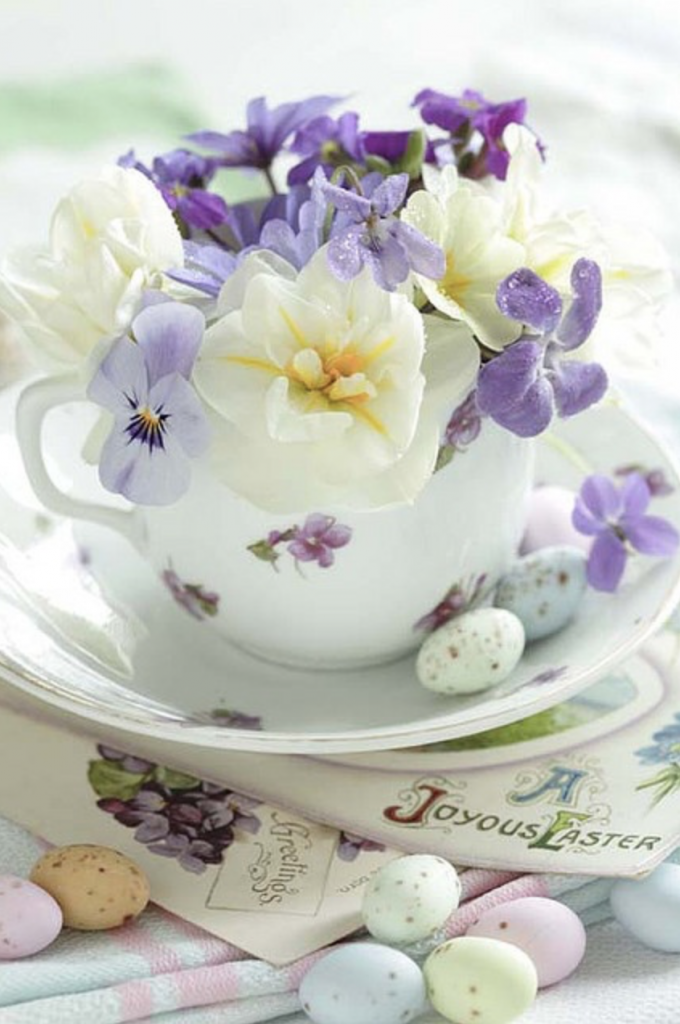 I love lavender and white, these lovely pansies are perfect to use in spring decor, along with the soft pastel colored eggs and linens. This would be pretty by a bedside or even in a powder room.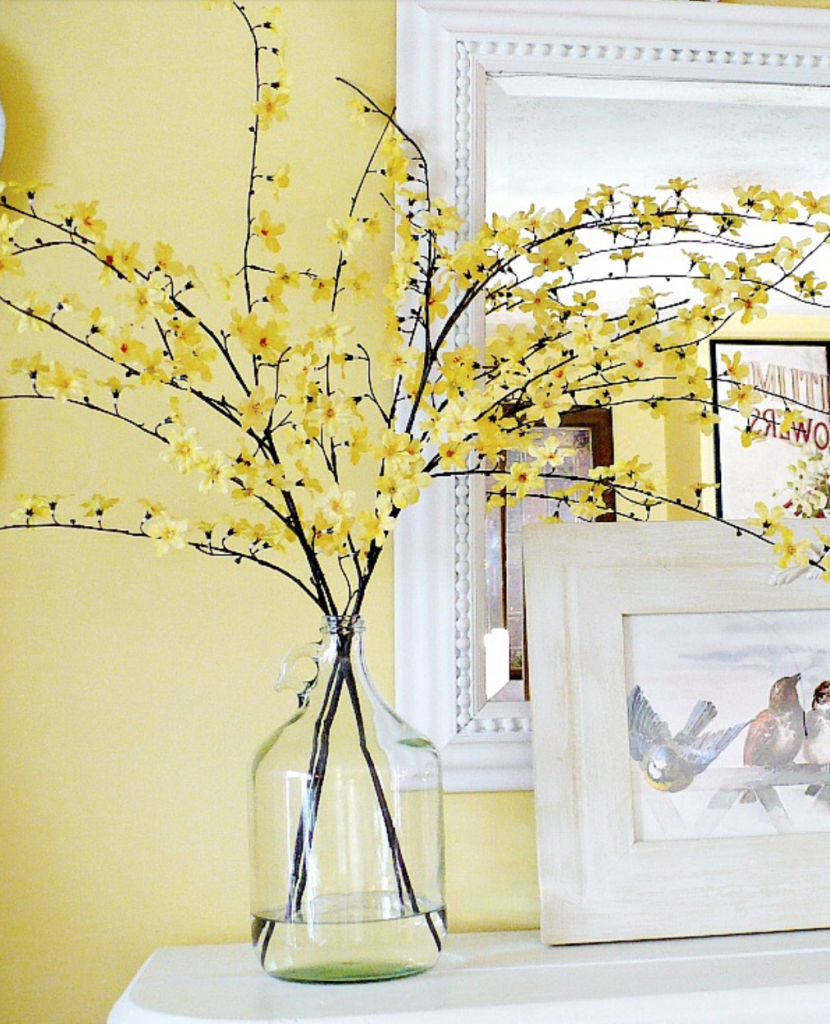 All yellow, such a happy color! If you like minimalism then this is your design style! Clean, uncluttered, and very spring!
Another floral theme, this time with gorgeous green 'lettuce/cabbage leaf' chargers that set on top of crisp green and white toile table linens. The tiny roses accent the old-fashioned ruby glassware and teacups.
I love this floral theme because it is outdoors! The leaves and the unstructured floral table swag work wonderful with the greenery in the garden.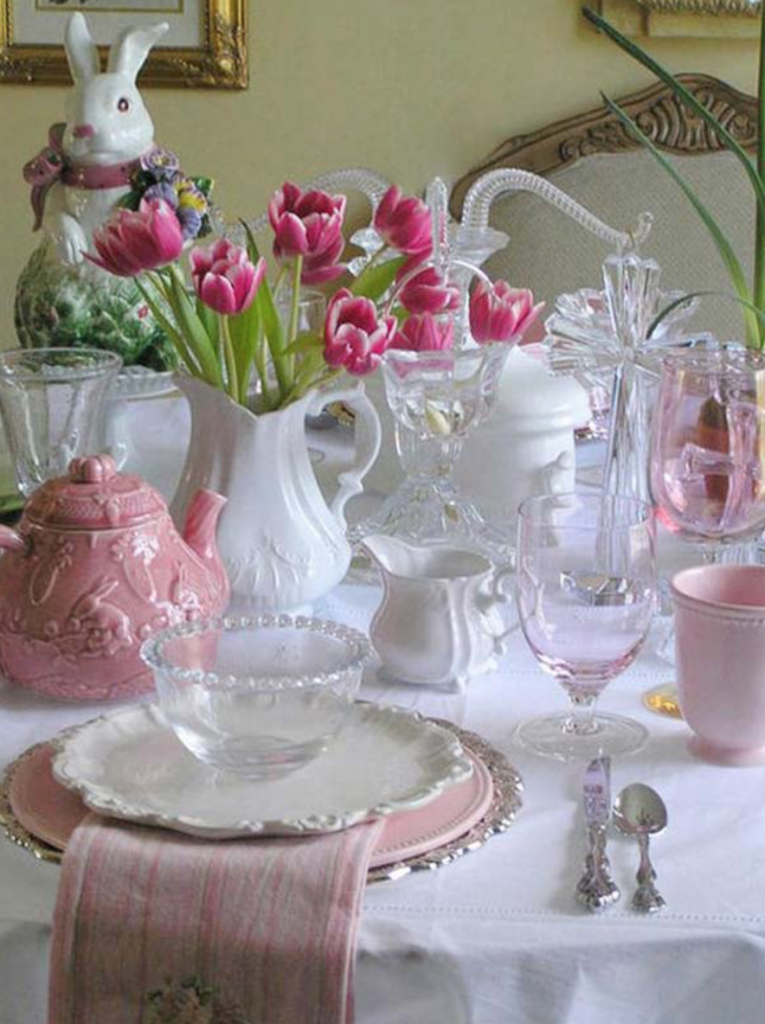 Tulips just scream that springtime is upon us. The pink and white tulips are perfect for this pink, white and clear table setting. So clean and light!
On the more casual side, carrots always add a pop of unexpected orange. Especially for Easter. The little egg baskets on top of simple white plates is perfect for a table set for kids.
Speaking of carrots, there are other fresh foods that you can decorate with for spring and Easter:
Carving out a whole cabbage and using it to hold flowers AND water is a great way to have a completely fresh and natural centerpiece!
In a tall clear, unetched vase, fill with water, sliced limes, lemons, or cucumbers with fresh flowers to coordinate.
The last 'edible' food centerpiece is this amazing asparagus wrapped centerpiece! Asparagus is one of the first vegetables to harvest in our gardens and is present on every annual Easter table in my family. I love the lime hydrangeas with the pink sweet peas.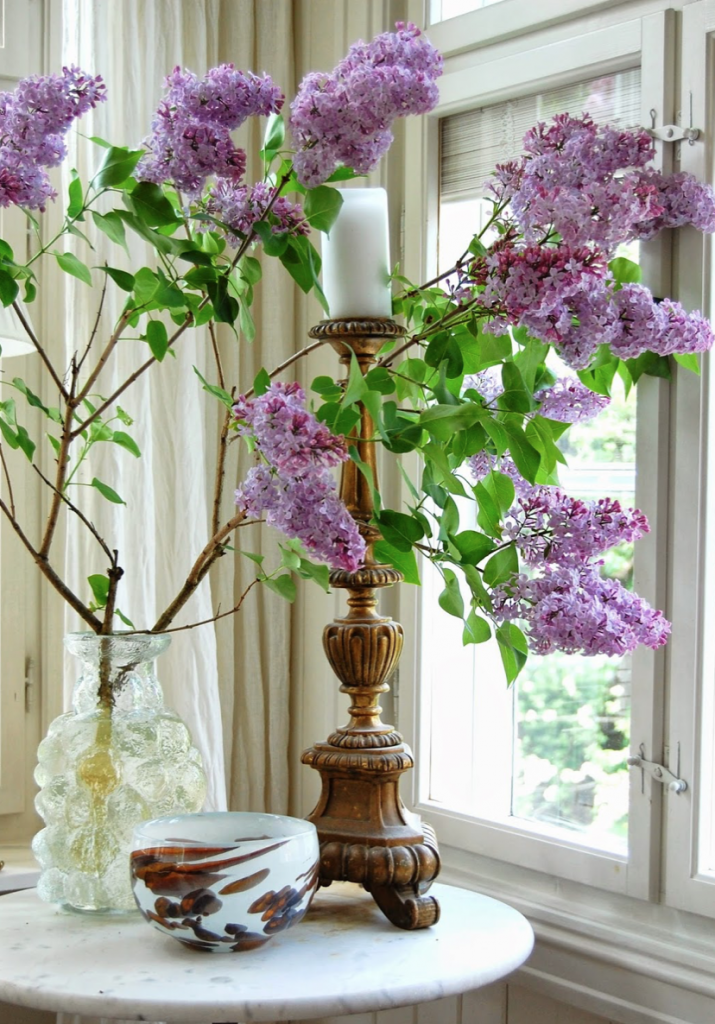 Lilacs are one of my favorite flowering bushes. Their aroma is just heavenly and intoxicating to say the least. Just snip off some branches, just as you would with yellow forsythia (yellow bells), and use as a focal point in a room. Again, with white, lavender/lilac just says 'fresh'!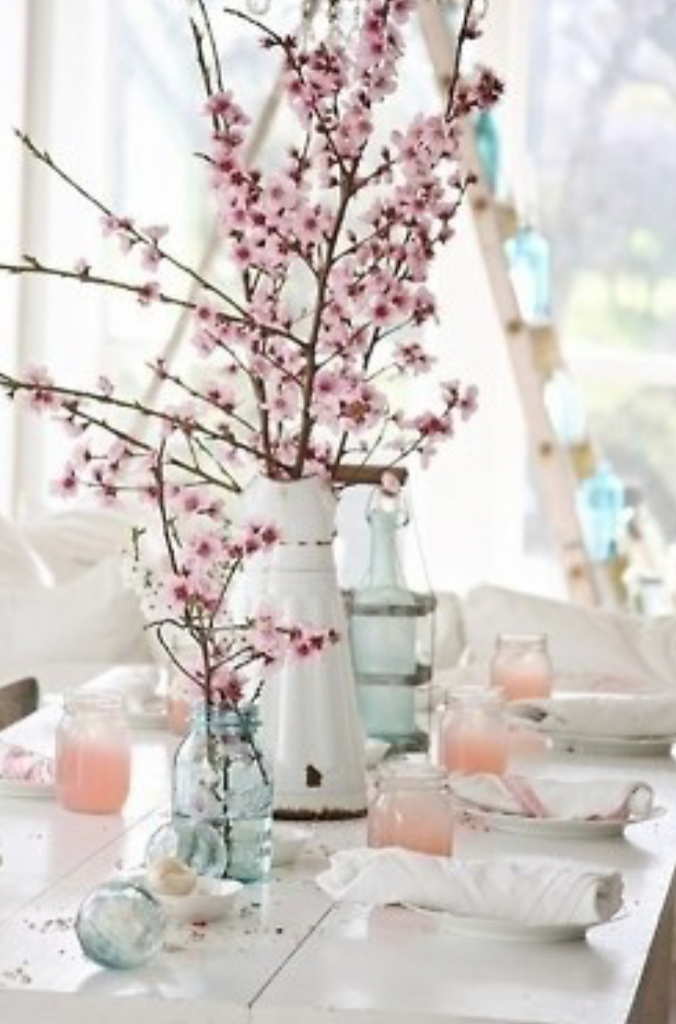 By now, you can tell that I'm crazy for a lot of white in decor. Long before the farmhouse look was cool, my husband and I built our 'farmhouse' with whites and surfaces that we purposefully banged up! Looks used, but isn't.
Anyway, above, instead of forsythia (yellow) or lilacs, you can use flowering plum branches. Set in aqua mason jars along with white dinnerware on a whitewashed old table, it's just a delightful tablescape.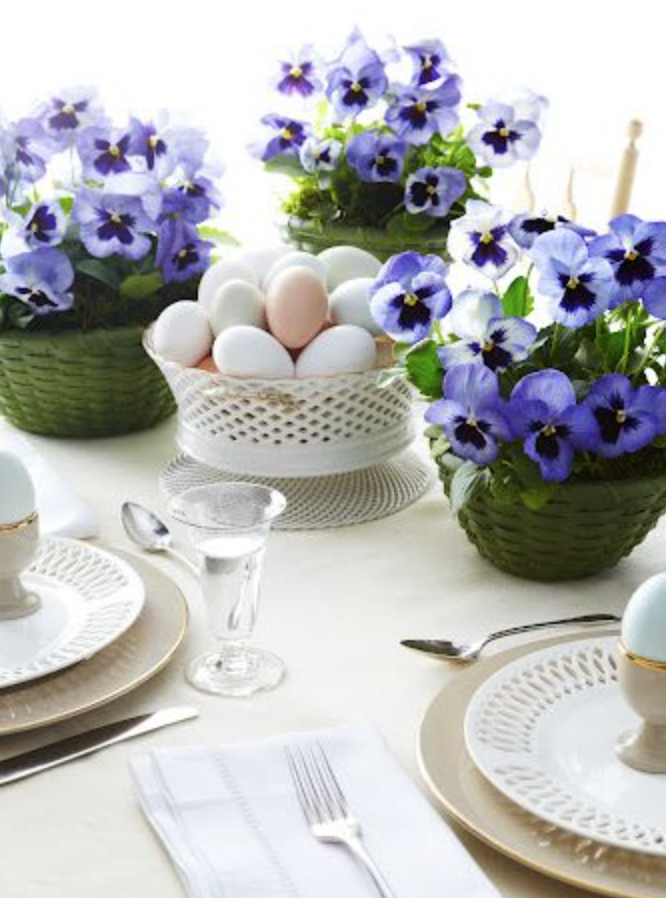 Another simple and inexpensive use of bright blue pansies with white linens and of course . . . uncolored eggs! A very natural look.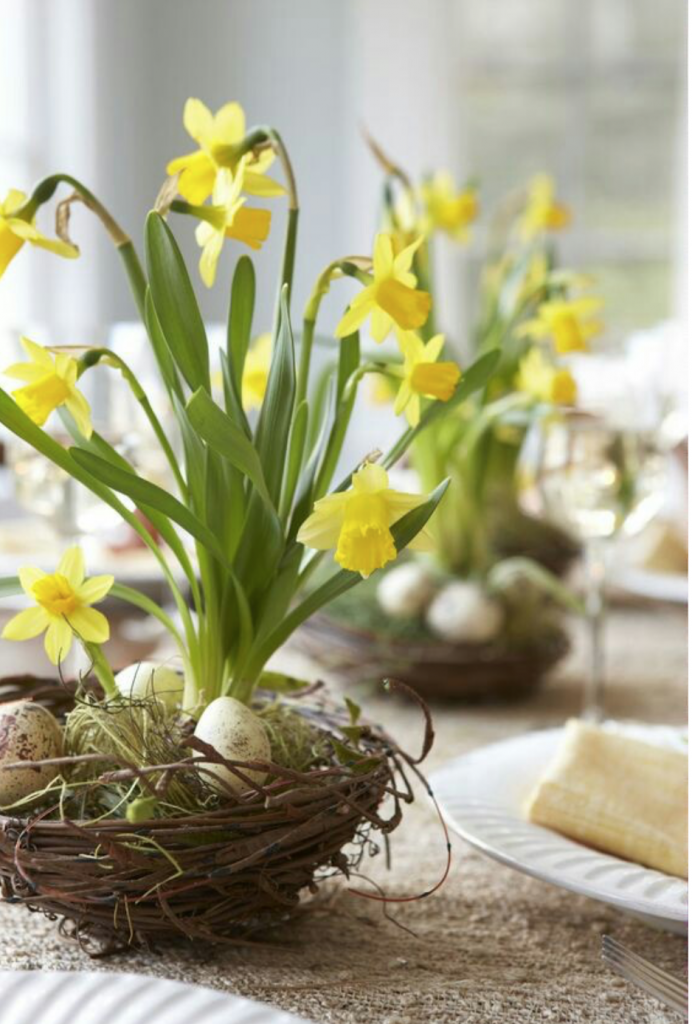 Fresh flowers from bulbs such as daffodils are also a perfect symbol of spring and Easter. You can find these baskets at any craft store which you can place your spring blooms in along with some eggs. The burlap tablecloth continues to the natural look of this floral theme.
I picked this combination theme to transition from 'floral' to a 'bunny' theme. This may be the opposite of minimalism, however, it has a natural touch to it with the woven twig plate chargers, mossy green egg baskets, green accented plates and napkins, and the foliage of the tulips. With the warm brown walls and gingham draperies, this look is totally pulled together with the bunnies and tulips for the centerpiece.
Moving along, let's take a look at some lovely 'bunny' themes!
Bunny Theme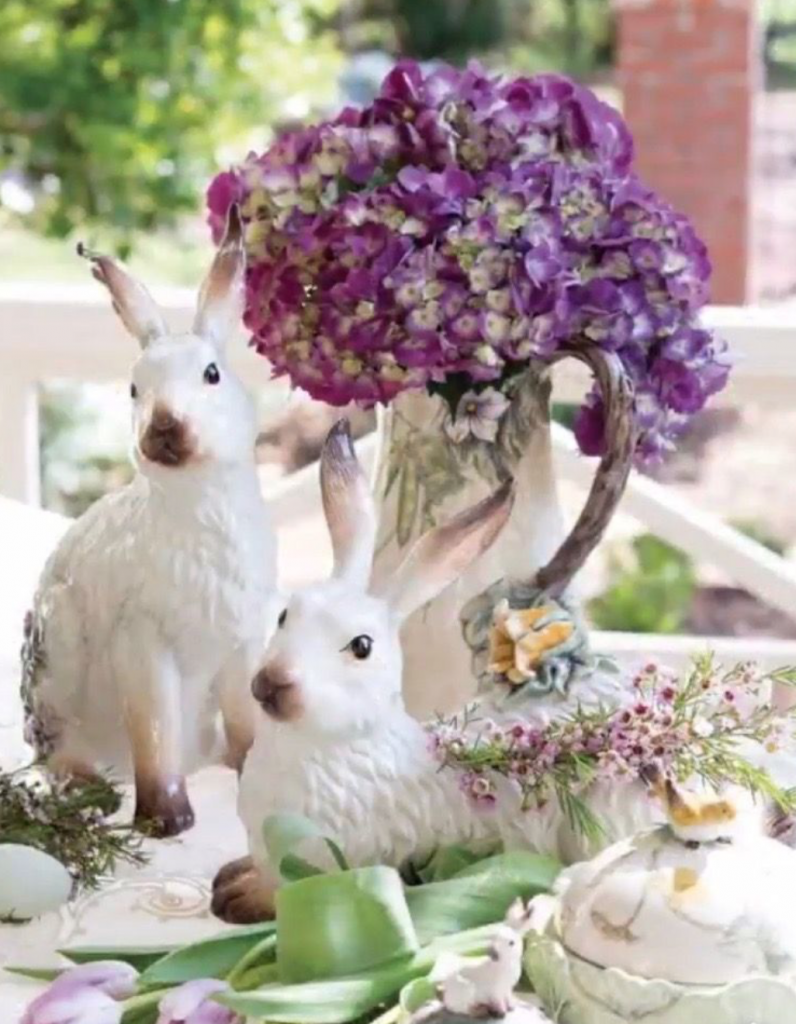 Bright purple hydrangea blooms set next to white ceramic bunnies with soft greens in the ribbons and foliage is an exceptionally vivid centerpiece.
The little individual Easter baskets with coordinating centerpiece with the large white ceramic bunny is a more playful, yet bright and fun tablescape. The yellow and white patterned tablecloth work perfectly with all of the white dishes.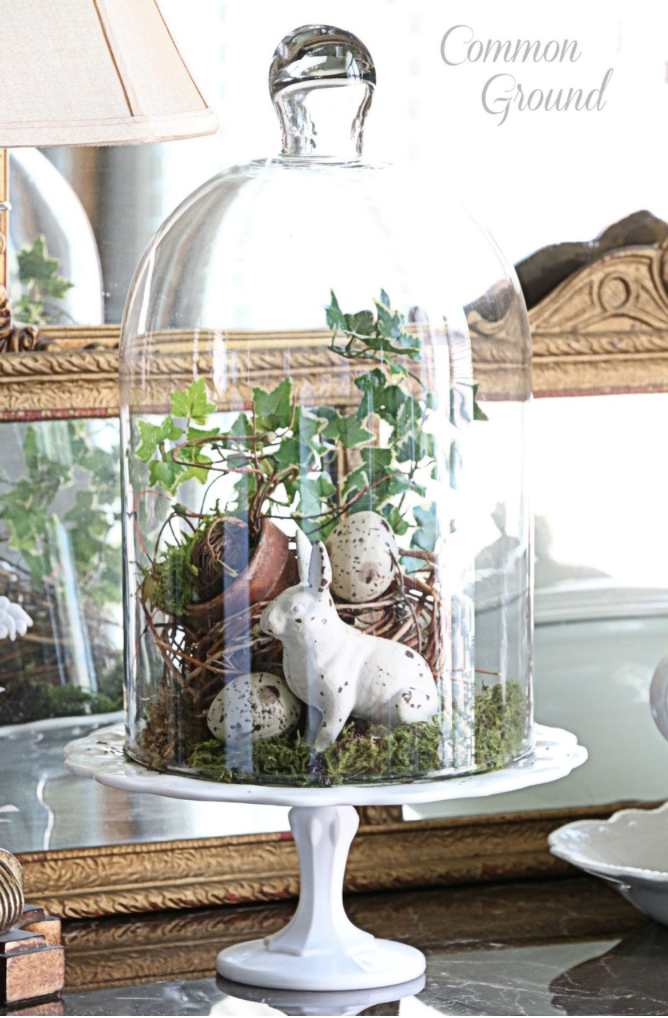 This is such a pretty accent piece to place anywhere in a home for Easter and/or springtime. The little terra cotta pot and all of the natural elements inside the cloche remind us that its time to get out and enjoy the warmer weather.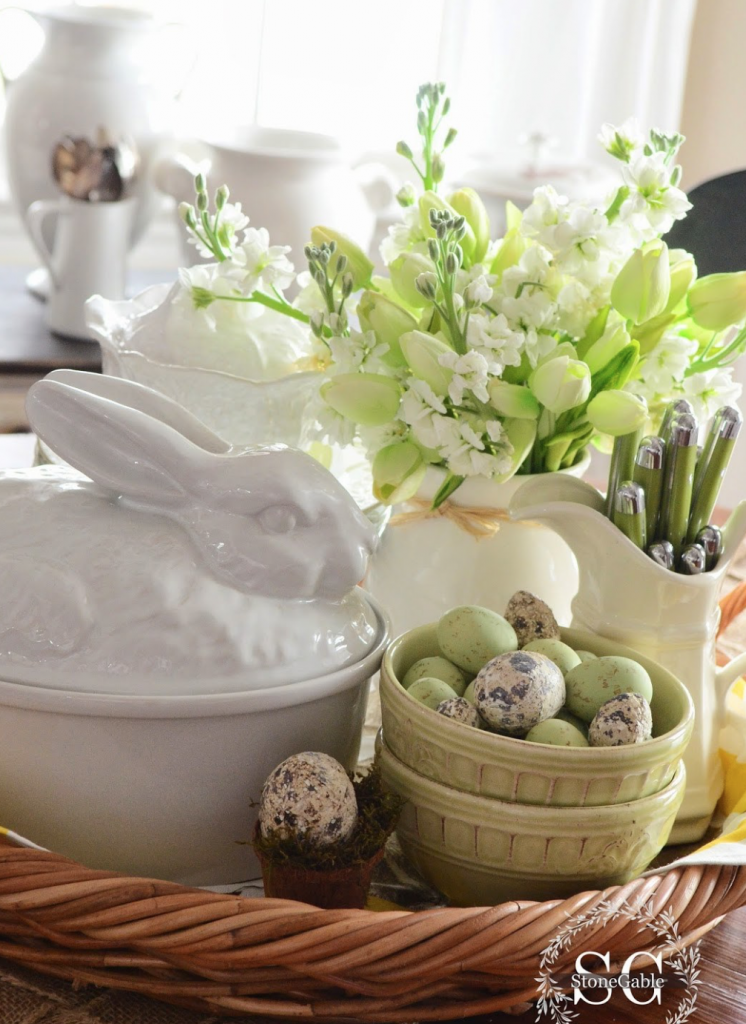 Lime is a color that is more often seen during summer, but these tender white tulips that are yet to open up work beautifully with all of the white ceramics and the soft green eggs in the green bowls. The natural basket really grounds the look.
What would Easter be without Easter baskets filled with chocolate eggs and bunnies? This pretty piece can be set on a table in the front hall for guests to see and get in the spirit of the day, or placed on a buffet. Once again lavender/lilac interplays with the natural elements in the basket.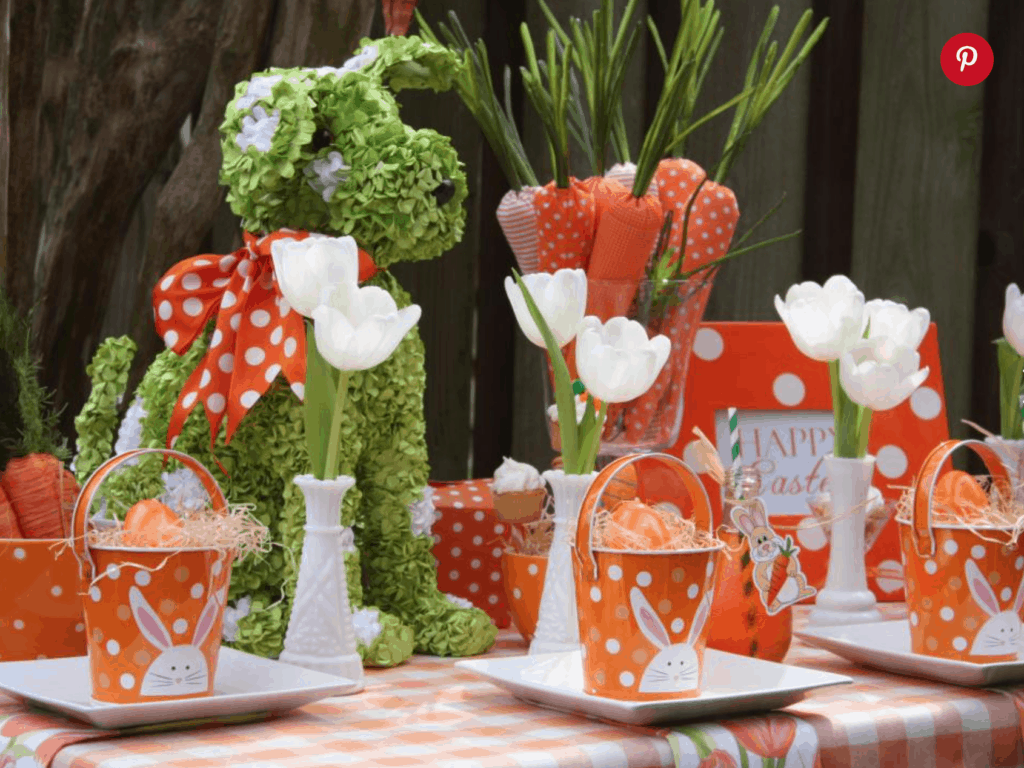 And that leads us to the last theme shown in this post for EGGS!
Egg Theme
You can pick up these apothecary jars at any craft store and they aren't very expensive. Fill with shredded natural colored paper and place your colored eggs inside for a bright and simple look!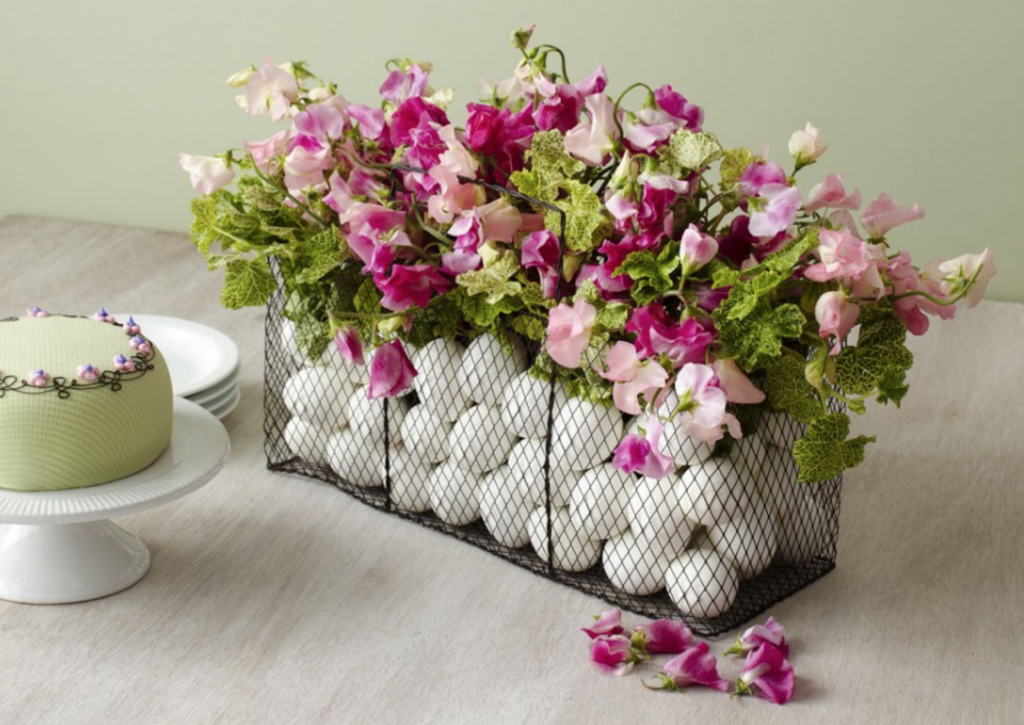 Got a lot of eggs? Here's a new way to display them. I'd refrigerate this until time of use if you do use real eggs in this centerpiece. The sweet pea flowers are hard to come by these days.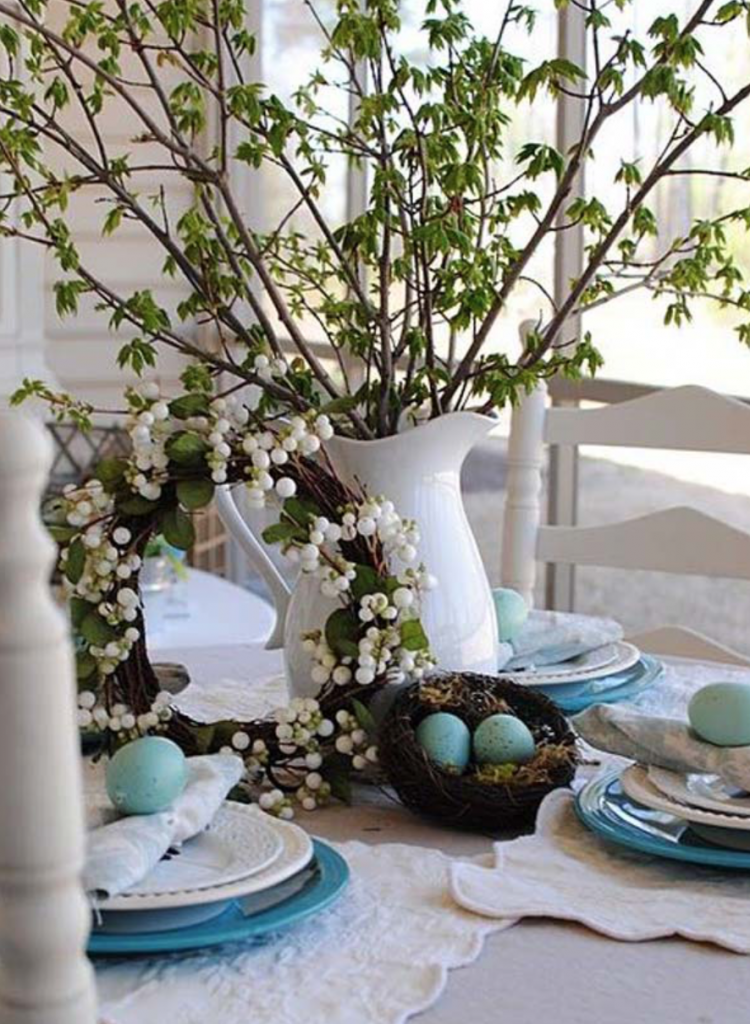 Aqua isn't just for the beach! It's a great color especially to coordinate with (artificial) robin's eggs, white linens, blue dinnerware, and greenery.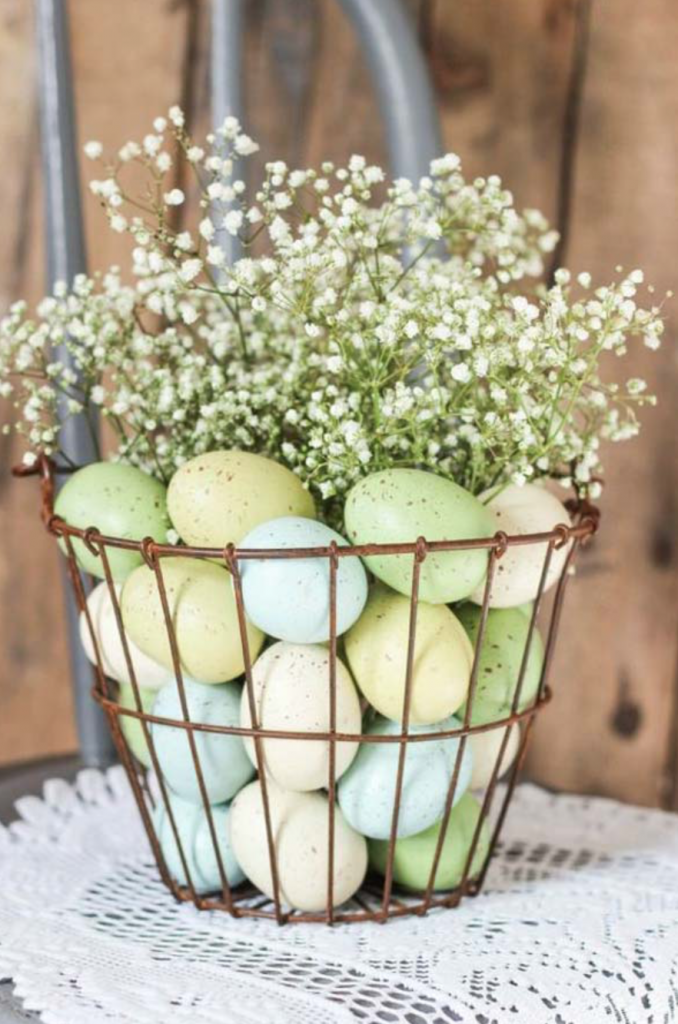 This is an easy and simple egg and baby's breath centerpiece. Again, artificial pastel eggs can be found in craft stores.
Remember those lilac branches shown above? Stay with the pristine white and clear combination and add some absolutely lovely lavender, lilac and purple colored Easter eggs!
These little blue robins' eggs are actually chocolate filled. You can find them online. Place them at each individual place setting around the Easter table for a really sweet look and treat too!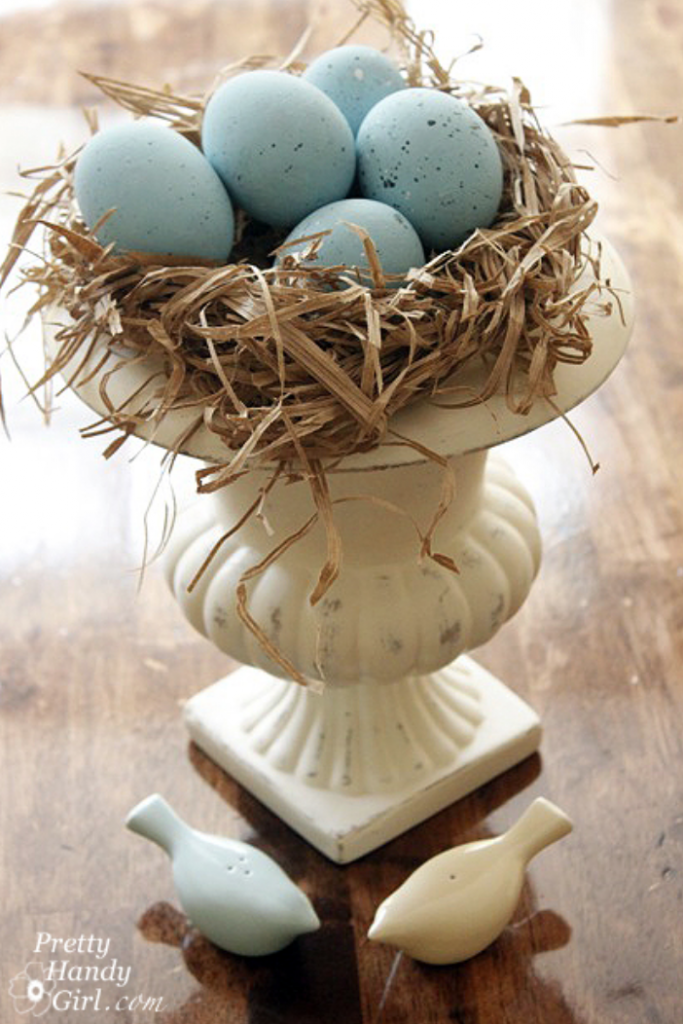 Another blue egg idea . . . this could be a centerpiece with the little mini baskets above.
Eggs of all sizes and construction make up this natural centerpiece. This would look great in a sunroom or on a porch or patio/deck.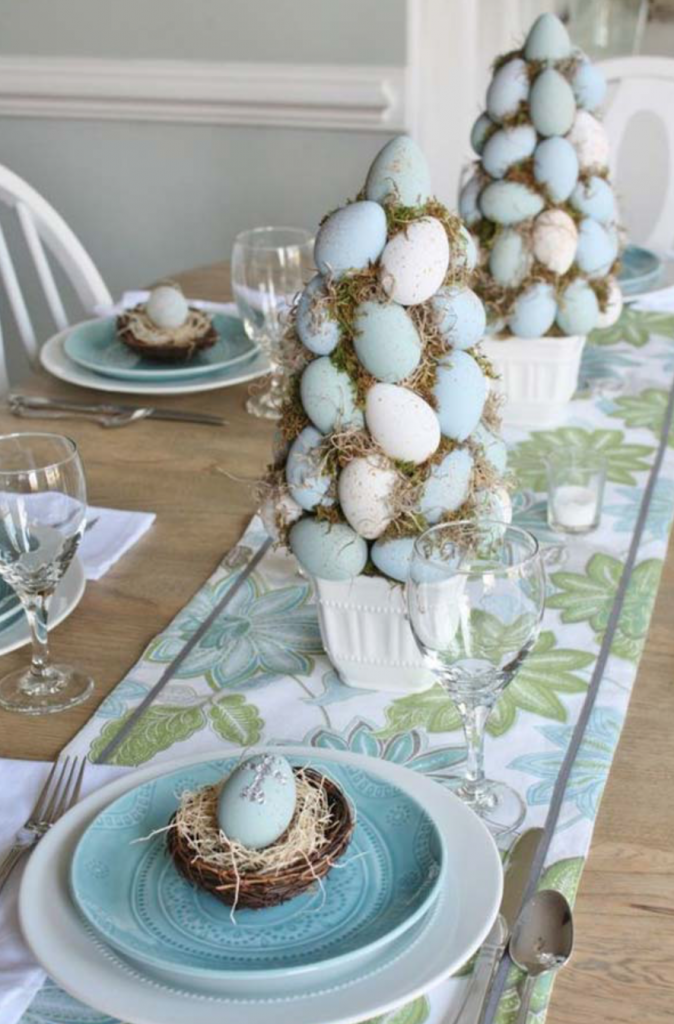 Lastly, if you've got the time, make an Easter egg and moss tree (or two). The spa colors of mint green and aqua in the table runner work so well with the plates and the colors of the tree eggs!
The newest theme that I've added this year is not really a design element such as bunnies, eggs, or flowers . . . but rather is a design 'style' — Linear / Simple, which you can use any of your favorite theme elements into this style. This style works the best with long tables!
Linear Design Style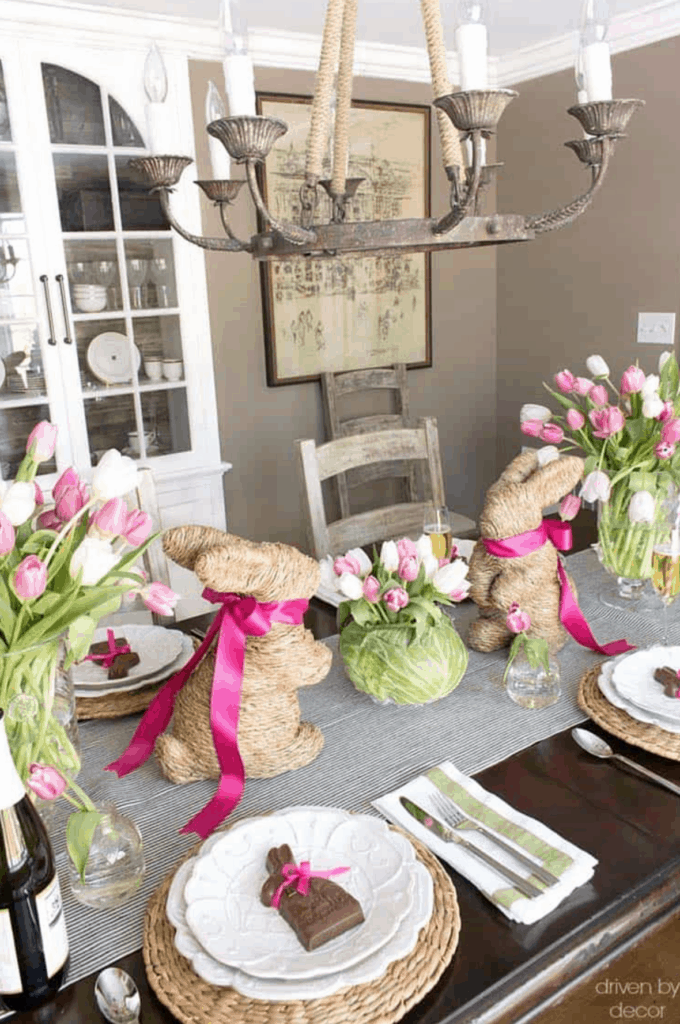 This linear style combines natural elements of texture and color with pops of hot pink and soft greens — LOVE the chocolate bunnies with matching hot pink satin ribbons!
This tablescape (above) and the next (below) still have that linear focus and each uses natural elements such as moss, natural colored eggs, and spring onions. I love the gardening focus in the tablescape below with the ceramic pots and wooden garden tools.
I love white on white decor with fun color accents and spring green is perfect for an Easter or spring (even summer, actually) tablescape. The nice thing about decorating with white, is that you can change out the colors of the flowers very easily.
This tablescape has a lot going on, yet is contained in the linear style: pops of warm colors, weathered texture, eggs, flowers, moss . . . it's all in there, but still come off simply.
Although the following tablescape first appears to be very busy, it only uses 3 colors: moss green that matches the plates, soft yellow and soft pink/peach. Natural or natural-looking green moss is a constant popular color and texture.
Bird nests are a constant winner for those who love simplicity. The light in this table is played around with by the photographer, but my guess is that in reality, the colors in this tablescape are very subtle and muted. At least that's how I would want this to be.
Once again, eggs and bunnies with natural wood and nesting materials. The crocheted table runner re-emphasizes the linear design of this tablescape, plus it adds another layer of soft texture. I'm sure that you're starting to see the design style emerging in each tablescape.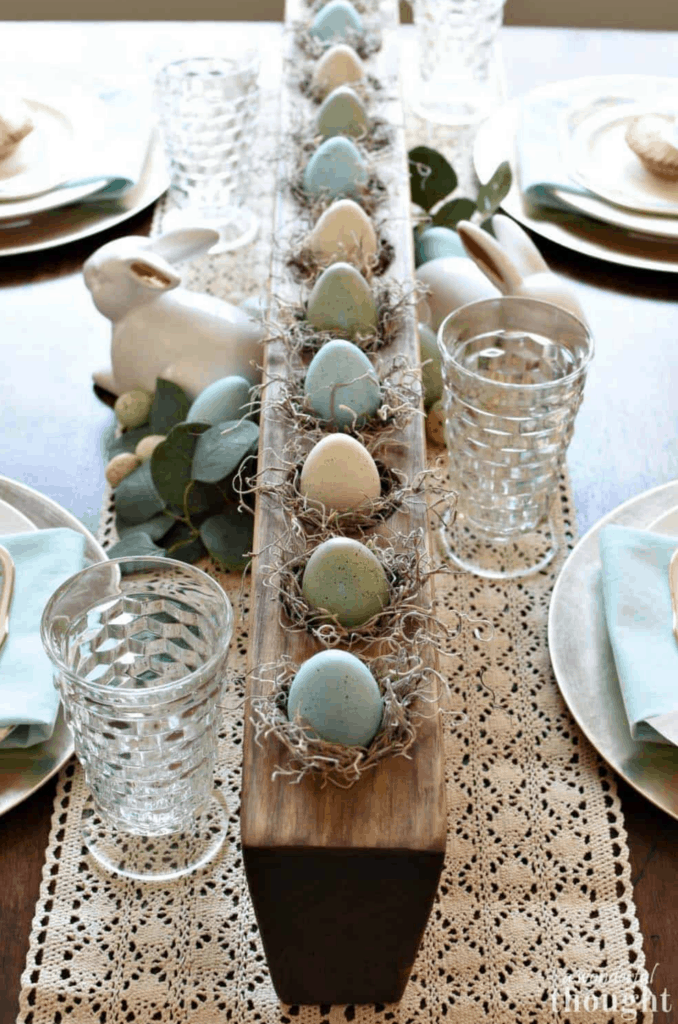 Last, but not least (until next year's new additions), is a crisp white, coastal tablescape with natural colors of green here and there and soft aqua colors in the water bottles . . . and still using the linear design style.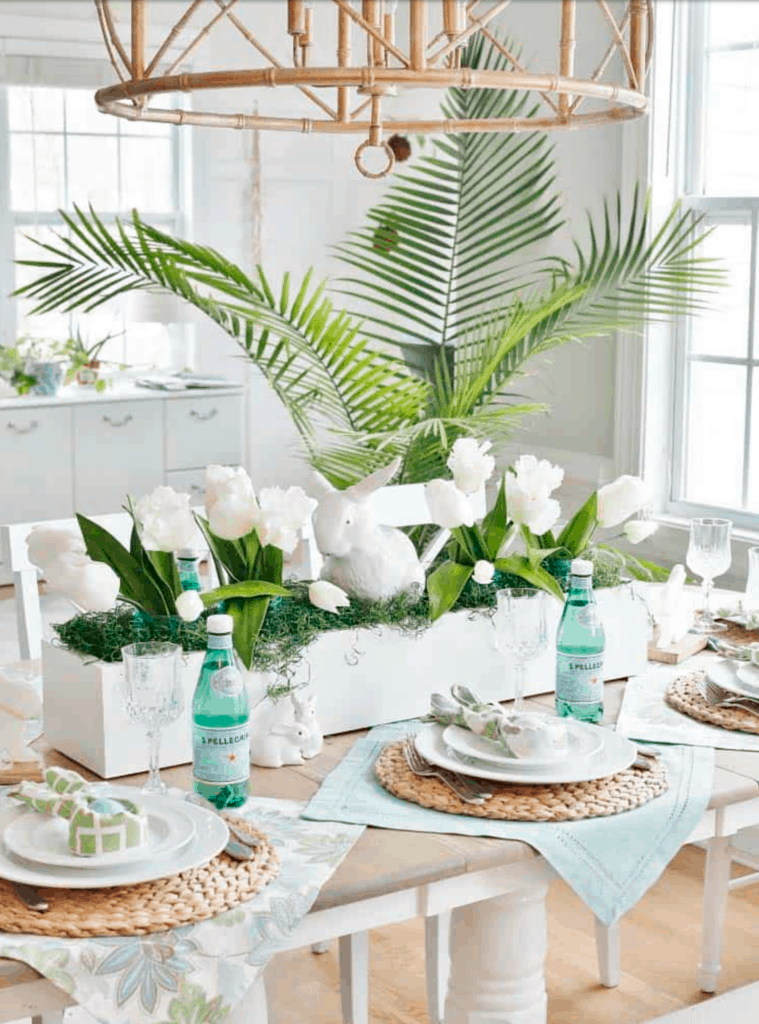 Lastly, if you've got the time, make an Easter egg and moss tree (or two). The spa colors of mint green and aqua in the table runner work so well with the plates and the colors of the tree eggs!