A Beautiful and Delicious Week on Hilton Head Island, SC
I just spent a glorious week with my husband on Hilton Head Island in South Carolina for some simple and hard-to-find rest, relaxation, and rejuvenation for the mind, body and soul.
This was just the restoration that both of us needed after nine months of teaching college students. We love staying at destinations before the Kindergarten through 12th graders get out of school so we have even MORE peace and quiet! Not that we don't love kids, of course we do, having four of our own and five grandchildren. It's just that when we want blissful serenity, we really seek it out!
Here are just a few shots of what we experienced on this nature-preserve island of Hilton Head:
.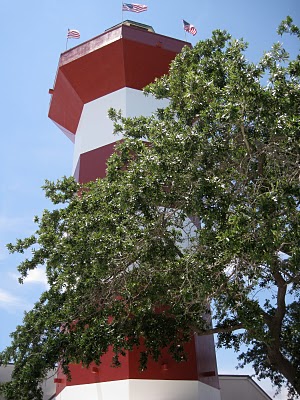 The lighthouse above actually does work to warn both boaters and sailors. Restaurants are on top and bottom as well as surrounding it. Below is another view of it from the pier. To the right is the final hole of the PGA Verizon Heritage Professional Golf Tournament that takes place the week after the Master's Tournament.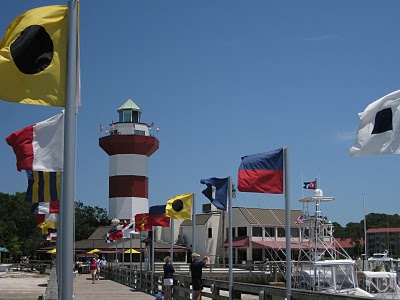 Hilton Head Island is only one of three islands in the U.S. that was purposefully developed to preserve nature at all times. Below are a few photos of the wildlife on and surrounding the isle: an egret and a bottle nose dolphin.
An incredible array of dining options awaited us. We always refer to travel web-sites for reviews prior to making any reservations. We've been lucky enough to select some really outstanding eateries to break bread and drink wine and this week was no exception. Below is a sample of one of the local waters fish entrees that we sampled: Carolina "redfish", a robust flavored, firm salt water fish sauteed in brown butter and garlic, and topped with a Mediterranean medley of peppers, tomatoes, slivered garlic, kalamata olives, and feta cheese. Perfectly steamed broccoli rabe and velvety mashed potatoes finished it off. Just divine! Other fresh caught fish that we devoured were grouper, striped bass (in season now), and lobster and crab for my husband (I have the horrible shellfish allergy, so I just get to watch him enjoy those last two). But all of the fish were straight out of the Carolina coastal waters, so everything was super fresh!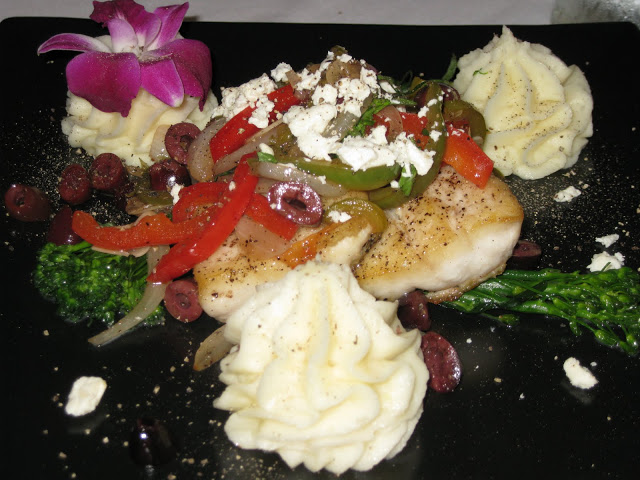 Here was the most interesting appetizer that I've simply got to put on my chef's hat and do my best to try and recreate: Sushi nachos! They were just out of this world incredible! A huge, crisp, spicy nacho chip with a sliced avocado topped with very rare ahi tuna slices, ginger, a spicy tomato topping with wasabi and sour cream drizzled on top. It's the spices that I will have to figure out! But, oh yum!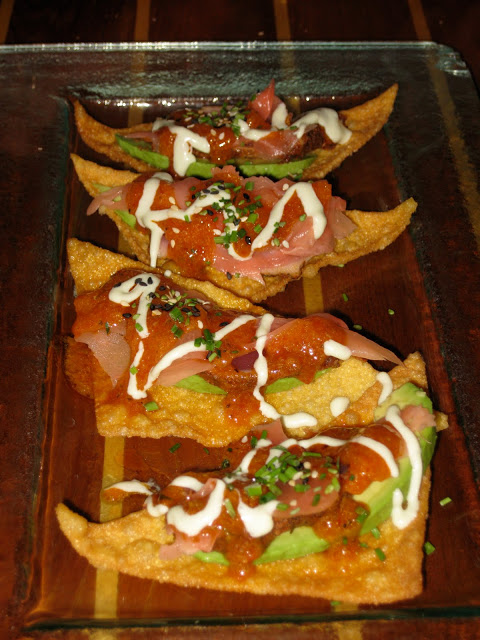 After a superb dinner, we went out along the Marina to simply rock the evening away in Harbour Town where a soft breeze blew in from the ocean. What a life!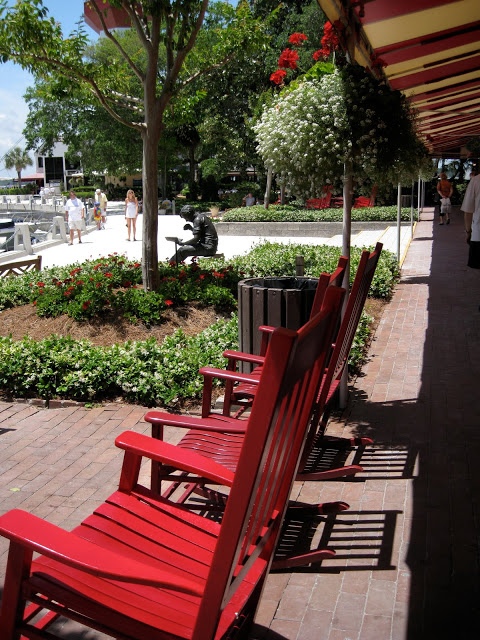 The next day we boarded an excursion boat for a sunset dolphin and crabbing nature cruise. It just doesn't get any better than that!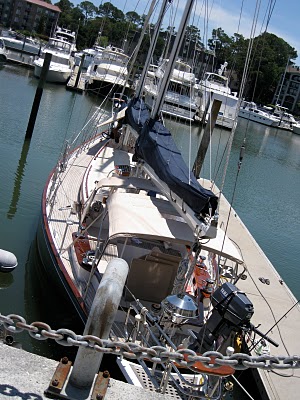 Crabbin' South Carolina style! Blue stone crabs at that!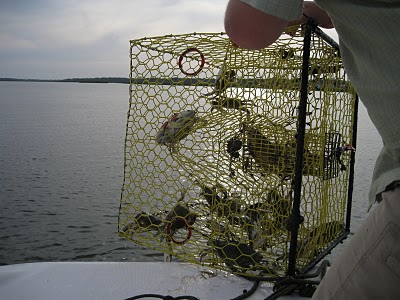 Here is how you can tell whether or not the blue stone crab is female: by the orange markings on her claws.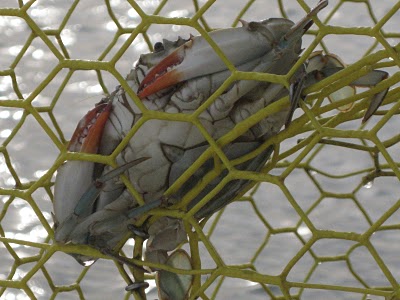 A graceful and quiet pod of dolphins swam swiftly by us for our utter enjoyment!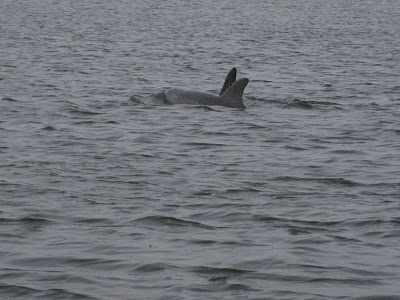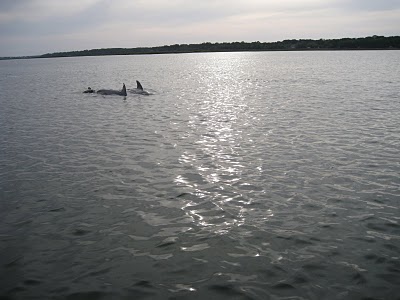 Our captain drove the boat through the protected eco-system marshlands of the Lowcountry of the Carolina's and gave us detailed explanations of how Mother Nature makes it all work in harmony!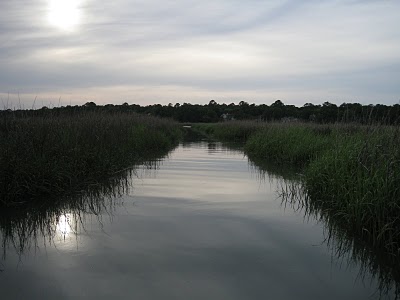 And finally before the night enveloped us in darkness, we were able to sail during a delightfully, peaceful sunset with nothing but the wind to listen to and the waves lapping softly against our boat. Just bliss and pure beauty.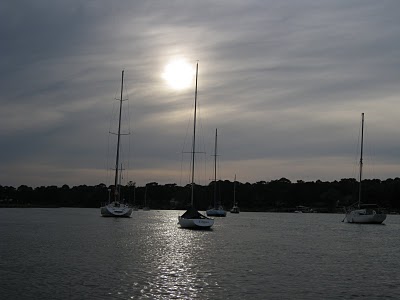 May all of your travels this spring and summer be blessed with God's beauty and splendor! Please leave only small carbon footprints to keep this great country the gem that it is. And of course fellow foodies, don't forget to do your best to eat well too and experience the fresh, local cuisine specialties that you'll not be able to find when you return home!
Happy travels (buona viaggio)!
.
.