Spring Pea and Asparagus Salad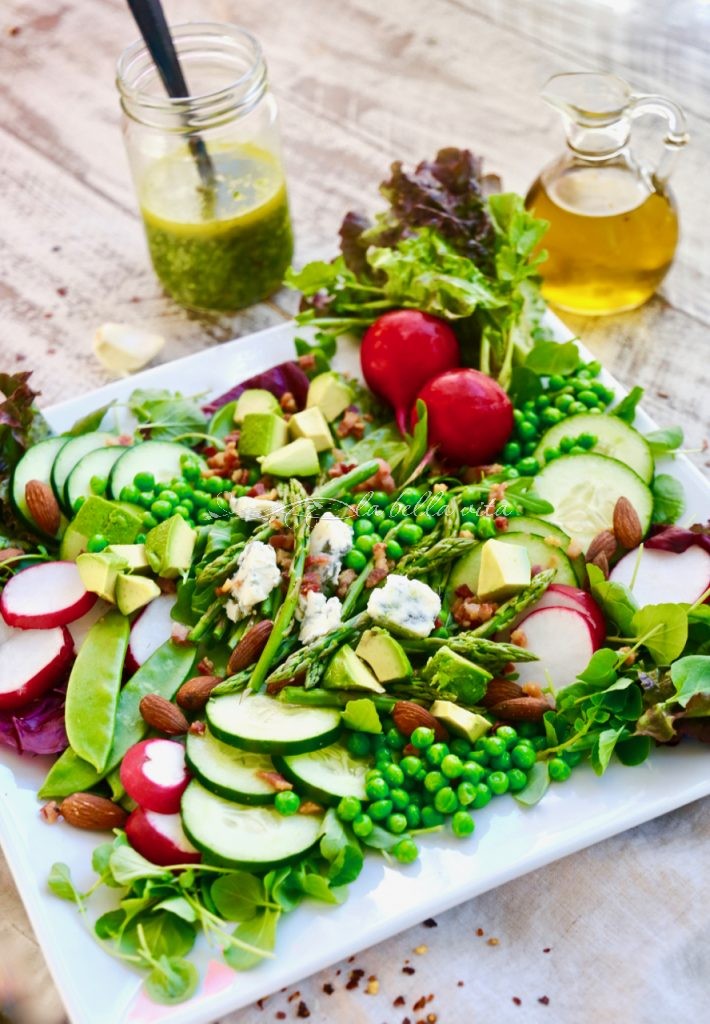 Spring is just around the corner! The daffodils and forsythia on the acreage are blooming and popping up to joyfully announce the change in seasons! It's always so much fun for me to plan for spring garden planting when the seed catalogs arrive in the mailbox in February. There are so many choices to include in this year's garden!
Everyone has their standard vegetables that they religiously plant year after year. Each of us has our own individual favorite tomatoes in many varieties, peppers galore, plus an array of lettuce, peas, and cucumbers. I also have perennial rhubarb and asparagus plants that return every spring. Such a welcome sight!
The first vegetables that I enjoy from all of my planning and planting are delicate and tender leaf lettuce, peas and asparagus. All of which are perfect to use in creating a colorful and healthy salad, that's also delicious and satisfying. With a light and fresh basil vinaigrette that you've preserved from last summer or that you plan on growing this summer, you'll love this on a spring (or summer) salad!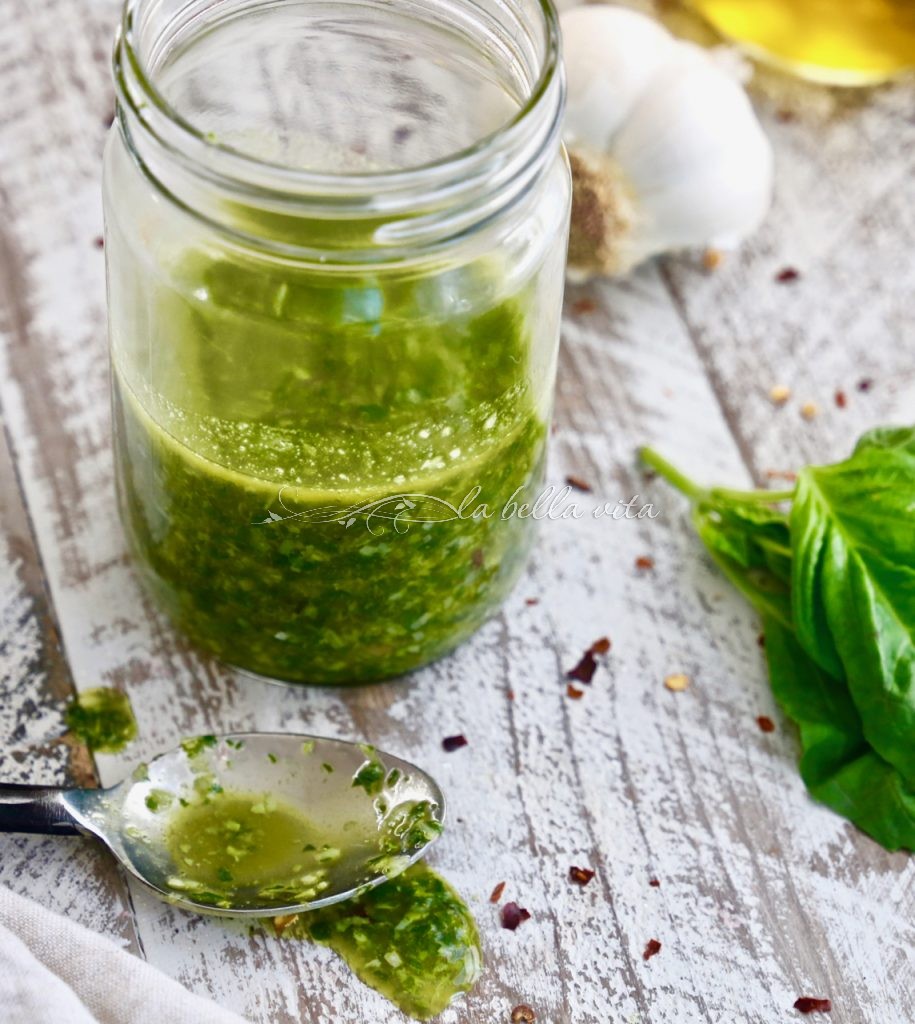 For this salad, remember to use a rainbow of colors in your lettuce and vegetable choices.
Not only is this salad a visual sensory feast for food eye candy, but according to nutrition and health experts, a wide hue of colors in a meal is a guarantee for getting vital key nutrients for our health!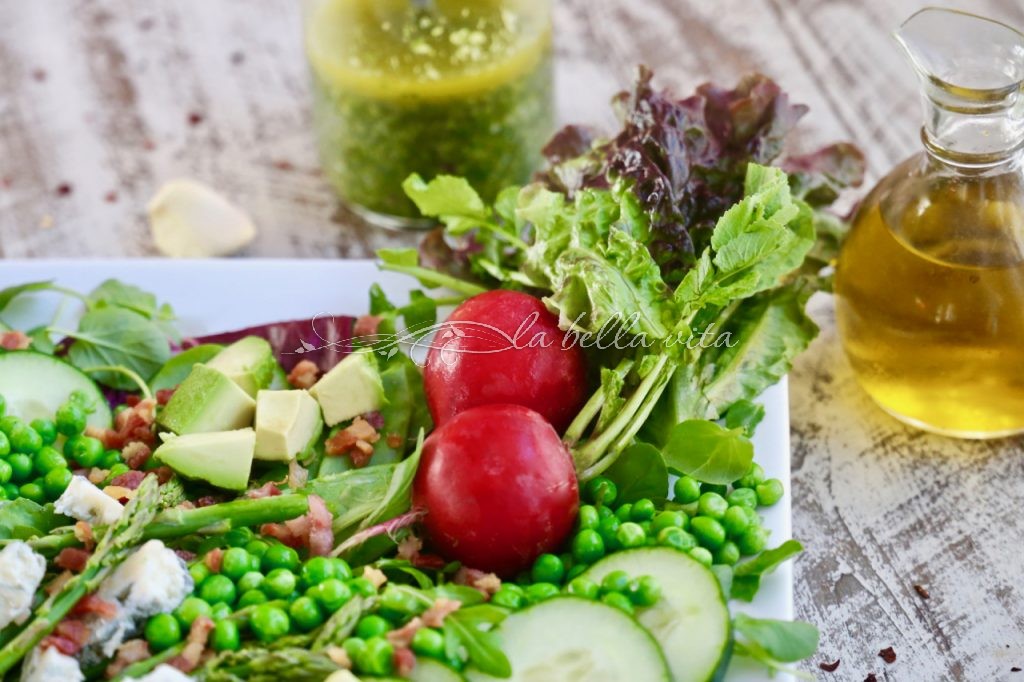 Radishes are another brightly colored spring vegetable that I include in my spring garden planning. Even on their own, with a simple dip of olive oil, salt and pepper, radishes burst with flavor. It was one of my family favorites growing up in the farming Midwest.
Plus radishes are just so beautiful, don't you think?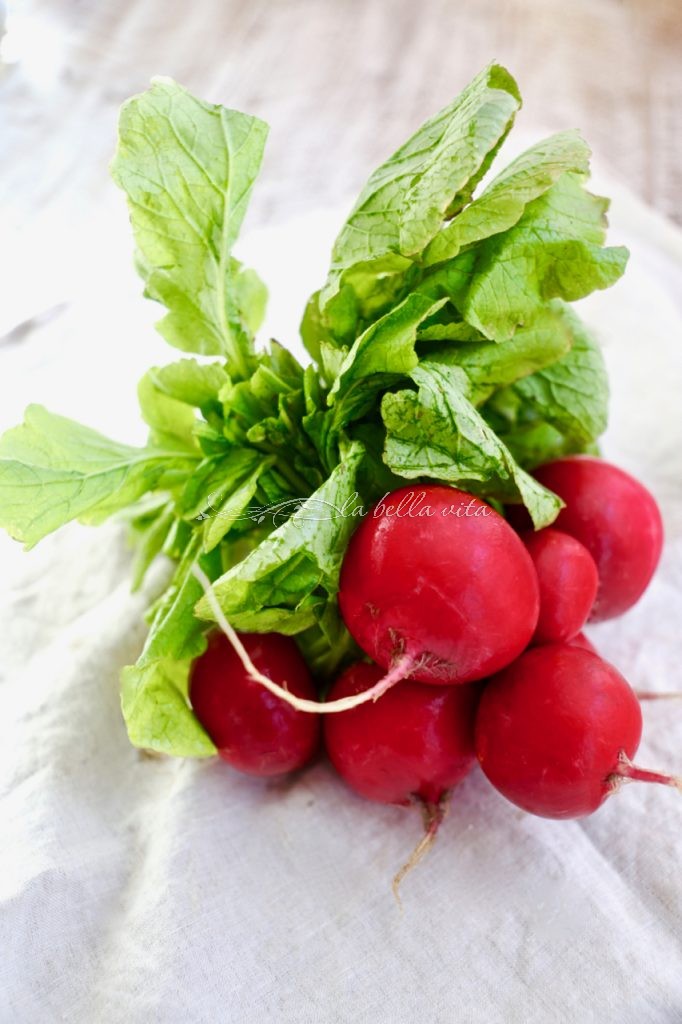 For this salad, I also added crisp snap peas, buttery avocados and creamy Italian Gorgonzola cheese (you can also substitute Blue Cheese or goat cheese). For a nice extra crunch beyond the radishes, I added whole almonds. For a tangy addition of protein, I added sautéed pancetta. And don't forget the all importance of an enticing presentation: place each type of vegetable in specific places on a bed of mini arugula and mixed spring greens.
Ta dah! Beauty and healthy nutrition on a plate!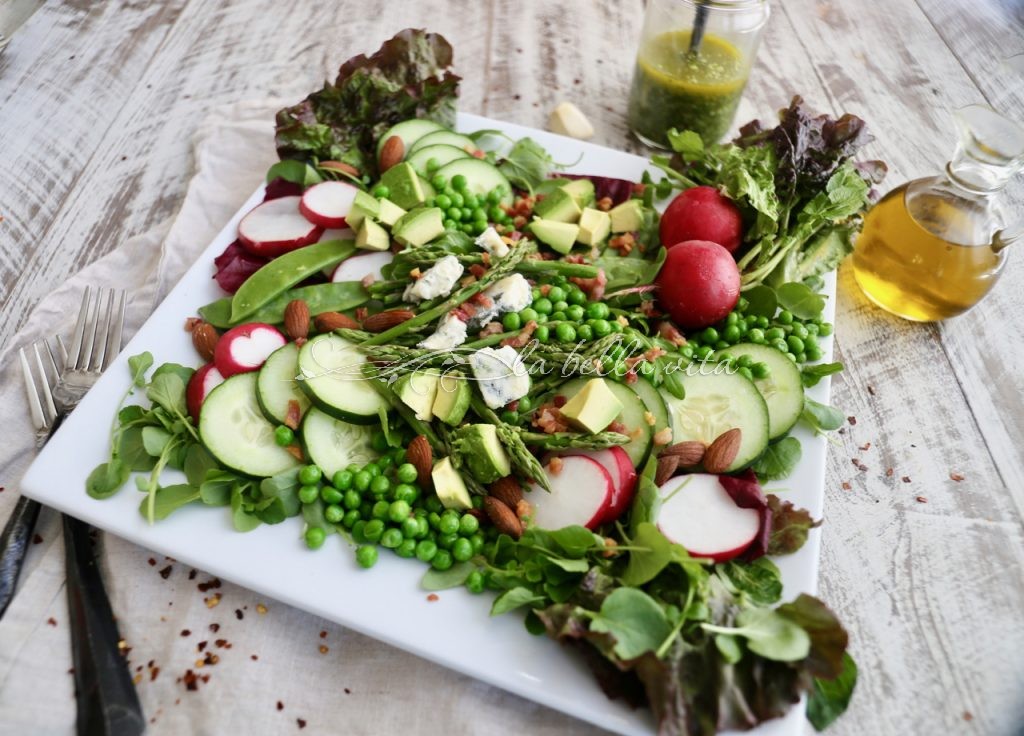 A beautiful palate of vibrant colors, textures, and shapes — almost too beautiful to eat!

Spring Pea and Asparagus Salad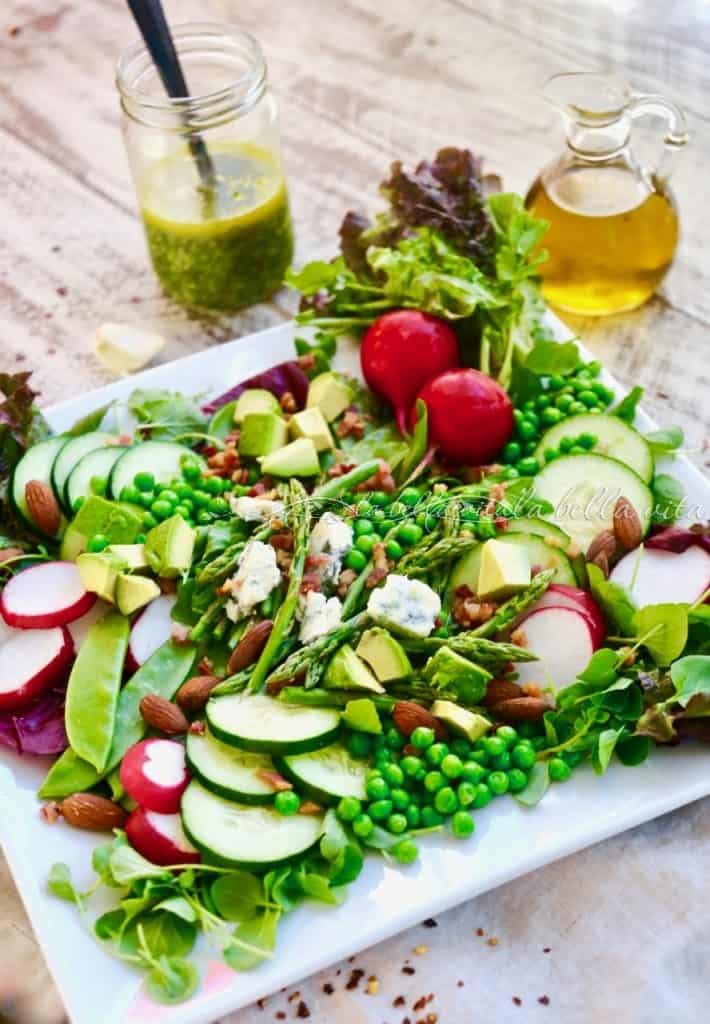 Ingredients
For the salad
Your choice of 'loose leaf' lettuce for the 'bed' of the salad (I used mini-arugula as well as a blend of spring greens)
1 - 2 cups of fresh asparagus, blanched or pre-blanched, cut about 4 inches long, preferably the thinnest you can find
2 cups frozen or fresh small green peas
4 - 6 radishes, sliced, with 2 or 3 whole radishes for garnish
1 - 2 cucumbers, sliced thin
1 - 2 avocados, cut into ½" chunks
1 cup snap peas, kept whole and uncut
½ cup chunks of Italian gorgonzola cheese
1 cup whole almonds
1 cup diced, and sautéed Italian pancetta (Italian bacon found in your grocer's deli department)
Fresh Basil Vinaigrette (see recipe link on the blog)
Instructions
Prepare vinaigrette of choice
See Fresh Basil Vinaigrette recipe through the link on the blog post OR search for other vinaigrettes (balsamic, or blood orange, etc.) in the search box on the blog.
Prepare the salad
Begin with a layer or 'bed' of fresh, mini-arugula or fresh spring greens INCLUDING red-tipped leaf lettuce as the base of the salad.
In each of three corners of the salad, layer or pile any of the vegetables mentioned in the ingredients above.
Also include any ingredient that satisfies your own taste preference level.
Serve with the featured Fresh Basil Vinaigrette or that of your own choosing.
Enjoy this Spring Pea and Asparagus Salad!