Still The Best Red, White and Blue Flag Cake from Ina Garten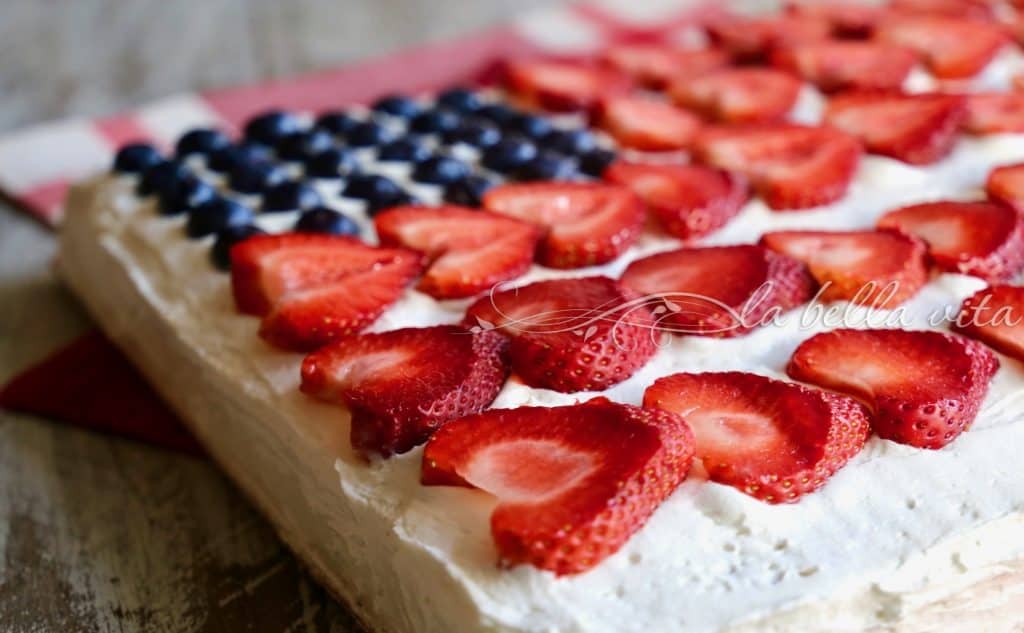 For Memorial Day, Independence Day (the 4th of July) or Labor Day, this is our family go-to cake which is literally, hands-down, still the best Red, White and Blue Flag Cake. This cake was inspired by Ina Garten's flag cake with several changes that suit our taste preferences. It's always recommended to adjust any recipe to please your palate and that of your loved ones! After all, you're the cook, right?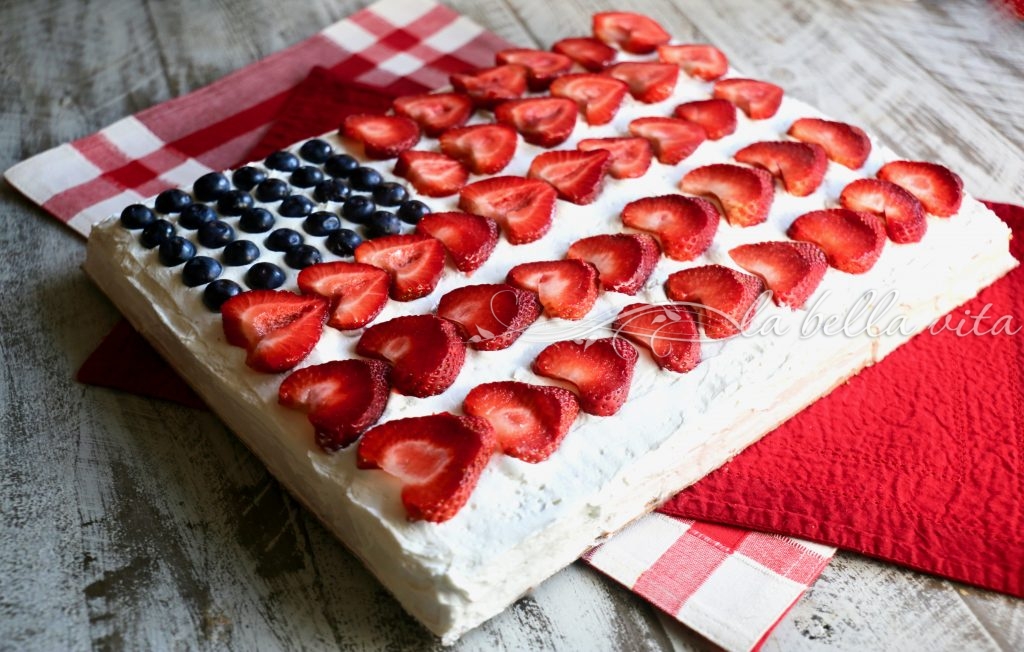 The original recipe for this cake was decorated with raspberries and this time strawberries were used instead. Both of them are gorgeous! This is what the original cake looked like in the post: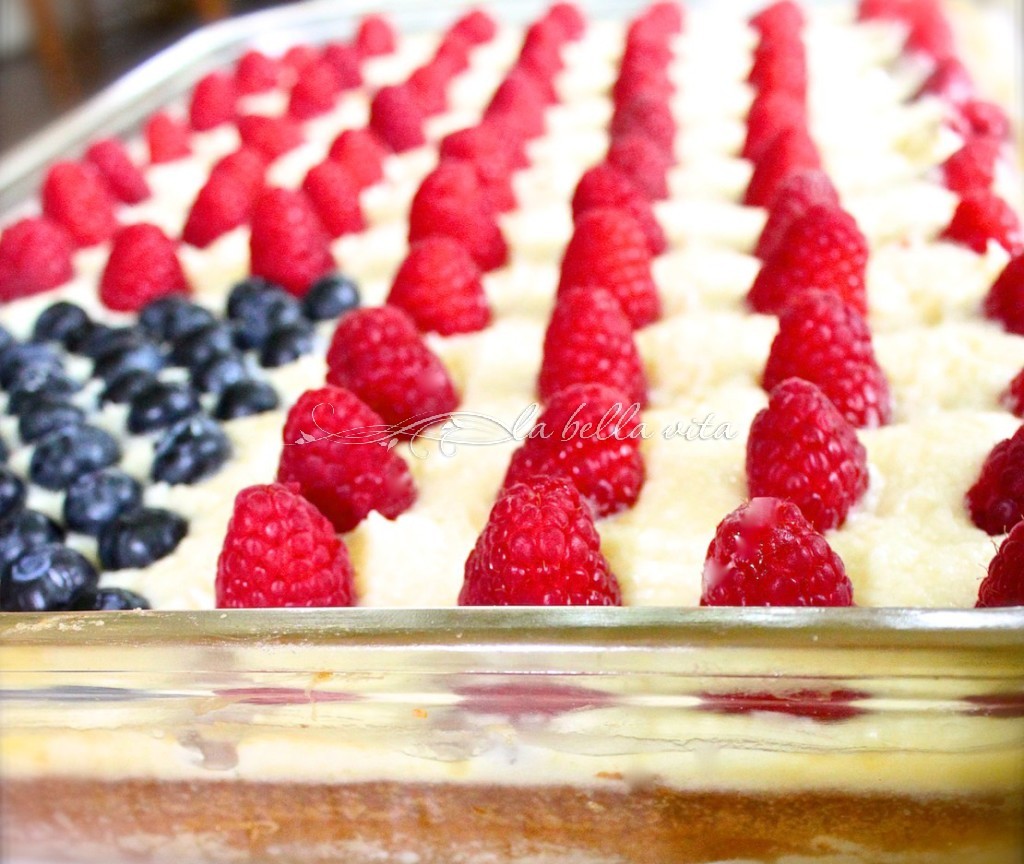 I love the brilliant colors, don't you? If you're not from the States, just use fruit in colors that represent your country's flag for whatever national holiday that you celebrate . . . your guests will love it!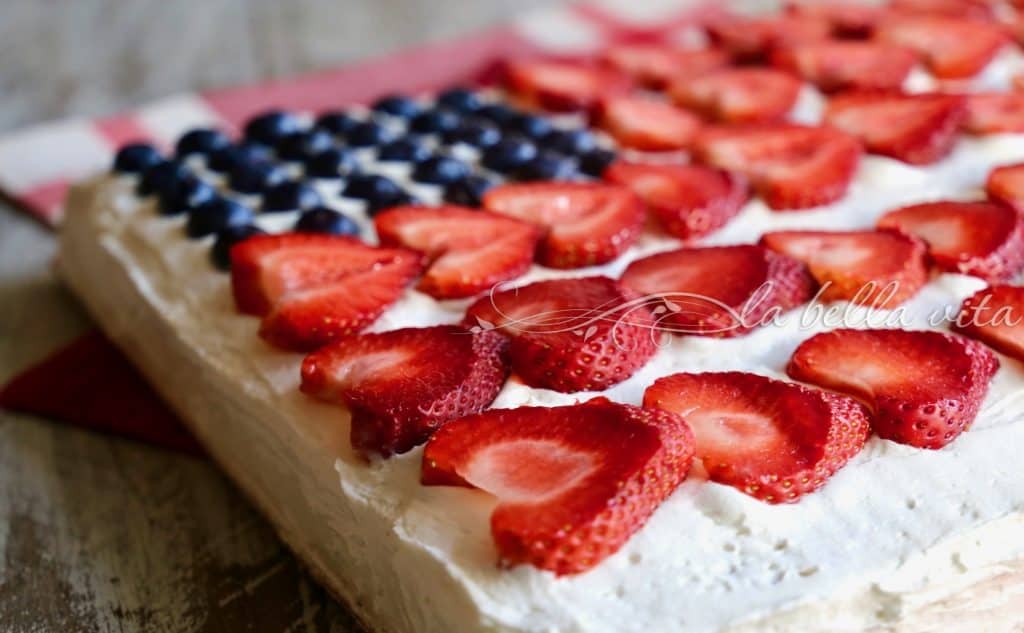 If you make this delicious cake, remember to take a photo, shoot it in an email to me and I'll share it here for everyone to see!
In the meantime, have a safe and happy Memorial Day holiday and don't forget to think and/or pray for those who have passed from this life.
Thank you for kindly pinning this image on Pinterest!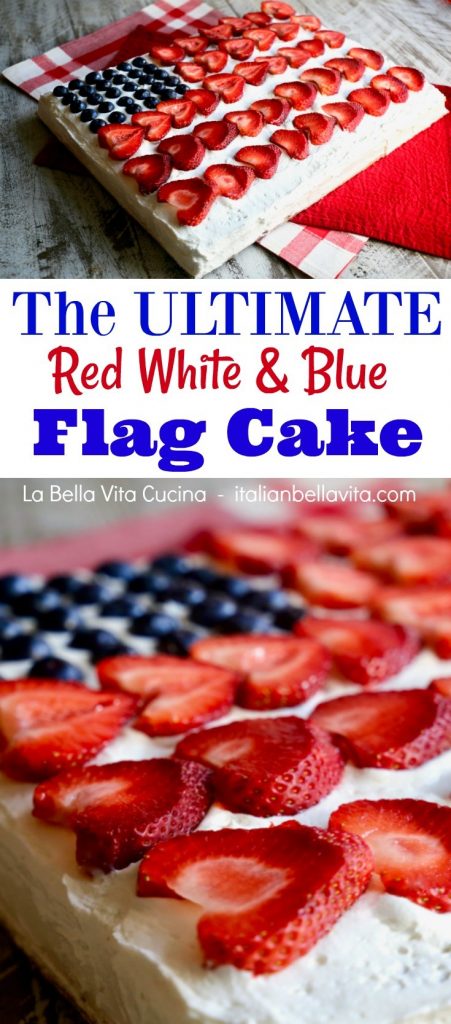 Print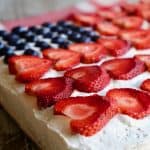 The Best Red, White and Blue Flag Cake
---
For the cake:
2-¼ sticks of butter, room temperature
3 cups of granulated sugar
6 jumbo eggs, room temperature
1 cup sour cream, room temperature
2 tsp. pure vanilla extract (I increased this from 1-½ tsp.)
3 cups flour
1/3 cup cornstarch
½ tsp. salt
1 tsp. baking soda
Icing:
4 sticks of unsalted butter, room temperature
1-½ lbs. cream cheese (I used mascarpone cheese because it is sweeter)
1 lb. + 1 cup confectioners (powdered) sugar (I added the extra cup)
2 tsp. pure vanilla extract (I increased this from 1-½ tsp.)
Decoration/Garnish:
1 pint of fresh blueberries
3 – 4 pints of fresh raspberries
---
Instructions
Preheat the oven to 350 F degrees.
Butter and flour an 18 x 13 x 1-½" sheet pan . . . I used a 17 x 11″ baking pan and just baked it longer.
On high speed, cream the butter and sugar in a large bowl with a mixer, until light and fluffy.
On medium speed, add 2 eggs at a time, mixing after each addition.
Add sour cream and vanilla, mix thoroughly, scraping down the sides of the mixing bowl.
With a whisk, in another large bowl, mix the flour, corn starch, salt and baking soda.
On low speed, mix the flour mixture into the butter mixture until well blended.
Pour the cake batter into the prepared cake pan.
Spread the cake batter evenly in the pan.
Bake in the center of the oven for 40 – 50 minutes (if you use the smaller pan as I did). If you use a larger sheet pan, bake for only 20 – 30 minutes. Make sure that a toothpick comes out clean.
Allow the cake to cool completely!
Prepare the Icing
Combine the butter, cream cheese/mascarpone cheese, sugar and vanilla in a medium bowl using an electric mixer.
Mix until smooth.
Prepare the Cake
Spread the icing all over the cake and smooth it out flat.
Decorate the cake with blueberries for the 'stars' portion of the flag.
Place the raspberries in straight lines for the 'stripes' portion of the flag
---
Notes
*Note: If you don't serve this cake immediately, keep the cake refrigerated due to the amount of butter in the icing that will melt. Remove the cake to come back to room temperature before serving.
This recipe is based on Ina Garten's flag cake with many changes of my own indicated in parentheses.
Adapted from Ina Garten's cake with numerous changes