U.S.A. Stars and Stripes Flag Cake
Celebrating the 4th of July, our Independence Day for the U.S.A.? This year I decided to try something that many people enjoy in the States on our patriotic holidays: a U.S.A. Stars and Stripes Flag Cake ! I knew that Ina Garten made a flag cake and decided to bake it, with a few tweaks of my own.
This cake is HUGE and AMAZING! Guaranteed to be a crowd pleaser for any get-together! As my husband said, "Yea, that's really a good cake!"
This cake is also a diet-buster, so don't say that I didn't warn you. I only ate a few bites like a good girl!
But you can eat as much of this yummy cake as you like!
A Beautiful and Delicious Celebration Cake!
Stars and Stripes Flag Cake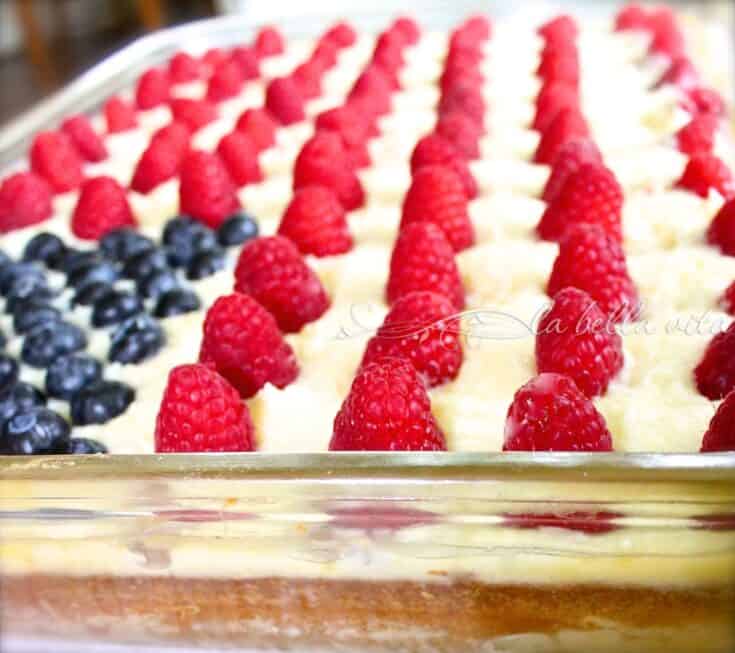 Ingredients
For the cake
2-¼ sticks of butter, room temperature
3 cups of granulated sugar
6 jumbo eggs, room temperature
1 cup sour cream, room temperature
2 tsps. pure vanilla extract (I increased this from 1-½ tsp.)
3 cups flour
1/3 cup corn starch
½ tsp. salt
1 tsp. baking soda
Icing
4 sticks of unsalted butter, room temperature
1-½ lbs. cream cheese (I used mascarpone cheese because it is sweeter)
1 lb. + 1 cup confectioners (powdered) sugar (I added the extra cup)
2 tsp. pure vanilla extract (I increased this from 1-½ tsp.)
Decoration/Garnish
1 pint of fresh blueberries
3 - 4 pints of fresh raspberries
Instructions
Preheat the oven to 350 F degrees.
Butter and flour an 18 x 13 x 1-½" sheet pan . . . I used a 17 x 11" baking pan and just baked it longer.
On high speed, cream the butter and sugar in a large bowl with a mixer, until light an fluffy.
On medium speed, add 2 eggs at a time, mixing after each addition.
Add sour cream and vanilla, mix thoroughly, scraping down the sides of the mixing bowl.
With a whisk, in another large bowl, mix the flour, corn starch, salt and baking soda.
On low speed, mix the flour mixture into the butter mixture until well blended.
Pour the cake batter into the prepared cake pan.
Spread the cake batter evenly in the pan.
Bake in the center of the oven for 40 - 50 minutes (if you use the smaller pan as I did). If you use a larger sheet pan, bake for only 20 - 30 minutes. Make sure that a toothpick comes out clean.
Allow the cake to cool completely!
Prepare the Icing
Combine the butter, cream cheese/mascarpone cheese, sugar and vanilla in a medium bowl using an electric mixer.
Mix until smooth.
Prepare the Cake
Spread the icing all over the cake and smooth it out flat.
Decorate the cake with blueberries for the 'stars' portion of the flag.
Place the raspberries in straight lines for the 'stripes' portion of the flag.
Notes
*Note: If you don't serve this cake immediately, keep the cake refrigerated due to the amount of butter in the icing that will melt. Remove the cake to come back to room temperature before serving.
This recipe is based on Ina Garten's flag cake with many changes of my own indicated in parentheses.
You may also enjoy the patriotic fruit pizza that I prepared last year.
It's an old recipe and a winner that everyone loves!
Click this link for the post and recipe for the Red, White and Blue Fruit Pizza!