Perfect Prime Rib with Au Jus
Prime Rib with Au Jus is quite simply one of life's delicious indulgences!
The holiday season is upon us and in full swing. Soon our kitchens and dining rooms will be loaded with glorious platters of food and bustling with friends and family.
It's not every day that my family indulges in a prime rib dinner! This extravagance is reserved once a year for our Christmas Day dinner only! Even though neither my husband or myself are pros at preparing prime rib. But we're blessed to have parents who are pros at prime rib perfection!
It's my parents sell-out recipe from their successful restaurant that's forever saved in our family cookbook that is seriously, right on par for the perfect prime rib with au jus . This recipe will not disappoint! It's mouthwatering-juicy and fragrantlly herbed and spiced. Oh and you have the most amazing leftowvers for simply deliciouso sammies!
This prime rib with au jus involves several hours of slow cooking on low oven heat, and then standing for an hour or so . . . all depending upon the size/weight of the rib roast. Secondly, this recipe includes a rich 'au jus' that's a must to pour over (or dip into) the meat.
We enjoy prime rib more on the rare side, yet others in the family like it cooked a bit more medium-rare. So to satisfy everyone at the table, carve the outer slices for those who want their meat medium-rare, and cut more towards the center for those who prefer more rare slices.
This perfect prime rib with au jus will make everyone happy, happy!
As traditional northern Italians at Christmastime, we always ladle large bowls of homemade tortellini in brodo first before anything else is ever served. Holidays would never be complete without this classic northern Italian filled pasta soup!
For a side dish beside the prime rib, we keep it simple with baked potatoes (with butter and/or sour cream) alongside a fabulous fresh spinach and bacon salad. This way our Christmas dinner is just perfect. Not too much food and not too skimpy either . . . just right with room left over in our tummies for delicious sweet desserts!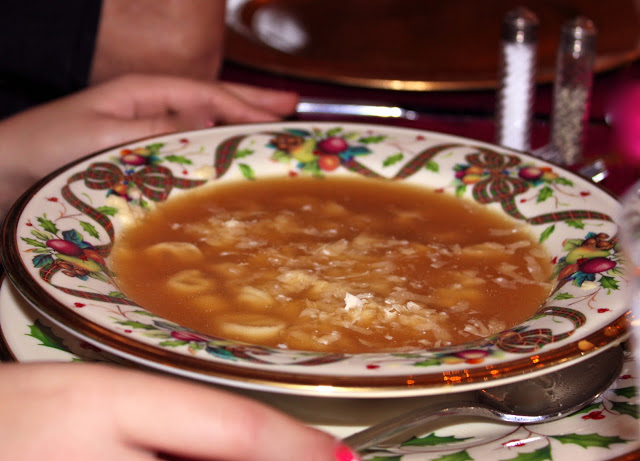 A bowl of Tortellini in Brodo with freshly grated Parmiggiano cheese sprinkled on the top.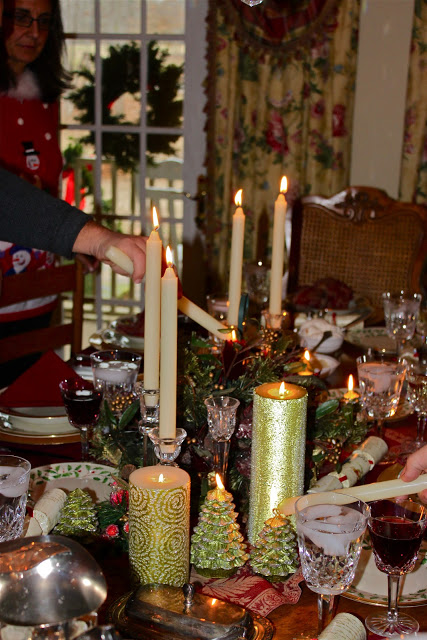 Lighting the candles on the table (before dinner).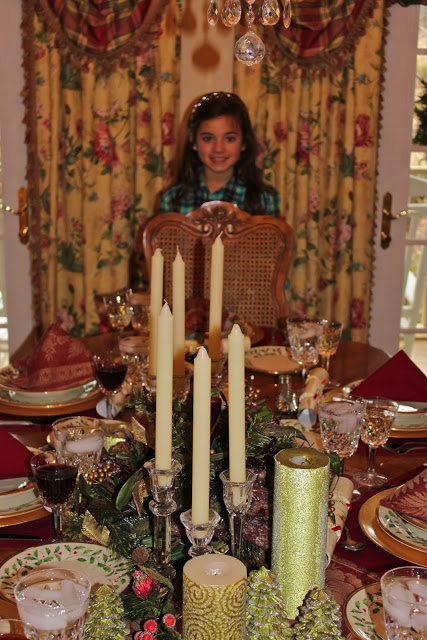 My niece waiting patiently for everyone to come to the table to enjoy!
.
Products I use and that you will need: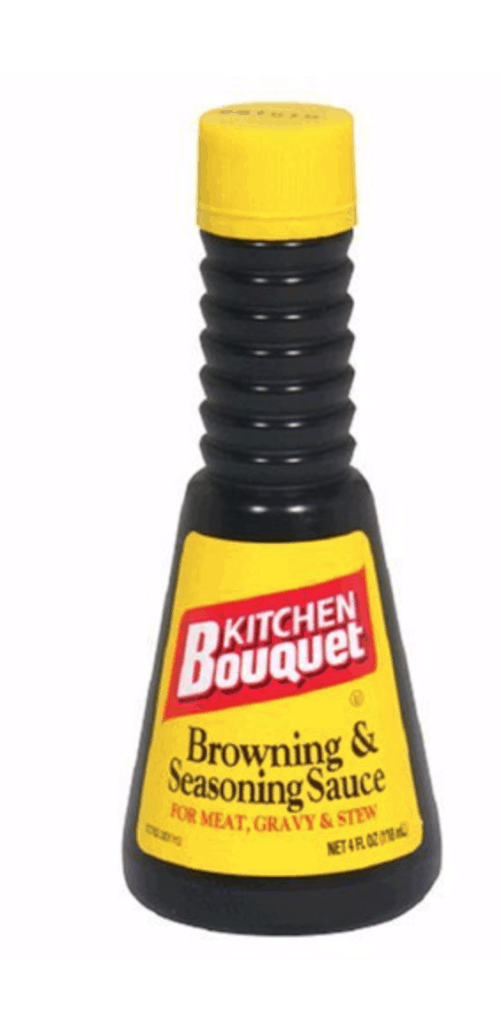 Kitchen Bouquet Browning and Seasoning Sauce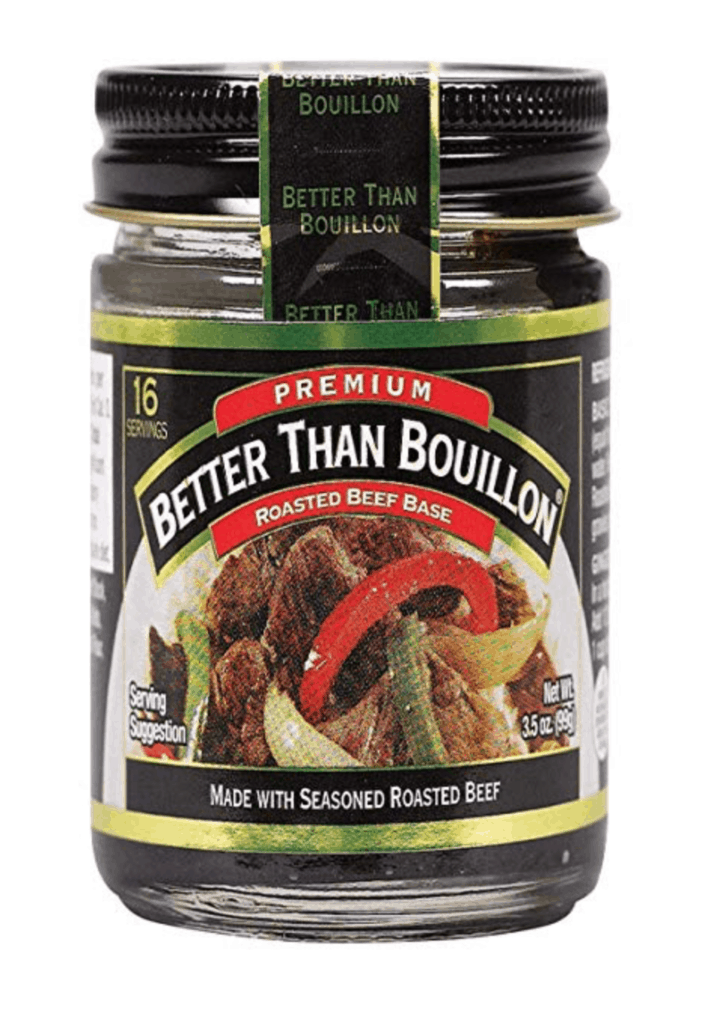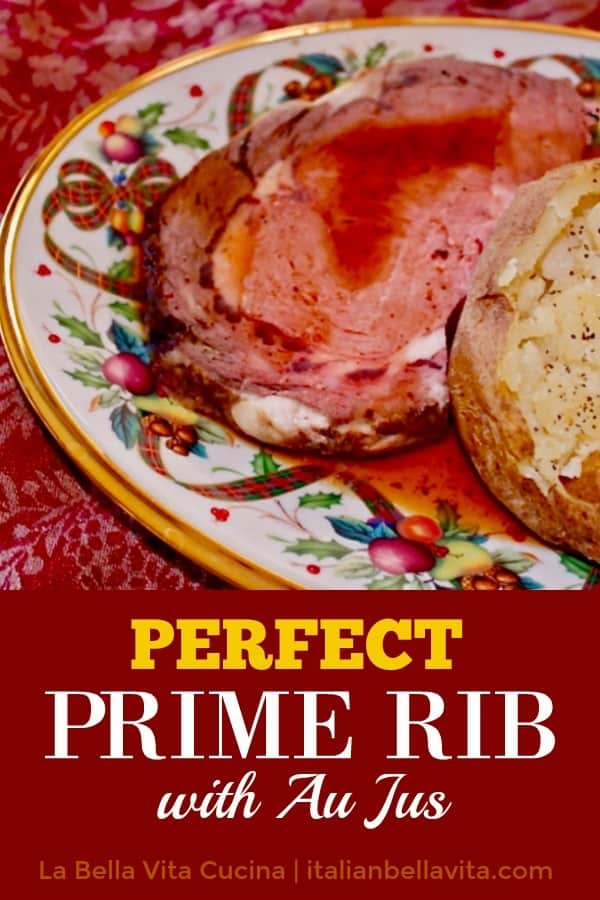 For the Perfect Prime Rib
1. Always buy "bone-in" prime rib roasts. The meat around the bones cooks slower than the rest of the roast, leaving those sections extra-tender and juicy.
2. Only buy well-marbled cuts of prime rib roasts. Marbling is the streaks of fat that runs throughout meats. So the more marbled the meat is, then you'll have more flavorful, juicier and more tender meat you'll have. Look for "Prime" graded beef to guarantee a higher level of fat content.
3. Avoid grass-fed beef for prime rib! It's far too lean…..grain (corn) fed means more fat and that's what we go for and you need to also for the best prime rib results! Grass-fed beef is just that . . . more grassy and funky in its flavor than grain (corn)-fed beef, which is richer in flavor.
4. Choose the oldest beef you can afford. When beef is dry aged, it is held at a controlled temperature and humidy for several weeks that concentrates the flavor of the meat. The outer layers are carved off and discarded, leaving a flavorful, ulta-tender meat. This cut of beef is expensive, but often worth the extra cost.
5. Do not roast a cold cut of prime: it is a huge, dense piece of beef, and to take it straight from the fridge in a cold state and then directly into the oven will result in far too much shrinkage and require a greater length of time to cook.
6. Take the chill off the prime rib roast by removing it from your fridge an hour or two before roasting. You don't have to be concerned about any bacterial infection because the beef doesn't sit out long enough to reach a lower temperature in which that takes place.
7. Although my parents' recipe does not require heavy seasoning or salt, some people prefer it. So if you like the salting and seasoning method, do so well in advance before roasting. For the best results, always salt a prime rib roast at least 45 minutes before cooking it . . . preferably the day before, leaving it in the fridge uncovered overnight. Also add any herbs and spices to penetrate into the rib roast. The meat becomes better seasoned with less salt and seasoning run-off.
8. Roast prime rib SLOW and LOW. To get that luscious rich, rosy interior that we lall ove in prime rib, you need it to roast slowly. The higher the temeprature you cook a prime rib roast, the greater the outer layers will be overcooked. You end up with a rosy red center, but with dry, gray outer layers. Roasting at very low temperatures (around 250°F) will prevent this from happening.
9. Prime rib is best served rare to medium. Aim for an internal temperature of 115 – 125°F for rare (after resting) and 125 – 130°F for medium rare (after resting) and to 130 – 140°F for medium (after resting).
10. Use a good instant read thermometer! This is is the only way to guarantee perfectly cooked meat, and a good instant read is more accurate.
11. Let prime rib roasts REST! Prime rib roasts need this extra time outside of the oven before carving for extra juciness and sublime texture. Carving too early causes more flavorful juices to be wasted rather than enjoyed by our tastebuds!
Print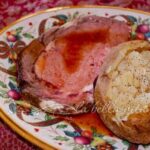 Prime Rib with Au Jus
Author:
Prep Time: 0 hours
Additional Time: 0 hours
Cook Time: 0 hours
Total Time: 0 hours
Category: Beef
Cuisine: American
---
Description
This recipe is from my parents' very successful Italian and Steakhouse restaurant. It is superb and super easy. Your guests will beg for more!
---
1 large (prime) rib roast. Let your butcher know how many people you'll serve and he will advise you on the weight that you should purchase.
For the Au Jus (this serves a crowd):
1 pound high-fat ground beef (preferably corn fed)
3 quarts water
4 tablespoons Kitchen Bouquet
4 tablespoons beef (bouillion, I use and recommend "Better Than Beef")
sea salt (Freshly cracked, 4 Tbsp. and black pepper, 1/2 tsp.)
---
Instructions
Remove the prime rib from the refrigerator for about an hour before roasting and allow it to come to room temperature.
Place the prime rib in a large, deep roasting pan on a wire rack, fat side on top.
Pour 1/2″ of water into the pan.
This recipe does not call for any salting or seasoning before roasting. So do not season the meat at all.
Cook roast uncovered for 17 – 20 minutes per pound on 250 degrees. This translates to about 3 to 3-/1/2 hours in the oven.
Keep adding water throughout the cooking time.
Remove the roast from the oven and cover with either a towel or an aluminum foil tent and let it stand for 30 minutes up to 1-1/2 hours, using a good internal instant-read thermometer to indicate your preferred level of doneness.

For the Au Jus
Boil 1 pound ground beef in hot water (the two combined should equal 3 quarts) for 10 minutes.
Add 4 Tbsp. Kitchen Bouquet Browning and Seasoning Sauce
Add 4 Tbsp. beef bouillon (try not to use the cubes, but rather use the moist jarred version "Better Than Bouillion").
Add 4 Tbsp. salt and 1/2/ tsp. black pepper
Strain and keep all the liquid.
Add this mixture to 3 quarts of cold water.
Refrigerate.
After chilling, remove all of the fat from the top surface of the au jus.
Bring back to a super HOT temperature on the stove and serve at this very hot temperature over the prime rib.
---
Do you enjoy La Bella Vita Cucina?
We'd love to have you as part of our community!
Subscribe below to get the latest recipes, travel tips and gardening ideas straight into your inbox!
.
.