Classic Italian Wedding Soup in an Instant Pot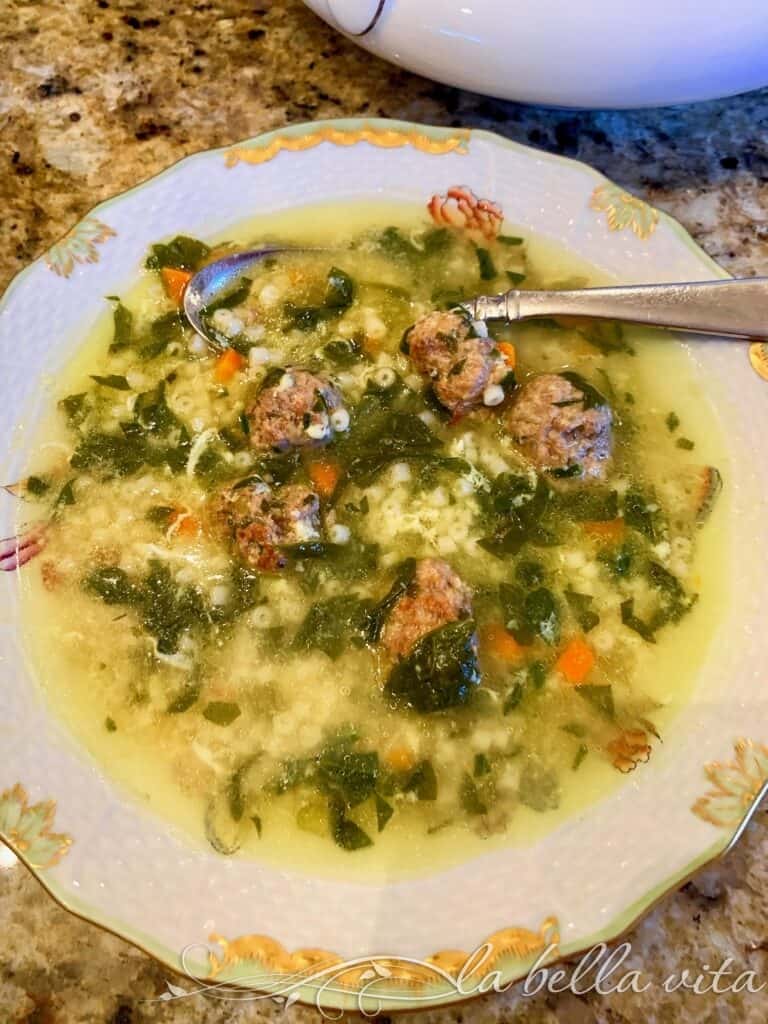 Although autumn arrives later in the South, it slowly appears with falling leaves, blood orange sunsets, and cool evening breezes.
Ahhhh! Just bliss!
And like any other region of the country, cooler fall days beckon our food preferences for delicious homemade soups. There's just nothing quite so comforting than warming up to an aromatic bowl of soup. What is it about soup that makes it the perfect food that's simply so good for our souls and our senses? And a bowl of Italian Wedding Soup is the best soup for the season!
My Italian mama always had a pot of soup on the stove, no matter what time of year it was. I also have memories that evoke visions of my Nonna preparing this amazing Italian Wedding Soup. My family just loves the simplicity of a hot bowl of homemade soup made from scratch. Nothing from a can . . . EVER!
There's nothing about a 'wedding' related to this soup!
The name simply comes from how perfectly the ingredients 'marry' together. Perfect harmony as they say! And they really do blend amazingly together!
Italians are regional cooks, each with their own twists on how to prepare a recipe. Some add eggs at the end as my Nonna did and some don't. Some add different types of vegetables, different herbs, and so on. With all of these versions, I never fail to return to my Nonna's recipe that always included homemade meatballs!
Of course, if you're strapped for time, you can always purchase ready-made meatballs from your local grocer. But there's just nothing like homemade meatballs. As a time-crunched busy, full-time educator, I set aside a weekend day to make a huge batch to freeze. It's how I roll in my little cucina!
Let's get to the kitchen and get started, shall we?
I always start by setting out all of the ingredients that have already been chopped or minced, measured, and placed in individual glass mixing bowls . . . one of the best kitchen items you can buy!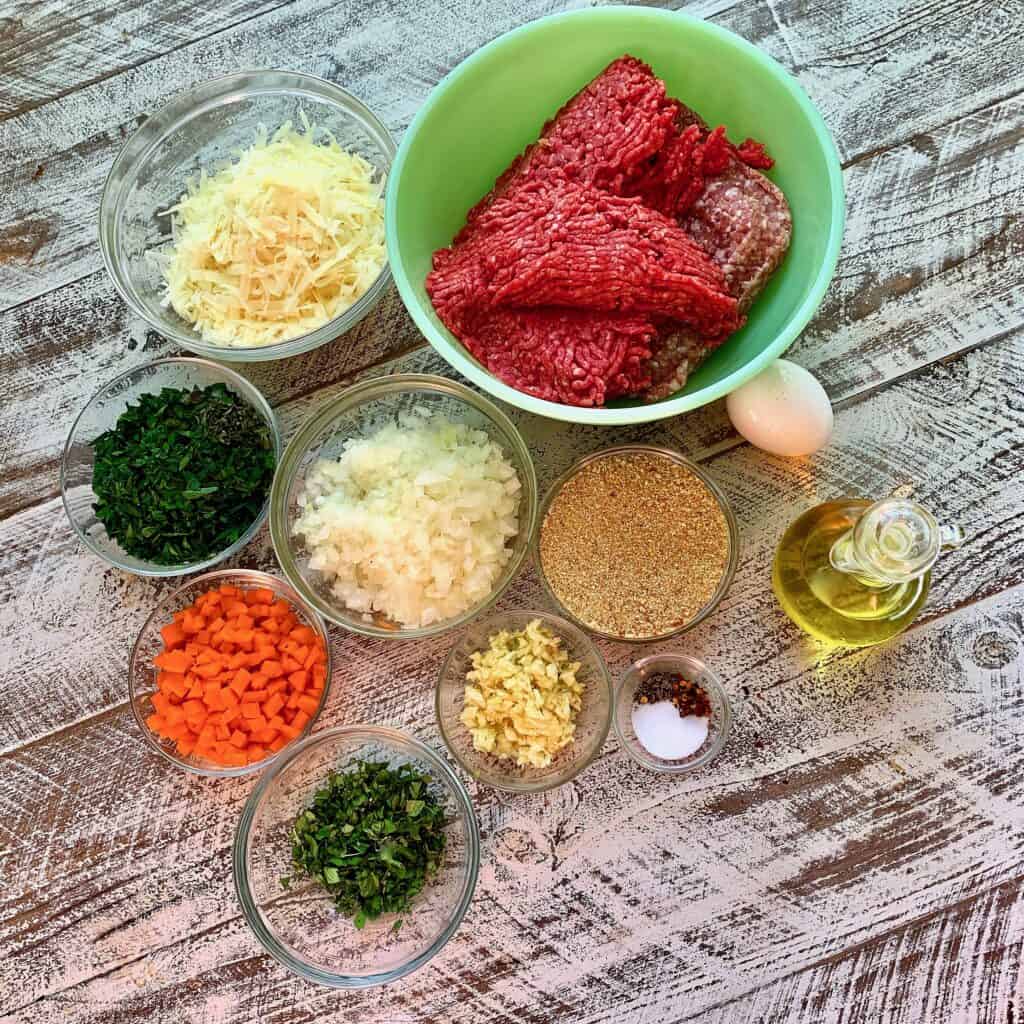 THE SECRET TO AMAZING MEATBALLS and WHY THIS SOUP IS OUTSTANDING:
You have to be BOLD in adding flavorful ingredients to the meat of your meatballs! No one wants plain, blah meatballs!!
Seriously add a lot of garlic, onions, egg, Italian parsley and lots of Parmigiano and Pecorino Romano cheese!
Place all of the meatball ingredients together in a very large mixing bowl and mix them together very well. And yes, I use my very clean hands to do this. Form the mixture into very small ½" to 1″ sized round meatballs. In a separate, large frying pan, saute' whatever meatballs you don't use and freeze to use later.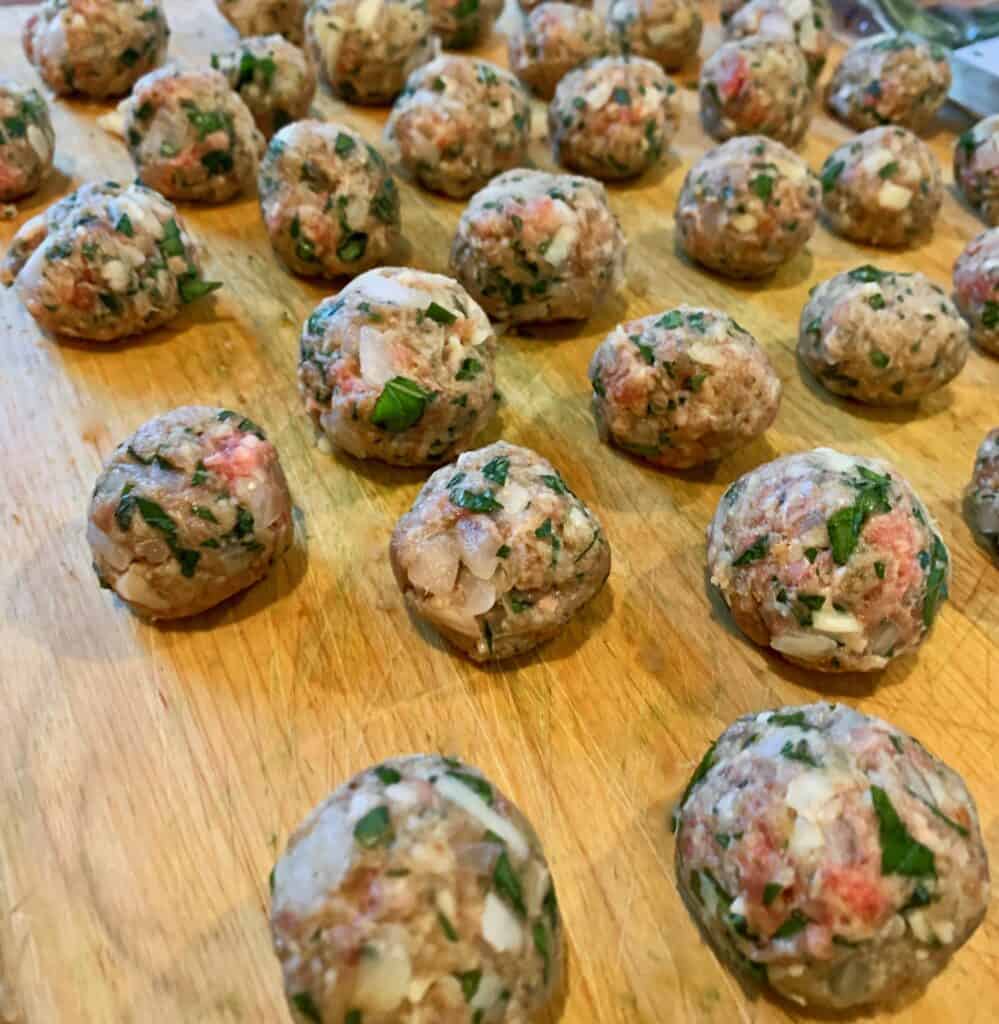 Set the Instant Pot on "saute'". Pour in the olive oil.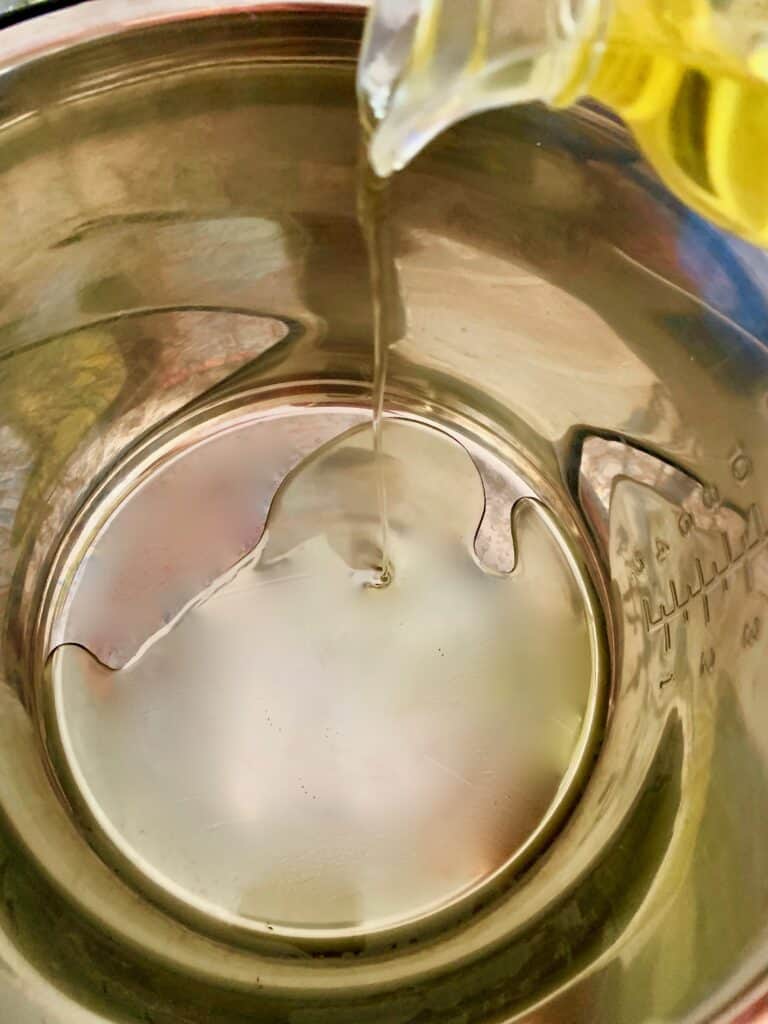 Add at least 24 meatballs to the hot olive oil and brown to your level of doneness.
This was a small batch of Italian Wedding Soup, so add more meatballs to your level of preference. I'd add at least another 24 or more for a larger batch of soup.
I don't seal the lid on the Instant Pot for this step; rather I just leave it loosely on top. Come back to the pot regularly to very gently move the meatballs around so that they brown on all sides. You can also do this step in a large frying pan on the stove and then add the meatballs to the Instant Pot.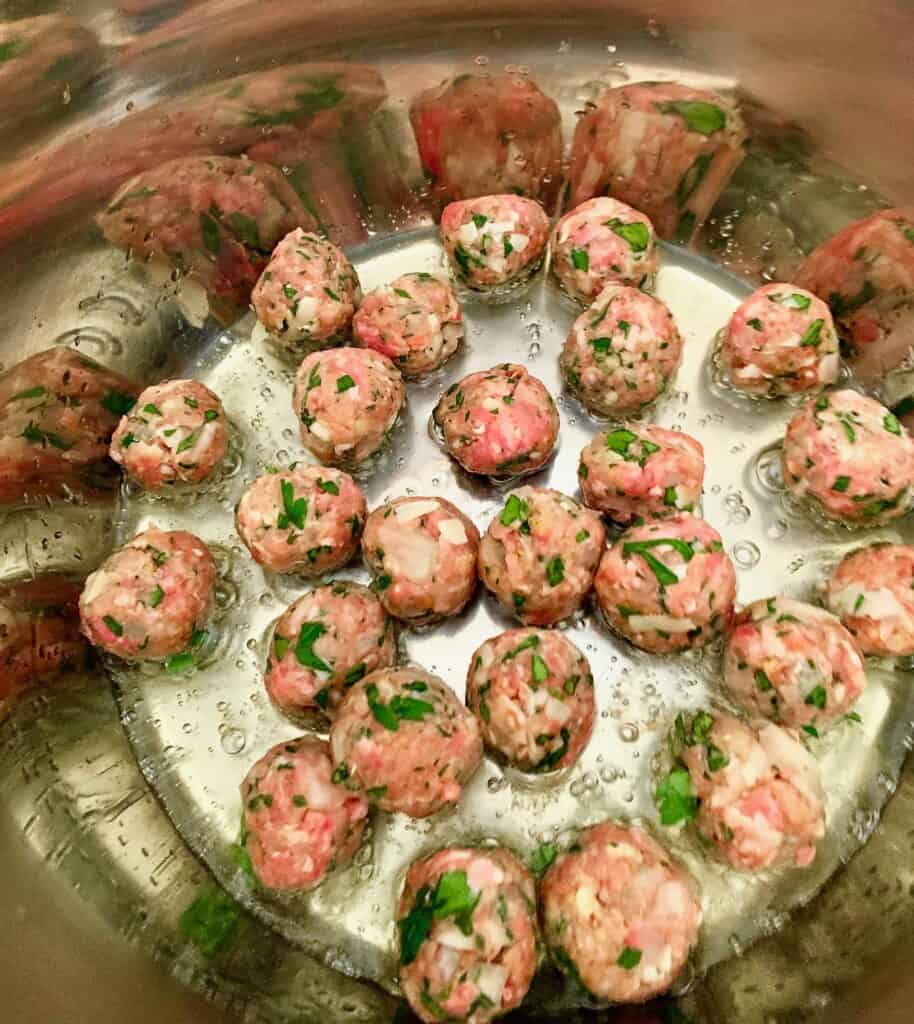 It would be nice if the meatballs would roll around by themselves, but alas, they don't, so you need to stop and gently move them around the Instant Pot to brown. I don't cook raw meatballs in the broth as some recipes call for. My family dislikes that entire idea. Some people do cook everything all at once in the broth and that's fine, but we like our meatballs browned.
So I saute' the meatballs to a nice, delicate brown first.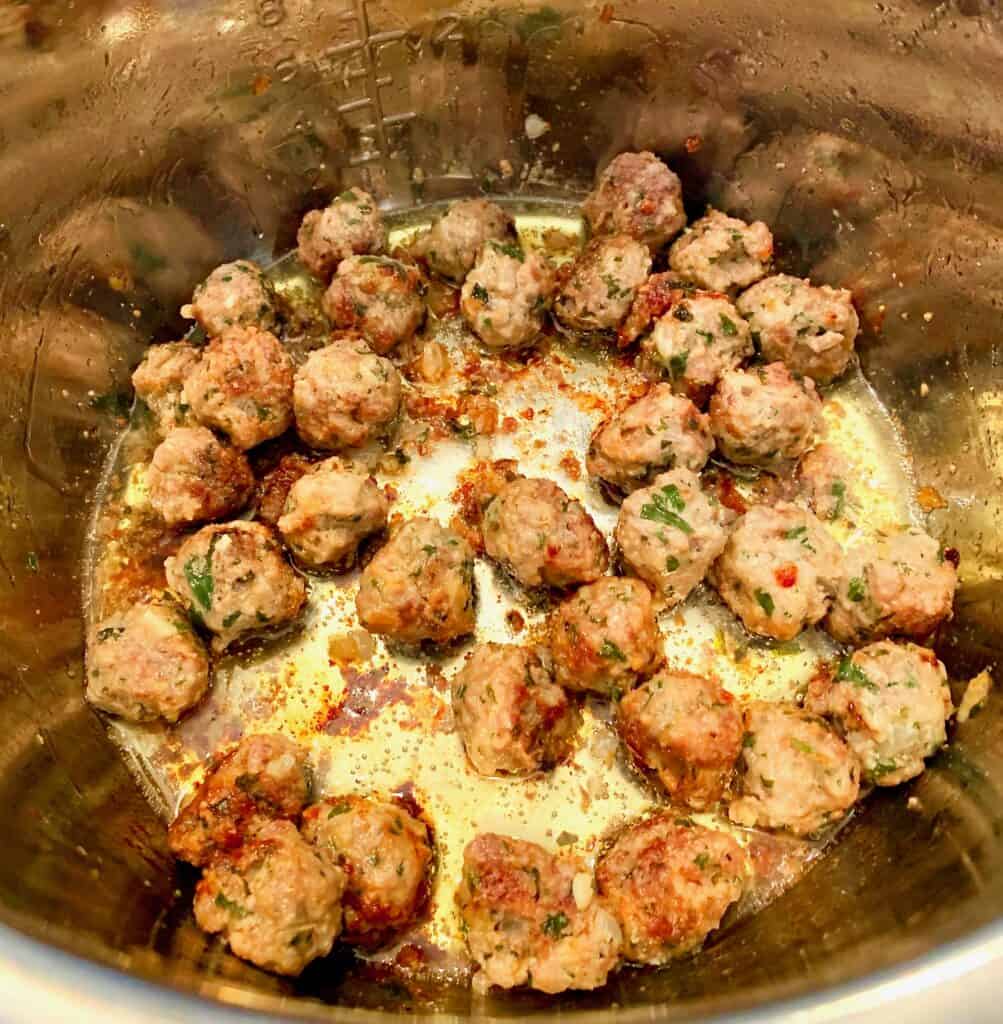 After you're satisfied with the level of browning of the meatballs, add the chicken broth to the meatballs in the Instant Pot (homemade meatballs are best, but storebought are just fine too — especially when you're crushed for time).
About the chicken broth that I prefer in my recipes:
I like to make HUGE batches of homemade chicken broth/stock and freeze it for future use. Since I'm just a super busy person like everyone else, I set aside a day when I don't have a heavy schedule, usually on the weekend and preferably Sundays to make broth ("brodo" in Italian as my family says). The truth is that there is just nothing that can compare to homemade 'brodo'. I control the amount of preservatives and unnatural junk that goes into canned and jarred chicken broth. And that makes it all worthwhile for my health-oriented family. They really are that picky!
Making homemade soup stock/broth requires patience when it comes to straining all of the meat and 'gunk' several times (almost 3 times) until the broth is clear. But it's so worth the time!
But if you don't have the time, do use organic, low-sodium broth. Free-range raised chicken broth on top is even better!
You can also use a combination of good store-bought broth/stock with homemade broth/stock as well.
As my son says, "It's all good, Mom".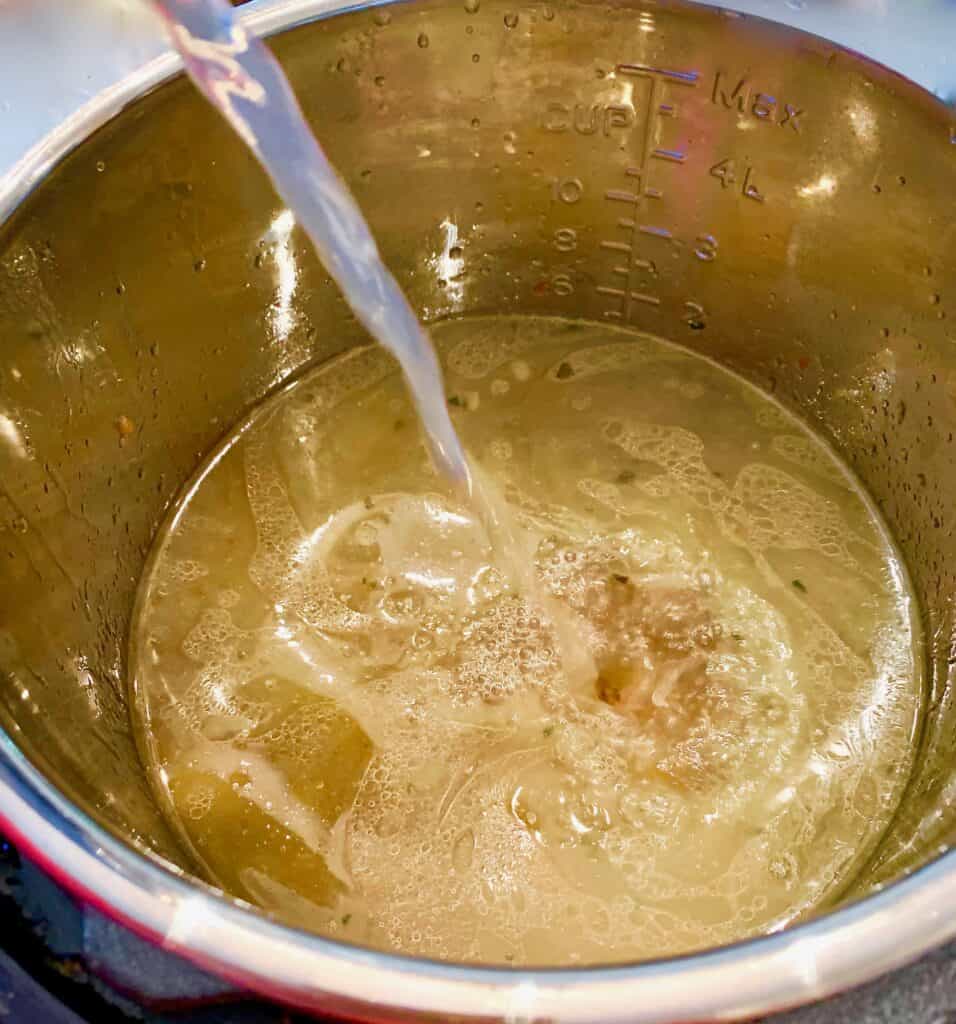 Add the carrots and celery to the Instant Pot.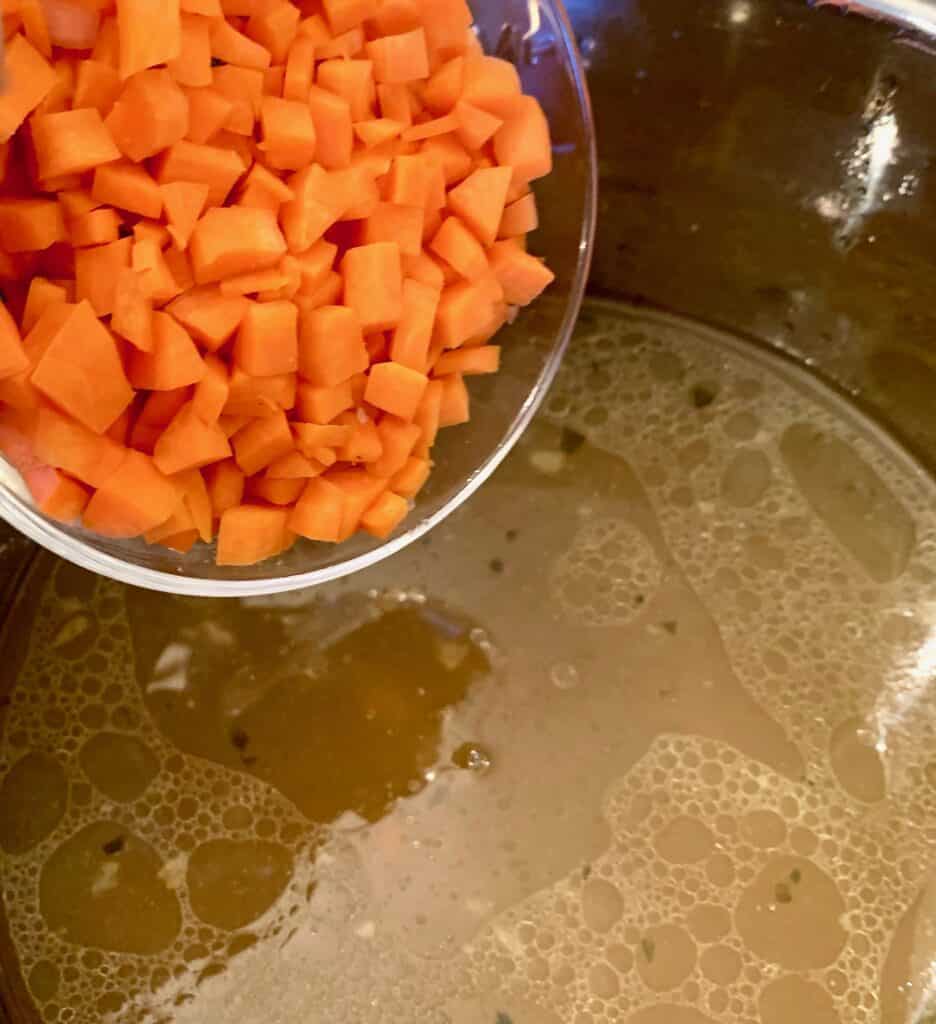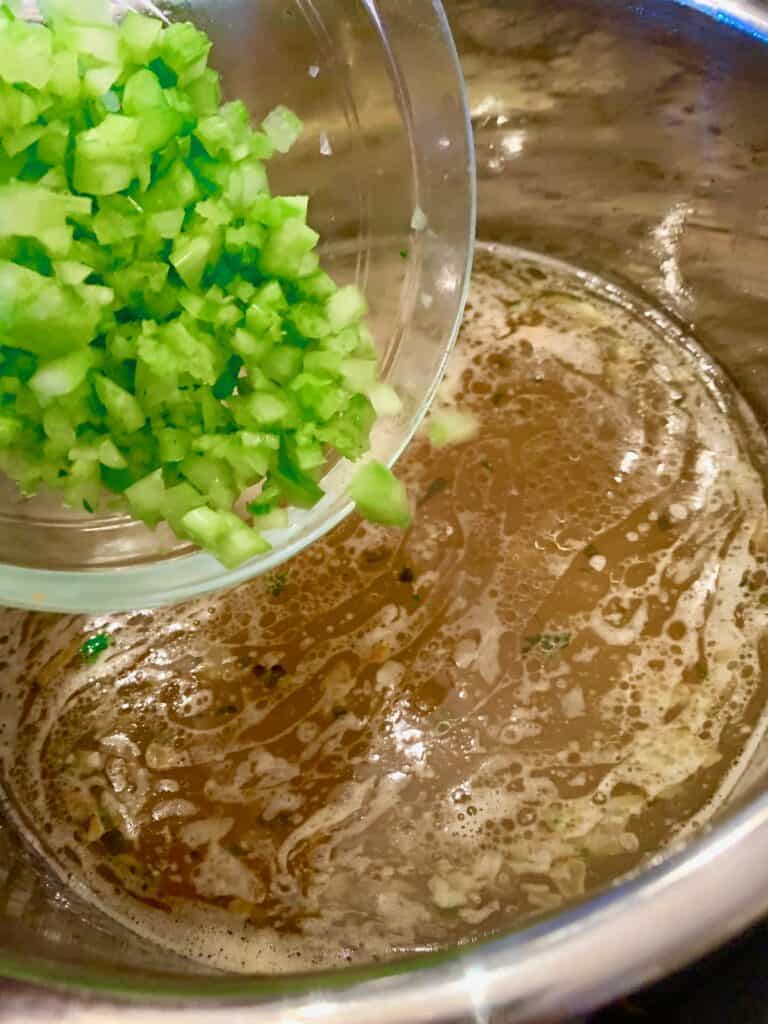 Italian Cooking SECRET: Never throw away any hardened rinds of Parmigiano or Pecorino Italian cheese! I always toss in a chunk of cheesy deliciousness into the pot to magically infuse an amazingly enhanced flavor throughout the soup!
Add the chopped baby spinach, any extra basil, oregano, and Italian parsley.
I used baby spinach in this batch, but escarole is also a common choice among Italian cooks for Italian Wedding Soup. My mother preferred swiss chard. I'm not a fan of kale at all, but some people use it too.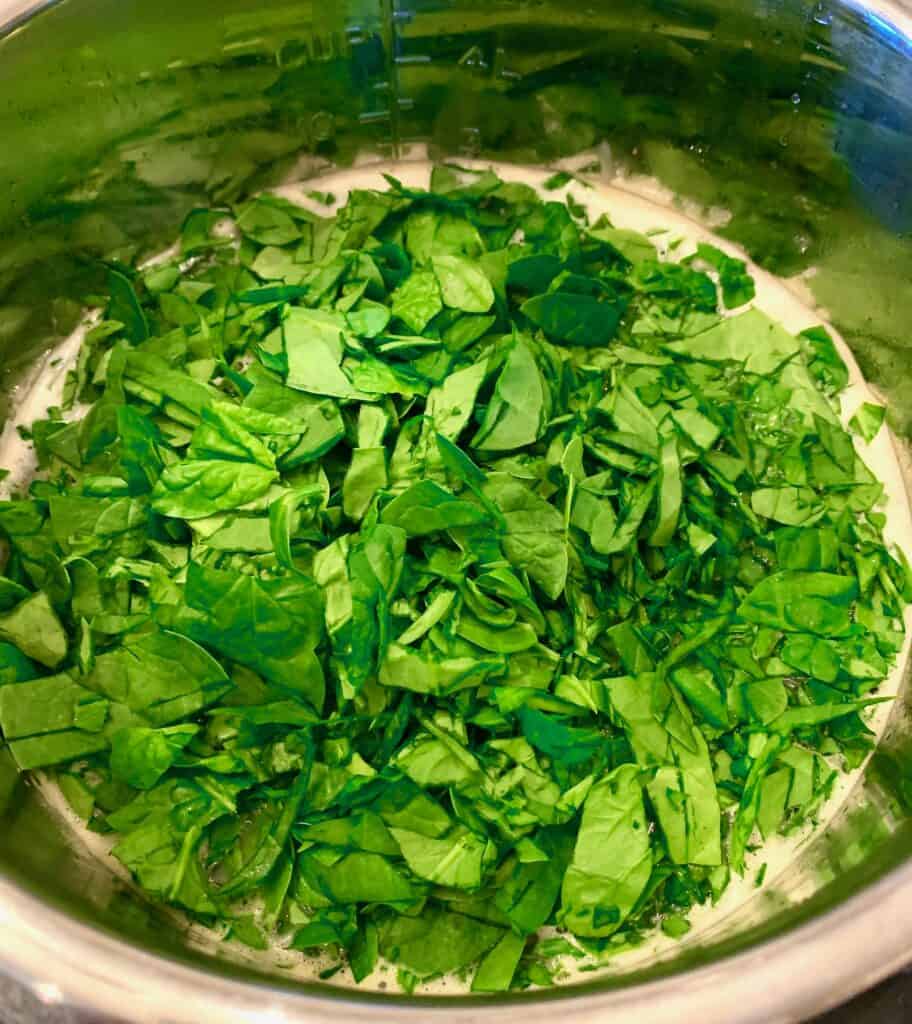 At the last minute add the tiniest Italian pasta that you can find, such as 'pastina'.
My family's favorite go-to pasta is acini di pepe, tiny little round small pasta.
BIG TIP! Remember to add the tiny pasta during the last few minutes of cooking the soup or it will become mushy, which you don't want to happen! This way the pasta absorbs the chicken broth and not simply boiled on the side in a pot of tasteless water.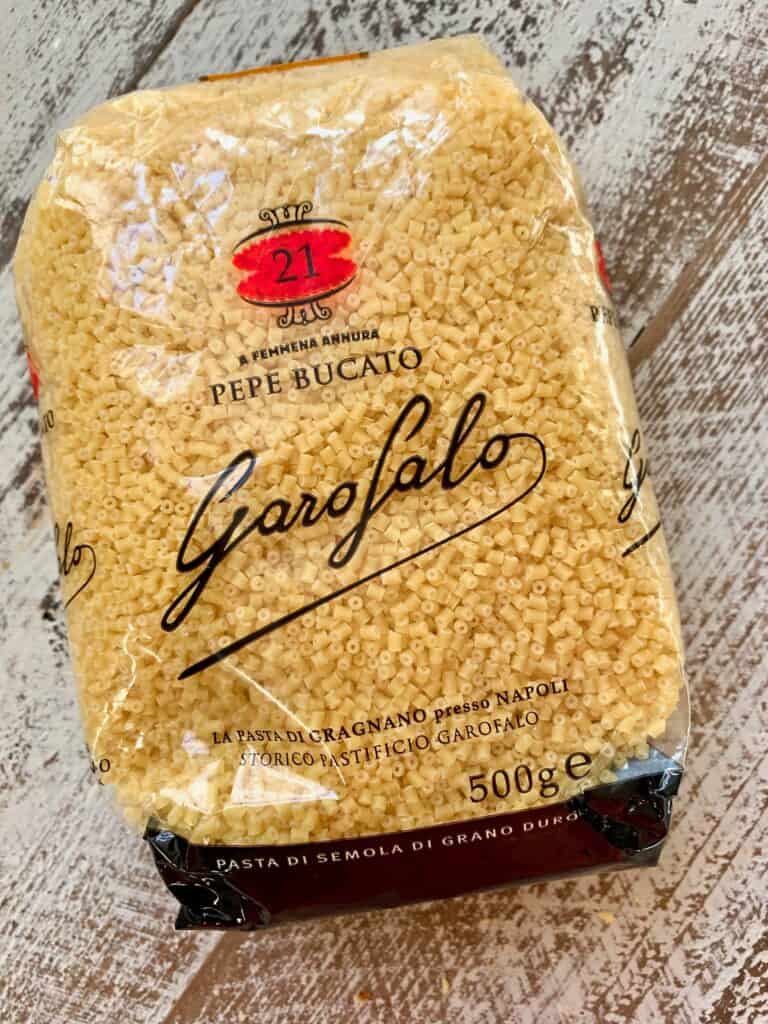 I had a package of Garofalo tiny pasta (Pepe Bucato) from Naples, Italy on hand and so that is what I used. Preferably, I normally use the tiniest baby pastina.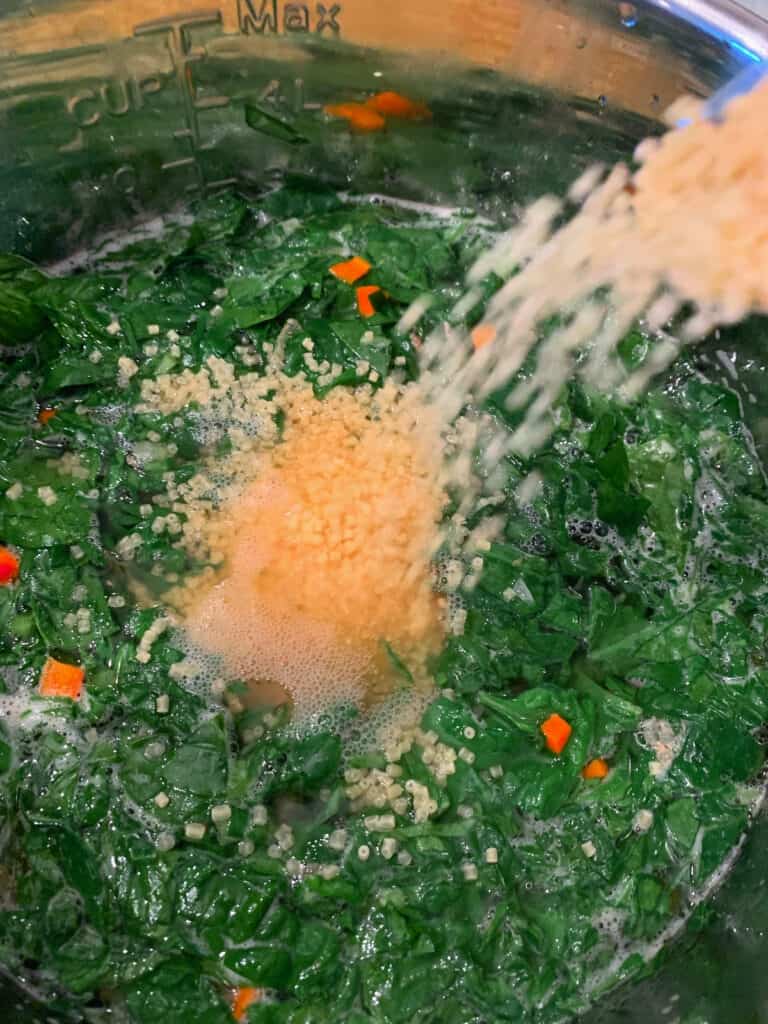 Mix 2 fresh jumbo/large eggs with freshly grated Parmigiano cheese.
Some recipes leave this step out and it is a MUST for the overall delicious flavor of Italian Wedding Soup. Don't delete this step!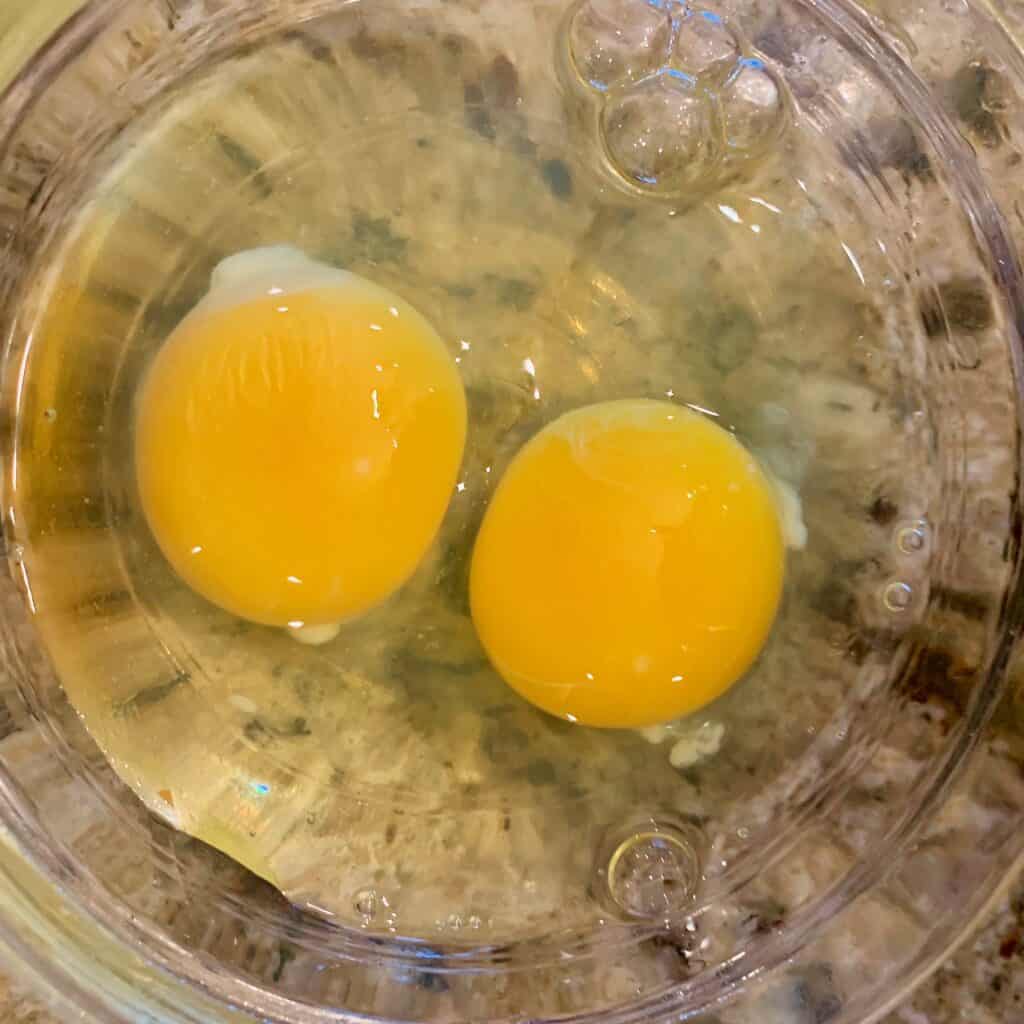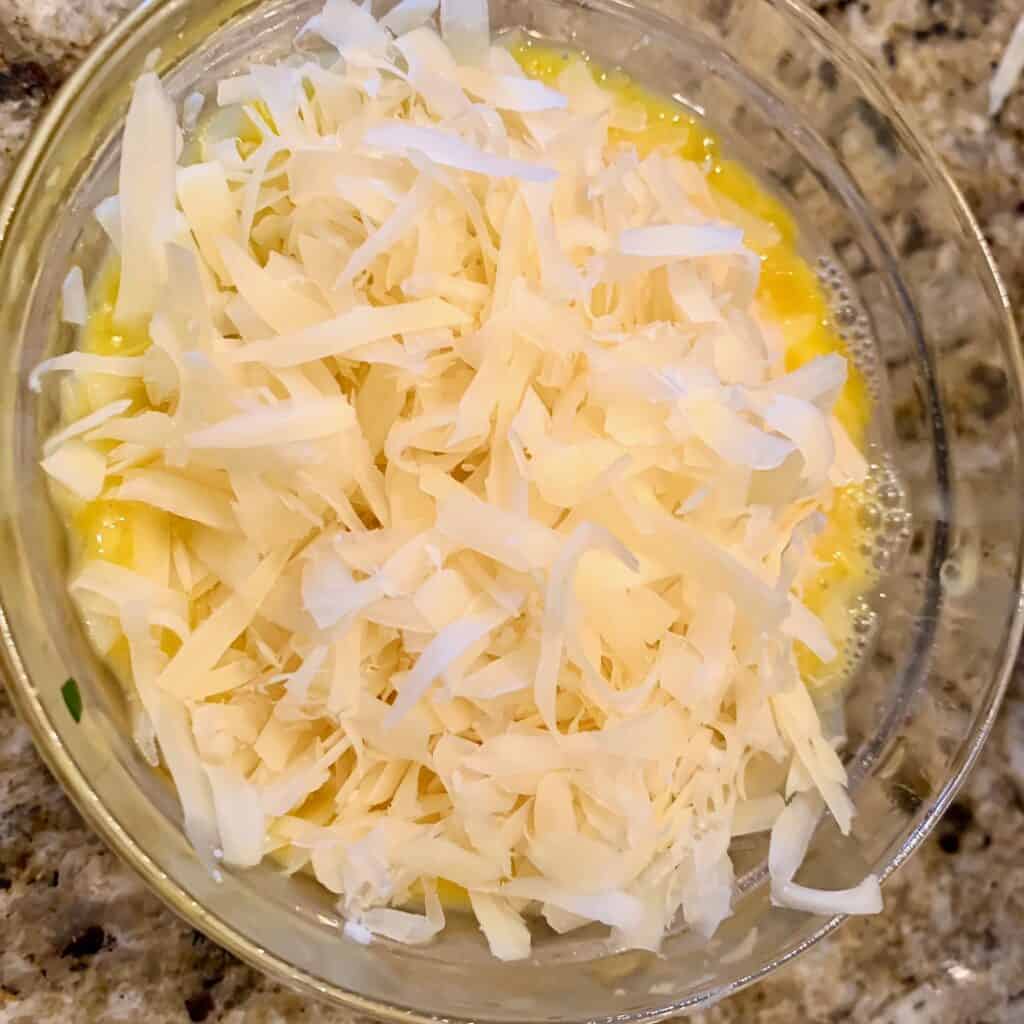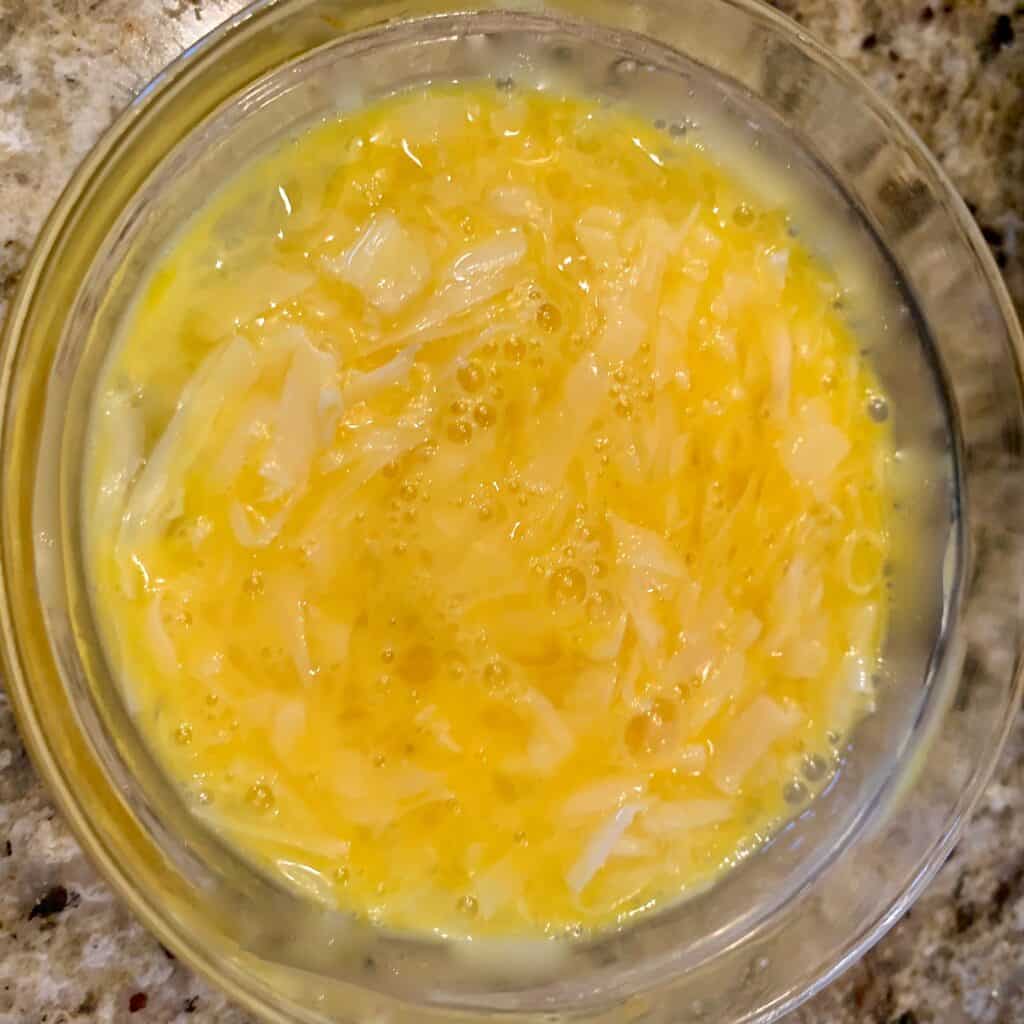 Gently pour in the egg/cheese mixture and gently stir it into the soup with a 'swirling' motion.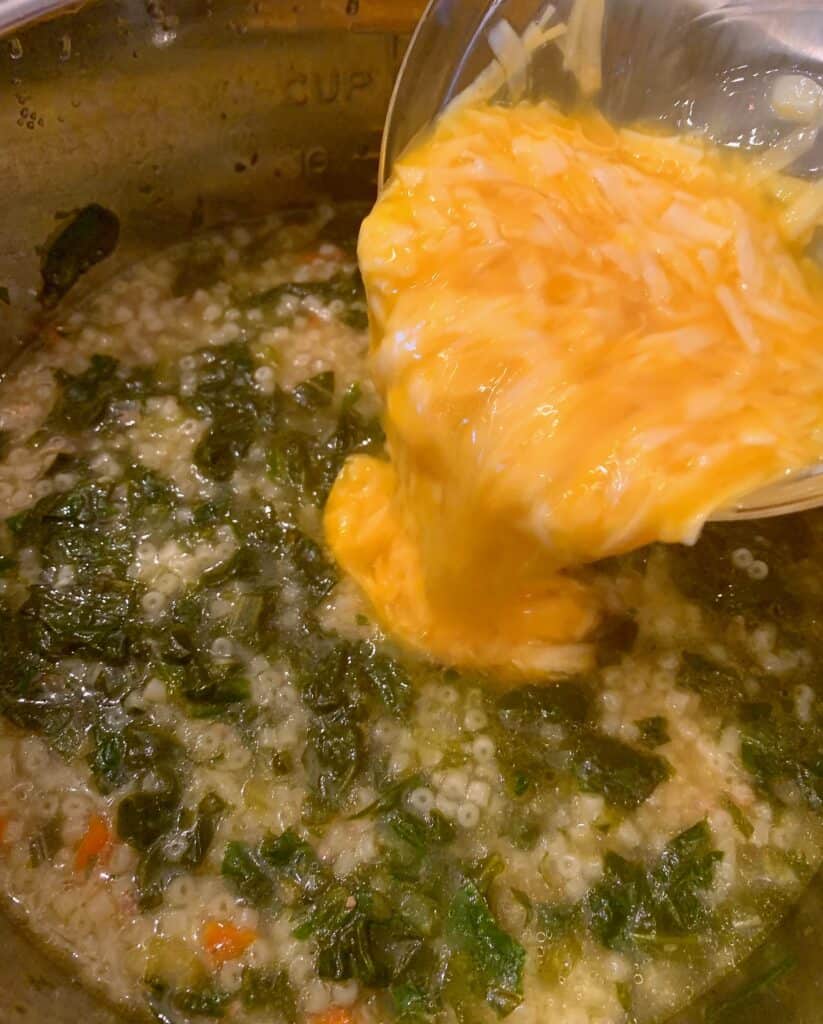 You'll see tiny strings or threads of egg/cheese throughout the soup. This is a good thing!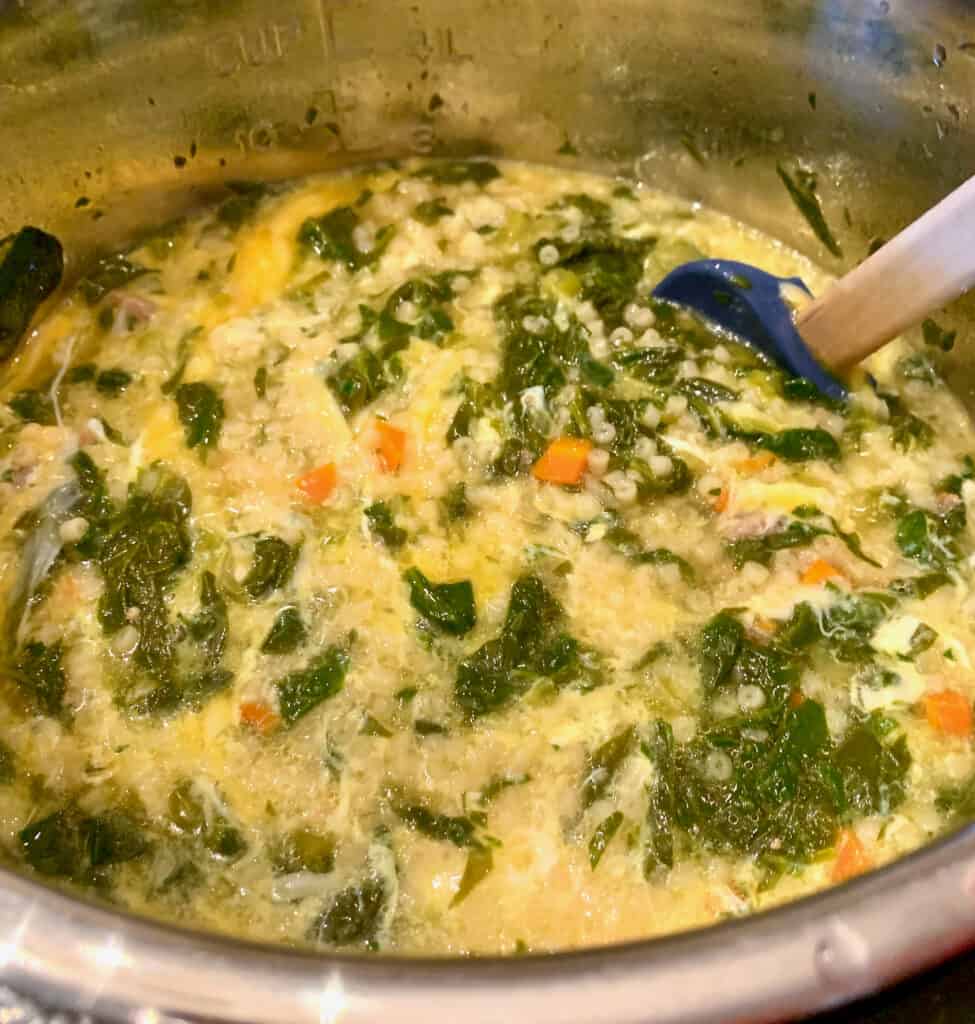 Lastly, taste and salt the soup before serving. For this soup, I added a teaspoon and it was perfect. But every batch is different.
So TASTE, TASTE, TASTE!
Also, I add 2 Tablespoons chicken-flavored "Better Than Bouillon" to enhance the chicken flavor of the soup. PERFETTO!!!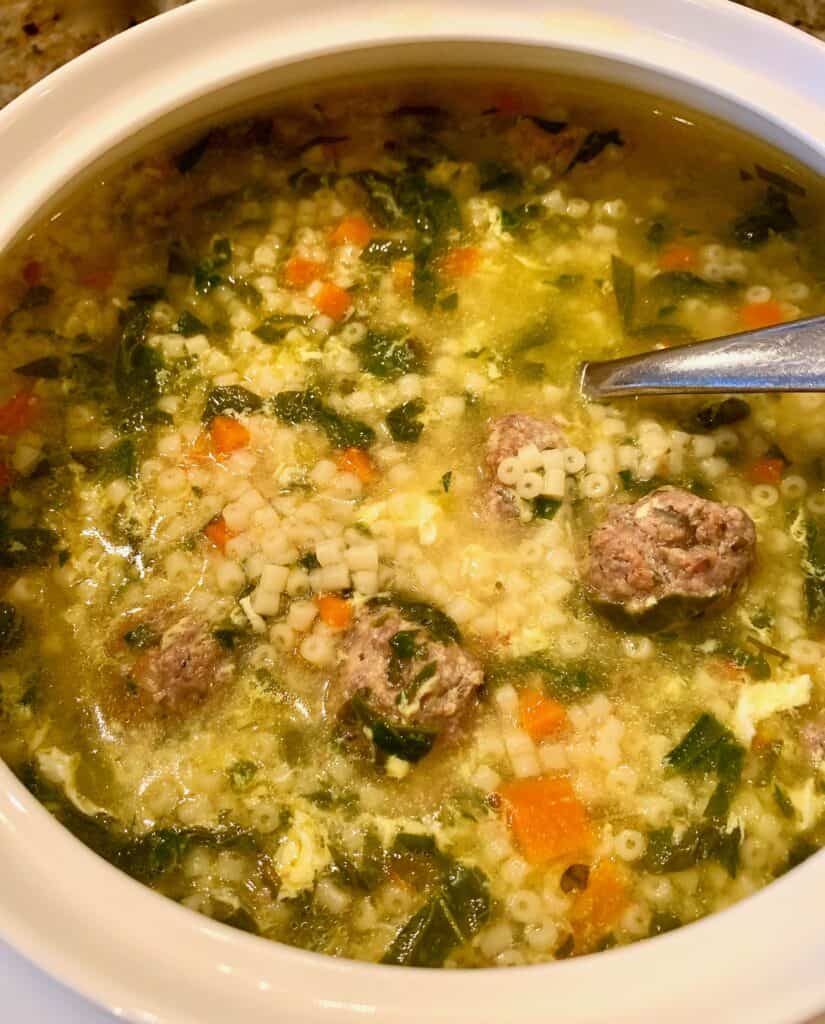 Ladle this exquisite soup into bowls, garnish with freshly grated Parmigiano cheese, drizzle with some good extra virgin olive oil and serve immediately for your guests to enjoy!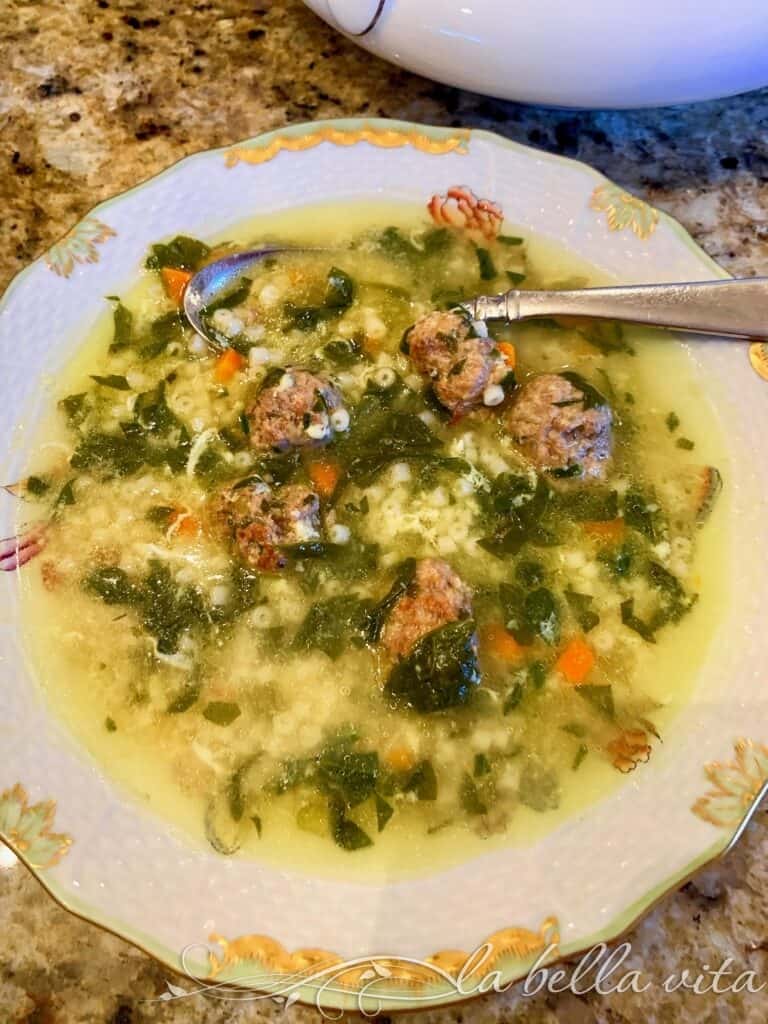 I'd love it if you would pin the image below! Thank you!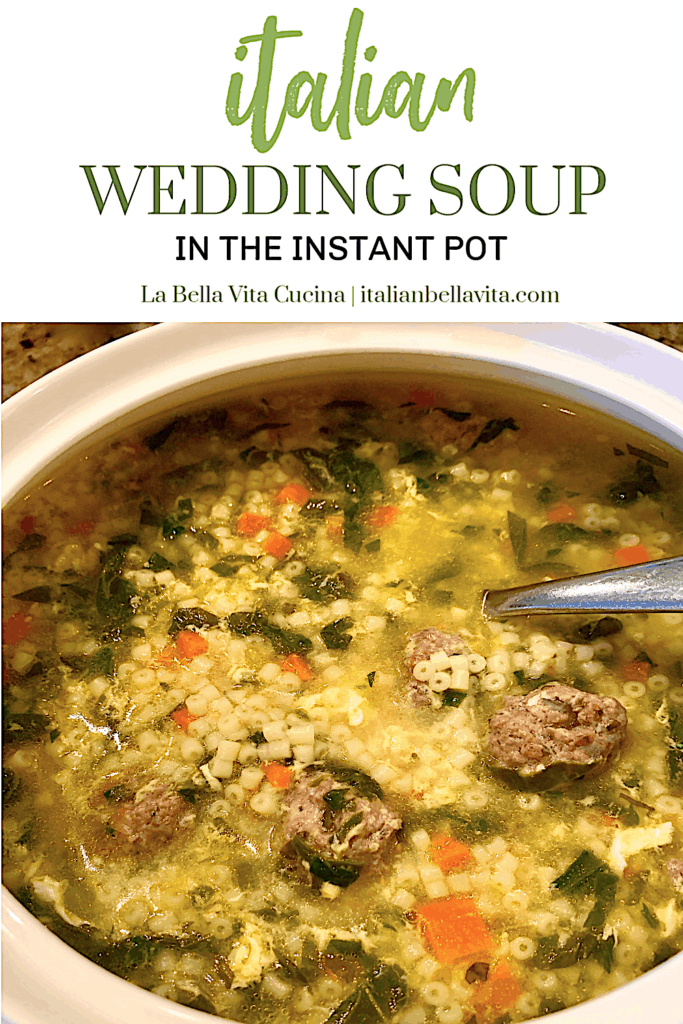 Print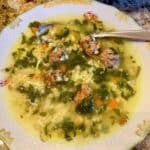 Classic Italian Wedding Soup in Instant Pot
Author:
Prep Time: 1 hours
Additional Time: 0 hours
Cook Time: 30 minutes
Total Time: 1 hour 30 minutes
Yield: 8 – 10 servings 1x
Category: Soups
Cuisine: Italian
---
Description
This is literally the most heavenly of soups.  Silky eggs combined with fresh Italian Parmigiano cheese provide the base for delicious tiny meatballs, tiny Italian pasta, spinach, herbs, and garlic to swim in!  Everyone will ask for seconds . . . or thirds!
---
For the Meatballs:
Ground Beef – 8 oz.
Ground Pork – 8 oz.
Parmigiano Cheese – 2 – 3 cups, freshly grated fine
Pecorino Cheese – 1 cup, freshly grated fine
Olive oil – 4 Tbsp. for sauteing 
Onion – 1 medium, minced
Italian Parsley – 1 bunch, cleaned, stems removed, minced
Basil – 4 oz. minced
Oregano – 2 oz. minced
Egg – 1 jumbo/large, whipped
Garlic – 4 large cloves, minced
Breadcrumbs or Panko – 1 cup
Salt – 1 Tbsp. freshly cracked
Pepper – 1 tsp. freshly cracked
Red Pepper Flakes – 1 tsp
Chicken Broth – 12 cups
Chicken Bouillon – 2 Tbsp. "Better Than Bouillon" 
Carrots -2 carrots chopped into tiny pieces
Celery – 2 stalks chopped into tiny pieces
Baby Spinach – 1 lb. fresh and sliced into ¼" slivers
Basil, Oregano, Garlic – 2 oz. each, minced
Salt – 1 teaspoon and then taste at the and if necessary to add more
1 large 2″ chunk of Parmigiano cheese
Tiny Italian Pasta such as Pastina – 1 cup
Eggs – 2 jumbo/large eggs
Parmigiano cheese – ¼ cup grated
---
Instructions
Set aside some time to make the meatballs, the most time-consuming part of this delicious soup recipe…..or skip this and use store-bought meatballs if you are crunched for time.
Prepare the Meatballs (can be done ahead, frozen and used when you need them).
In a large mixing bowl, thoroughly mix the ground beef, ground pork, Parmigianno and Pecorino cheese with the minced onion, Italian parsley, basil, oregano, garlic, breadcrumbs, red pepper flakes, salt and pepper, and egg.
Form tiny little meatballs into the size that you prefer.
Pour the olive oil into the Instant Pot and saute' the meatballs until browned on all sides according to your preference for doneness.  You may also do this in a large frying pan on a regular stove. 
For The Soup Broth:
Once the meatballs are browned, add them to the Instant Pot.
Pour in the chicken broth and chicken bouillon.
Add chopped carrots and celery.
Add chopped baby spinach.
Add 2 oz. of minced basil, oregano, and garlic.
Add salt.
Add the chunk of Parmigiano cheese.
Put Instant Pot on 'soup' for 10 minutes.
Add the tiny Italian pasta and cook for another 3 minutes.
Blend the eggs and the Parmigiano cheese together.
Pour into the hot soup and gently whisk them in for a minute.
Remove what is left of the large chunk of Parmigano cheese.
Serve immediately freshly grated Parmigiano cheese and a drizzle of good extra virgin olive oil.
Toasted garlic bread is also a welcome addition.
---
Notes
This is truly Italian comfort food that I know that your family and guests will truly enjoy!
Please follow me on Instagram to see what else I'm cooking up!
---
Nutrition
Serving Size: 1-½ cup
Calories: 400
Sugar: 0
Keywords: Italian Wedding Soup, Instant Pot, Italian Soup
Products that I use and totally recommend to make your cooking more enjoyable!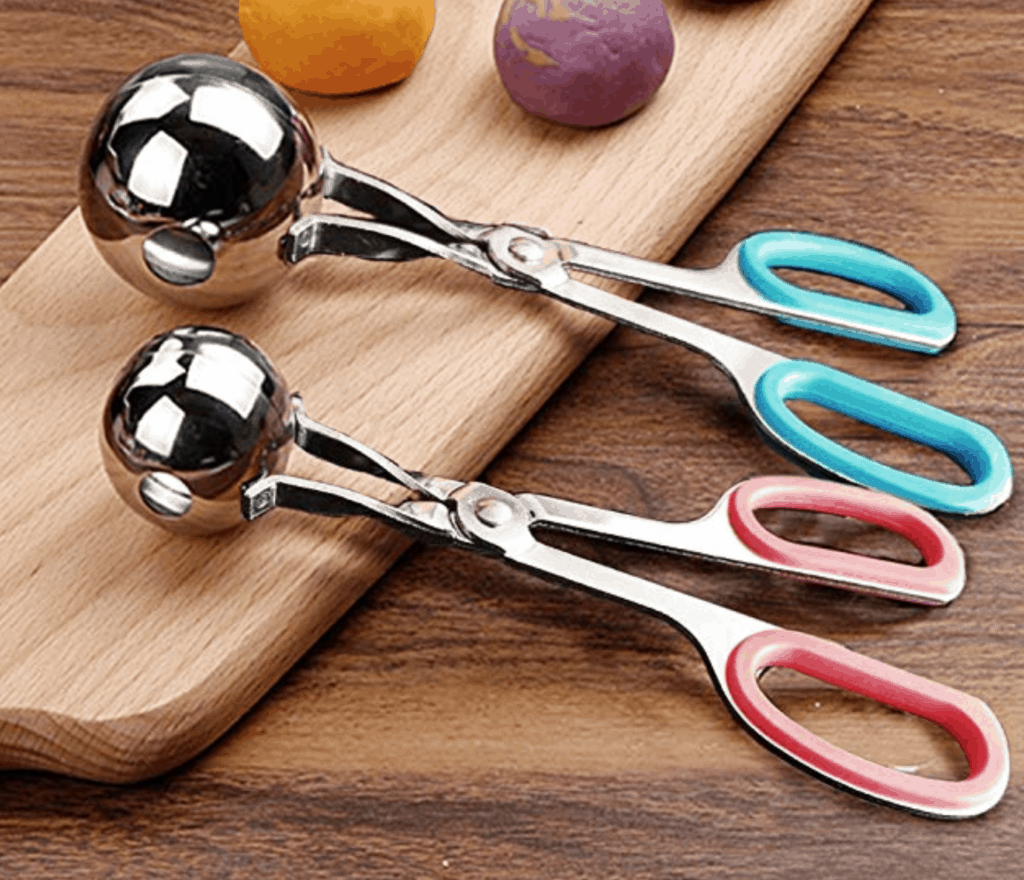 Aren't these meatball scoopers so cool? They help make more uniform sized meatballs and also keep your hands cleaner!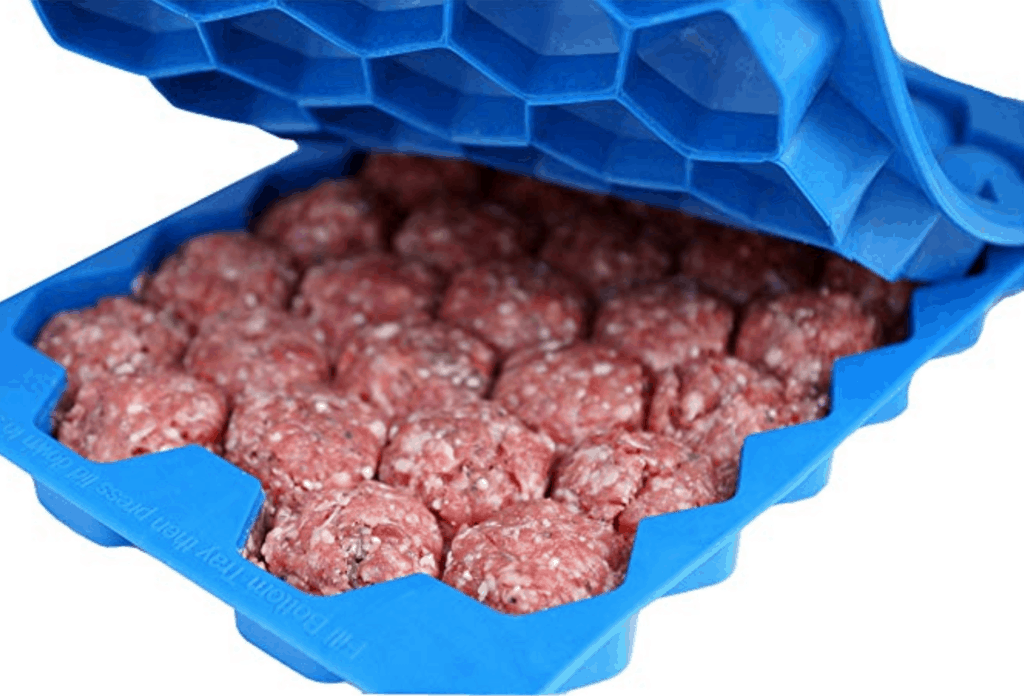 For saving time and making dozens of meatballs at a time, this Master Meatball Maker is an amazing helper in your kitchen.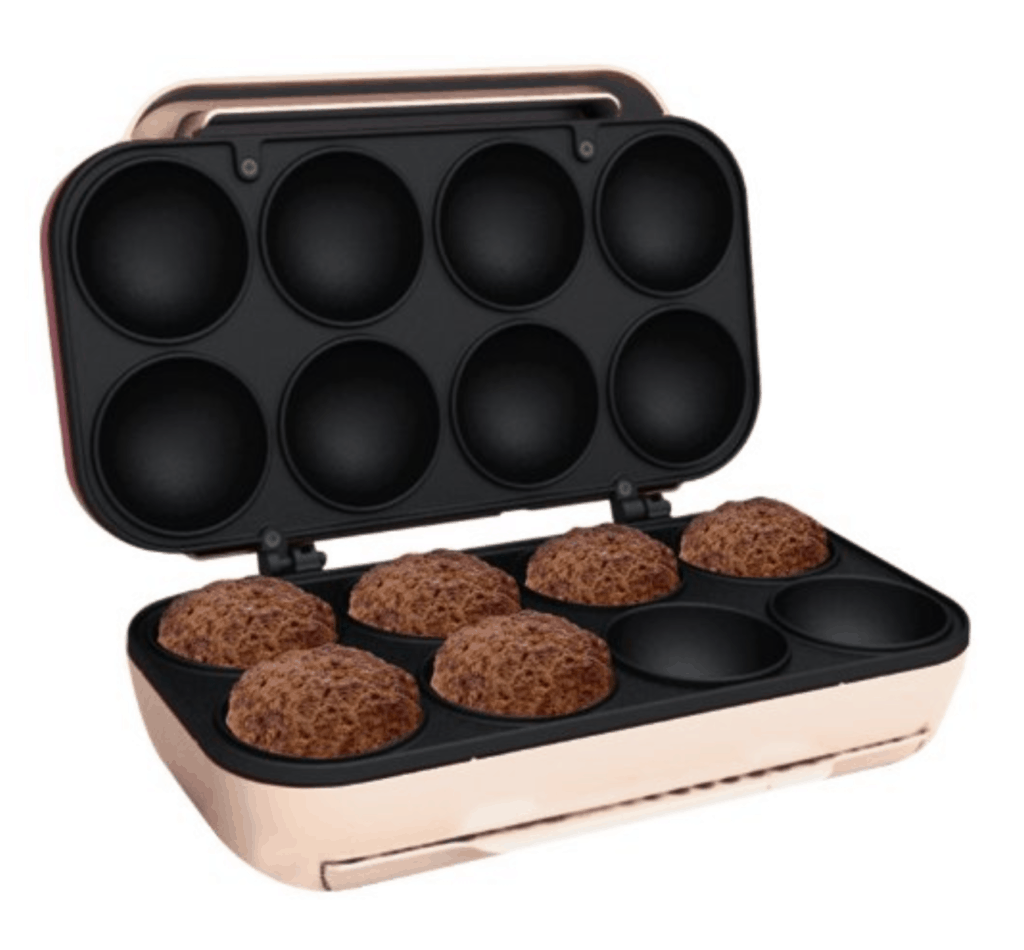 More Soup and Instant Pot Recipes for you!
Classic Italian Minestrone (Instant Pot)
Italian Lentil Soup (Instant Pot)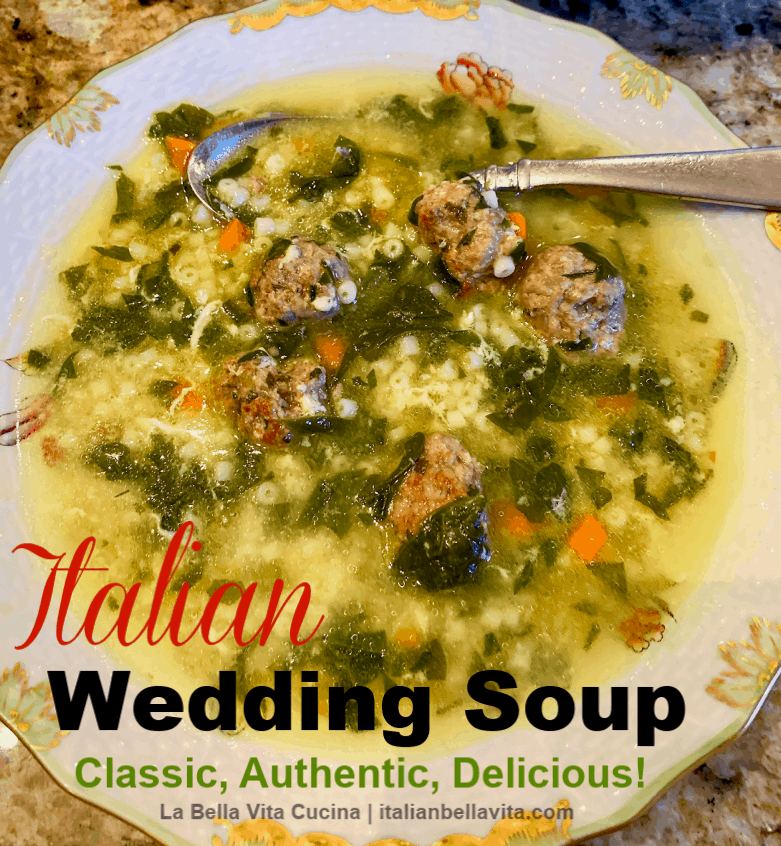 Do you enjoy La Bella Vita Cucina?
We'd love to have you as part of our community!
Subscribe below to get the latest recipes, travel tips and gardening ideas straight into your inbox!
Disclosure: This post contains affiliate links, which means we may receive a commission if you click a link and purchase something recommended. While clicking these links won't cost you any extra money, they will help us keep this blog up and running! Thank you for your support!