Tortellini en Brodo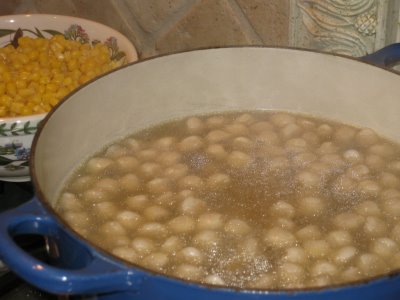 (Tortellini en Brodo coming to the top of the pot, a sign of 'al dente' doneness)

.
I have a little bit of time left on my semester break before classes begin next week to show you my family's semi-annual tradition of making home-made Tortellini en Brodo (in Broth). It is semi-annual because we make them only for Easter, Thanksgiving, and Christmas. But when we make them, we make around 1000 each time and freeze them.
.
In Northern Italy, in the Emilia-Romagna region, the most culinary region of Italy, where my ancestors are from and my relatives still live, there is no doubt as to how to serve 'tortellini'. It's classic Bolognese tradition to always serve tortellini in a rich homemade chicken broth. Most people today in the U.S. associate a cream sauce with tortellini, but the traditional method is always with a broth. This is the only way that my family prepares this pasta and soup. Let's start with making the pasta, OK? I don't have any photos to show you of the pasta or the filling being made, because my mother prepared both of them ahead of time before arriving for Christmas.
Print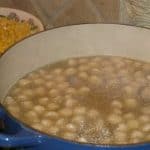 Tortellini in Brodo: The Classic & Authentic Recipe from my family in Modena, Italy
Author:
Prep Time: 0 hours
Additional Time: 0 hours
Cook Time: 0 hours
Total Time: 0 hours
---
For the Tortellini Egg Pasta Dough
Blend together 1 – 2 Tbsp. olive oil
1/2 tsp. salt
2 JUMBO eggs
2 Tbsp. water
1 Tbsp. whole milk (this helps the pasta seal together when twisting the tortellini)
1 cup of SEMOLINA flour
Blend these six ingredients together very, very well.
Then add 3/4 cup regular flour (not semolina)
You can mix this the old-fashioned way by making a "bowl" of flour on a wooden block, placing the wet ingredients in the center of the 'flour bowl' and gently add the flour in with a fork until completely mixed, OR you can mix the dough in a food processor until it has the consistency of corn meal.
This finished dough should be well blended, but NOT sticky.
If it is sticky, cut the dough into 3 sections and add 1 Tbsp. flour to each. If, on the other hand, it is too dry and crumbly, add 1 – 2 tsp. water.
Knead the pasta dough for 2 – 3 minutes.
Place into plastic bag and let rest for 30 minutes.
For every egg that you use, it will make about 100 tortellini, therefore this recipe makes 100 tortellini (at the correct size that is).
For the Tortellini Filling
1 lb. ground cooked veal, drain the fat and cool slightly
1/4 lb. prosciutto
1/4 lb. mortadella
While the veal is cooking, grind the prosciutto and mortadella in a food processor, only until it is in little pieces — don't process to much or it will turn into a mushy mess.
Then add the cooked veal; let it cool a little or the egg that you are about to add will cook and you don't want the eggs to cook.
Add to the whole mixture 1 tsp. salt, 1 tsp. (or more to taste) nutmeg, dash of pepper, and 1 jumbo beaten egg
Continue to add
1/3 cup grated Pecorino Romano cheese
1/3 cup grated Parmigiana Reggiano cheese
1/3 – 2/3 cups plain bread crumbs
If needed add 1 – 2 Tbsp. butter
YOU HAVE TO TASTE THROUGHOUT THE BLENDING to determine the 'crumbly texture and biting taste'.
Now, it's time to get the chicken broth going on the stove before you get started rolling the pasta dough out.
For the Chicken Broth (Brodo)
Fill a large, TALL pot with clean water (I like to use water from my frig that purifies it). FIll the pot with about 3/4's water, leaving enough room from the top of the pot to put the rest of the ingredients in without overflowing the water.
Put the following into the pot of water:
1 6–pound chicken (hen)
1 package soup bones (if you can get them)
1 4–pound round bone beef roast
3 carrots, cut in thirds
1 onion, cut in 1/4's
3 celery stalks, cut in thirds
1/4 bunch of Italian parsley
salt
Cook for 2 – 3 hours.
Take all ingredients out of the broth with a hand strainer.
With thin tea towels covering a colander/strainer, pour the broth through the tea towels and colander/strainer into another pot……this is a lot of work and usually needs two people to do this.
Be careful, the broth is very hot while you do this.
Continue to strain the broth into clean tea towels about two more times until the broth is completely clear and free of any ingredient remains.
Taste, add more salt to taste.
If you make this the night before, refrigerate it, and then the next day, skim off any fat/grease from the top (it will solidify in the frig and be very easy to remove).
---
---
Notes
If you have ANY QUESTIONS AT ALL, please email me or leave a comment so that I can help you. These are not the easiest recipes to make for the first time and I'm here to help walk you through the process. It is much easier the second and additional times that you prepare authentic home-made tortellini and you need to give yourself a HUGE pat on the back for making these!
..
And now, after enough time has passed for the above to be prepared, POUR YOURSELF A NICE GLASS OF WINE, because you are now going to engage in something that is not only a food preparation but also a SOCIAL RITUAL among Italians — the rolling of the pasta dough and forming the individual little tortellini and talking, talking, talking! Plan an entire half day to do this.