Incredible Pot Roast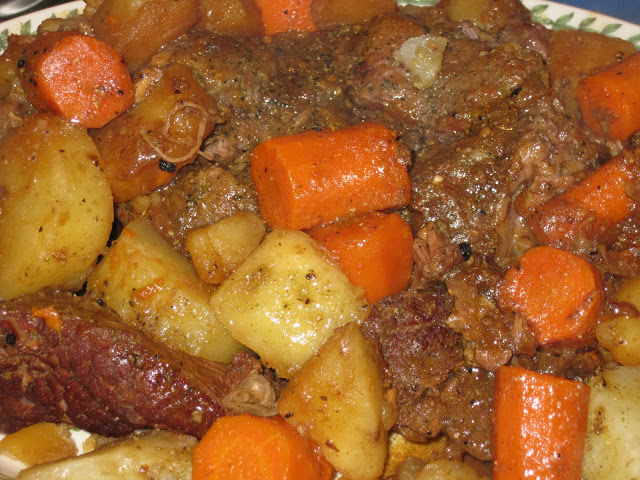 Well, here we are in the second week of February and it's time to prepare something for my sweetie for his birthday. He placed a special request for something that neither I, nor my mama, have ever prepared. He asked that I cook a POT ROAST, since that is what his parents always fixed when he was growing up in the Midwest. This is really, hearty, rib-stickin' meat 'n potatoes fare, perfect for cold February days.
Can someone please tell me what the origin for Pot Roast is? Is it German or Scandinavian? I know that it isn't Italian, BUT, wait until you read and taste this recipe if you do decide to make it. IT IS DIVINE! I need to give credit where credit is due, because after searching for hours for a good recipe, I finally found one that DOES NOT HAVE A CREAM OF MUSHROOM soup in it. . . . yuck, oh my!
The WINNER was posted on "Simply Recipes.com" and I give her all the credit for this fantastic recipe . . . where I tweeked it (cuz I ALWAYS make recipes more 'mine' and more favorable to my family's taste preferences): I added twice the amount of garlic (naturally!), I added twice the carrots, I added potatoes (during the final hour and not afterwards), AND I use my favorite spices in addition to what is recommended in the recipe on the web-site.
So here is my adapted version of the recipe for Pot Roast:
Print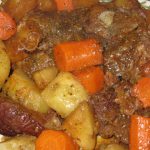 Incredible Pot Roast and Vegetables
Author:
Prep Time: 0 hours
Additional Time: 0 hours
Cook Time: 0 hours
Total Time: 0 hours
---
3 – 4 pounds boneless chuck roast
2 Tbsp canola oil (olive oil burns too easily, so I definitely do not recommend olive oil)
Mrs. Dash Garlic and Herb blend
Nature's Seasons
1 large onion, chopped
8 large cloves of garlic, peeled, smashed, and chopped (THIS IS WHAT MAKES THIS OUTSTANDING!)
1/2 cup red wine (I use a Meritage blend)
3 large carrots, peeled and cut up the way you prefer
3 large Idaho russet potatoes, peeled and cut into 2" cubes
In a large heavy pot (needs a lid with this), heat the oil.
---
Instructions
Sprinkle and rub the seasonings all over the roast on both sides.
I just eyeball this, but if you do it right, you will not need more salt upon serving . . . my family watches the salt intake and that's why we use a lot of salt replacement herbs and spices.
Now sear the roast (brown it) on the stove, on both sides, on medium to high heat . . . I brown for at least 3 minutes on each side.
Do not move the roast around while it is searing or it won't brown up nicely.
Once it is nice and browned such as below, then turn it over and sear the other side of the roast.
Add the wine and cover the pan with a lid.
Bring this to a simmering heat (you'll hear a soft bubbling sound) and adjust the heat lower to the lowest heat possible so the cooking will stay at a low simmer while covered. The web-site states that you can also bake this in a 225 degree oven in an oven proof pan.
Cook for 3 1/2 hours.
Your house will smell DIVINE!
Set out the remaining ingredients.
Cut up the carrots and potatoes (don't cut the potatoes up until right before setting them in the pot, or they will discolor).
After the 3 1/2 hours of the roast simmering, add the vegetables and cook on low for another 45 minutes or until the potatoes pierce easily with a fork.
At this point, I also sprinkle on more spices so that the vegetable flavors are enhanced.
---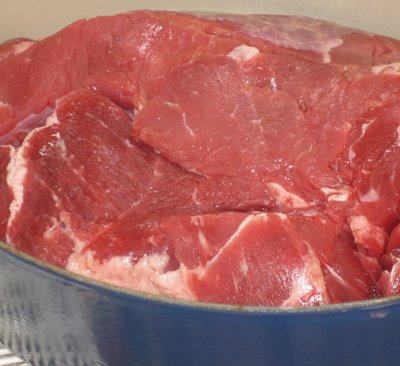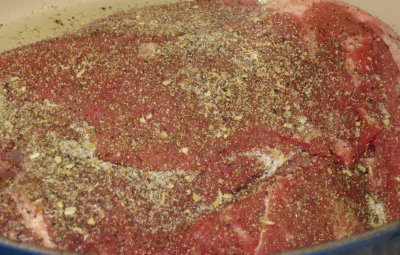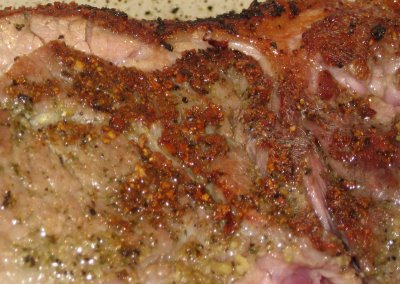 That caramel brown color is gorgeous, isn't it? And that is what you want all over the roast.

And as I ALWAYS RECOMMEND – – – Pour yourself a nice glass of vino to enjoy while cooking!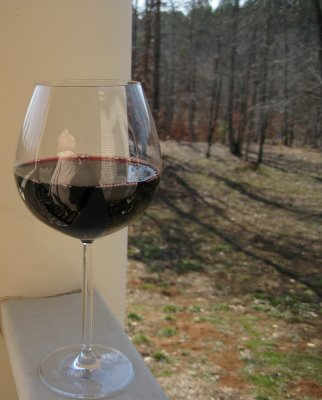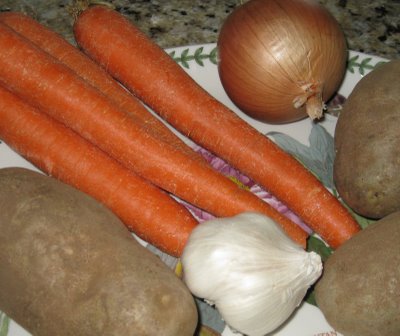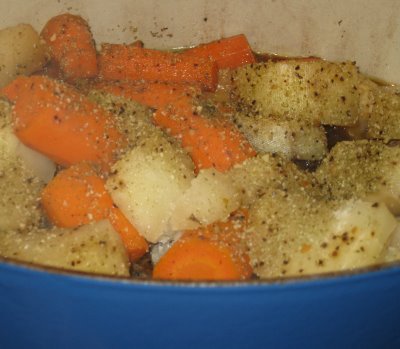 Here is the luscious, delectable final result. . . enjoy!