I found the most beautiful (and sweet) beets this weekend in the market, so I decided to make an Italian Beet Salad that my mother has been making for years. This recipe for beets has always been one of my favorite dishes. Whenever I go home to Iowa, my mother always has this recipe prepared and waiting for me to dig in voraciously! Gosh, we usually eat it straight from the serving bowl, we love this just that much!
This beet recipe is traditionally made with a simple blend of balsamic vinegar and olive oil, but we do something that really, REALLY steps this dressing up to the highest notch: We blend in one packet of Good Seasons Italian dressing spices. Either way that you prefer, this beet 'salad' is just one of the best summer recipes.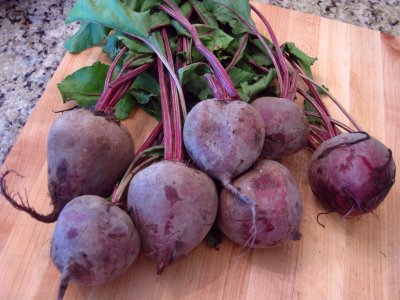 Gorgeous, HUGE red beets!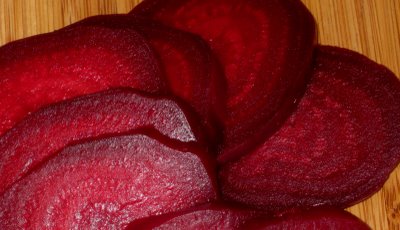 Pefect beet red color inside too!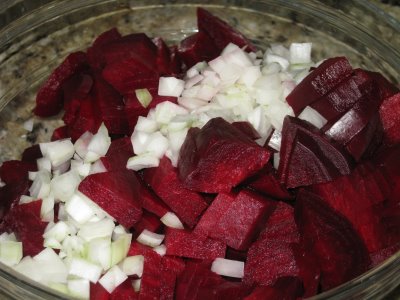 Beets in Balsamic Vinegar and Olive Oil with Herbs
---
Scale
Ingredients
4

–

6

very large red beets

1

medium sweet (Vidalia or Maui) onion, cut into 1/3″ pieces

1

packet Good Seasons Italian dressing herbs
Balsamic Vinegar — add according to the directions on the packet
Extra Virgin Olive Oil — add according to the directions on the packet
Freshly ground Italian Sea Salt to taste
Freshly ground black pepper to taste
---
Instructions
Trim the leaves and stems off of the beets.
Place in a large pot of boiling water. Add water as needed during boiling of beets.
Boil till beets are able to pierced by a fork, but not soft, but rather medium firm — about 30 minutes; don't let them get too soft. I prefer my beets more on the firm side.
Strain the beets in a colander to drain out the water.
Let the beets cool naturally and then remove the skin off of the beets and cut of the ends.
Slice the beets into 1/4″ to 1/3″ thick slices, according to your preference and then slice again into quarters or thirds, again according to your preference.
Put about 1/3 cup of the dressing mixture in a large mixing bowl.
Add the beets and onions.
Pour another 1/3 cup of the dressing mixture on top.
Mix gently and well until all the beets and onions are covered with the dressing.
Allow the beets and onions to sit at room temperature for about 20 minutes to absorb the dressing (which happens much better when the beets are still warm, rather than in the refrigerator).
---
---
Notes
(Refrigerate any remaining beets that are not eaten).