Amazing Macadamia Nut Crusted Mahi Mahi with Papaya Salsa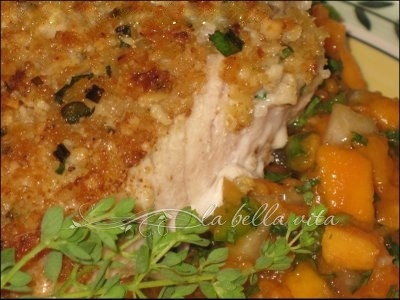 .
Here is one of the MOST delicious, scrumptious, delectable recipes that I have ever made . . . and I've been cooking for many years!
The recipe is for the most Amazing Macadamia Nut Crusted Mahi Mahi with Papaya Salsa!
.
I cannot take credit for this recipe because it was created by professional chefs in Hawaii that were featured on NBC's "The Today Show" culinary segment, and I firmly believe in giving 'credit where credit is due'! I immediately grabbed a pen and paper to scribble down the recipe as it appeared on my TV screen. You see, the thing is that I don't just prepare Italian recipes, even though it is my favorite cuisine . . . I LOVE, LOVE, LOVE Pacific Rim Fusion cuisine and all of it's tropical freshness and creativity!
.
This OUTSTANDING recipe fits the bill perfectly!
.
Plus it is SO INCREDIBLY EASY! The chefs at the fabulous Four Seasons Hotel in Hawaii developed this dish and they deserve kudos in my (cook)book!
Print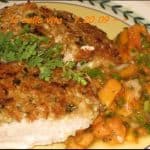 Amazing Macadamia Nut Crusted Mahi Mahi with Papaya Salsa
Author:
Prep Time: 0 hours
Additional Time: 0 hours
Cook Time: 0 hours
Total Time: 0 hours
---
4 six–ounce mahi mahi fresh fish fillets
2 eggs, well beaten
1/4 c. Japanese panko bread crumbs
1/4 c. crushed macadamia nuts
1/2 tsp. grated fresh orange zest (or lemon)
1/2 tsp. grated fresh lime zest
1 tsp. garlic powder
1 tsp. chopped fresh chives
1 tsp. chopped fresh basil
Sea salt and freshly ground pepper, dash of each
For Papaya Salsa
1/2 to 1 ripe papaya, diced into 1/4 – 1/3″ cubes (I used a 1/2 papaya and it was plenty)
1 Tbsp. green or red pepper (I used green pepper for better color contrast with the papaya)
1 Tbsp. sweet onion (Vidalia in the South, or Maui on the West Coast)
1 tsp. chopped fresh cilantro
2 tsp. chopped fresh chives
1 Tbsp. chopped fresh jalapeno pepper
1/2 tsp. ground ginger
1 tsp. rice vinegar
Sea salt and freshly ground pepper, dash of each
---
Instructions
Prepare Papaya Salsa (first)
because IT CAN BE REFRIGERATED and made ahead (isn't that wonderful? Especially for entertaining!!!)
Mix the papaya with all other ingredients in a bowl. Cover and set aside in the frig while cooking the fish.
Prepare Macadamia Nut Breading
Mix macadamia nuts, panko bread crumbs, the zests, chives, and basil…throw in a dash of salt and pepper.
Place in a bowl to dip the fish in.
Prepare the Mahi Mahi
Place the eggs in a bowl for dipping the fish.
Dip ONE SIDE of each fish fillet in the eggs.
Dip that same side ONLY into the bread crumb-macadamia nut mixture. Pat the mixture on to the fish gently if necessary to help the breading stick to the fish better.
Do not bread the rest of the fish fillet, ONLY ONE SIDE!
In a buttered skillet on the stove, saute' the fish fillets BREAD CRUMB/NUT side down for 3 minutes (you could also use olive oil; if you do, do not let the oil burn).
Turn the fillets over and saute for another 2 minutes.
Bake fish in a 350 degree oven for 10 minutes or until fish is white (or to your preference of doneness).
---
Notes
The chefs who created this recipe suggest 3 minutes, but the fish was not cooked enough to our preference, so we baked the fish for 10 minutes and they were perfect.
Serve with Papaya Salsa, garnish with a green herb.
For you to try and to enjoy, here's a fresh tropical fruit salsa recipe (and this time, I developed it . . . so YUMMY!): Just click on the recipe title link below!
.
.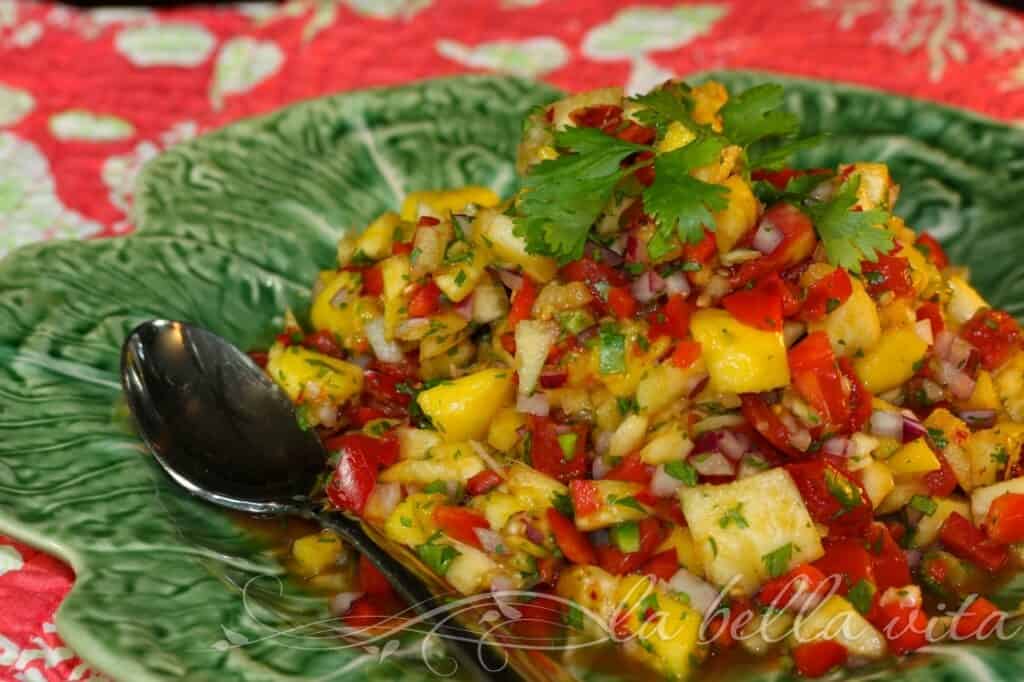 .
.
.Enjoy this recipe for:
Amazing Macadamia Nut Crusted Mahi Mahi with Papaya Salsa