Fried Zucchini Blossoms / Fiori di Zucchini Fritti in Pastella
Something really weird happened in our rose garden this year! A lone zucchini plant just grew and grew like Jack's bean stalk! We have no idea how it got there! But grow it does and produce large yellow blossoms it does, on a daily basis of about five (5) a day! Incredible! By afternoon, the blossoms are wilted, so you have to pick them in the morning. This means that it is the perfect time to make one of my childhood summer favorites: Fried Zucchini Blossoms / Fiori di Zucchini Fritti in Pastella !
.
So what to do with these little beauties is completely a no-brainer! FRY THEM! These little delicacies are extremely light and irresistible! They are fried in a batter somewhat like a tempura, that is called "pastella" in Italian. Pastella is a crisp and light batter made simply from flour and water which produces a thin, crackly coating that stays perfectly adhered to the zucchini blossoms and does NOT absorb the frying oil! It's lovely to work with and to devour! Pastella batter also works great with fried onion rings.
Fried Zucchini Blossoms / Fiori di Zucchini Fritti in Pastella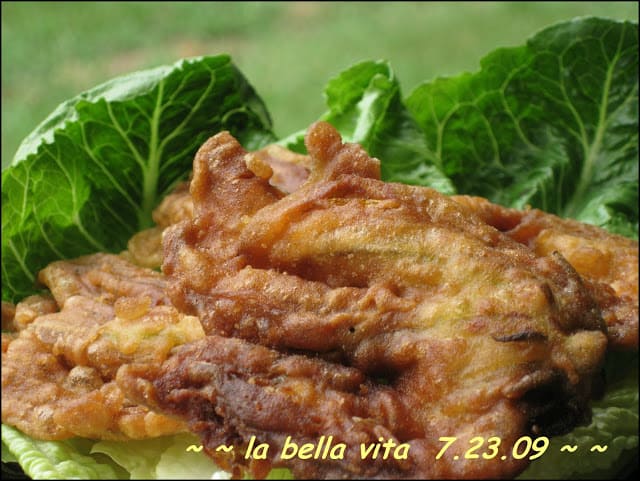 Ingredients
Freshly picked zucchini blossoms
1 cup water
2/3 cup flour
Vegetable or canola oil (not olive oil)
Salt
Instructions
If necessary, clean the zucchini blossoms with a rapid rinse under cold running water.
Dry them GENTLY on paper towels.
Cut the stems to about 1? long.
Cut the base of the blossom on one side only and then OPEN UP the blossom to be able to lay flat, without dividing it.
Put one (1) cup of water in a wide soup bowl and gradually add the flour through a sifter and CONSTANTLY beat the mixture with a fork until all the flour is added.
The batter will have a consistency of sour cream.
Pour vegetable or canola oil (not olive oil!!!) in a skillet up two 3/4 of the height of the pan sides.
Heat the oil to the hottest you can without burning the oil.
When the oil is very hot, dip the zucchini blossoms into the batter, coat evenly, and slip only as many as will fit loosely into the skillet.
When a golden crust has formed on one side of the blossoms, turn them over to fry on the other side until golden brown.
When both sides have a lovely golden brown crust, place the blossoms on paper towels to drain and sprinkle with salt before they dry.
Continue in the same manner until all the blossoms are fried.
Serve promptly while piping hot!
.
Zucchini Blosssoms Fried in Pastella (Fiori di Zucchini Fritti in Pastella) — a classic Italian recipe that everyone should try!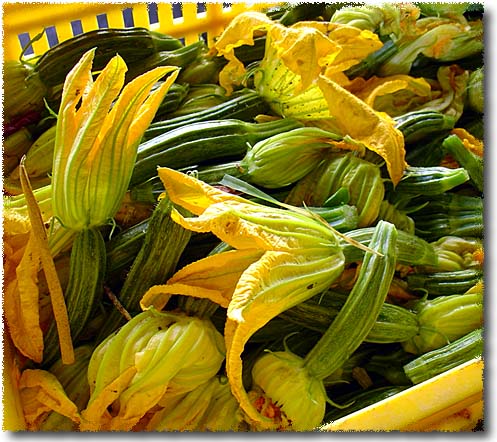 Enjoy this recipe for
Fried Zucchini Blossoms / Fiori di Zucchini Fritti in Pastella