Cinnamony Zucchini Cake with Creamy Cream Cheese Frosting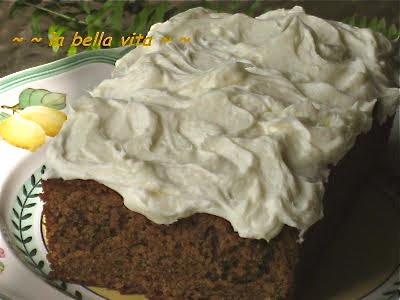 I realize that this is not the best quality photo, but it really is a cinnamony-brown-colored cake.
.
I still have zucchini growing totally out of control in the garden, so I'm whipping up more of this incredible cake that we always look forward to every year. Actually, this is our favorite cakes, so moist and flavorful, and the frosting is so good! Plus since it is a long weekend, and the temps are falling (and somewhat chilly in the morning), I'm in the mood for baking something cinnamon-y, sweet, yet super simple for this time of year.
.
A cake that came to mind to both use up some zucchini and at the same time, satisfy my anticipation of cooler autumn weather, is this fresh Zucchini Cake with Cream Cheese Frosting. Oh, and it can be frozen too, so if last-minute guests pop by, you can have something ready for them (I've never frozen the frosting though). Here is the recipe that I've been baking ever since 1979 . . . over 30 years ago!
.
I bring this cake to a lot of get-togethers where the recipe is always requested, so be prepared to be asked!
.
Enjoy!
Cinnamony Zucchini Cake with Creamy Cream Cheese Frosting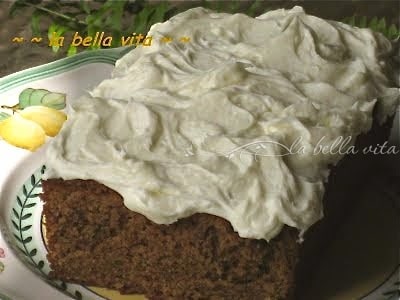 Ingredients
For the cake
2 cups sugar
2 cups flour
3 jumbo eggs
1 cup oil (I use canola)
1 tsp. vanilla
2 cups grated zucchini
2 tsp. cinnamon
3/4 tsp. baking soda
2 tsp. baking powder
1 cup chopped walnuts or pecans
For the frosting
2 cups powdered sugar
1/2 stick unsalted butter
1 small 3 oz. package cream cheese
1 tsp. butter flavoring
Instructions
Instructions
Preheat oven to 350 degrees.
Spray loaf baking pan with cooking spray.
In a medium-sized mixing bowl, beat together the eggs, sugar, oil, and vanilla.
In large mixing bowl, combine the the flour, cinnamon, baking soda and baking powder.
Mix dry ingredients, zucchini and nuts (optional) into the eggs-sugar mixture.
Blend well.
Pour batter into the loaf pan leaving about ½ inch from the top.
Bake in preheated oven for 50 minutes; keeping in mind not to overcook, you want this cake MOIST.
For the frosting, beat all the ingredients together until light and fluffy.
Spread generously on top of cake/bread.
This zucchini cake/bread can easily be frozen when wrapped in heavy freezer aluminum foil.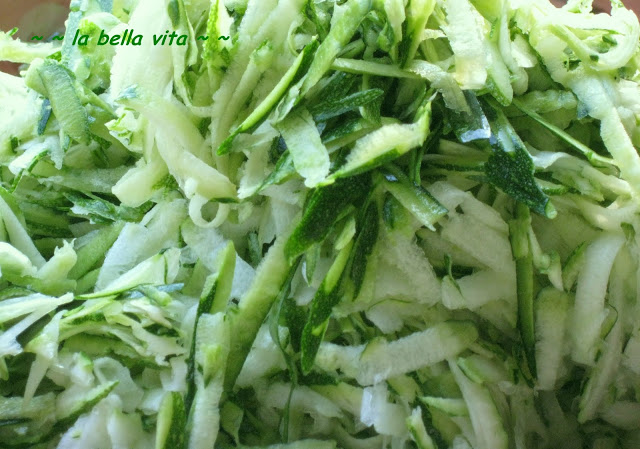 I just love the colors of this gorgeous, green and white shredded zucchini! So fresh and crisp!
So after you make this, have a cup of your favorite flavored coffee or tea with a slice of cinnamon bliss!
I hope that you ENJOY this cinnamon-y, creamy treat!!
Cinnamon-y Zucchini Cake With Buttery Cream Cheese Frosting
.