Blood Orange Polenta Olive Oil Cake & Orange Mascarpone Icing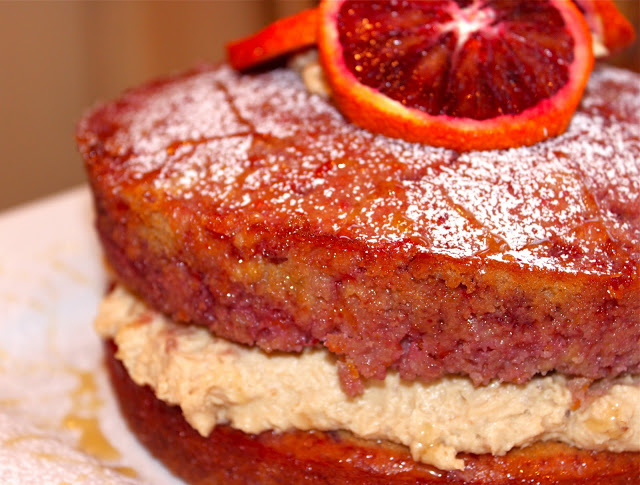 .
Winter is the premier, peak growing season for citrus. Luscious lemons, tangy limes, and fragrant oranges. Southern Italy is known for blood oranges, considered by many to be some of the world's finest dessert oranges. These oranges can be recognized from other oranges by first glance at their skin's red-blushed color. Once opened, they surprise you by their burgundy, blood-red, ruby-colored fruit that taste a bit tart and berry-like. Blood oranges spoil easily, so they need to be kept cool in the refrigerator for a week at the most.
.
To celebrate this season of citrus, I created and baked a special cake in which the star ingredients that stand out are blood oranges and their juice, olive oil, polenta (cornmeal), honey, and marscarpone cheese . . . all true to Italian cuisine. While the cake baked and just after taking it out of the oven, my house had a delicate aroma of oranges and orange blossoms. And during February, that scent is so fresh and welcome!
.
This cake has a more course, heavier crumb cake texture from the polenta (cornmeal), which is better for the orange syrup drizzled inside. It is dense, yet moist and possesses a less sweet taste that Italians prefer. The entire cake is balanced from the bright orange boost of flavor within. So those of in the States might prefer this cake with a sweeter after-dinner liquor or at mid-morning with a sweet cup of tea or coffee. This cake tastes even better after it sits for a day/evening.
.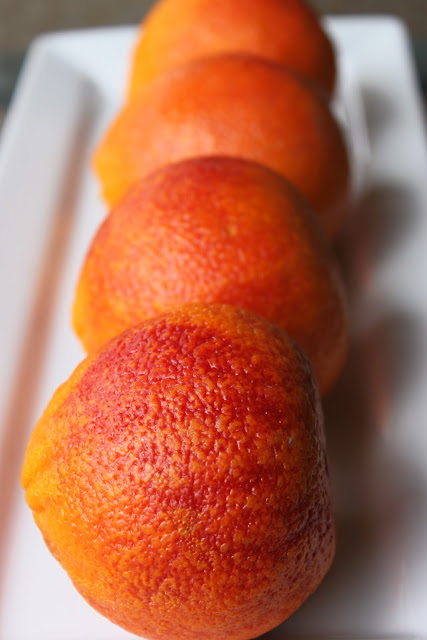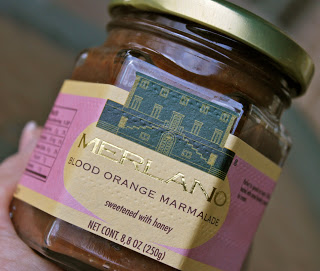 .The Blood Orange Marmalade (above) was ordered on-line; it's fairly difficult to find.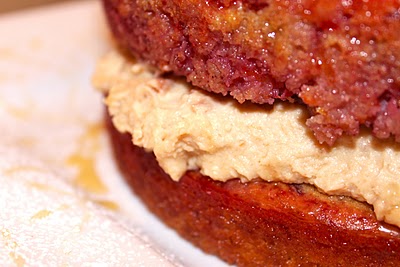 .
.
The marmalade mascarpone filling truly makes all the difference to this slightly sweet cake; Italians in Italy don't eat overly sweet desserts, but prefer those with just a hint of sweetness. You can add more sugar and/or honey to your preferred level of sweetness though. Or it can also be served with sweetened whipped cream, vanilla custard, or vanilla ice cream.
.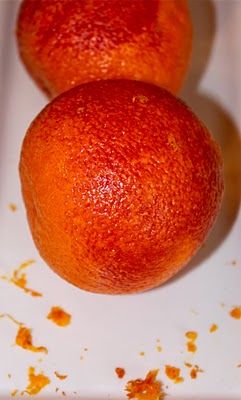 .
Blood Orange Polenta Olive Oil Layer Cake with Orange Mascarpone Filling
Ingredients
For the Cake
3 Blood Oranges
1 cup sugar
1/3 cup buttermilk/plain yogurt
3 jumbo eggs, beaten
1/4 cup extra-virgin olive oil
1-1/2 cup flour
1/4 cup yellow cornmeal that is used to make polenta
1-1/2 tsp. baking powder
1/4 tsp. baking soda
2 tsp. vanilla extract
1/4 tsp. sea salt
Orange Syrup
1 cup blood orange juice (2 blood oranges)
1/4 cup sugar
For the Orange Mascarpone Filling
1 Tbsp. honey
1 cup sugar
2 - 3 Tbsp. blood orange marmalade or juice
1 container mascarpone cheese
1/2 cup whipping cream
Instructions
Preheat oven to 350 degrees.
Spray cooking oil on 2 eight inch round cake pans.
Zest 2 blood oranges.
Add zest to 1 cup sugar.
Remove peel, membranes, and pith from 2 oranges. Cut into 1/4" pieces.
Juice the 3rd blood orange for about 1/4 cup of juice.
Add juice to the zest/sugar mixture.
Add the buttermilk or yogurt to this mixture, whisk well.
Whisk in beaten eggs.
Whisk in vanilla extract.
In another bowl, whisk together flour, baking powder, baking soda, and salt.
Whisk dry ingredients into wet ingredients.
Add orange segments, or blend them in with a hand held mixer (which I did in this case, not choosing to use large chunks of oranges).
Fold in olive oil.
Pour batter into pans.
Bake cake for 30 minutes or until golden and a knife inserted into center comes out clean.
Cool cakes in their pans on racks.
Poke holes all over the top of each cake layer.
Keep the cakes in their pans for the pouring of the orange syrup.
1Prepare the orange syrup
Combine the blood orange juice with sugar and boil for about 5 minutes on medium heat on the stove in a small pan.
Ladle the warm syrup on top of each cake layer.
Prepare the orange mascarpone filling
Blend 2 Tbsp. blood orange marmalade into marscarpone.
Add honey and sugar. Blend well.
Add whipping cream until a spreadable frosting/icing consistency is achieved; otherwise it will be too thick.
Sweeten the filling by adding more sugar to your taste preference.
Carefully remove syrup-filled cakes from their pans.
Place one cake layer on a serving platter.
Spread orange mascarpone filling on top of this first cake layer.
Place the second cake layer on top of the filling,
Dust with powdered sugar.
Garnish with mascarpone filling and sliced blood oranges.
Drizzle honey all over cake and serving dish.
.
.
.